Flat Rate Shipping
Up to 5 Years Unlimited Mile Warranty
Excellent Customer Support
No Core Charge for 30 Days
About Our Remanufactured NP261-NV261 Transfer Case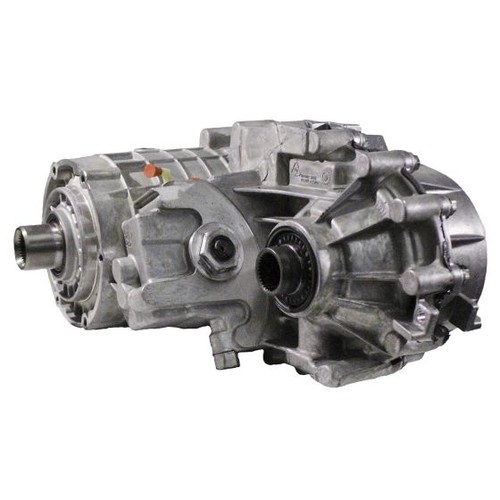 Our remanufactured NP261 and NVG 261 transfer cases are completely rebuilt by replacing every single component with new or remanufactured parts, as well as repairing any factory or manufacturer defects that might be present. This sets our remanufactured cases apart from typical transfer case rebuilds, which may only fix parts that are clearly broken and can leave unseen weaknesses.
Our cases are completely repaired, replaced, and rebuilt, which means they really are like new. We will replace the following parts:
Housing
Gaskets
Seals
Small parts
Ball bearings
Bushings
Hubs and sliders
Oil pump
Sprockets
Input and main shafts
Thrust washers
And every other miscellaneous part inside the case
When you purchase a transfer case from us, you're getting a case that's as new as you can get without actually being new. Our express rebuild program ensures that you're getting a case that will overcome any standard and common manufacturer or factory defects and will perform like new for many years to come.
Affordable and Reliable Parts
Even better, our rebuilt 261 transfer cases are some of the most affordable in the industry. This level of reliability, performance, and affordability is a point of pride with us. In fact, we are so confident of the quality you'll receive that we offer up to a three-year, unlimited mileage warranty for all our transfer cases, including:
NP261 transfer cases
NV261 transfer cases
NVG 261 transfer cases
NP261HD transfer case
261 LDGM transfer case
261XHD transfer cases
And other GMC and Chevy 261 transfer cases
When you buy from our online selection, you're getting inexpensive cases, but not cheap ones. Every part we sell is high quality, even better than new. We're the answer to the question, "Where can I get a reliable and affordable NP261 transfer case near me?"
Flat Rate Shipping
Excellent Customer Support
Up to 5 Years Unlimited Miles Warranty
No Core Charge for 30 Days
NP261-NV261 Frequently Asked Questions
Which Trucks Have the NP261 Transfer Case?
Many manufacturers have used NP261 transfer cases since their arrival in 1999. They are used on most 4x4 pickup trucks across the board, including those from Ford, Chevy, and General Motors. GM and Chevrolet used them from 1999 through 2007, so if your truck was manufactured then, it probably has an NP261.
How Much Does an NP261 Transfer Case Weigh?
One of the benefits of the 261 HD GM transfer case or the NP 261 LD GM transfer case is that they weigh only between 70 and 80 pounds. Ours are just as light, but we repair all the typical defects and rebuild every part in them for extended, improved performance.
What Fluid Goes in an NP261?
The specific type of transmission fluid you need depends on your specific transfer case, make, and model. However, a New Process 261 transfer case, including NP261HD, NVG 261, and 261 LD GM transfer cases, use Dexron III or higher transmission fluid mostly. The wrong fluid can ruin your case.
What Are Common Problems of the NP261 Transfer Case?
There are many common issues with these cases. First, the oil pump housing can wear a hole in the case, causing fluid loss and failure. Input and output bearing wobble in the magnesium case can build up heat, eventually causing failure. We completely replace these parts to overcome these issues.
NP261-NV261 History & Information
The Chevy 261 transfer case was originally produced by a company called New Venture Gear, also sometimes known as New Process. It was a chain-driven module designed for manual-shift 4WD trucks and first appeared on the scene in 1999. They were used on almost every single GM and Chevy pickup exclusively between the years 1999 and 2007, and eventually were picked up by other auto manufacturers, including Ford. Common vehicles it was used in were the Chevrolet Silverado 1500, GMC Sierra 1500, Chevrolet Silverado 2500, GMC Sierra 2500, Chevrolet Silverado 3500, and GMC Sierra 3500.
The case has a 2.72:1 low gear ratio with a left side drop output. It offers 4 low, neutral, 4 high, and 2 high combos. It uses a rear slip yoke and comes with either a 27, 29, or 32 spline front output. Pickups that are designed for heavy-duty use had a 261 HD GM transfer case or 261XHD transfer case while the lower-duty trucks came with the NV261LD transfer case. The specific transmissions that were factory mounted to the NP261 transfer case include the 4L60E, NV3500, 4L80E, NV4500, Allison 1000, and ZF6 transmissions.
Despite being designed for heavy-duty use, and being cutting edge at the time, these transfer cases were far from perfect. They did come with a number of flaws, including a weak case, ball-bearing issues, and other problems that could cause the original cases to fail. This is why it's so important to have a properly remanufactured NP261 case rebuild done instead of just a haphazard repair job.
One unique issue with the 261 transfer case is that they are designed to work with very specific tire diameters. Very often, especially if you've purchased a used truck, the dealer will have mismatched tires, which they think will make it sell at a higher value, but mismatched tires put undue wear on the transfer case and can cause it to fail.
Our rebuilt NP261 transfer cases for sale remove the many standard weaknesses of these cases and allow your heavy-duty truck to perform at peak levels without worries about fluid leaks, housing problems, bearing wobble, and other case failures.
Flat Rate Shipping
Excellent Customer Support
Up to 5 Years Unlimited Miles Warranty
No Core Charge for 30 Days
Speak With A Specialist Now
Habla con un especialista ahora
NP261-NV261 Transfer Case Compatibility Chart
MAKE
MODEL
START YEAR
END YEAR
GMC
Sierra 1500
1999
2007
GMC
Sierra 2500
1999
2007
GMC
Sierra 3500
2001
2007
Chevrolet
Silverado 1500
1999
2007
Chevrolet
Silverado 2500
1999
2007
Chevrolet
Silverado 3500
2001
2007
Flat Rate Shipping
Excellent Customer Support
Up to 5 Years Unlimited Miles Warranty
No Core Charge for 30 Days
Speak With A Specialist Now
Habla con un especialista ahora