Flat Rate Shipping (Commercial address)
Up to 5 Years Unlimited Mile Warranty
Excellent Customer Support
No Core Charge for 30 Days
Remanufactured AW55-50SN Transmission Price
Alternative Name: Aisin, AF33, AF33-5, RE5F22A
Price
Shipping
Core and Fee
Upfront Cost
Warranty
$2397
$270
None
$2667
5 Year
$2945
In Store
$1095
$4040
3 Year
$2945
In Store
$295
$4040
3 Year
$3015
In Store
$302
$4117
3 Years
*Core: Waived for 30 Days
*Shipping: We offer Flat Rate Shipping (Commercial address)
*Logos are the property of their respective owners
Why Chose Reman-Transmission.com
| | Reman Transmission | Other Vendors |
| --- | --- | --- |
| Transparent Pricing | Check | x |
| Best Price Guarantee | Check | x |
| Flat Rate Shipping (Commercial address) | Check | x |
| Up to 5 Years Unlimited Mile Warranty | Check | x |
| Torque Convertor Included | Check | x |
| No Core Charge for 30 Days | Check | x |
| Free Shippng on Core Return | Check | x |
Why Chose Reman-Transmission.com
| Question to Ask | Reman Transmission | Other Vendors |
| --- | --- | --- |
| Is shipping free? | We offer Flat Rate Shipping (Commercial address) | Additional or Store Pickup |
| Who pays for Core Return? | We Do | You Do (Store Drop off) |
| Do I pay for Core today? | No, we waive Core Charge for 30 days* | Yes, but will be refunded when shipped back |
| Is torque convertor included? | Always! | Not included |
| What is the warranty? | Up to 5 years/Unlimited miles | Up to 3 years/Unlimited miles |
| Best Price Guarantee? | Yes! (for comparable conditions only) | They Don't |
About Our Remanufactured AW55-50SN Transmission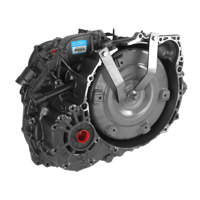 Your Aisin AW55 50SN transmission is a central part of keeping your vehicle running smoothly and shifting gears effortlessly. When your transmission is working right, it's easy to overlook it. If it's been slipping, making noises, or shifting roughly, these are all signs that it's time to replace it. Can't you just take it out and rebuild it in your garage? Doing this might be a possibility if you have new parts. However, you're going to end up with a rebuilt transmission that only has some new parts mixed in with older parts. This doesn't guarantee that you'll be able to drive your car smoothly. Instead of rebuilding, consider getting a remanufactured AW55-50SN transmission.
Reman-Transmission carries refurbished AW55-50SNs that have re-machined or new parts. Every part of these transmissions is replaced with parts that, at minimum, meet original equipment manufacturer (OEM) specifications. Some of these parts even exceed OEM specs. Our refurbishing process also involves addressing any factory defects in the AW55-50SN transmission that are known. Doing this means we're able to offer you a remanufactured transmission that might even perform more reliably than a new one purchased from a factory. That's just part of what sets Reman-Transmission above the competition.
Remanufactured AW55-50SN transmissions aren't the only option. We have used AW55-50SNs available as well. Buying a used one can offer a more affordable way to replace your AW55-50SN if you're trying to keep costs as low as possible. Keep in mind that a lower price tag doesn't mean lower quality. In fact, we conduct a thorough inspection of all used AW55-50SNs. Our team makes sure these transmissions are in adequate working condition, so customers can depend on them for safe, smooth driving. Whether you purchase a used or remanufactured AW55 50SN from Reman-Transmission, you can count on getting a high-quality transmission.
While we do our best to minimize your risk of having problems with your transmission, we understand that issues can still occur. To cover this and give our customers some peace of mind, we offer warranties on our AW5550SN transmissions. If you get a used one, you'll have a warranty that's good for as long as six months or 6,000 miles. If you purchase a refurbished one, your warranty will have unlimited mileage and be good for up to 36 months. At Reman-Transmission, we also offer flat-rate shipping to get your used or remanufactured transmission to you. This rate is $270, no matter where in the U.S. you are. We'll ship your AW55-50SN transmission as soon as possible, so you can replace yours promptly.
Flat Rate Shipping (Commercial address)
Excellent Customer Support
Up to 5 Years Unlimited Miles Warranty
No Core Charge for 30 Days
AW55-50SN Frequently Asked Questions
What are the Common Failures of AW55-50SN?
The AW55-50SN can develop case wear, mainly in the output gear assembly area. This wear and tear can damage the bushings, resulting in reduced cooler pressure. At Reman-Transmission, we pride ourselves on correcting factory defects in the remanufactured AW55-50SN and ensuring it meets OEM specs.
What Kind of Transmission Fluid and How Much Fluid Does a AW55-50SM Take?
The AW55 50SN in GM Saturns takes type T-IV P/N 889000925 fluid. Volvo vehicles take P/N 1161540-8 fluid. Nissan vehicles with the RE5F22A transmission take Matic "K." Exxon/Mobile makes a synthetic mineral transmission fluid for the AW55-50SN known as 3309. Fluid capacity is typically 8.2 quarts.
What Cars Have the AW55-50SN Transmission?
The Chevy Equinox, Captiva, and Epica have this transmission. Other vehicles with the AW55-50SN include the Pontiac Torrent, Saab 9-3, Saab 9-5, Saturn Vue, Saturn Ion, Suzuki XL7, and Nissan's Maxima, Quest, and Altima. Several Volvos also have this transmission, including the S70, V70, and C70.
What Is the Difference Between the AW55-51SN and AW55-50SN Transmission?
Despite their similarities, the AW55-51SN is an all-wheel drive (AWD) transmission, while the AW55-50SN is a front-wheel drive (FWD) transmission. Our experts can ensure that you purchase the correct transmission for your vehicle when you need to get a remanufactured AW55-50/51SN transmission.
AW55-50SN History & Information
Aisin began making the AW55-50SN transmission in 2000. Aisin AW developed this 5-speed automatic transaxle in Anjo, Japan for use in all-wheel drive and front-wheel drive configurations. This transmission has different model codes, which vary by car manufacturer. The AW55-50SN is used in front-wheel drive (FWD) configurations, while the AW55 51SN is used in all-wheel drive configurations. Other model codes for this transmission include AF23 and AF33 transmission. General Motors (GM) vehicles have the AF33-5 transmission, while Nissan uses the model code RE5F22A. Volvo uses model code AW55-50 LE, and Saab uses model code FA57.
While the AW55-50SN is fairly reliable overall, some versions are known for having failures that occur within 50,000 miles. This is mainly an issue with some of these transmissions in Volvo vehicles. This transmission can also develop case wear around the bushings, which can lead to a drop in cooler pressure. To keep AW55-50SN transmissions working smoothly, manufacturers recommend having scheduled maintenance done. This generally includes fluid changes every 50,000 miles. The correct type of transmission fluid should be used to lower the risk of damage. This varies for different car manufacturers that use the AW55-50SN. For example, the GM Saturn uses type T-IV fluid, while Volvo vehicles use P/N 1161540-8 fluid. Nissan cars with the REF522A transmission use Matic "K" fluid. Exxon/Mobile makes 3309 transmission fluid, which is a synthetic mineral type designed for the AW55-50SN.
The AW55-50SN remained in production until 2015. From 2000 through 2015, it was used in a wide range of vehicles sold in the U.S. GM vehicles with this type of transmission include the 2004-2009 Chevy Equinox, 2006-2010 Chevy Captiva, and 2006-2007 Chevy Epica. Other GM vehicles with the AW55-50SN include the 2006-2009 Pontiac Torrent, 2002-2003 Saturn Vue, and 2003-2004 Saturn Ion. The 2003-2007 Saab 9-3 and 2002-2009 Saab 9-5 also have this transmission. A few Nissan vehicles have the REF522A transmission, including the 2004-2006 Nissan Maxima, Quest, and Altima. The 2007-2008 Suzuki XL7 also has the AW55-50SN transmission. Volvo vehicles with this transmission include the 2000 S70 and V70 and 2000-2004 C70, S40, and V40. Other Volvo vehicles with the AW55 50SN include the 2000-2009 S60, 2000-2005 V70 II, 2003-2007 XC70, 2000-2006 S80, 2003-2006 XC90, 2004-2013 S40 II, 2004-2013 V50, 2006-2013 C30, and 2006-2013 C70 II.
Flat Rate Shipping (Commercial address)
Excellent Customer Support
Up to 5 Years Unlimited Miles Warranty
No Core Charge for 30 Days
Speak With A Specialist Now
Habla con un especialista ahora
AW55-50SN Transmission Compatibility Chart
MAKE
MODEL
START YEAR
END YEAR
Chevrolet
Equinox
2004
2009
Chevrolet
Captiva
2006
2010
Chevrolet
Epica
2006
2007
Pontiac
Torrent
2006
2009
Saturn
Vue
2002
2003
Saturn
Ion
2003
2004
Saab
9-3
2003
2007
Saab
9-5
2002
2009
Nissan
Maxima
2004
2006
Nissan
Quest
2004
2006
Nissan
Altima
2004
2006
Volvo
S60
2000
2009
Volvo
V70
2000
2005
Volvo
XC70
2003
2009
Volvo
S80
2000
2006
Volvo
XC90
2003
2006
Volvo
S40
2004
2014
Volvo
V50
2004
2013
Volvo
C30
2006
2013
Volvo
C70
2006
2013
Flat Rate Shipping (Commercial address)
Excellent Customer Support
Up to 5 Years Unlimited Miles Warranty
No Core Charge for 30 Days
Speak With A Specialist Now
Habla con un especialista ahora