Flat Rate Shipping (Commercial address)
Up to 5 Years Unlimited Mile Warranty
Excellent Customer Support
No Core Charge for 30 Days
Remanufactured 6F50 Transmission Price
Alternative Name: Ford 6F50
Price
Shipping
Core and Fee
Upfront Cost
Warranty
$2193
$270
None
$2463
5 Year
$2640
In Store
$964
$3604
3 Year
*Core: Waived for 30 Days
*Shipping: We offer Flat Rate Shipping (Commercial address)
*Logos are the property of their respective owners
Why Chose Reman-Transmission.com
| | Reman Transmission | Other Vendors |
| --- | --- | --- |
| Transparent Pricing | Check | x |
| Best Price Guarantee | Check | x |
| Flat Rate Shipping (Commercial address) | Check | x |
| Up to 5 Years Unlimited Mile Warranty | Check | x |
| Torque Convertor Included | Check | x |
| No Core Charge for 30 Days | Check | x |
| Free Shippng on Core Return | Check | x |
Why Chose Reman-Transmission.com
| Question to Ask | Reman Transmission | Other Vendors |
| --- | --- | --- |
| Is shipping free? | We offer Flat Rate Shipping (Commercial address) | Additional or Store Pickup |
| Who pays for Core Return? | We Do | You Do (Store Drop off) |
| Do I pay for Core today? | No, we waive Core Charge for 30 days* | Yes, but will be refunded when shipped back |
| Is torque convertor included? | Always! | Not included |
| What is the warranty? | Up to 5 years/Unlimited miles | Up to 3 years/Unlimited miles |
| Best Price Guarantee? | Yes! (for comparable conditions only) | They Don't |
About Our Remanufactured 6F50 Transmission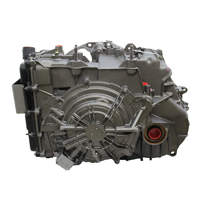 Having a transmission that's in good working condition is essential for your vehicle. The transmission helps lower the amount of fuel your vehicle uses and stops the turning gears from overloading your engine while you drive. If your 6F50 transmission is showing signs of trouble or wear and tear, replacing it as soon as possible helps ensure that you can keep using your vehicle safely. You don't have to purchase a brand-new transmission. While a rebuild of your 6F50 might be possible, it's not necessarily the best choice. Instead, consider purchasing a remanufactured 6F50 transmission that meets or even exceeds the original equipment manufacturer's (OEM) specifications.
When you have your transmission rebuilt, only parts that are damaged, defective, or worn are replaced. This can result in uneven wear and tear, which can affect performance. With a remanufactured or refurbished 6F50 from Reman-Transmission, you can count on having every single part replaced with one that's re-machined or new. This results in more even wear on your 6F50 transmission and better performance. The parts we use meet or exceed OEM specifications. In fact, we go above and beyond when it comes to ensuring the best performance from your remanufactured 6F50. While doing a remanufacture, we correct any known factory defects, which means you might get a transmission that's even better than purchasing a brand-new factory transmission.
At Reman-Transmission, we also sell used 6F50 transmissions. These used transmissions are the most affordable you'll find in the industry. Each one is carefully inspected to ensure that it's in adequate working condition. We offer warranties of up to 6 months or 6,000 miles on all of our used 6F50 transmissions. For our remanufactured 6F50 transmissions, we offer warranties of up to 36 months with unlimited mileage. These warranties can provide you with peace of mind should you experience any issues with your used or remanufactured 6F50 transmission.
When you buy a remanufactured 6F50 transmission instead of a new one, you'll save money and ensure that your vehicle runs safely and efficiently. At Reman-Transmission, we waive core charges for 30 days, which can save you a considerable amount of money. We offer flat-rate shipping charges, so you don't have to take time out of your schedule to pick up your 6F50 transmission in person. Our affordable prices, warranties, and commitment to selling the highest quality remanufactured and used 6F50 transmissions make Reman-Transmission the best supplier.
Flat Rate Shipping (Commercial address)
Excellent Customer Support
Up to 5 Years Unlimited Miles Warranty
No Core Charge for 30 Days
6F50 History & Information
In 2005, Ford announced plans to make a new 6F 6-speed transmission as a way to offer better performance and help drivers save on fuel costs. This new transmission was first paired with the company's brand-new 3.5L V6 engine in vehicles such as the Ford Edge. With the ability to handle 300 hp and 280 lb-ft of torque, the 6F 6-speed transmission also offered shift speeds of up to 7,000 rpm and significant fuel savings. These features first appeared in the 6F50's predecessor, the 6F35.
The 6F50, which was introduced in 2007, kept many of the same specifications and introduced slight changes. Although the 6F35 and 6F50 belong to the same generation of automatic Ford transmissions, they are not interchangeable. The 6F50 transmission is slightly bigger than the 6F35 transmission, making it suitable for different vehicles. In fact, the 6F50 transmission has been used in several Ford vehicles, including the Ford Edge, Ford Escape, Ford Explorer, Ford Flex, Ford Focus, Ford Fusion, and Ford Taurus. It has also been used in the Lincoln MKS, Lincoln MKX, Lincoln MKZ, Mazda Tribute, Mercury Mariner, Mercury Milan, and Mercury Sable. The 6F50 transmissions were produced in Sterling Heights, Michigan at the Van Dyke plant. Earlier versions of the 6F50 had different clutch regulator valves compared to other versions released in 2009 and later. Ford unveiled the 6F50's successor, known as the 6F55, in 2009. This successor was designed for use with the company's newly developed 3.5L EcoBoost V6 engine in vehicles such as the Ford Flex.
The 6F50 transmission is still known for providing exceptional handling, better efficiency, and improved fuel savings. However, its parts can wear out over time. When your 6F50 transmission shows signs of wear and tear or becomes damaged, replacing it with a high-quality remanufactured one from Reman-Transmission can help you continue to enjoy its many benefits. Our experts can help ensure that you have a reliable used or remanufactured 6F50 transmission for your vehicle.
Flat Rate Shipping (Commercial address)
Excellent Customer Support
Up to 5 Years Unlimited Miles Warranty
No Core Charge for 30 Days
Speak With A Specialist Now
Habla con un especialista ahora
6F50 Transmission Compatibility Chart
MAKE
MODEL
START YEAR
END YEAR
Ford
Edge
2007
2019
Ford
Taurus
2008
2019
Ford
Flex
2007
2019
Ford
Escape
2009
2020
Ford
Fusion
2010
2021
Ford
Explorer
2011
2021
Lincoln
MKX
2007
2018
Lincoln
MKS
2009
2016
Lincoln
MKZ
2007
2020
Lincoln
Continental
2017
2020
Mercury
Sable
2008
2009
Mercury
Mariner
2009
2011
Flat Rate Shipping (Commercial address)
Excellent Customer Support
Up to 5 Years Unlimited Miles Warranty
No Core Charge for 30 Days
Speak With A Specialist Now
Habla con un especialista ahora