Flat Rate Shipping (Commercial address)
Up to 5 Years Unlimited Mile Warranty
Excellent Customer Support
No Core Charge for 30 Days
Remanufactured 545RFE Transmission Price
Alternative Name: 45RFE, 545RFE
Price
Shipping
Core and Fee
Upfront Cost
Warranty
$2389
$398
None
$2787
5 Year
$2415
In Store
$1057
$3472
3 Year
$2415
In Store
$1057
$3472
3 Year

$2415
In Store
$1057
$3472
3 Year
*Core: Waived for 30 Days
*Shipping: We offer Flat Rate Shipping (Commercial address)
*Logos are the property of their respective owners
Why Chose Reman-Transmission.com
| | Reman Transmission | Other Vendors |
| --- | --- | --- |
| Transparent Pricing | Check | x |
| Best Price Guarantee | Check | x |
| Flat Rate Shipping (Commercial address) | Check | x |
| Up to 5 Years Unlimited Mile Warranty | Check | x |
| Torque Convertor Included | Check | x |
| No Core Charge for 30 Days | Check | x |
| Free Shippng on Core Return | Check | x |
Why Chose Reman-Transmission.com
| Question to Ask | Reman Transmission | Other Vendors |
| --- | --- | --- |
| Is shipping free? | We offer Flat Rate Shipping (Commercial address) | Additional or Store Pickup |
| Who pays for Core Return? | We Do | You Do (Store Drop off) |
| Do I pay for Core today? | No, we waive Core Charge for 30 days* | Yes, but will be refunded when shipped back |
| Is torque convertor included? | Always! | Not included |
| What is the warranty? | Up to 5 years/Unlimited miles | Up to 3 years/Unlimited miles |
| Best Price Guarantee? | Yes! (for comparable conditions only) | They Don't |
About Our Remanufactured 545RFE Transmission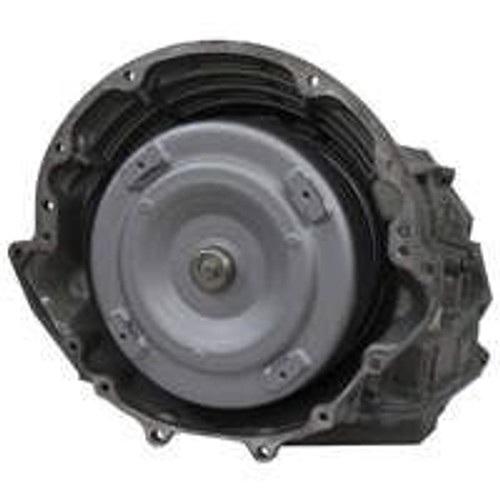 If you are looking for a reliable 545FRE automatic transmission replacement from your local zone, then you may want to go with our remanufactured 545RFE transmission. Our super rebuilt 545RFE transmission is a popular item in our company catalog, as we provide a wide variety of transmissions. When compared to a transmission rebuild or a reconditioned 545RFE transmission, our remanufactured option is superb. Our products differ from our competitor's rebuilt transmissions because they only replace the broken parts within the assembly. The remanufactured transmissions we sell have had every component replaced with new or rebuilt parts to meet or exceed the original manufacturer's specifications. Even though you may be able to find a cheaper option if you go with a used 545RFE transmission, a remanufactured 545RFE transmission has been tested to make sure it meets or exceeds all quality standards as set by the original equipment manufacturer (OEM). If there are any defective parts, we always replace those components. Then, we test each individual part to make sure its performance and condition are exceptional and meet every specification set by the manufacturer. We will also make sure that your transmission is directly compatible with your vehicle and your powertrain.
If you are looking for the best 545RFE transmission for sale from a supplier near you, we are proud to be an industry-leading option. We use your VIN or your vehicle's year, make, and model to look through our stock, providing you with the top remanufactured transmission choice for your car. At Reman-Transmission, we always place your needs first. If you need a rock solid replacement product for your auto or truck, drop in today and ask a professional from our shop for a quote, even if you are looking for a TorqueFlite! That way, you have a complete picture of how much it is going to cost before you buy or repair your transmission and return to the street. We are so confident in our transmissions that we even provide you with an exceptional warranty on every product no matter if it's a used or remanufactured transmission. We also guarantee free and fast delivery straight to your commercial address. If you need any help with starting the process, give one of our friendly customer service representatives a call for fast and helpful service.
Flat Rate Shipping (Commercial address)
Excellent Customer Support
Up to 5 Years Unlimited Miles Warranty
No Core Charge for 30 Days
Our 545RFE Transmission Upgrades
Fully remanufactured valve body includes updated solenoid switch valves for improved shifting, lubrication, and performance.
Fully remanufactured torque converter is tested for leaks, lockup, concentricity, and balance. Upgrades exceed OE requirements and eliminate the possibility of front seal leaks, premature bushing wear, and vibration.
Completely remanufactured pump, complete with updated TCC limit valve and TCC accumulator to ensure proper TCC control and cooler flow, provides consistent internal pressures, eliminating slippage and delayed engagement.
New line pressure sensor maintains consistent shift quality.
Secured accumulator cover bolts prevent loss of 3rd or 4th gear.
Fully remanufactured solenoid packs are tested separately from the transmission before dyno testing to verify shift quality and pressure control.
All-new custom-spec bushings improve internal fluid flow control and pressures.
Bushings and machined surfaces polished to a mirror-like OE finish of 16 RA or less.
Every transmission is cold-and hot-tested using a proprietary dynamometer testing program that includes fully synthetic automatic transmission fluid and a filtration system.
545RFE Frequently Asked Questions
Is the 545RFE a good transmission?
Yes, the 545RFE transmission is a good transmission. A smart option for your vehicle is a remanufactured 545RFE transmission. It will provide you with exceptional longevity as long as you take care of it properly. It is not unusual to get more than 200,000 miles out of a remanufactured 545RFE transmission.
How do I identify a 545RFE transmission?
You can take a look directly at the transmission and count the gears. A 545RFE transmission has five gears. Alternatively, you can take a look at the transmission fluid pan underneath the vehicle as the information should be present there. You can also check the manual in your vehicle to see what type of transmission your car has.
What is the difference between 45RFE and 545RFE?
The easiest way to identify a 545RFE transmission is to look and see how many gears your vehicle has. The 45RFE is a 4-speed transmission, while the 545RFE transmission is a 5-speed transmission. Additionally, in the transmission ID number, the first number you see is the number of gears present.
How much does it cost for a rebuilt 545RFE?
There are a lot of factors that will play a role in determining the price of a rebuilt 545RFE transmission. However, rebuilt and remanufactured 545RFE transmissions are near identical in price but the remanufactured version is a lot more reliable.
545RFE History & Information
The Chrysler-made 545RFE transmission, previously referred to as the 45RFE which was its predecessor, was first used in the Jeep Grand Cherokee back in 1999. In 2003 Dodge started using this transmission in the Ram 3500. Additionally, the 545RFE came in the Dodge Ram 2500, Dodge Dakota, Dodge Durango, Jeep Commander, and Jeep Wrangler. The 545RFE transmission is known for having three planetary gear sets instead of the standard two that are frequently used in four-speed automatic transmissions. A strong transmission for domestic and foreign vehicles, the 545RFE transmission remains popular to this day. The 45RFE transmission was produced at the Indiana Transmission factory, located in Kokomo, IN. It was often paired with the 4.7 L PowerTech V8 before becoming the 5-speed 545RFE transmission. The 545RFE transmission is used with the same transfer cases as the 45RFE which are the NV233D and NV244D transfer cases.
This transmission has 3 multiple-disc holding clutches, and three multiple-disc input clutches, along with a dual internal filter system. 1 filter system is used for the fluid cooler return system while the other filter is used for the transmission sump. When compared to the 45RFE transmission, the 545RFE transmission has a slightly different ratio. The 45RFE has a 1.50:1 ratio while the 545RFE transmission has a 1.67:1 ratio. Furthermore, in the 545RFE transmission, a taller overdrive ratio is used. Chrysler often refers to this as a multi-speed automatic. There are several reasons why people love to swap out their transmission for a 545RFE transmission. The 545rfe transmission compares favorably to its predecessor, the 45RFE. If you have a need for a newer Chrysler or TorqueFlite transmission, the 65RFE, 66RFE, and 68RFE are all direct successors of the 545RFE transmission that have been upgraded accordingly. In the end, the 545RFE was a great transmission as it is durable, powerful, and leads to exceptional longevity in whatever vehicle you throw it in.
Flat Rate Shipping (Commercial address)
Excellent Customer Support
Up to 5 Years Unlimited Miles Warranty
No Core Charge for 30 Days
Speak With A Specialist Now
Habla con un especialista ahora
545RFE Transmission Compatibility Chart
MAKE
MODEL
START YEAR
END YEAR
Chrysler
Aspen
2007
2009
Dodge
Dakota
2003
2011
Dodge
Durango
2002
2011
Dodge
Ram 1500
2004
2011
Dodge
Ram 2500
2003
2011
Dodge
Ram 3500
2003
2011
Jeep
Commander
2006
2010
Jeep
Grand Cherokee
2003
2011
Jeep
Liberty
2005
2006
Mitsubishi
Raider
2006
2007
Flat Rate Shipping (Commercial address)
Excellent Customer Support
Up to 5 Years Unlimited Miles Warranty
No Core Charge for 30 Days
Diagnostic Codes for 545RFE Transmission
DIAGNOSTIC CODES
DESCRIPTION OF PROBLEM
P0120
Throttle Position Sensor Signal Circuit
P0122
Throttle Position Sensor/APPS Low
P0123
Throttle Position Sensor/APPS High
P0124
Throttle Position Sensor/APPS Intermittent
P0218
High Temperature Operation Activated
P0562
Low Battery Voltage
P0604
Internal TCM
P0605
Internal TCM
P0613
Internal TCM
P0700
Internal TCM
P0705
Check Shifter Signal
P0706
Check Shifter Signal
P0711
Trans Temp Sensor, No Temp Rise After Start
P0712
Trans Temp Sensor Voltage Too Low
P0713
Trans Temp Sensor Voltage Too High
P0714
Transmission Temperature Sensor Intermittent
P0715
Input Speed Sensor Error
P0720
Ouput Speed Sensor Error
P0725
Engine Speed Sensor Circuit
P0731
Gear Ratio Error in 1st
P0732
Gear Ratio Error in 2nd
P0733
Gear Ratio Error in 3rd
P0734
Gear Ratio Error in 4th
P0735
Gear Ratio Error in 4th Prime
P0736
Gear Ratio Error in Reverse
P0740
Torque Converter Clutch, No RPM Drop @ Lockup
P0743
Torque Converter Clutch Solenoid/Trans Relay Circuits
P0748
Pressure Solenoid Control/Trans Relay Circuits
P0750
LR Solenoid Circuit
P0751
O/D Switch Pressed (Lo) More Than 5 Minutes
P0753
Trans 3-4 Shift Solenoid/Trans Relay Circuits
P0755
2/4 or 2C Solenoid Circuit
P0760
OD Solenoid Circuit
P0765
UD Solenoid Circuit
P0770
4C Solenoid Circuit
P0783
3-4 Shift Solenoid, No RPM Drop @ Lockup
P0841
LR Pressure Switch Sense Circuit
P0845
2/4 Hydraulic Pressure Test Failure
P0846
2/4 Pressure Switch Sense Circuit
P0867
Line Pressure Fault
P0868
Line Pressure Low
P0869
Line Pressure High
P0870
OD Hydraulic Pressure Test Failure
P0871
OD Pressure Switch Sense Circuit
P0875
UD Hydraulic Pressure Test Failure
P0876
UD Pressure Switch Sense Circuit
P0884
Power Up at Speed
P0888
Relay Output Always Off
P0890
Switched Battery
P0891
Transmission Relay Always On
P0897
Worn Out/Burnt Transaxle Fluid
P0932
Line Pressure Sensor Fault
P0944
Loss of Prime
P0951
Autostick Sensor Circuit
P0952
Autostick Input Circuit Low
P0987
4C Hydraulic Pressure Test Failure
P0988
4C Pressure Switch Sense Circuit
P0992
2-4/OD Hydraulic Pressure Test Failure
P1652
Serial Communication Link Malfunction
P1684
Battery Was Disconnected
P1687
No Communication with MIC
P1694
BUS Communication with Engine Module
P1714
Low Battery Voltage
P1715
Restricted Port In T3 Range
P1716
BUS Communication with Engine Module
P1717
No Communication with MIC
P1726
UD Hydraulic Pressure Switch Circuit
P1727
4C Hydraulic Pressure Switch Circuit
P1728
2C Hydraulic Pressure Switch Circuit
P1732
UD Pressure Switch Sense Circuit
P1733
4C Pressure Switch Sense Circuit
P1734
2C Pressure Switch Sense Circuit
P1735
Inadequate Element Volume 4C
P1736
Gear Ratio Error in 2nd Prime
P1738
High Temperature Logic Activated
P1739
Power Up at Speed
P1740
TCC O/D Solenoid Performance
P1756
Governor Pressure Not Equal to Target @ 15-20 PSI
P1757
Governor Pressure Above 3 PSI In Gear @ 0 MPH
P1762
Governor Pressure Sensor Offset Volts Too Low Or High
P1763
Governor Pressure Sensor Volts Too High
P1764
Governor Pressure Sensor Volts Too Low
P1765
Trans 12 Volt Supply Relay Control Circuit
P1767
Relay Output Always On
P1768
Relay Output Always Off
P1770
Inadequate Element Volume LR
P1771
Inadequate Element Volume 2C
P1772
Inadequate Element Volume OD
P1773
Inadequate Element Volume UD
P1775
Solenoid Switch Valve Latched in TCC Possition
P1776
Solenoid Switch Valve Latched in LR Position
P1781
OD Pressure Switch Sense Circuit
P1782
2-4 Pressure Switch Sense Circuit
P1784
L-R Pressure Switch Sense Circuit
P1787
OD Hydraulic Pressure Switch Circuit
P1788
2-4 Hydraulic Pressure Switch Circuit
P1789
2-4/OD Hydraulic Pressure Switch Circuit
P1790
Fault Immediately After Shift
P1791
Loss of Prime
P1792
Battery Was Disconnected
P1793
TRD Link Communication Error
P1794
Speed Sensor Ground Error
P1795
Internal Transmission Controller
P1796
Autostick Input Circuit
P1797
Manual Shift Overheat
P1798
Worn out / Burnt Transaxle Fluid
P1799
Calculated Oil Temp In Use
P1899
P/N Performance
P2700
Inadequate Element Volume LR
P2701
Inadequate Element Volume 2C
P2702
Inadequate Element Volume OD
P2703
Inadequate Element Volume UD
P2704
Inadequate Element Volume 4C
P2706
MS Solenoid Circuit
Speak With A Specialist Now
Habla con un especialista ahora