Flat Rate Shipping (Commercial address)
Up to 5 Years Unlimited Mile Warranty
Excellent Customer Support
No Core Charge for 30 Days
Remanufactured 6T45 Transmission Price
Alternative Name: MH7, 6T45E, 6T45-E, GM 6T45
Price
Shipping
Core and Fee
Upfront Cost
Warranty
$2212
$270
None
$2482
5 Year
$2704
In Store
$870
$3574
3 Year
$2735
In Store
$873
$3608
3 Years
*Core: Waived for 30 Days
*Shipping: We offer Flat Rate Shipping (Commercial address)
*Logos are the property of their respective owners
Why Chose Reman-Transmission.com
| | Reman Transmission | Other Vendors |
| --- | --- | --- |
| Transparent Pricing | Check | x |
| Best Price Guarantee | Check | x |
| Flat Rate Shipping (Commercial address) | Check | x |
| Up to 5 Years Unlimited Mile Warranty | Check | x |
| Torque Convertor Included | Check | x |
| No Core Charge for 30 Days | Check | x |
| Free Shippng on Core Return | Check | x |
Why Chose Reman-Transmission.com
| Question to Ask | Reman Transmission | Other Vendors |
| --- | --- | --- |
| Is shipping free? | We offer Flat Rate Shipping (Commercial address) | Additional or Store Pickup |
| Who pays for Core Return? | We Do | You Do (Store Drop off) |
| Do I pay for Core today? | No, we waive Core Charge for 30 days* | Yes, but will be refunded when shipped back |
| Is torque convertor included? | Always! | Not included |
| What is the warranty? | Up to 5 years/Unlimited miles | Up to 3 years/Unlimited miles |
| Best Price Guarantee? | Yes! (for comparable conditions only) | They Don't |
About Our Remanufactured 6T45 Transmission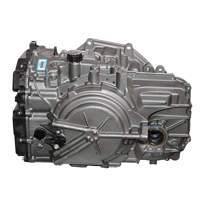 We understand that there are a lot of parts suppliers vying for your attention. However, buying a used or remanufactured 6T45 automatic transmission from Reman-Transmission comes with a myriad of benefits. Some of these include...
Reman-Transmission sells only top-quality used and remanufactured 6T45 transmissions.
Our transmissions are the most affordable transmissions in the industry.
We carefully inspect every transmission we sell.
Our remanufactured transmissions have had EVERY single part replaced with new or re-machined parts that meet or exceed the original equipment manufacturer's specifications (OEM).
We correct any known factory defects when we remanufacture the transmission. Often, the remanufactured transmission comes out better than a brand-new factory transmission. This extra step is not offered by many other remanufactured parts suppliers.
We offer a generous warranty of 6 months or 6,000 miles for used transmissions and a 36-month/unlimited mileage warranty for our remanufactured transmissions.
We charge a flat shipping rate of only $270.
Flat Rate Shipping (Commercial address)
Excellent Customer Support
Up to 5 Years Unlimited Miles Warranty
No Core Charge for 30 Days
6T45 Frequently Asked Questions
What is the 6T45 transmission?
The 6T45 transmission is a six-speed automatic transmission, produced by General Motors for vehicles such as the Chevrolet Equinox and the GMC Terrain. This transmission is transversely mounted (side to side, rather than front to back), which allows it to be used in smaller vehicles than many other, similar transmissions. The 6T45 is designed for use in both all-wheel-drive vehicles and front-wheel-drive vehicles and can be used on vehicles with a total gross weight of up to 4,850 pounds.
What is the difference between 6T40 and 6T45?
The 6T40 and 6T45 are similar transmissions. However, the 6T45 is constructed with more heavy-duty components, which allows it to be used in conjunction with engines that produce more torque and horsepower. In addition, the 6T40 is designed to be used only in front-wheel-drive vehicles, whereas the 6T45 can be used in both front-wheel-drive and all-wheel-drive cars. The 6T45 transmission is also slightly larger than the 6T40.
How much HP and torque can the 6T45 transmission handle?
The 6T45 transmission is designed to work with engines with more horsepower and more torque than many other GM transmissions. According to General Motors, the 6T45 can handle up to 232 lb-ft torque and 215 hp. The 6T40 transmission is only designed to handle a maximum of 177 lb-ft torque and 180 hp. Keep in mind that all transmissions sold by Reman-Transmission are built to the original manufacturer's specifications and have all known factory defects corrected, so often our transmissions are even better than stock transmissions.
What type of transmission fluid and what is the fluid capacity for the 6T45 transmission?
General Motors recommends using Dexron VI transmission fluid in the 6T45 transmission. This unit has a fluid capacity of 8.12L (6.86 kg). That translates to approximately 8 1/2 quarts. If you're looking for a 6t45 transmission for sale, look no further than Reman-Transmission. We offer a hassle-free way to replace your transmission. With more than 30 years in the auto parts business, we have the experience and knowledge to help you find the quality replacement transmission you need for your vehicle at an affordable price. Visit us at reman-transmission.com or call us today at (insert contact info).
6T45 History & Information
The 6T45 transmission, also known as the MH7 transmission, is a six-speed automatic transmission produced by General Motors designed for use in all-wheel-drive and front-wheel-drive vehicles, as well as 4x4 and hybrid vehicles. It has been used in some of GM's most popular vehicles, including several models of the Chevrolet Equinox and the GMC Terrain.
The 6T45 is transversely mounted (meaning it's mounted facing from side to side, not front to back) and is noted for its fuel economy and its smooth driving. This transmission has two gearboxes and is made from die-cast aluminum. The General Motors 6t45 transmission went into production in 2008 and is still being produced at the GM plant in Toledo, Ohio, and overseas.
The 6T45 is more robust and can handle engines with greater torque and hp than the similar 6T40 transmission. That's because the 6T45 is made with components that are more heavy-duty than the 6T40. It can handle engines with up to 215 hp and up to 232 lb-ft torque. The 6T45 also has a wider output chain (1.25" vs 1") than the 6T40 and uses five gears versus the four on the 6T40. The case on the 6T45 is slightly larger to house these components.
The 6t45 automatic transmission features an on-axis design, which allows for it to be used in vehicles that have a shorter length. In addition, this transmission features a clutch-to-clutch shift operation, which gives the vehicle a smoother transition between gears at lower speeds.
Adaptive shift controls instruct the transmission to stay in a lower gear when the vehicle is coasting or decelerating on a hill. This feature prevents unwanted acceleration and reduces the need for the driver to brake when the vehicle is going downhill. The control function gets input from the braking system about brake usage and acceleration and makes adjustments accordingly. This system can even tell whether the vehicle is towing a trailer.
The IX gear on the fluid pump on the 6T45 transmission has a machined crescent in the pocket designed to reduce internal leakage and optimize hydraulic efficiency. The fluid pump also has an inlet jet nozzle that helps increase the pump's suction pressure and reduce noise and vibration.
Noise and vibration are also kept to a minimum by the helical gears being finely ground to ensure precise dimensional control. This is an exceptionally quiet transmission.
The 6T45 is also sometimes referred to as the hydra-matic 6t45 six-speed automatic transmission and MH7, which is the production code. This transmission was preceded by the GM 6T30, 6T35, and 6T40 transmissions and followed by the GM 6T50, 6T70, and 6T75 transmissions.
Another popular transverse-style GM transmission for front-wheel-drive and all-wheel-drive vehicles is the 6T70, also known as the M7U. If you look at the 6t45 vs 6t70 transmission, the 6T70 is more robust, allowing for even more engine torque (up to 280 lb-ft) than the 6T45. The design of the 6T70 allows it to be used with lower hood configurations and even shorter vehicle lengths than the 6T45. The 6T70 can be used in vehicles with a total gross weight of up to 5,775 pounds, which is 925 pounds more than the 6T45. The 6T70 is also used in the Chevrolet Equinox and the GMC Terrain, as well as in the Cadillac SRX and XTS and the Buick LaCrosse, Regal, and Regal GS.
Flat Rate Shipping (Commercial address)
Excellent Customer Support
Up to 5 Years Unlimited Miles Warranty
No Core Charge for 30 Days
Speak With A Specialist Now
Habla con un especialista ahora
6T45 Transmission Compatibility Chart
MAKE
MODEL
START YEAR
END YEAR
Chevrolet
Equinox
2010
2017
GMC
Terrain
2010
2017
Flat Rate Shipping (Commercial address)
Excellent Customer Support
Up to 5 Years Unlimited Miles Warranty
No Core Charge for 30 Days
Speak With A Specialist Now
Habla con un especialista ahora