Flat Rate Shipping (Commercial address)
Up to 5 Years Unlimited Mile Warranty
Excellent Customer Support
No Core Charge for 30 Days
Remanufactured 4T80E Transmission Price
Price
Shipping
Core and Fee
Upfront Cost
Warranty
$2562
$270
None
$2832
5 Year
$2774
In Store
$822
$3596
3 Year
$2774
In Store
$822
$3596
3 Year

$2775
In Store
$822
$3597
3 Year
*Core: Waived for 30 Days
*Shipping: We offer Flat Rate Shipping (Commercial address)
*Logos are the property of their respective owners
Why Chose Reman-Transmission.com
| | Reman Transmission | Other Vendors |
| --- | --- | --- |
| Transparent Pricing | Check | x |
| Best Price Guarantee | Check | x |
| Flat Rate Shipping (Commercial address) | Check | x |
| Up to 5 Years Unlimited Mile Warranty | Check | x |
| Torque Convertor Included | Check | x |
| No Core Charge for 30 Days | Check | x |
| Free Shippng on Core Return | Check | x |
Why Chose Reman-Transmission.com
| Question to Ask | Reman Transmission | Other Vendors |
| --- | --- | --- |
| Is shipping free? | We offer Flat Rate Shipping (Commercial address) | Additional or Store Pickup |
| Who pays for Core Return? | We Do | You Do (Store Drop off) |
| Do I pay for Core today? | No, we waive Core Charge for 30 days* | Yes, but will be refunded when shipped back |
| Is torque convertor included? | Always! | Not included |
| What is the warranty? | Up to 5 years/Unlimited miles | Up to 3 years/Unlimited miles |
| Best Price Guarantee? | Yes! (for comparable conditions only) | They Don't |
About Our Remanufactured 4T80E Transmission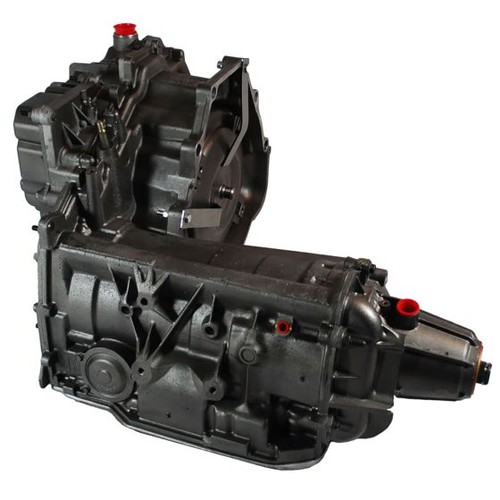 Before you start to search online for a "used 4T80E performance transmission for sale" or "cheap 4T80E transmission near me", you may want to consider a remanufactured 4T80 transmission available from Reman-Transmission. With some of the best 4T80E transmissions available on the market, you'll be able to get a high-quality remanufactured transmission. Why would you settle for a rebuilt transmission, where only the worn, defective part is replaced? When this happens, you rebuild the transmission just to have the stress shift to other worn parts, causing them to fail shortly down the road, which in turn requires you to pull the transmission again and replace that part, just to have another fail. Why go through this kind of hassle when you can get a transmission that will last for years to come the first time?
Our remanufactured 4T80 transmissions have all parts replaced with re-machined or brand new components, so your transmission will deliver strong performance for many more miles. When we recondition a GM 4T80E, we replace every part in the bell housing, including all the worn parts, to make sure that the transmission will meet or exceed OEM part specifications. If there have been common points of failure in the GM4T80E transmission, we replace these parts with upgraded components, so that they're less likely to fail. This gives you a transmission that has real potential to last longer than a factory-new OEM crate 4T80E transmission at a lower cost while delivering superior performance for a long time. This helps you prevent unexpected, expensive breakdowns on the highway. We also offer a used 4T80E transmission that has been professionally inspected to ensure it will deliver good performance for the foreseeable future.
When you buy from Reman-Transmission, you'll not only find a superior GM 4T80E for sale, but you'll also have some other outstanding benefits. We offer free shipping to any commercial address in the continental United States, with a $75 fee to deliver to residential addresses. Beyond that, we'll provide you with a 6-month, 6,000-mile warranty on a used 4T80E transmission and a 5-year, unlimited mileage warranty on a remanufactured GM 4T80E transmission. We also keep numerous other remanufactured manual and automatic transmissions on hand from all major domestic and import manufacturers. All units are tested and inspected to be certain they will meet or exceed OEM factory specs before shipping. Due to the lengths we go to in the remanufacturing process, your transmission will likely outlast one straight from the factory, with its faults remedied. Our highly-trained technicians work hard to give you a great replacement or upgrade the 4T80E performance transmission for your vehicle.
Flat Rate Shipping (Commercial address)
Excellent Customer Support
Up to 5 Years Unlimited Miles Warranty
No Core Charge for 30 Days
Our 4T80E Transmission Upgrades
Upgraded boost valve within the pump allows for proper line pressure control.
Upgraded TCC regulator valve on the valve body prevents torque converter slip during lockup.
Upgraded AFL valve allows for precise shift control, taking line pressure and regulating it to a specific level for the solenoids.
New 2-3 and 3-4 accumulator pistons replace wear-prone stock pieces that cause soft shifts and clutch failure.
New EPC, TCC, and shift solenoids replace old, failureprone, high mileage solenoids.
New spec bushings improve internal fluid flow control and pressures.
Fully remanufactured torque converter is tested for leaks, lockup, concentricity, and balance. Upgrades exceed OE requirements and eliminate the possibility of front seal leaks, premature bushing wear, and vibration.
Every transmission is cold-and hot-tested using a proprietary dynamometer testing program that includes fully synthetic automatic transmission fluid and a filtration system.
4T80E Frequently Asked Questions
Is the 4T80E a good transmission?
As a beefed-up transmission to match the name change in the Cadillac DTS, formerly the DeVille, the 4T80E transmission was focused on moving all that V8 torque to the wheels and has done so with few problems. Our transmissions treat those problems effectively, giving you a great ride!
How do I identify the 4T80-E transmission?
Identifying the GM 4T80E transmission is fairly simple. First, the OEM tag number will end in an N. Second, the case connector will actually hang off of the case. Third, the side cover is more squared than other models and may be stamped with 4T80E on it.
Designed to work with Cadillac's Northstar V8 front-wheel-drive lineup, the 4T80E can be found in the Cadillac DeVille, Seville, El Dorado, and DTS, as well as the Oldsmobile Aurora, the Pontiac Bonneville, and the Buick Lucerne, all from the General Motors Corporation.
What transmission fluid for 4T80E?
As a relatively flexible automatic four-speed transmission built for front-wheel-drive full-size sedans with V8 engines, the GM 4T80E transmission uses automatic transmission fluid, specifically those compatible with Dexron III and IV, as well as Mercon V.
4T80E History & Information
Developed as a performance transmission succeeding the Turbo-Hydromatic 125, the GM 4T80E transmission is a four-speed automatic transmission designed to work with a transverse engine configuration. As a continued development of the three-speed Turbo-Hydromatic 125, 4T60E, and 4T65E, the 4T80E added electronic controls and an automatic overdrive transaxle with a torque converter. Built at General Motor's Willow Run Transmission in Ypsilanti, Michigan, it was among the first to take on GM's new naming convention, with the first letter representing the number of forward gears and the E at the end signifying an electronic transmission control.
Designed to work with vehicles up to 8,000 pounds GVWR, it originally featured a viscous torque converter clutch. The viscous clutch was replaced by an electronically controlled converter clutch in 2004. It was designed for use with V8 engines in front-wheel drive vehicles, and specifically for the Cadillac Northstar engine. For the time period, it was designed for extreme power handling capability, providing a powerful connection between the engine and the wheels.
Depending on the engine that it was attached to, it featured final drive ratios of 3.11:1, 3.48:1, and 3.71:1. The gear ratios are 2.960 for first gear, 1.626 for second gear, 1.000 for third gear, 0.681 for fourth gear, and 2.130 for reverse. If you own a vehicle with this transmission, you'll be happy to know that in its long history, there have been no recalls on it, and only two service bulletins issued. The main issues that have been noted tend to deal with circuitry and sensors, not unexpected in a first-generation electronic transmission. Fortunately, when you purchase a remanufactured 4T80E performance transmission from us, you know that these problem parts have been upgraded to prevent the problem in the future, giving you a transmission that is even more rock-solid than left the factory.
For many years, the transmission was the exclusive domain of the Cadillac division of General Motors, until the 1995 Oldsmobile Aurora debuted. It was later used in the Pontiac Bonneville and Buick Lucerne, in addition to its long usage in the Eldorado, Seville, DeVille, and DTS in the Cadillac lineup. It was succeeded by the 6T70, which was a six-speed automatic transmission that helped boost fuel economy by reducing the range of each gear.
Flat Rate Shipping (Commercial address)
Excellent Customer Support
Up to 5 Years Unlimited Miles Warranty
No Core Charge for 30 Days
Speak With A Specialist Now
Habla con un especialista ahora
4T80E Transmission Compatibility Chart
MAKE
MODEL
START YEAR
END YEAR
Buick
Lucerne
2006
2011
Cadillac
Allante
1993
1993
Cadillac
DeVille
1994
2005
Cadillac
DTS
2006
2011
Cadillac
Eldorado
1993
2002
Cadillac
Seville
1993
2004
Oldsmobile
Aurora
1995
2003
Pontiac
Bonneville
2004
2005
Flat Rate Shipping (Commercial address)
Excellent Customer Support
Up to 5 Years Unlimited Miles Warranty
No Core Charge for 30 Days
Speak With A Specialist Now
Habla con un especialista ahora