Flat Rate Shipping (Commercial address)
Up to 5 Years Unlimited Mile Warranty
Excellent Customer Support
No Core Charge for 30 Days
Remanufactured 5L40E Transmission Price
Price
Shipping
Core and Fee
Upfront Cost
Warranty
$3293
$270
None
$3563
5 Year
$3794
In Store
$1304
$5098
3 Year
$3794
In Store
$1304
$5098
3 Year

$3795
In Store
$1304
$5099
3 Year
*Core: Waived for 30 Days
*Shipping: We offer Flat Rate Shipping (Commercial address)
*Logos are the property of their respective owners
Why Chose Reman-Transmission.com
| | Reman Transmission | Other Vendors |
| --- | --- | --- |
| Transparent Pricing | Check | x |
| Best Price Guarantee | Check | x |
| Flat Rate Shipping (Commercial address) | Check | x |
| Up to 5 Years Unlimited Mile Warranty | Check | x |
| Torque Convertor Included | Check | x |
| No Core Charge for 30 Days | Check | x |
| Free Shippng on Core Return | Check | x |
Why Chose Reman-Transmission.com
| Question to Ask | Reman Transmission | Other Vendors |
| --- | --- | --- |
| Is shipping free? | We offer Flat Rate Shipping (Commercial address) | Additional or Store Pickup |
| Who pays for Core Return? | We Do | You Do (Store Drop off) |
| Do I pay for Core today? | No, we waive Core Charge for 30 days* | Yes, but will be refunded when shipped back |
| Is torque convertor included? | Always! | Not included |
| What is the warranty? | Up to 5 years/Unlimited miles | Up to 3 years/Unlimited miles |
| Best Price Guarantee? | Yes! (for comparable conditions only) | They Don't |
About Our Remanufactured 5L40E Transmission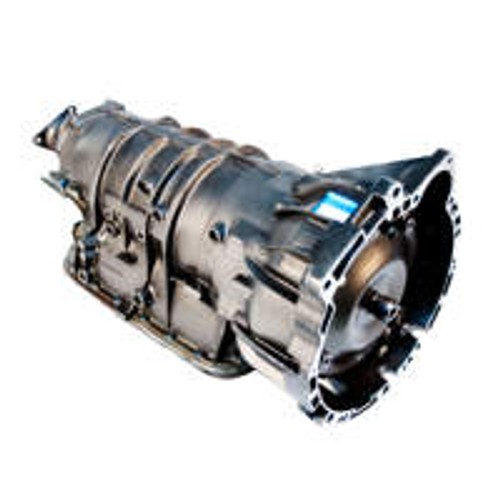 When you're buying a GM 5L40E transmission, also known as an a5s360r transmission, for your vehicle you may be tempted to buy a rebuilt transmission, but Reman-Transmission's high-quality remanufactured GM 5L40E transmissions are far superior. Consider the process of a rebuild. You remove the existing transmission, or maybe you find a 5L40E transmission for sale near you to take a chance on. You change out the defective part, put everything back together, and with the shift of stress onto other worn parts, you just have another failure. Our remanufactured transmissions have all parts replaced to give you superior strength and dependability for years to come.
We offer both professionally-inspected used transmissions and professionally-remanufactured transmissions for your needs. Our remanufacturing process replaces everything inside the bell housing, even making upgrades to common failure points, such as the 5L40E's torque converter bushing that wears quickly and causes leakage issues. This gives you a transmission that is better than even a brand-new OEM transmission, giving you the reassurance of many years of reliable service.
Even better, we'll save you more money in the process. Purchasing a new transmission is expensive, but our remanufactured engines deliver superior performance for less. Why risk the chance of getting stuck on the side of the road? When you work with us, you'll get free shipping to any commercial address in the continental U.S., or just pay $75 to get it shipped to your home. Our professionally-inspected used transmissions come with a six-month, 6,000-mile warranty, while our professionally reconditioned automatic transmissions like the 5L40 come with a 5-year, unlimited mile warranty, giving you peace of mind.
We keep a large variety of used and refurbished manual and automatic transmissions in stock from most major import and domestic manufacturers. Our professionals take the time to test and inspect every component that's used in the process to ensure it meets or exceeds OEM factors specs prior to shipping your transmission. All this means is that our transmissions, including the GM 5L40E, will outlast factory-new OEM transmissions, keeping your vehicle running smoothly for many years to come. If you are considering replacing or upgrading your vehicle's transmission, we can help. Please feel free to reach out to the professionals at Reman-Transmission today with questions, to request additional details or to get a quote on one of our quality remanufactured transmissions.
Flat Rate Shipping (Commercial address)
Excellent Customer Support
Up to 5 Years Unlimited Miles Warranty
No Core Charge for 30 Days
Our 5L40E Transmission Upgrades
A remanufactured and improved torque converter is included with every transmission.
To eliminate the possibility of front seal leaks, vibration, and premature bushing wear, all torque converters are tested for leaks, lock-up, concentricity, and balance.
Every fully remanufactured valve body, with complete system correction and recalibration kit, is tested independently.
All wear-prone valves are restored to stringent specifications and vacuum tested to confirm proper function.
Each remanufactured transmission is hot, cold, load, and simulated road tested using our proprietary CARS (Computer-Aided Road Simulation) dynamometer program.
All remanufactured transmissions are backed by the industry's best, no-hassle nationwide warranty.
5L40E Frequently Asked Questions
Is the 5L40E a good transmission?
With many years of development, the GM 5L40E transmission has had a lot of its issues worked out. The weak torque converter bushing is a big one, which we've upgraded in our remanufactured 5L40E transmissions to prevent the problem from reoccurring.
Who makes the 5L40E transmission?
The GM 5L40E transmission is manufactured by General Motors, and it's most commonly used in Cadillacs, Range Rovers, Pontiacs, and BMWs. Though it's a solid transmission, our remanufactured versions take care of common failure points, improving longevity over factory-new OEM transmissions.
How much power can a 5L40E handle?
For a stock, GM 5L40E transmission, designed for either rear-wheel or all-wheel drivetrains, a combination of real-world experience and automotive engineers feel that it tops out at about 400HP in rear-wheel drive, due to torque converter issues that are fixed in our remanufactured transmissions.
What transmission fluid for 5L40E?
As a 1990s-era five-speed automatic transmission, the GM 5L40E transmission was designed for use with Dexron III automatic transmission fluid. When production of Dexron III stopped, GM began recommending Dexron IV in its place, but there's a specific Castrol Dex/Merc Synthetic ATF that works well.
5L40E History & Information
The GM 5L40E, also known as the 5L40 and the a5s360r transmission, was a five-speed automatic transmission developed to replace General Motors' 4L30E, 4L60E, and 4L65E transmissions. Designed to work with longitudinal engine configurations, it powered rear-wheel-drive M82 configurations and all-wheel drive MX5 options, including Range Rovers, BMWs, Pontiacs, and Cadillacs. A late 2000s transmission, it was electronically controlled, as designated by the E at the end of the transmission name.
It was designed around a fully-articulated Ravigneaux gearset which uses the timed application of range-specific hydraulic clutch assemblies. These assemblies are used with one-way mechanical sprag clutches. A five-speed automatic overdrive replaced the 4L30E four-speed transmission while upgrading the gearboxes and adding a torque converter clutch to reduce or eliminate any slipping losses between different forward gears. It should be noted that this transmission was commonly mated to Borg Warner transfer cases like the BW4476 and BW4479.
Though it was initially designed for engines between 1.8L and 3.6L for a maximum torque of 250 lb-ft, many modders and street enthusiasts have seen it work well at much higher torque. It was, however, paired with the M57D30 engine which is capable of generating up to 390 lb-ft of torque. The transmission does have a bush for the torque converter that tends to wear quickly, but if replaced with a superior bush, the wearing process slows considerably and allows more torque to be paired with the transmission. This issue also causes the pump seal to deform, causing leakage of transmission fluid at the front of the transmission, an issue which is also fixed by putting a superior bush into the transmission as an upgrade.
It was designed for use in vehicles up to 4,000 pounds GVWR, with gear ratios at 3.42 for first gear, 2.21 for second gear, 1.60 for third gear, 1.00 for fourth gear, 0.75 for fifth gear, and 3.02 for reverse. As demand for higher fuel efficiency continued moving forward, it was replaced by the GM 6L50 transmission, a six-speed automatic transmission that used reduced gear ranges to improve fuel economy.
Flat Rate Shipping (Commercial address)
Excellent Customer Support
Up to 5 Years Unlimited Miles Warranty
No Core Charge for 30 Days
Speak With A Specialist Now
Habla con un especialista ahora
5L40E Transmission Compatibility Chart
MAKE
MODEL
START YEAR
END YEAR
Cadillac
CTS (RWD)
2004
2006
Cadillac
STS (RWD)
2005
2006
Cadillac
SRX (RWD)
2004
2006
Pontiac
Solstice
2006
2006
Saturn
Sky
2007
2007
Holden
WL Statesman/Caprice (RWD)
2004
2006
Holden
VZ Commodore (RWD)
2004
2006
Chevrolet
Omega (RWD)
2005
2009
Holden
VE Commodore (RWD)
2006
2009
Pontiac
G8 (RWD)
2008
2009
Cadillac
CTS (AWD)
2004
2006
Cadillac
STS (AWD)
2004
2006
BMW
3 Series (E46)
2003
2005
BMW
Z3
2003
2003
Cadillac
XLR
2004
2006
Cadillac
SRX
2004
2006
BMW
325xi
2001
2006
Flat Rate Shipping (Commercial address)
Excellent Customer Support
Up to 5 Years Unlimited Miles Warranty
No Core Charge for 30 Days
Speak With A Specialist Now
Habla con un especialista ahora