Flat Rate Shipping (Commercial address)
Up to 5 Years Unlimited Mile Warranty
Excellent Customer Support
No Core Charge for 30 Days
Remanufactured 6R80 Transmission Price
Alternative Name: ZF-6HP26
Price
Shipping
Core and Fee
Upfront Cost
Warranty
$2664
$270
None
$2934
5 Year
$2994
In Store
$1040
$4034
3 Year
$2994
In Store
$1040
$4034
3 Year

$2995
In Store
$1040
$4035
3 Year
*Core: Waived for 30 Days
*Shipping: We offer Flat Rate Shipping (Commercial address)
*Logos are the property of their respective owners
Why Chose Reman-Transmission.com
| | Reman Transmission | Other Vendors |
| --- | --- | --- |
| Transparent Pricing | Check | x |
| Best Price Guarantee | Check | x |
| Flat Rate Shipping (Commercial address) | Check | x |
| Up to 5 Years Unlimited Mile Warranty | Check | x |
| Torque Convertor Included | Check | x |
| No Core Charge for 30 Days | Check | x |
| Free Shippng on Core Return | Check | x |
Why Chose Reman-Transmission.com
| Question to Ask | Reman Transmission | Other Vendors |
| --- | --- | --- |
| Is shipping free? | We offer Flat Rate Shipping (Commercial address) | Additional or Store Pickup |
| Who pays for Core Return? | We Do | You Do (Store Drop off) |
| Do I pay for Core today? | No, we waive Core Charge for 30 days* | Yes, but will be refunded when shipped back |
| Is torque convertor included? | Always! | Not included |
| What is the warranty? | Up to 5 years/Unlimited miles | Up to 3 years/Unlimited miles |
| Best Price Guarantee? | Yes! (for comparable conditions only) | They Don't |
About Our Remanufactured 6R80 Transmission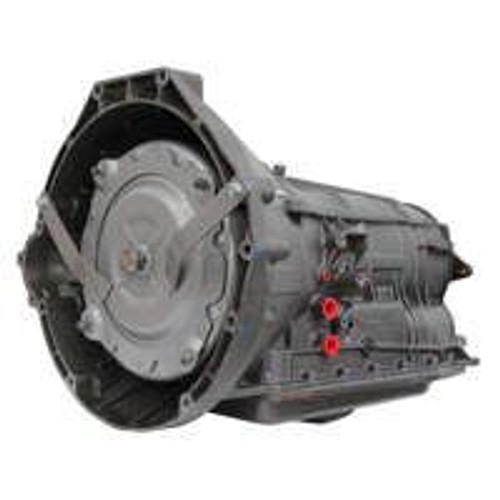 Whether you've been searching for an affordable drop in solution for your 6R80 transmission swap project or need a quality replacement for your Ford vehicle, count on the experts at Reman-Transmission to keep you in the zone. We offer the highest quality automatic and manual transmissions for a variety of domestic and foreign manufacturers, so you'll rest easier knowing you'll find the right product for your project. Not all transmissions are made equal, but you can be certain our remanufactured transmissions deliver excellent performance and professional quality at a cheap cost.
Our remanufactured 6R80 transmissions offer plenty of advantages over finding a rebuilt 6R80 transmission for sale or putting your existing 6R80 through a DIY rebuild process. A refurbished transmission simply has its worn out or defective parts swapped with OEM-quality replacements, often resulting in uneven wear between the new parts and the original parts left in place. With our remanufactured 6R80 transmissions, however, we go above and beyond the typical repair or rebuild by replacing each and every part with new or re-machined components that meet OEM specification. We also offer the highest quality used 6R80 transmissions for sale if you happen to be looking for a more affordable option. We make sure that each used 6R80 transmission is in working condition before it leaves the warehouse so you can be certain of a working drop-in 6R80 transmission replacement.
Reman-Transmission stands out from the rest of the industry with its generous warranties, which gives you up to 5 years of unlimited mileage along with comprehensive customer support. We also waive the core charge for 30 days for all remanufactured transmissions so you have time to swap out your old 6R80 and send it back to us. When you purchase a used 6R80 there will be no core charge at all. If you're ready to buy a replacement 6R80 transmission for your American or import vehicle "near me"? Make Reman-Transmission your top source for remanufactured transmissions. Contact us for a quote today or feel free to browse our catalog.
6R80 Transmission Remanufacturing Process
Flat Rate Shipping (Commercial address)
Excellent Customer Support
Up to 5 Years Unlimited Miles Warranty
No Core Charge for 30 Days
Our 6R80 Transmission Upgrades
Wear-prone rear stator bushing completely replaced to prevent failure of the E clutch.
Each valve body is remanufactured and vacuum tested to verify hydraulic control.
Valve body accumulator dampers are replaced to combat known deterioration of the OE component.
Fully remanufactured torque converter is tested for leaks, lock-up, concentricity, and balance. Upgrades exceed OE requirements and eliminate the possibility of front seal leaks, premature bushing wear, and vibration.
All wear-prone valves in the completely remanufactured valve body are restored to stringent specifications and vacuum tested to verify proper function.
Build specifications are checked by four different specialized technicians during the remanufacturing process to verify the correct application.
Every transmission is cold-and hot-tested using a proprietary dynamometer testing program that includes fully synthetic automatic transmission fluid and a filtration system.
6R80 Frequently Asked Questions
Is the 6R80 a Good Transmission?
The 6R80's compact size, stout internals and simple, band-free design makes it more durable and more dependable than its 4-speed predecessors. Whether your build is for stock, street or race applications, you can't go wrong with this ultra strong option.
Are All 6R80 Transmissions the Same?
According to Ford, each 6R80 is optimized and integrated differently depending on the engine it's paired with. If you want to source the right gearbox for your car, your best bet is to work with a reputable supplier with access to the Hollander Interchange.
How Many Gears are in a 6R80 Transmission?
The 6R80 makes use of five clutch packs and a single one-way clutch, resulting in six forward gear ratios, plus a double overdrive with 0.87:1 and 0.69:1 ratios for improved fuel economy. Torque converter lockup capabilities are also available in all gears, further maximizing fuel consumption.
How Much Does It Cost to Rebuild a 6R80 Transmission?
6R80 transmissions are inexpensive to rebuild, but a remanufactured transmission gives you the best value over the long run. Unlike refurbished units, remanufactured 6R80s have all of their internals replaced or re-machined with components that exceed original equipment manufacturer standards.
6R80 History & Information
When Ford Motor Company needed an advanced transmission to replace its aging AOD and AOD-E 4-speed automatic transmissions, the American automaker turned to the versatile ZF 6HP26 and adopted its design for what would eventually be known as the Ford 6R transmission family. Ford's first foray with the 6R came in the form of the 6R60, which was paired with the 4.6L V8 option in 2006-2008 [ and Mercury Mountaineer SUVs. Ford followed up with the 6R75 transmission shortly afterward, which featured minute changes to the pump design. By 2009, the 6R60 and 6R75 auto gearboxes would be further refined into the 6R80 transmission as we know it. The Ford 6R80 found its home in several variations of the Ford F-150 full-size pickup truck starting in 2009, as well as the Ford Expedition and Lincoln Navigator full-size SUVs of the same model year onwards.
With an improved torque rating of 800 Nm or 590 lb-ft of torque according to factory specification, the 6R80 transmission proved more than a match for Ford's longitudinal powertrain configurations and a rock-solid option for swap-happy enthusiasts. It's not surprising that the 6R80 is compatible with Ford's Modular and Coyote V8 motors, something that Fox body and SN95 Mustang owners are sure to love. The 6R80 transmission saw its fair share of improvements over the years, including the addition of a one-way clutch for smoother 1-2 upshifts and 2-1 downshifts. Ford later co-developed the 10-speed 10R80 auto transmission in a joint effort with General Motors as a successor to the 6R80. Nevertheless, the 6R80 remains in use in several Ford vehicles to this day, including the 3.3L versions of the Ford F-150. It should be noted that, as far as transfer case compatibility goes, this transmission was mounted from the factory with either a Borg-Warner BW4417, Borg-Warner BW4419, or a Ford PTU transfer case.
In 2018, Ford Motor Company and General Motors collaborated to produce the 10-speed 10R80 automatic transmission that would inevitably replace the 6R80 transmission in a lot of their production vehicles. However, the 6R80 transmission was and still is one of the best 6-speed automatic transmissions put into production to date and still remains an option available in models like the F-150, Ranger and Transit.
Flat Rate Shipping (Commercial address)
Excellent Customer Support
Up to 5 Years Unlimited Miles Warranty
No Core Charge for 30 Days
Speak With A Specialist Now
Habla con un especialista ahora
6R80 Transmission Compatibility Chart
MAKE
MODEL
START YEAR
END YEAR
Ford
Expedition
2009
2016
Ford
F-150
2009
2016
Ford
F-150 Raptor
2010
2010
Ford
Mustang
2011
2016
Lincoln
Navigator
2009
2016
Ford
Explorer
2010
2016
Ford
Ranger
2011
2016
Ford
Transit
2012
2016
Mercury
Mountaineer
2009
2010
Flat Rate Shipping (Commercial address)
Excellent Customer Support
Up to 5 Years Unlimited Miles Warranty
No Core Charge for 30 Days
Diagnostic Codes for 6R80 Transmission
DIAGNOSTIC CODES
DESCRIPTION OF PROBLEM
P0701
Transmission Control System Range/Performance
P0703
Torque Converter/Brake Switch B Circuit
P0705
Transmission Range Sensor Circuit Malfunction (PRNDL Input)
P0707
Transmission Range Sensor Circuit Low Input
P0708
Transmission Range Sensor Circuit High Input
P0710
Transmission Fluid Temperature Sensor Circuit
P0711
Transmission Fluid Temperature Sensor Circuit Range/Performance
P0712
Transmission Fluid Temperature Sensor Circuit Low Input
P0713
Transmission Fluid Temperature Sensor Circuit High Input
P0714
Transmission Fluid Temperature Sensor Circuit Intermittent P0715
P0715
Input/Turbine Speed Sensor Circuit
P0716
Input/Turbine Speed Sensor Circuit Range/Performance
P0717
Input/Turbine Speed Sensor Circuit No Signal
P0718
Input/Turbine Speed Sensor Circuit Intermittent
P0720
Output Speed Sensor Circuit
P0721
Output Speed Sensor Circuit Range/Performance
P0723
Output Speed Sensor Circuit Intermittent
P0729
Gear 6 Incorrect Ratio
P0730
Incorrect Gear Ratio
P0731
Gear 1 Incorrect Ratio
P0732
Gear 2 Incorrect Ratio
P0734
Gear 4 Incorrect Ratio
P0735
Gear 5 Incorrect Ratio
P0740
Torque Converter Clutch Circuit Malfunction
P0741
Torque Converter Clutch Circuit
P0742
Torque Converter Clutch Circuit Stuck On
P0744
Torque Converter Clutch Circuit Intermittent
P0748
Pressure Control Solenoid A Electrical
P0750
Shift Solenoid A
P0753
Shift Solenoid A Electrical
P0755
Shift Solenoid B
P0758
Shift Solenoid B Electrical
P0767
Shift Solenoid D Stuck On
P0780
Shift Malfunction
P0781
1-2 Shift
P0782
2-3 Shift
P0783
3-4 Shift
P0784
4-5 Shift
P0817
Transmission Fluid Pressure Manual Valve Position Switch Reverse with Drive Ratio
P0817
Starter Disable Circuit
P0829
5-6 Shift
P0840
Transmission Fluid Pressure Sensor/Switch "A"
P0960
Pressure Control Solenoid "A" Control Circuit/Open
P0961
Pressure Control Solenoid "A" Control Circuit Range/Performance
P0962
Pressure Control Solenoid "A" Control Circuit Low
P0963
Pressure Control Solenoid "A" Control Circuit High
P0973
Shift Solenoid "A" Control Circuit Low
P0976
Shift Solenoid "B" Control Circuit Low
P0977
Shift Solenoid "B" Control Circuit High
P0979
Shift Solenoid "C" Control Circuit Low
P0980
Shift Solenoid "C" Control Circuit High
P0982
Shift Solenoid "D" Control Circuit Low
P0983
Shift Solenoid "D" Control Circuit High
P0984
Shift Solenoid "E" Control Circuit Range/Performance
Speak With A Specialist Now
Habla con un especialista ahora