Flat Rate Shipping (Commercial address)
Up to 5 Years Unlimited Mile Warranty
Excellent Customer Support
No Core Charge for 30 Days
Remanufactured 4R100 Transmission Price
Alternative Name: C6 Transmission
Price
Shipping
Core and Fee
Upfront Cost
Warranty
$2137
$398
None
$2535
5 Year
$2400
In Store
$1056
$3456
3 Year
$2400
In Store
$1056
$3456
3 Year

$2400
In Store
$1056
$3456
3 Year
*Core: Waived for 30 Days
*Shipping: We offer Flat Rate Shipping (Commercial address)
*Logos are the property of their respective owners
Why Chose Reman-Transmission.com
| | Reman Transmission | Other Vendors |
| --- | --- | --- |
| Transparent Pricing | Check | x |
| Best Price Guarantee | Check | x |
| Flat Rate Shipping (Commercial address) | Check | x |
| Up to 5 Years Unlimited Mile Warranty | Check | x |
| Torque Convertor Included | Check | x |
| No Core Charge for 30 Days | Check | x |
| Free Shippng on Core Return | Check | x |
Why Chose Reman-Transmission.com
| Question to Ask | Reman Transmission | Other Vendors |
| --- | --- | --- |
| Is shipping free? | We offer Flat Rate Shipping (Commercial address) | Additional or Store Pickup |
| Who pays for Core Return? | We Do | You Do (Store Drop off) |
| Do I pay for Core today? | No, we waive Core Charge for 30 days* | Yes, but will be refunded when shipped back |
| Is torque convertor included? | Always! | Not included |
| What is the warranty? | Up to 5 years/Unlimited miles | Up to 3 years/Unlimited miles |
| Best Price Guarantee? | Yes! (for comparable conditions only) | They Don't |
About Our Remanufactured 4R100 Transmission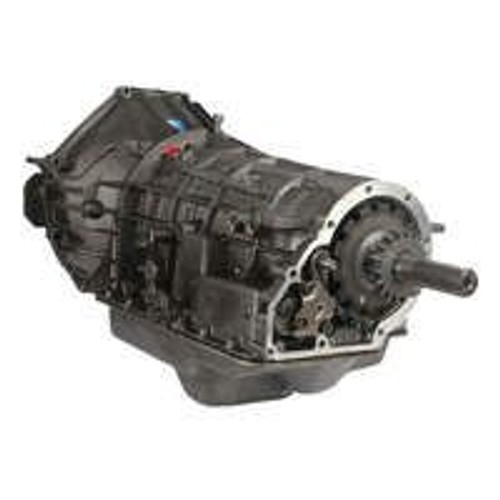 One of the best products to arise from the Ford C6 transmission class, the 4R100, is a staple of a Ford tough transmission and here at Reman-Transmission we strive to live up to that. One of the advantages of this era of American truck manufacturing is the fact that getting a part for the transmission is cheap, easy, and domestic components in perfect condition are affordable. That's why we sell remanufactured and used 4R10-0 transmission to ensure that no matter what your need is, we can help you fulfill it. However, if you want a rebuilt 4R100 and you're handy with a wrench, you still may not be comfortable or prepared to rebuild your 4R100 transmission at your place. You could always buy an Auto Zone transmission rebuild kit, but you can't always be sure if the parts are American or foreign made or if you have the time to get it done. Don't take chances with a vital part of your truck. Drop out the old transmission and drop in a quality used or remanufactured 4R100 transmission that has parts from the original equipment manufacturer in it from us.
A reconditioned or refurbished transmission has a lower cost and gets your vehicle back on the street, but it might not last that long. OEM parts in a rebuilt transmission are made to the same tolerances and specs of the parts that left the factory when the car was new. Finding a new crate 4R100 transmission, if at all possible, is expensive. You could save money by searching for "new 4R100 transmission near me" and find a transmission that's close to your place and save on shipping. However, the warranty may not be sufficient to cover the transmission if it happens to break down while the warranty is still active.
At Reman-Transmission, we have an extensive catalog of Ford C6 transmissions like our 4R100 transmissions for sale, a 5-year unlimited/ mileage warranty, and a rock solid customer support staff to help you with your transmission overhaul needs. We use OEM parts built to industry specification and only source compatible parts that are known to last as long as the original part. At Reman-Transmission, we use a VIN catalog system to find an OEM product or identify parts that can be used for a smart swap. We're a top supplier of transmission parts. Call us today to get a quote on a rebuilt 4R100 transmission, used 4R100 transmission, or remanufactured 4R100 transmission.
4R100 Transmission Remanufacturing Process
Flat Rate Shipping (Commercial address)
Excellent Customer Support
Up to 5 Years Unlimited Miles Warranty
No Core Charge for 30 Days
Our 4R100 Transmission Upgrades
To increase holding power and decrease the potential for slippage, the clutch count on all drums has been increased. While the overdrive and intermediate clutches have each been increased to 3, the direct clutch has been upgraded to 5 clutches.
The pump has been thoroughly machined to restore clearances and achieve OE+ specification. This update improves pressure and flow, combatting common wear from the aluminum pump and steel gear from the OE design.
The torque converter on V10 and diesel applications feature a triple clutch and billet cover to eliminate converter failure.
The front and rear planets have been upgraded from aluminum to 5 pinion steel.
A brand new boost valve increases pressure, allowing for better flow and improved shifting.
Throughout the fully remanufactured valvebody, all new heavy-duty springs have been installed to combat shifting issues.
Every transmission is cold-and hot-tested using a proprietary dynamometer testing program that includes fully synthetic automatic transmission fluid and a filtration system.
4R100 Frequently Asked Questions
How reliable is the 4R100 transmission?
The 4R100 transmission is one of the most reliable stock transmissions still on the road today. However, parts wear despite the best care and the transmission fails. Installing a reconditioned or refurbished transmission is the best course of action if you have serious 4R100 transmission problems.
How long will a 4R100 transmission last?
A stock 4R100 transmission lasts anywhere from 100,000 to 250,000 miles or longer before needing a replacement. A completely remanufactured 4R100 will last around the same amount of mileage if not more. However, keep in mind that heavy use without proper maintenance will shorten the lifespan of the transmission.
How much horsepower can a stock 4R100 transmission handle?
A stock 4R100 transmission can handle up to 700 horsepower with the addition of a torque convertor and valve body modifications. If you're planning on pushing your 4R100 transmission, you should buy a remanufactured trans instead of a rebuilt trans as a remanufactured trans uses brand-new or re-machined parts.
Are the E4OD and 4R100 the same?
No, the E4OD and 4R100 are two different transmissions. Though they are similar and share many components, the E4OD was replaced by the 4R100 and was purpose built for use with the 7.3-liter diesel Powerstroke engine with better durability.
4R100 History & Information
Over the years, Ford's pickup truck lineup has undergone an evolution that brought advanced performance and reliability to the legendary F-series. The 4R100 automatic transmission, manufactured between 1999 and 2003, was paired with the 7.3 Power Stroke diesel most often found in the F-250 and F-350, E-450 Super Duty Van, Lincoln Navigator, F-550 SD, Ford Excursion, Ford Expedition. It replaced the Ford C6 transmission and E40D and was eventually replaced by the 5R110W. In 2005, Ford settled on the 6R80 series transmission, a six-speed auto, as its transmission of choice for most of its F-series engines. Meanwhile, over 2 million trucks with the 4R100 transmission were sold and are still in use over 20 years later, and for good reason: the 4R100 transmission 7.3 Powerstroke diesel combination is strong, reliable, and delivers the power to handle heavy loads time and again.
Before the 4R100 transmission came around the E40D, or E4OD, was the heavy-duty 4-speed automatic transmission of choice for the diesel engine trucks. However, the E40D had some durability problems which were addressed internally, and then the transmission was renamed the 4R100. The 4R100 is a heavy-duty four-speed transmission used in 4x4 and rear-wheel-drive trucks and can withstand up to 1,000 foot-pounds of torque. It's regarded as one of the strongest transmissions ever built by Ford Motor Company. The transmission uses an electronic computer control that's easily tuned to customize the transmission to the needs and desires of the owner. However, it's the gear ratios that make the powertrain into a workhorse. The 4R100 was typically mounted with a BW4406, NP271F (NP271), or NP273F (NP273) transfer case in their 4x4 vehicle applications. It features a step 2.71 first gear that makes it one of the best powertrains for towing. Its overdrive gear ratio is 0.71 for fuel efficiency and its second gear ratio is 1.54 with the third gear being 1:1. This era of Ford trucks is considered one of the most reliable transmissions made. However, they're not immune from wear and tear and the transmission will eventually need to be repaired, undergo a rebuild, or be refurbished entirely.
Flat Rate Shipping (Commercial address)
Excellent Customer Support
Up to 5 Years Unlimited Miles Warranty
No Core Charge for 30 Days
Speak With A Specialist Now
Habla con un especialista ahora
4R100 Transmission Compatibility Chart
MAKE
MODEL
START YEAR
END YEAR
Ford
E-150 Van
1999
2000
Ford
E-250 Van
1999
2004
Ford
E-350 Van
1998
2004
Ford
E-450 Super Duty Van
1999
2003
Ford
E-550 Super Duty Van
2002
2003
Ford
Excursion
2000
2005
Ford
Expedition
1998
2002
Ford
F-150
1998
2004
Ford
F-250
1999
1999
Ford
F-250 Super Duty
1999
2004
Ford
F-350 Super Duty
1999
2004
Ford
F-450 Super Duty
1999
2003
Ford
F-550 Super Duty
1999
2003
Lincoln
Blackwood
2002
2003
Lincoln
Navigator
1999
2004
Ford
F53
1999
2004
Flat Rate Shipping (Commercial address)
Excellent Customer Support
Up to 5 Years Unlimited Miles Warranty
No Core Charge for 30 Days
Diagnostic Codes for 4R100 Transmission
DIAGNOSTIC CODES
DESCRIPTION OF PROBLEM
P0705
Transmission Range Sensor Circuit Malfunction (PRNDL Input)
P0711
Transmission Fluid Temperature Sensor Circuit Range/Performance
P0712
Transmission Fluid Temperature Sensor Circuit Low Input
P0713
Transmission Fluid Temperature Sensor Circuit High Input
P0714
Transmission Fluid Temperature Sensor Circuit Intermittent P0715
P0715
Input/Turbine Speed Sensor Circuit
P0717
Input/Turbine Speed Sensor Circuit No Signal
P0730
Incorrect Gear Ratio
P0731
Gear 1 Incorrect Ratio
P0732
Gear 2 Incorrect Ratio
P0733
Gear 3 Incorrect Ratio
P0734
Gear 4 Incorrect Ratio
P0735
Gear 5 Incorrect Ratio
P0745
Pressure Control Solenoid A
P0775
Pressure Control Solenoid B
P0795
Pressure Control Solenoid C
P0797
Pressure Control Solenoid C Stuck On
P0798
Pressure Control Solenoid C Electrical
Speak With A Specialist Now
Habla con un especialista ahora