Flat Rate Shipping (Commercial address)
Up to 5 Years Unlimited Mile Warranty
Excellent Customer Support
No Core Charge for 30 Days
Remanufactured FNR5 Transmission Price
Alternative Name: FS5A-EL
Price
Shipping
Core and Fee
Upfront Cost
Warranty
$2278
$270
None
$2548
5 Year
$2772
In Store
$778
$3550
3 Year
$2830
In Store
$783
$3613
3 Years
*Core: Waived for 30 Days
*Shipping: We offer Flat Rate Shipping (Commercial address)
*Logos are the property of their respective owners
Why Chose Reman-Transmission.com
| | Reman Transmission | Other Vendors |
| --- | --- | --- |
| Transparent Pricing | Check | x |
| Best Price Guarantee | Check | x |
| Flat Rate Shipping (Commercial address) | Check | x |
| Up to 5 Years Unlimited Mile Warranty | Check | x |
| Torque Convertor Included | Check | x |
| No Core Charge for 30 Days | Check | x |
| Free Shippng on Core Return | Check | x |
Why Chose Reman-Transmission.com
| Question to Ask | Reman Transmission | Other Vendors |
| --- | --- | --- |
| Is shipping free? | We offer Flat Rate Shipping (Commercial address) | Additional or Store Pickup |
| Who pays for Core Return? | We Do | You Do (Store Drop off) |
| Do I pay for Core today? | No, we waive Core Charge for 30 days* | Yes, but will be refunded when shipped back |
| Is torque convertor included? | Always! | Not included |
| What is the warranty? | Up to 5 years/Unlimited miles | Up to 3 years/Unlimited miles |
| Best Price Guarantee? | Yes! (for comparable conditions only) | They Don't |
About Our Remanufactured FNR5 Transmission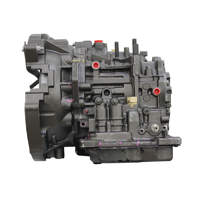 At Reman-Transmission, we regularly sell and ship FNR5 transmissions throughout the United States. Our used and remanufactured FNR5 transmissions are as reliable as they are affordable. We have a variety of remanufactured manual and automatic transmissions in stock from all major import and domestic manufacturers.
A transmission is one of the most important parts of any type of vehicle. When your FNR5 transmission starts to cause problems, you should consider promptly replacing it with a suitable replacement that is either like-new or rebuilt. Rebuilding a transmission includes replacing worn-out or defective parts with new ones. This often, however, creates unequal wear on the different parts inside the rebuilt transmission. The remanufactured transmission process involves replacing all worn-out parts with new or re-machined parts.
Each Reman-Transmission FNR5 transmission for sale has been thoroughly inspected to ensure that it is in top working condition. We examine our used transmissions in tremendous detail to identify any and all issues that may prevent them from operating at peak performance. The average technician rebuilding the average transmission in the average shop will only fix essential components that are entirely broken, so a rebuild at Reman-Transmission results in a transmission that is far more reliable. In fact, we even address manufacturer defects that have been present in the transmission since the moment it rolled off the factory floor. This means that our FNR5 transmissions are often better than brand-new!
The Reman-Transmission rebuild process involves replacing each and every component inside the transmission with new OEM (original equipment manufacturer) or re-machined parts. Despite this time-consuming dedication and painstaking attention to detail, our used and remanufactured FNR5 transmissions rank among the most inexpensive in the industry. Plus, we make these transmissions even more affordable by charging just $270 for shipping within the continental United States.
Because our remanufactured transmissions are entirely refurbished with new or re-machined parts that meet or exceed OEM specifications, we can offer our customers outstanding warranty coverage. Used Reman-Transmission FNR5 transmissions come complete with warranties for up to 6 months or 6,000 miles, and remanufactured Reman-Transmission FNR5 transmissions come complete with warranties for up to 36 months and unlimited mileage. In fact, a used or remanufactured FNR5 transmission has the strength and dependability to outpace many other types of brand-new transmissions.
Flat Rate Shipping (Commercial address)
Excellent Customer Support
Up to 5 Years Unlimited Miles Warranty
No Core Charge for 30 Days
FNR5 Frequently Asked Questions
What is the FNR5 transmission?
With an engineering design that is quite clever to say the least, the FNR5 transmission reliably executes the functions of a transmission and differential using extremely effective and efficient processes. It has a number of built-in failsafes and features including speed reduction properties when in first through fourth gears and higher-speed overdrive when in fifth gear.
What vehicles are compatible with the FNR5 transmission?
Beyond the Ford Fusion, Mercury Milan, and Mazda models (3, 5, 6, and CX-7) already mentioned, the FNR5 transmission is compatible with various years of the Ford Five Hundred, Ford Mondeo MkIV, Mercury Montego, Mazda CX-9, Mazda MPV III, Cadillac BLS, Cadillac SRX, Chevrolet Cruze, Volvo XC90, Volvo S60, Volvo V70 II, Volvo XC70, Volvo S80, Volvo V70, Volvo XC70, Volvo XC60, Volvo S60, Volvo V60, Volvo S40, Volvo V50, Volvo C30, Volvo C70 II, Saab 9-3 II, Saab 9-3 III, Hyundai Veracruz, Jaguar X-type, Land Rover Freelander 2, and Land Rover Evoque.
What type of transmission fluid, and what is the fluid capacity for the FNR5 transmission?
For maximum protection and performance, you should only use transmission fluid that meets Ford's specific engineering standards for your transmission. You can find this list in the owner's manual for your vehicle. In general, Ford recommends using its own brand of premium Motorcraft MERCON V transmission fluid in FNR5 transmissions. The correct "dry fill" fluid capacity for the FNR5 transmission is seven quarts, but you risk overfilling if you try to insert this amount when your transmission isn't fully flushed and drained.
FNR5 History & Information
The first Ford and Mazda FNR5 transmissions arose from redesigning the Mazda FN4A-EL and the Ford 4F27E. These 4-speed transmissions had been standard equipment in a number of Ford and Mazda vehicles since the late 1990s/early 2000s. Both the FN4A-EL and the 4F27E are the result of a long history of collaboration between the Ford Motor Company and the Mazda Motor Corporation in the field of transmission technology. Although the FS5A-EL and 4F27E transmissions had slightly different designs in various Ford and Mazda vehicles, their valve bodies and bushings remained generally consistent.
Shortly after introducing the FS5A-EL and 4F27E, Ford and Mazda launched research and development efforts to re-envision and re-brand them. The result of these efforts was the FNR5 transmission, also known as the FS5A-EL, which first appeared in Ford and Mazda vehicles in 2004. Specifically, the FNR5 came standard in the 2004 Ford Fusion and the 2004 Mazda 3, Mazda 5, Mazda 6, and CX-7. Ford also incorporated this new transmission into its mid-range Mercury line by installing it in the 2004 Mercury Milan. Ford and Mercury would continue to place FNR5 transmissions in various vehicles for more than a decade.
Over the years, the various new, used, and rebuilt FNR5 transmissions in operational circulation have earned a strong reputation for general reliability and consistent performance. Although both the FNR5 and the 4F27E transmission are now decommissioned and are no longer in active production, the FNR5 is far more widely available to the general public in the form of used and remanufactured units. This is due to the general popularity and continued use of vehicles that originally came with this particular and unique form of transmission.
When you need to replace your FNR5 transmission, you will want to find the best company in the industry to meet that need with products and services that you can both trust and afford. However, getting your hands on a quality used or rebuilt replacement FNR5 can be tricky because it has such a uniquely innovative design, is compatible with a limited number of vehicles, and came out of the factory as an OEM component for a limited time. To find a professional supplier with the right inventory at the right price, you will want to make sure that they have the right answers to the right questions. Asking one or two of the commonly asked questions in the section below is a great place to start.
Flat Rate Shipping (Commercial address)
Excellent Customer Support
Up to 5 Years Unlimited Miles Warranty
No Core Charge for 30 Days
Speak With A Specialist Now
Habla con un especialista ahora
FNR5 Transmission Compatibility Chart
MAKE
MODEL
START YEAR
END YEAR
Mercury
Milan
2006
2009
Ford
Fusion
2006
2009
Mazda
3
2006
2013
Mazda
5
2008
2014
Mazda
6
2006
2013
Mazda
CX-7
2010
2012
Flat Rate Shipping (Commercial address)
Excellent Customer Support
Up to 5 Years Unlimited Miles Warranty
No Core Charge for 30 Days
Speak With A Specialist Now
Habla con un especialista ahora