Flat Rate Shipping (Commercial address)
Up to 5 Years Unlimited Mile Warranty
Excellent Customer Support
No Core Charge for 30 Days
Remanufactured 4AT-SUBARU Transmission Price
Alternative Name: 4EAT, Subaru 4EAT, 4-EAT
Price
Shipping
Core and Fee
Upfront Cost
Warranty
$2683
$270
None
$2953
5 Year
$3292
In Store
$829
$4121
3 Year
$3292
In Store
$829
$4121
3 Year
*Core: Waived for 30 Days
*Shipping: We offer Flat Rate Shipping (Commercial address)
*Logos are the property of their respective owners
Why Chose Reman-Transmission.com
| | Reman Transmission | Other Vendors |
| --- | --- | --- |
| Transparent Pricing | Check | x |
| Best Price Guarantee | Check | x |
| Flat Rate Shipping (Commercial address) | Check | x |
| Up to 5 Years Unlimited Mile Warranty | Check | x |
| Torque Convertor Included | Check | x |
| No Core Charge for 30 Days | Check | x |
| Free Shippng on Core Return | Check | x |
Why Chose Reman-Transmission.com
| Question to Ask | Reman Transmission | Other Vendors |
| --- | --- | --- |
| Is shipping free? | We offer Flat Rate Shipping (Commercial address) | Additional or Store Pickup |
| Who pays for Core Return? | We Do | You Do (Store Drop off) |
| Do I pay for Core today? | No, we waive Core Charge for 30 days* | Yes, but will be refunded when shipped back |
| Is torque convertor included? | Always! | Not included |
| What is the warranty? | Up to 5 years/Unlimited miles | Up to 3 years/Unlimited miles |
| Best Price Guarantee? | Yes! (for comparable conditions only) | They Don't |
About Our Remanufactured 4AT-SUBARU Transmission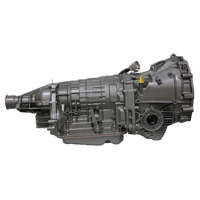 Has your Subaru 4EAT transmission been slipping or shuddering when you shift gears? Is it making noises or showing any other signs of possible damage or wear and tear? Then it's time to replace it, so your Subaru vehicle can get back to running as smoothly as possible without any transmission trouble. Your options for replacing it include getting a brand new one, rebuilding your existing one, purchasing a used one, or buying a remanufactured one. Buying a brand-new 4EAT means paying a lot of money for a transmission that's fresh from the factory. Unfortunately, it might have hidden defects. Rebuilding yours involves having the right parts and knowledge. This also means you'll have a 4EAT with only some parts replaced instead of all new parts, which might affect its performance.
Reman-Transmission has the perfect solution. We offer used and remanufactured Subaru 4EAT transmissions. Looking for a cost-effective way to replace your transmission? Consider purchasing one of our used 4EATs. We inspect all of these to determine if they're in good condition. We have the most affordable used 4EATs in the industry without sacrificing quality. Buying a used one means you'll get a 4EAT that offers good performance and reliability.
If you would rather buy a transmission with all new parts, consider our refurbished 4EATs. Unlike a rebuilt Subaru 4EAT, our remanufactured transmissions have all-new parts. In fact, our team replaces every part with a new or re-machined one. These parts exceed or meet the specifications of the original equipment manufacturer (OEM). Our refurbishing process also includes taking care of any known 4EAT factory defects. The end result is you get a remanufactured transmission that may perform better than brand-new ones from the factory. Buying a refurbished one also saves you a considerable amount of money compared to purchasing a new one.
In addition to cost savings on the transmission itself, Reman-Transmission helps you save money in other ways. We waive the core charge for 30 days on our 4EAT transmissions. You also don't have to spend any gas money coming out to get your used or remanufactured transmission. We'll ship it to the address you provide for a flat rate of $270. We also offer warranties on our 4EATs. Used transmissions from Reman-Transmission have a warranty of 6,000 miles or as long as 6 months. Our remanufactured transmissions have a warranty of up to 36 months and unlimited mileage.
Flat Rate Shipping (Commercial address)
Excellent Customer Support
Up to 5 Years Unlimited Miles Warranty
No Core Charge for 30 Days
4AT-SUBARU Frequently Asked Questions
What Is a Subaru 4EAT Transmission?
The Subaru 4EAT is a 4-speed transmission with microprocessor control and a lock-up torque converter. Some 4EATs shudder or slip when they accelerate from a standstill. However, we correct known factory defects and ensure parts meet OEM specifications, which helps reduce the risk of these issues.
What Kind of Transmission Fluid and How Much Fluid Does a 4EAT Take?
Subaru vehicles from 2005 and up typically use Subaru-Idemitsu HP ATF. Subaru vehicles older than 2005 typically use Amsoil transmission fluid or another fluid that's compatible with Dexron II/IIE or III fluid, which is no longer made. The 4EAT usually takes up to 10 quarts of fluid.
What Cars Have the 4EAT Transmission?
Several Subaru vehicles have the 4EAT transmission, including the 1988 to 1991 Subaru XT, 1990 to 2009 Subaru Legacy, and 1992 to 1997 Alcyone SVX. This 4-speed transmission was also used in other Subaru vehicles from model years 1995 through 2009, including the Forester, Baja, and Impreza.
What Is the Difference Between the 5EAT and 4EAT Transmission?
For Subaru 4EAT vs 5EAT, the type of transmission is the main difference. The 5EAT is a 5-speed, while the 4EAT is a 4-speed. The 5EAT has different gear ratios of 3.540 in first, 2.264 in second, 1.471 in third, 1.000 in fourth, 0.834 in fifth, and 2.370 in reverse.
4AT-SUBARU History & Information
Subaru introduced the 4EAT transmission in 1988 as a 4-speed version of its predecessor, the 3-speed 3EAT. Also known as the Subaru 4AT, Subaru 4EAT, and 4AT, this 4-speed transmission was designed for full-time all-wheel drive (AWD) and front-wheel drive (FWD) configurations. Jatco (Subaru) manufactured these transmissions, which were used in many Subaru vehicles from 1988 to 2009. The 4EAT was first used in the Subaru XT6 and the Subaru Leone Touring Wagon. This transmission was paired with the Subaru EJ engine after having changes made to the input shaft and bell housing. The first version was in use until 1998. The holding devices in the 4EAT were redesigned for the second generation, which was used until 2008.
Subaru vehicles that have the 4EAT include the 1988 to 1991 Subaru XT, the 1990 to 2009 Subaru Legacy, and the 1992 to 1997 Subaru Alcyone SVX. It was also used in other types of Subaru vehicles from 1995 to 2009, including the Baja, Forester, and Impreza. Other vehicles have a transmission that's similar in name and design to the Subaru 4EAT. For example, some Ford, Mazda, Kia Motors, and Mercury vehicles use the F-4EAT transmission. The Nissan Pathfinder has used the F-4EAT with an external transfer case. Jatco manufactures both Subaru 4EAT and the Ford F-4EAT transmissions. Despite their similar names and features, these transmissions are not interchangeable.
Some notable features of the 4EAT include a lock-up torque converter, along with a 1-Hold button in certain models, including the 1987.5-1991 XT and XT6, 1988 and 1989 L series, and 1990 Loyale. Subaru introduced an enhanced version of the 4EAT with the 1990 Legacy. This version features a different shift quadrant and a manual button instead of the 1-Hold button. Other vehicles with this version include the 1990 to 1994 Legacy, the 1993 to 1994 Impreza, and the 1992 to 1997 SVX.
The 4EAT offers a couple of different gear ratios. Some versions of this transmission have gear ratios of 2.785 in first, 1.545 in second, 1.000 in third, 0.694 in fourth, and 2.272 in reverse. Other versions have gear ratios of 3.030 in first, 1.620 in second, 1.000 in third, 0.694 in fourth, and 2.272 in reverse.
Subaru introduced the 5EAT, a 5-speed successor to the 4EAT, in 2003. This transmission was used in some models of the Subaru Legacy GT, Subaru Outback XT, Subaru Tribeca, and Subaru Forester.
Flat Rate Shipping (Commercial address)
Excellent Customer Support
Up to 5 Years Unlimited Miles Warranty
No Core Charge for 30 Days
Speak With A Specialist Now
Habla con un especialista ahora
Speak With A Specialist Now
Habla con un especialista ahora