Flat Rate Shipping (Commercial address)
Up to 5 Years Unlimited Mile Warranty
Excellent Customer Support
No Core Charge for 30 Days
Remanufactured 4F27E Transmission Price
Alternative Name: FN4A-EL
Price
Shipping
Core and Fee
Upfront Cost
Warranty
$1986
$270
None
$2256
5 Year
$2308
In Store
$731
$3039
3 Year
$2375
In Store
$738
$3113
3 Years
*Core: Waived for 30 Days
*Shipping: We offer Flat Rate Shipping (Commercial address)
*Logos are the property of their respective owners
Why Chose Reman-Transmission.com
| | Reman Transmission | Other Vendors |
| --- | --- | --- |
| Transparent Pricing | Check | x |
| Best Price Guarantee | Check | x |
| Flat Rate Shipping (Commercial address) | Check | x |
| Up to 5 Years Unlimited Mile Warranty | Check | x |
| Torque Convertor Included | Check | x |
| No Core Charge for 30 Days | Check | x |
| Free Shippng on Core Return | Check | x |
Why Chose Reman-Transmission.com
| Question to Ask | Reman Transmission | Other Vendors |
| --- | --- | --- |
| Is shipping free? | We offer Flat Rate Shipping (Commercial address) | Additional or Store Pickup |
| Who pays for Core Return? | We Do | You Do (Store Drop off) |
| Do I pay for Core today? | No, we waive Core Charge for 30 days* | Yes, but will be refunded when shipped back |
| Is torque convertor included? | Always! | Not included |
| What is the warranty? | Up to 5 years/Unlimited miles | Up to 3 years/Unlimited miles |
| Best Price Guarantee? | Yes! (for comparable conditions only) | They Don't |
About Our Remanufactured 4F27E Transmission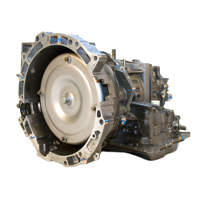 When it comes to your car's transmission, it's never a good idea to keep driving when it's damaged or worn out. Doing this can end up damaging the engine. Transmissions help prevent excessive amounts of strain on engines. They also help make your driving experience safe with smooth handling while changing gears. If you have a 4F27E transmission that's getting close to its lifespan or if yours is showing signs of wear and tear, it's time for a replacement. Whether you have a Ford or Mazda vehicle that uses this type of transmission, replacing this part is highly important. Just make sure that you replace it with a high-quality Mazda or Ford 4F27E transmission. You can find what you need at Reman-Transmission.
We don't sell brand-new 4F27Es direct from the factory. Instead, we offer remanufactured models that often perform better than factory-direct ones. How do we manage to achieve this? Instead of simply rebuilding the transmission and only replacing broken or defective parts, we replace all components. This gives you a completely remanufactured 4F27E transmission with all new interior parts. The parts in each refurbished transmission meet or exceed the OEM, or original equipment manufacturer, specifications. We go a step further too and correct all factory-known defects with these transmissions. When you're looking for a 4F27E transmission for sale, you can't go wrong with our remanufactured ones.
Reman-Transmission also has used transmissions available. If you prefer buying a used 4F27E transmission, we offer them at affordable prices. In terms of quality, we inspect every used transmission. This helps us make sure that they're in great working condition. Buying a used transmission from us means that you're getting a good deal and good quality. To show that we stand by our work, we offer warranties on all remanufactured and used 4F27E transmissions. Our warranty on a remanufactured transmission lasts for up to 36 months and has unlimited mileage. Our warranty on a used transmission is 6 months or 6,000 miles. Whether you purchase a used or refurbished 4F27E transmission from us, you'll have a warranty that gives you peace of mind.
At Reman-Transmission, we don't expect you to go out of your way in order to pick up your transmission. We'll ship it to you at a flat rate of $270. We also have a core charge waiver that's good for 30 days to help you save more money. With reliable quality and affordable costs, we're the place to go for used or remanufactured 4F27E transmissions.
Flat Rate Shipping (Commercial address)
Excellent Customer Support
Up to 5 Years Unlimited Miles Warranty
No Core Charge for 30 Days
4F27E Frequently Asked Questions
What Are the Common Failures of 4F27E?
The 4F27E transmission can develop a 2-3 shift flare that happens before or after overhaul. This flare can occur with codes for solenoid function and gear-ratio error. Worn servo-pin bores are typically the cause. Our 4F27Es are remanufactured to OEM spec and have factory defects corrected.
What Kind of Transmission Fluid and How Much Fluid Does a 4F27E Take?
A 4F27E transmission in 2000-2007 Ford vehicles takes 7.1 quarts of Mercon V transmission fluid. Starting with Ford 2008 vehicles, this transmission requires Mercon LV transmission fluid. In Mazda vehicles, this transmission takes Mazda M5 fluid. Always use the correct fluid to prevent problems.
What Cars Have the 4F27E Transmission?
Several Ford and Mazda cars have the 4F27E transmission. These include the 2009-2012 Ford Fiesta MK6, Ford EcoSport, 200-2011 Ford Focus, and Ford Transit Connect. Mazda vehicles with this transmission include the Mazda2, Mazda3, Mazda5, Mazda6, Mazda CX-7, and Mazda Verisa.
What Is the Difference Between the 4EAT and 4F27E Transmission?
The Ford 4F27E has some updated internal components compared to the 4EAT. These include a 4-element torque converter with a torque converter clutch and two planetary gearsets. Other updates include a bigger differential, transfer-shift gear final drive, and six solenoids with electronic controls.
4F27E History & Information
The 4F27E, also known as the FN4A-EL, was introduced in 2000. JATCO began making this transmission in the late 1990s for Mazda vehicles under the name FN4A-EL. Ford started producing the 4F27E for the Ford Focus and other Ford vehicles. This transmission's predecessor is the F-4EAT. The 4F27E, which is a 4-speed transverse automatic transaxle, includes a few improvements from the F-4EAT. These include a 4-element torque converter, larger differential, and two planetary gearsets. The 4F27E also has an improved hydraulic control system with six solenoids and pulse-width modulation.
The 4F27E is a front-wheel drive transmission with fully electronic control. It has a maximum input torque of 270 lb-ft. Gear ratios for this transmission include 2.81:1 in first gear, 1.50:1 in second gear, 1.00:1 in third gear, 0.73:1 in fourth gear, and 2.65:1 in reverse. Ford introduced this transmission in the 2000 Ford Focus and continued using it in this vehicle through the 2011 model year. Ford also used the 4F27E transmission in the Ford Fiesta MK6 from 2009 to 2012 in models with a 1.4L and 1.5L Duratec engine. This transmission was also used in the Ford EcoSport with a 2.0L Duratec engine and the Ford Transit Connect with a 2.0L Duratec engine from 2010 to 2013.
Mazda began using the FN4A-EL transmission in the Mazda 2. This transmission was also used in several other Mazda vehicles, including the Mazda 3, Mazda 5, Mazda 6, Mazda CX-7, and Mazda Verisa.
Although the 4F27E and FN4A-EL transmissions are highly similar, they do have an important difference that owners should be aware of. They use different types of transmission fluids. While Mazda vehicles require Mazda M5 fluid, Ford vehicles from 2000 to 2007 use Mercon V. Ford vehicles from 2008 and up with the 4F27E transmission use Mercon LV transmission fluid. Owners should always check their service manual to see which transmission fluid to use with their transmission. Mazda M5 fluid offers greater viscosity in lower temperatures. This fluid also has a greater anti-judder specification. The other difference is that Mazda vehicles with the FN4A-EL transmission have a drain plug. Ford vehicles with the 4F27E transmission do not have a drain plug.
The successor to the Ford 4F27E transmission is the FNR5, while Mazda's FN4A-EL successor is the FS5A-EL. These successors are 5-speed transmissions that were first used in 2005 Ford and Mazda model-year vehicles, such as the Ford Five Hundred and Mazda 6 I.
Flat Rate Shipping (Commercial address)
Excellent Customer Support
Up to 5 Years Unlimited Miles Warranty
No Core Charge for 30 Days
Speak With A Specialist Now
Habla con un especialista ahora
4F27E Transmission Compatibility Chart
MAKE
MODEL
START YEAR
END YEAR
Ford
Fiesta (MK6)
2009
2012
Ford
EcoSport
2018
2022
Ford
Focus
1998
2011
Ford
Transit Connect
2010
2013
Mazda
2
2011
2014
Mazda
3
2004
2009
Mazda
5
2006
2007
Mazda
6
2003
2005
Flat Rate Shipping (Commercial address)
Excellent Customer Support
Up to 5 Years Unlimited Miles Warranty
No Core Charge for 30 Days
Speak With A Specialist Now
Habla con un especialista ahora