Flat Rate Shipping (Commercial address)
Up to 5 Years Unlimited Mile Warranty
Excellent Customer Support
No Core Charge for 30 Days
Remanufactured 6T40 Transmission Price
Alternative Name: GM 6T40
Price
Shipping
Core and Fee
Upfront Cost
Warranty
$2011
$270
None
$2281
5 Year
$2556
In Store
$856
$3412
3 Years
*Core: Waived for 30 Days
*Shipping: We offer Flat Rate Shipping (Commercial address)
*Logos are the property of their respective owners
Why Chose Reman-Transmission.com
| | Reman Transmission | Other Vendors |
| --- | --- | --- |
| Transparent Pricing | Check | x |
| Best Price Guarantee | Check | x |
| Flat Rate Shipping (Commercial address) | Check | x |
| Up to 5 Years Unlimited Mile Warranty | Check | x |
| Torque Convertor Included | Check | x |
| No Core Charge for 30 Days | Check | x |
| Free Shippng on Core Return | Check | x |
Why Chose Reman-Transmission.com
| Question to Ask | Reman Transmission | Other Vendors |
| --- | --- | --- |
| Is shipping free? | We offer Flat Rate Shipping (Commercial address) | Additional or Store Pickup |
| Who pays for Core Return? | We Do | You Do (Store Drop off) |
| Do I pay for Core today? | No, we waive Core Charge for 30 days* | Yes, but will be refunded when shipped back |
| Is torque convertor included? | Always! | Not included |
| What is the warranty? | Up to 5 years/Unlimited miles | Up to 3 years/Unlimited miles |
| Best Price Guarantee? | Yes! (for comparable conditions only) | They Don't |
About Our Remanufactured 6T40 Transmission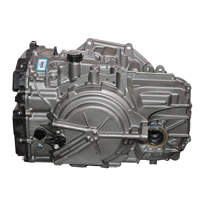 The 6T40 is a General Motors Hydra-Matic six-speed automatic transmission. It is designed for front-wheel-drive cars with the increasingly common transverse crankshaft orientation. The GM 6T40 and its sibling Hydra-Matic six-speed transmissions are designed for greater simplicity, and streamlined to reduce their dimensions and weight. The GM Hydra-Matic 6T40 six-speed automatic transmission also features clutch-to-clutch functionality that allows it to fit into about the same amount of space as an automatic four-speed transmission. The compact design means fuel savings for car owners.
The 6T40 has an expanded drive ratio, with first gear at a very high ratio for quick acceleration from a stopped position. But, the sixth gear ratio is for overdrive to minimize engine friction and maximize fuel economy during highway driving.
The 6T40 transmission features the on-axis design for which the GM transaxles are known. The 6T40 has all gearing aligned with the crankshaft centerline of the engine. That arrangement affords vehicle owners the benefit of a shorter-length car and a vertically shorter powertrain, for the overall result of more room in the car cabin interior.
Its three planetary gear sets, two rotating clutches, and electronic clutch controls enable the realization of the 6T40's particular clutch-to-clutch design concept for optimized shift timing.
The special MHH version of the 6T40 transmission is designed to employ its eAssist system, which administers mild electrification to boost fuel economy. Internal modifications to the hardware and clutch controls are substantial in the 6T40 MHH featuring the eAssist. This advancement improves shifting responsiveness and efficiency while maintaining optimum driving and acceleration performance and eliminating superfluous automatic shifting.
When your 6T40 transmission eventually exhibits symptoms of wear and tear, of course, it must be replaced as quickly as possible to restore your vehicle to reliable condition. Instead of buying a new 6T40 transmission or having your existing 6T40 rebuilt, installing a remanufactured transmission typically offers the best overall value.
Installing a used transmission naturally means you can expect a shorter life expectancy from this major component than from a new or remanufactured one. A rebuilt transmission contains only enough replacement parts to update just the defective or worn-out components. Logically, this is a less than entirely practical long-term alternative to a remanufactured transmission. Merely rebuilding sets up a situation in which old and new internal parts are becoming unequally worn. That operating condition lends to additional potential problems before the end of the lifespan you should expect from a replacement transmission.
A remanufactured transmission is not the same as a rebuilt one. Remanufacturing means that every internal working part is replaced with a new or re-machined component. That process produces a 6T40 transmission replacement unit that can deliver the greater strength, long-term durability, and reliable functioning you need for your vehicle.
We also correct all known defects in the original manufacturing of the transmission parts. So, our remanufactured 6T40 transmission may last longer than the original new factory-built transmission.
Buying and installing a remanufactured 6T40 transmission typically costs significantly less than a new unit. Quality remanufacturing provides the dependability you need in a transmission to ensure your safety and convenience and peace of mind when driving your vehicle.
Reman-Transmissions offers up to a 36-month / unlimited mileage warranty for the 6T40 transmission. We do not charge a core charge for the first 30 days. The warranty on a used 6T40 transmission from Reman-Transmissions is 6 months or 6,000 miles. We charge only $270 for shipping. We also provide the industry's best customer support for the 6T40.
Flat Rate Shipping (Commercial address)
Excellent Customer Support
Up to 5 Years Unlimited Miles Warranty
No Core Charge for 30 Days
6T40 Frequently Asked Questions
How much torque can the 6T40 handle?
GM 6T40 transmissions are reputed for good performance. The 6T40 can handle up to 177 ft-lbs (240 Nm) of torque. Reman-Transmissions' remanufactured 6T40 meets or exceeds OEM specifications — but our 6T40s also have all known factory defects corrected as part of our process. That means our 6T40s are often better than factory-produced originals.
Does a 6T40 transmission have a filter?
The GM 6T40 and 6T45 use the transmission filter (2008-2011) identified by Part Number 515699. The OE Number is 24230708, 24246194. The filter material is all plastic. No gasket type is specified. The aftermarket #016699 transmission filter can be used as an alternative in the 6T40 and 6T45 transmissions.
What vehicles came with the 6T40 transmission?
See the "6T40 Transmission History" section above for a list of the automobile models that were assembled with the 6T40 installed as a part of the original manufacturing. But, check your VIN to determine whether your vehicle was built with the 6T40 transmission.
What is the difference between the 6T30, 6T40, and 6T45 transmissions?
The 6T45 is built with heavier-duty components than the 6T40 for engines with stronger torque. The 6T40 is designed for front-wheel drive vehicles only, whereas the 6T45 is built for either front-wheel drive or all-wheel drive models. The 6T40 is a stronger and more durable transmission than the 6T30, which is a more compact version for lighter-duty use.
6T40 History & Information
Designed and built in-house, the GM 6T40 transmission Hydra-Matic was launched as a product in the company's 6-speed automatic line. General Motors' 6-speed automatic transmissions are a prime feature of the automaker's initiative to present consumers with excellent options for fuel savings in its cars.
The GM Hydra-Matic 6T40 transmission was designed for applications in midsize and compact front-wheel drive vehicles. The 6T40 is one of GM's flagship technologies in advanced automatic six-speed transmissions for maximizing fuel economy.
The 6T40 transmission was produced by General Motors under the factory code (MH8/MHB). It was preceded by the 6T30 and 6T35 versions. It was ultimately succeeded by the 6T45, 6T50, 6T70, 6T75, and 6T80. The 6T40 is also sometimes referred to as the 6T40E or 6T40-E, with the E signifying that the 6T40 transmission includes the electronically controlled torque clutch feature, vs. the fully hydraulically controlled system. (See details on the special MMH versions.)
Starting in 2008, the 6T40 six-speed automatic transmission and others on the line described above have been manufactured at GM Daewoo in the transmission plant at Boryeong, South Korea. They're also produced in Yantai, China.
Vehicles with 6T40 Transmissions
Knowing which vehicles have the 6T40 factory installed can help to more clearly understand the answer to the question, "What kind of transmission is a 6T40?" The 6T40 has been installed in a variety of car models including the Chevrolet Sonic, Chevrolet Cruze, Chevrolet Trax, Chevrolet Impala, Chevrolet Malibu, Buick Encore, Buick Verano, Buick Regal, and Buick Lacrosse. Regardless, be sure to check your VIN and verify that your vehicle has the 6T40 installed before you obtain a replacement transmission for it.
Keep in mind, rebuilding a transmission is limited to fixing only the worn-out and broken internal parts. Remanufacturing, by contrast, is a thorough process in which ALL working parts inside the bell housing are replaced with new or re-machined components — and any original factory defects are also corrected.
Reman-Transmissions experts meticulously inspect all parts of our used transmissions for proper condition. We also rigorously test each specific part of our remanufactured 6T40 transmissions before shipping. A remanufactured 6T40 transmission from Reman-Transmission must meet or exceed the original equipment manufacturer's (OEM) specifications.
With this robust quality management system, we can often deliver a 6T40 that is better than OEM 6T40 crate transmissions. So, your remanufactured 6T40 can potentially outlast an original factory transmission of its type.
Flat Rate Shipping (Commercial address)
Excellent Customer Support
Up to 5 Years Unlimited Miles Warranty
No Core Charge for 30 Days
Speak With A Specialist Now
Habla con un especialista ahora
6T40 Transmission Compatibility Chart
MAKE
MODEL
START YEAR
END YEAR
Chevrolet
Cruze
2008
2015
Chevrolet
Sonic
2012
2020
Chevrolet
Trax
2015
2022
Chevrolet
Impala
2014
2020
Chevrolet
Malibu
2008
2015
Buick
Encore
2012
2022
Buick
Verano
2011
2016
Buick
Regal
2011
2017
Buick
Lacrosse
2010
2016
Flat Rate Shipping (Commercial address)
Excellent Customer Support
Up to 5 Years Unlimited Miles Warranty
No Core Charge for 30 Days
Speak With A Specialist Now
Habla con un especialista ahora