Flat Rate Shipping (Commercial address)
Up to 5 Years Unlimited Mile Warranty
Excellent Customer Support
No Core Charge for 30 Days
Remanufactured NV4500 Transmission Price
Alternative Name: NV-4500, New Venture 4500, MT8, MW3
Price
Shipping
Core and Fee
Upfront Cost
Warranty
$1905
$270
None
$2175
5 Year
*Core: Waived for 30 Days
*Shipping: We offer Flat Rate Shipping (Commercial address)
*Logos are the property of their respective owners
Why Chose Reman-Transmission.com
| | Reman Transmission | Other Vendors |
| --- | --- | --- |
| Transparent Pricing | Check | x |
| Best Price Guarantee | Check | x |
| Flat Rate Shipping (Commercial address) | Check | x |
| Up to 5 Years Unlimited Mile Warranty | Check | x |
| Torque Convertor Included | Check | x |
| No Core Charge for 30 Days | Check | x |
| Free Shippng on Core Return | Check | x |
Why Chose Reman-Transmission.com
| Question to Ask | Reman Transmission | Other Vendors |
| --- | --- | --- |
| Is shipping free? | We offer Flat Rate Shipping (Commercial address) | Additional or Store Pickup |
| Who pays for Core Return? | We Do | You Do (Store Drop off) |
| Do I pay for Core today? | No, we waive Core Charge for 30 days* | Yes, but will be refunded when shipped back |
| Is torque convertor included? | Always! | Not included |
| What is the warranty? | Up to 5 years/Unlimited miles | Up to 3 years/Unlimited miles |
| Best Price Guarantee? | Yes! (for comparable conditions only) | They Don't |
About Our Remanufactured NV4500 Transmission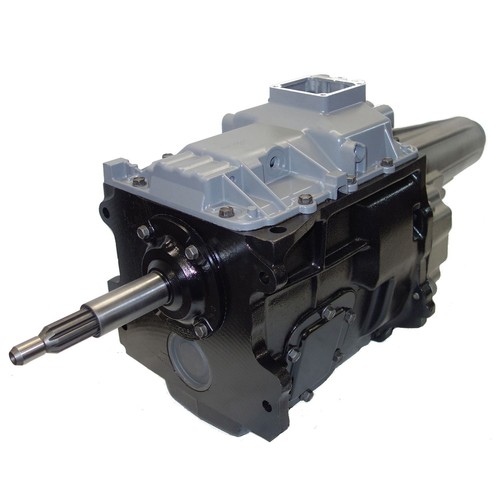 At Reman-Transmission, we offer a variety of used & Remanfactured NV4500 transmissions which are in good working order. We have a rather similar approach to the original equipment manufacturer, when a repair is needed for a used transmission, we take apart the entire unit and replace every part with a remanufactured or new part to ensure the transmission is in top quality before we sell it as a remanufactured NV4500. When we get a used NV4500 transmission that is in good working condition that would be suitable and more cost-efficient for the vehicle, we sell it as a used NV4500 transmission. Either way, it doesn't make sense to pay for a brand-new crate NV4500 transmission to be put in an older model vehicle which may not benefit from a new transmission or even last as long as the transmission. Additionally, our remanufactured NV4500 transmissions have all the factory defects repaired when we take it apart which ensures quality just as good as new or better.
Such a service as we provide is a boon to car owners who want to get the most use out of their vehicle before having to purchase a new one. We get our used transmissions from multiple sources. When a customer's transmission fails, we take their core and remanufacture it to save the vehicle owner the expense of buying a new transmission. Another means of supply is when a vehicle is in a traffic accident and considered totaled, but the transmission isn't damaged and is still in good working order. In these cases, we clean and inspect it to make sure it is in working condition. No matter if you decide to go with one of our remanufactured or new NV4500 transmissions, you can be assured that it is of the highest quality.
Give one of our friendly customer service representatives a call when you need a quote for a replacement transmission for your car or truck. Our representatives will be glad to discuss your zone and needs, including the type of vehicle engine and powertrain along with your needs before making a recommendation and providing a quote. We're willing to deal with individuals, hobbyists, mechanics, DIY car guys, or professional automotive repair shops according to each individual situation. We have various warranties for all of our transmissions to give you the peace of mind you search for. Don't waste your time or money on a junkyard NV4500 transmission or rebuilt NV4500 transmission. Go with one of our quality used NV4500 transmissions or remanufactured NV4500 transmissions so you know you have a reliable product that will actually last. Once you place your order with us, you will receive free shipping to your commercial address in the United States. There is no core charge if you purchase a used transmission from us and we waive the core charge for 30 days when you buy one of our remanufactured NV400's. Call us today if you have any questions or need to place an order!
Flat Rate Shipping (Commercial address)
Excellent Customer Support
Up to 5 Years Unlimited Miles Warranty
No Core Charge for 30 Days
Our NV4500 Transmission Upgrades
Our quality control process includes build specification checks performed by three different specialized technicians during the remanufacturing process to ensure accuracy and precise fitment.
Inspection of internal parts, including gear wear checks, mainshaft straightness, and synchronization are performed.
Worn and non-functional parts are replaced, including 100% replacement of seals, bearings, and other common components.
Each remanufactured transmission is hot, cold, load, and simulated road tested using our proprietary dynamometer program.
All remanufactured transmissions are backed by the industry's best, no-hassle nationwide warranty.
NV4500 Frequently Asked Questions
Is the NV4500 a good transmission?
The NV4500 is a heavy- duty manual transmission with a reputation for being strong and reliable. The industry standard is to consider it a good transmission for its intended purpose in heavy trucks which require the power needed when off-roading, hauling cargo, or towing a trailer.
Will Chevy NV4500 work in Dodge?
There is a NV4500 with the same internal components designed specifically for a Dodge vehicle. To swap the GM version requires a conversion kit to assure compatible installation, but yes, the GM can be used as a replacement product for Dodge trucks with the proper planning. The wiring is the main difference between the two.
How much horsepower can the NV4500 handle?
The transmission is rated to handle 460 horsepower in its stock form, but that specification can change according to the use and condition of the truck. Towing and off-roading may nominally use the same amount of power, but they use it differently. Our remanufactured NV4500's can handle the same or more.
Are All NV4500 Transmissions the Same?
All NV4500 transmissions are the same internally, but have different installation specs for different vehicles, so you can't just drop in one for another without a complete factory made conversion kit. Such a kit should be for sale at a local parts source near me, and won't void the warranty.
NV4500 History & Information
The NV-4500 is actually an abbreviation for New Venture Gear 4500, a GM-built original equipment part designed as a professional quality and performance 5-speed manual transmission for a 2-wheel or 4-wheel drive heavy duty 1-ton truck, used in Chrysler and GM vehicles from 1992-2007. The NV 4500 is an alternative for the NV3500 and NV5600, the NV 3500 being a bit more user-friendly for daily driving and the NV5600 designed for even heavier loads such as incurred by sled pulling. It's an American-made domestic OEM part designed to be affordable in price without being cheap in quality.
The NV4500 is also compared to the MT82 transmission and MW3 transmission, although it's not always the best comparison because those transmissions are designed for use in a car or light truck instead of intended to be used for the heavy work the manufacturer meant the NV4500 to be used for. NV4500 transmissions were used in production with GMC C/K 2500, GMC C/K 3500, Chevrolet C/K 2500, Chevrolet C/K 3500, Silverado 2500, Silverado 3500, GMC 2500, and GMC 3500, GMC 2500 models. For the 4x4 versions of those vehicles, the NV4500 transmission was mounted to the NP241C from the NP241 transfer case class as well s the NV261HD transfer case that's part of the NV261 transfer case family.
The NV4500 was designed as a heavy-duty transmission that provides top performance as a manual transmission on the street and off-road. A top consideration was to engineer it to be sold at a reasonable price without compromising the quality of the product. It's designed to be interchangeable with other transmissions and was engineered with the understanding of providing access to the internal components to simplify the process when the time comes for small repairs or a complete rebuild. No transmission can be the best for every vehicle, but the NV4500 is recognized as a top choice manual transmission in the heavy trucks it was meant to be installed in, able to provide years of reliable performance even when put through the heaviest of tests and workloads.
Flat Rate Shipping (Commercial address)
Excellent Customer Support
Up to 5 Years Unlimited Miles Warranty
No Core Charge for 30 Days
Speak With A Specialist Now
Habla con un especialista ahora
NV4500 Transmission Compatibility Chart
MAKE
MODEL
START YEAR
END YEAR
Chevrolet
C1500
1992
1995
Chevrolet
C2500
1991
2000
Chevrolet
C3500
1992
2000
Chevrolet
C3500HD
1991
2002
Chevrolet
K1500
1992
1995
Chevrolet
K2500
1992
2000
Chevrolet
K3500
1992
2000
Chevrolet
P30
1992
1999
Chevrolet
Silverado 2500
1999
2004
Chevrolet
Silverado 2500 HD
2001
2006
Chevrolet
Silverado 2500 HD Classic
2007
2007
Chevrolet
Silverado 3500
2001
2006
Chevrolet
Silverado 3500 Classic
2007
2007
Dodge
D150
1992
1993
Dodge
D250
1992
1993
Dodge
D350
1992
1993
Dodge
Ram 2500
1994
2005
Dodge
Ram 3500
1994
2005
Dodge
W250
1992
1993
GMC
C1500
1992
1995
GMC
C2500
1991
2000
GMC
C3500
1992
2000
GMC
C3500HD
1991
2002
GMC
K1500
1992
1995
GMC
K2500
1991
2000
GMC
K3500
1992
2000
GMC
P3500
1992
1999
GMC
Sierra 2500
1999
2004
GMC
Sierra 2500 HD
2001
2006
GMC
Sierra 2500 HD Classic
2007
2007
GMC
Sierra 3500
2001
2006
GMC
Sierra 3500 Classic
2007
2007
Flat Rate Shipping (Commercial address)
Excellent Customer Support
Up to 5 Years Unlimited Miles Warranty
No Core Charge for 30 Days
Speak With A Specialist Now
Habla con un especialista ahora