Flat Rate Shipping (Commercial address)
Up to 5 Years Unlimited Mile Warranty
Excellent Customer Support
No Core Charge for 30 Days
Remanufactured G56 Transmission Price
Alternative Name: Mercedes G56
Price
Shipping
Core and Fee
Upfront Cost
Warranty
$3705
$270
None
$3975
5 Year

$7050
In Store
$2564
$9614
3 Year
*Core: Waived for 30 Days
*Shipping: We offer Flat Rate Shipping (Commercial address)
*Logos are the property of their respective owners
Why Chose Reman-Transmission.com
| | Reman Transmission | Other Vendors |
| --- | --- | --- |
| Transparent Pricing | Check | x |
| Best Price Guarantee | Check | x |
| Flat Rate Shipping (Commercial address) | Check | x |
| Up to 5 Years Unlimited Mile Warranty | Check | x |
| Torque Convertor Included | Check | x |
| No Core Charge for 30 Days | Check | x |
| Free Shippng on Core Return | Check | x |
Why Chose Reman-Transmission.com
| Question to Ask | Reman Transmission | Other Vendors |
| --- | --- | --- |
| Is shipping free? | We offer Flat Rate Shipping (Commercial address) | Additional or Store Pickup |
| Who pays for Core Return? | We Do | You Do (Store Drop off) |
| Do I pay for Core today? | No, we waive Core Charge for 30 days* | Yes, but will be refunded when shipped back |
| Is torque convertor included? | Always! | Not included |
| What is the warranty? | Up to 5 years/Unlimited miles | Up to 3 years/Unlimited miles |
| Best Price Guarantee? | Yes! (for comparable conditions only) | They Don't |
About Our Remanufactured G56 Transmission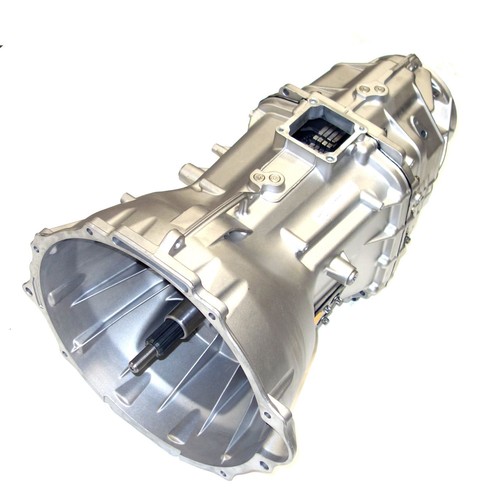 A remanufactured G56 transmission from us can last for hundreds of thousands of miles, assuming proper maintenance schedules are kept by the new owner. By going with a remanufactured G56 transmission, not only are all the defective parts and components replaced, but every single internal part within the transmission assembly is replaced with brand new or remanufactured components. Then, each individual part is tested thoroughly to make sure it meets every specification set by the original equipment manufacturer (OEM) at the factory. Once the condition of the transmission has been confirmed, and it is found to be compatible with your Dodge Ram 2500 or Dodge Ram 3500's powertrain, it is ready to hit the street once again.
If you are looking for a quality remanufactured or rebuilt G56 transmission at an affordable price, then you've found the right transmission supplier. Instead of going with a transmission repair or advanced rebuilt G56 Transmission for Dodge Ram 5.9L or 6.7L Diesel trucks, consider going with a remanufactured transmission instead. It is important to take a close look at the engine output. If the engine output has been increased above the stock level, then the G56 transmission may experience some problems. It is important to rely on a trained professional who can check the performance of the transmission carefully before remanufacturing it.
That is where we can help you. We are Reman-Transmission, and we make sure that every transmission we remanufacture meets our high quality assessment standards. That way, you know that you are getting the best transmission possible. We also use our smart online system to go through our company catalog thoroughly, helping you find the top product for your vehicle at the lowest cost. We are so confident in every complete transmission we put up for sale that we provide an exceptional warranty on our rock solid transmissions as well. If you are looking for the best place to buy a transmission from a supplier near me, we are here to help you. As one of the leaders in the industry, drop in and ask us for a quote on a part for your car! We will be happy to swap out the transmission in your truck for one of our remanufactured G56 transmissions from our zone.
Flat Rate Shipping (Commercial address)
Excellent Customer Support
Up to 5 Years Unlimited Miles Warranty
No Core Charge for 30 Days
Our G56 Transmission Upgrades
Our quality control process includes build specification checks performed by three different specialized technicians during the remanufacturing process to ensure accuracy and precise fitment.
Inspection of internal parts, including gear wear checks, mainshaft straightness, and synchronization are performed.
Worn and non-functional parts are replaced, including 100% replacement of seals, bearings, and other common components.
Each remanufactured transmission is hot, cold, load, and simulated road tested using our proprietary dynamometer program.
All remanufactured transmissions are backed by the industry's best, no-hassle nationwide warranty.
G56 Frequently Asked Questions
Is the G56 a good transmission?
Yes, the G56 transmission is a good transmission, even if it has been used. It can withstand a significant amount of power, plenty of torque, and can last for hundreds of thousands of miles if it has been remanufactured appropriately.
How much torque can a G56 handle?
It depends on the vehicle, specifications, and model year. A G56 transmission should be able to handle up to 600 foot-pounds of torque; however, if the engine has been upgraded beyond its original stock specifications, then the torque limit will change. A remanufactured G56 will be able to handle more than a used one.
Which is better, NV5600 or G56?
The G56 transmission was designed to be an upgrade over its predecessor, the NV5600; however, those transmissions are durable. The G56 transmission has slightly tighter gates. The NV5600 does have a higher OD ratio; however, the G56 transmission is durable, generates plenty of power, and can handle heavy loads. The NV5600 also requires oil changes more frequently.
When did Dodge start using G56?
Dodge started using this transmission in 2005 with the Dodge Ram 2500 and 3500, along with a 5.9 liter and 6.7 liter Cummins turbo diesel engine, remaining present in the Dodge Ram 2500 and 3500 medium-duty trucks all the way through 2018.
G56 History & Information
Originally manufactured in Brazil by Mercedes-Benz, the Mercedes G56 transmission is a 6-speed manual transmission. It was designed specifically for Dodge Ram 2500 or Dodge Ram 3500 diesel trucks and light pickups. The G56 transmission was designed as a replacement for the NV5600 transmission. Most commonly, this transmission can be found in class 4 and 5 heavy-duty trucks that require a manual transmission. In fact, since 2005 and for nearly 15 years after the G56 manual transmission was the only manual transmission suitable for trucks of that gross weight and gross torque. Additionally, the G56 transmission was the last manual transmission available in a full-size pickup truck. Now, the G56 transmission can be found in a wide variety of American and Import vehicles.
The G56 6-speed manual transmission was recommended by Dodge to use ATF +4 transmission fluid to lubricate the gears within the assembly. However, there has been wide speculation on if that particular transmission fluid is best suited for the G56. Mercedes-Benz recommends switching to 75W or 90W which is a much heavier fluid. In the end, any of those aforementioned fluids will work just fine to lubricate the internals of the transmission properly.
The G56 transmission is considerably lighter than its predecessor, the NV5600, which it replaced in 2005. In addition, the G56 transmission also has a dual-mass flywheel which allows it to shift more smoother. It can also handle significantly more torque; however, the exact amount of torque the G56 transmission can handle depends on the configuration and model year. Some domestic vehicles can handle more torque than other vehicles. As an example, a truck that has been fitted with the 6.7 L Cummins diesel engine and the G56 transmission will transfer significantly less torque than the automatic transmission options source varies depending on the opted gear ratios. Additionally, the G56 transmission is normally fitted to an NP271D (NP271) or NP273D (NP273) transfer case from the factory on 4x4 vehicles. Regardless, always be sure to check your VIN number for compatibility before ordering any part.
Flat Rate Shipping (Commercial address)
Excellent Customer Support
Up to 5 Years Unlimited Miles Warranty
No Core Charge for 30 Days
Speak With A Specialist Now
Habla con un especialista ahora
G56 Transmission Compatibility Chart
MAKE
MODEL
START YEAR
END YEAR
Dodge
Ram 2500
2005
2018
Dodge
Ram 3500
2005
2018
Dodge
Ram 4500
2005
2018
Dodge
Ram 5500
2005
2018
Flat Rate Shipping (Commercial address)
Excellent Customer Support
Up to 5 Years Unlimited Miles Warranty
No Core Charge for 30 Days
Speak With A Specialist Now
Habla con un especialista ahora