Flat Rate Shipping (Commercial address)
Up to 5 Years Unlimited Mile Warranty
Excellent Customer Support
No Core Charge for 30 Days
Remanufactured A340E Transmission Price
Price
Shipping
Core and Fee
Upfront Cost
Warranty
$2180
$270
None
$2450
5 Year
$3300
In Store
$864
$4164
3 Year
$3304
In Store
$864
$4168
3 Year

$3300
In Store
$864
$4164
3 Year
*Core: Waived for 30 Days
*Shipping: We offer Flat Rate Shipping (Commercial address)
*Logos are the property of their respective owners
Why Chose Reman-Transmission.com
| | Reman Transmission | Other Vendors |
| --- | --- | --- |
| Transparent Pricing | Check | x |
| Best Price Guarantee | Check | x |
| Flat Rate Shipping (Commercial address) | Check | x |
| Up to 5 Years Unlimited Mile Warranty | Check | x |
| Torque Convertor Included | Check | x |
| No Core Charge for 30 Days | Check | x |
| Free Shippng on Core Return | Check | x |
Why Chose Reman-Transmission.com
| Question to Ask | Reman Transmission | Other Vendors |
| --- | --- | --- |
| Is shipping free? | We offer Flat Rate Shipping (Commercial address) | Additional or Store Pickup |
| Who pays for Core Return? | We Do | You Do (Store Drop off) |
| Do I pay for Core today? | No, we waive Core Charge for 30 days* | Yes, but will be refunded when shipped back |
| Is torque convertor included? | Always! | Not included |
| What is the warranty? | Up to 5 years/Unlimited miles | Up to 3 years/Unlimited miles |
| Best Price Guarantee? | Yes! (for comparable conditions only) | They Don't |
About Our Remanufactured A340E Transmission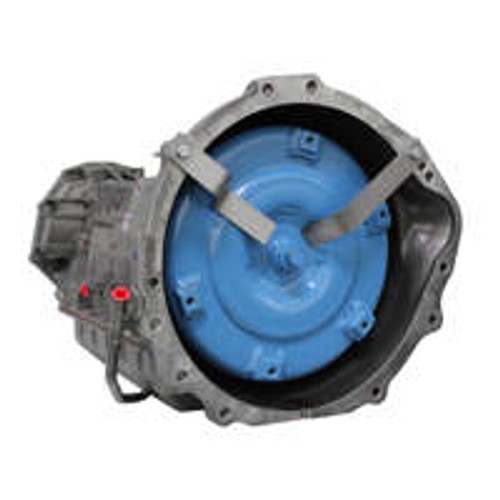 If you need to replace an A340E transmission, an ideal way to do so is to purchase one of our used or remanufactured transmission replacements. You'll own a quality product that will shift smoothly year after year. In fact, we offer a 5-year warranty with unlimited mileage on our remanufactured A340E transmissions plus all of our other remanufactured automatic transmissions.
We also offer for sale some of the most reliable and affordable used transmissions you'll find. We inspect them to make sure they're in full working order before we OK them for installation in your vehicle. We warrant our used A340E transmissions for six months or 6,000 miles.
While the A340E has generally been a reliable transmission – Toyota used it in many of their vehicles for over 20 years – you may have experienced the erratic shifting or even loss of gears that some drivers have noticed with this product. One of our remanufactured A340E transmissions will give you shifting that's as good or better than when you first drove your car or truck.
Here's why: when we remanufacture a transmission, we do more than just replace the worn or defective parts. We replace every single component, either with new OEM parts or re-machined parts. All our re-machined parts meet or exceed OEM specifications. If there were manufacturing defects in the transmission when it came from the factory, we fix them all. Quite often our remanufactured transmission is an upgrade that turns out better than the original one.
You could hardly make a better choice than to purchase one of our used or remanufactured A340E transmissions for your vehicle. You'll enjoy smooth shifting and great reliability, and our transmissions give drivers significantly fewer issues over the years.
Give us a call or contact us online to find out how easy it is to get a used or remanufactured A340E transmission for your car or truck. We offer free shipping to commercial addresses. In other words, as a customer, I can have an A340E shipped to a shop near me at no charge. The fee for shipping to residential addresses is only $75.
Flat Rate Shipping (Commercial address)
Excellent Customer Support
Up to 5 Years Unlimited Miles Warranty
No Core Charge for 30 Days
Our A340E Transmission Upgrades
A remanufactured and improved torque converter is included with every transmission.
To eliminate the possibility of front seal leaks, vibration, and premature bushing wear, all torque converters are tested for leaks, lock-up, concentricity, and balance.
Every fully remanufactured valve body, with complete system correction and recalibration kit, is tested independently.
All wear-prone valves are restored to stringent specifications and vacuum tested to confirm proper function.
Each remanufactured transmission is hot, cold, load, and simulated road tested using our proprietary CARS (Computer-Aided Road Simulation) dynamometer program.
All remanufactured transmissions are backed by the industry's best, no-hassle nationwide warranty.
A340E Frequently Asked Questions
What is an A340E transmission?
The A340E is a 4-speed automatic transmission found in Toyotas and a few other vehicles from the mid-1980s until well after 2000. It is generally a solid transmission but is subject to erratic shifting, overheating, and gear loss. Our manufactured A340Es replace every part with one as good or better than OEM to give you a reliable, long-lasting A340E.
How do I identify the A340E transmission?
In most cases, your owner's manual will tell you whether your transmission is an A340E. If you have no manual, you might find the model number on the driver's door or stamped on the transmission itself. Alternatively, you can derive it from the VIN either by using an online VIN decoder or by calling the dealer.
How do you rebuild an A340E transmission?
It's not impossible for an advanced home mechanic to rebuild a transmission on the cheap. There are instructional YouTube videos. However, it's challenging, and you could ruin your A340E with a mistake. You can rely on us to use the best possible parts and manufacture a rebuilt transmission you can be confident in.
Who makes the A340E transmission?
The A340 was built by Aisin Warner. It was a reasonably reliable transmission used mostly in Toyotas for over 20 years. However, it did have some issues. Our remanufactured A340s give you shifting and reliability as good or better than the original Aisin Warner product.
A340E History & Information
The A340 was manufactured by Aisin Warner, a Japanese company that's partially owned by Toyota. It first appeared in the mid-1980s and was used in the second decade of the 21st century. Most A340Es were delivered in Toyotas, including the 4Runner, Sequoia, Tacoma, and Tundra.
The A246E transmission preceded the A340 in the "A" series. The A340E was used as a two-wheel drive transmission for Toyota Motor Corporation and was succeeded by the A341E. The A340H and the A340F transmission are also transmissions in the A340 family. The Toyota A340F transmission appeared in many of the same vehicles as the A340E.
There are similarities between the A340E, Aisin Warner's 03-71, and the Volvo AW7. The 03-71 found its way into Mitsubishi, Suzuki, and other Asian vehicle manufacturers.
The A340E was a prominent Toyota transmission for over two decades and has generally offered a fairly good shifting experience. However, there were some bulletins that appeared during its lifetime. These came about because some drivers experienced a delay in moving to reverse from the park or neutral and others noticed a chatter when shifting from reverse into park or neutral.
During their years of the highway, A340Es have been known to have problems with slipping, erratic shifting, or failure to engage in gear. Some of the causes have been a failed solenoid and a torque converter issue.
There have also been problems with overheating when the transmission's moving parts create more heat from friction than the transmission fluid can dissipate. This most often has occurred in stop-and-go traffic or while towing heavy loads and on mountainous roadways where there was frequent shifting.
Sometimes A340E failed when the fourth gear or reverse refused to operate. Some of the culprits have been design flaws in the channel plate or reverse boost valve or stripped splines on the fourth gear clutch hub shaft.
Still, the A340E is a reliable automatic transmission for your Toyota or another vehicle, especially if it has been remanufactured with OEM and better-than-OEM parts.
Flat Rate Shipping (Commercial address)
Excellent Customer Support
Up to 5 Years Unlimited Miles Warranty
No Core Charge for 30 Days
Speak With A Specialist Now
Habla con un especialista ahora
A340E Transmission Compatibility Chart
MAKE
MODEL
START YEAR
END YEAR
Toyota
4Runner
1996
2004
Toyota
Sequoia
2001
2004
Toyota
Tacoma
2001
2015
Toyota
Tundra
2000
2004
Flat Rate Shipping (Commercial address)
Excellent Customer Support
Up to 5 Years Unlimited Miles Warranty
No Core Charge for 30 Days
Speak With A Specialist Now
Habla con un especialista ahora