Flat Rate Shipping (Commercial address)
Up to 5 Years Unlimited Mile Warranty
Excellent Customer Support
No Core Charge for 30 Days
Remanufactured 6HP26 Transmission Price
Alternative Name: ZF 6HP26
Price
Shipping
Core and Fee
Upfront Cost
Warranty
$4126
$270
None
$4396
5 Year
$5126
In Store
$1713
$6839
3 Year
$5126
In Store
$1713
$6839
3 Year
*Core: Waived for 30 Days
*Shipping: We offer Flat Rate Shipping (Commercial address)
*Logos are the property of their respective owners
Why Chose Reman-Transmission.com
| | Reman Transmission | Other Vendors |
| --- | --- | --- |
| Transparent Pricing | Check | x |
| Best Price Guarantee | Check | x |
| Flat Rate Shipping (Commercial address) | Check | x |
| Up to 5 Years Unlimited Mile Warranty | Check | x |
| Torque Convertor Included | Check | x |
| No Core Charge for 30 Days | Check | x |
| Free Shippng on Core Return | Check | x |
Why Chose Reman-Transmission.com
| Question to Ask | Reman Transmission | Other Vendors |
| --- | --- | --- |
| Is shipping free? | We offer Flat Rate Shipping (Commercial address) | Additional or Store Pickup |
| Who pays for Core Return? | We Do | You Do (Store Drop off) |
| Do I pay for Core today? | No, we waive Core Charge for 30 days* | Yes, but will be refunded when shipped back |
| Is torque convertor included? | Always! | Not included |
| What is the warranty? | Up to 5 years/Unlimited miles | Up to 3 years/Unlimited miles |
| Best Price Guarantee? | Yes! (for comparable conditions only) | They Don't |
About Our Remanufactured 6HP26 Transmission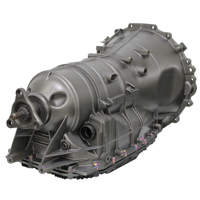 Driving a vehicle with a ZF 6HP26 transmission that's been acting up lately? Whether it's been overheating, slipping, or having delayed shifts, that's a clear sign to get a new one. However, that doesn't mean you have to buy a brand-new 6HP26 from the factory. Doing so can end up costing a lot, and you might end up with a ZF 6HP26 that has manufacturer defects. While you could rebuild your current one, that's not the best way to ensure top performance and dependability either. A rebuilt 6HP26 will have some new parts, along with its older ones, making the whole transmission unreliable. Instead of taking these chances, consider getting a used or remanufactured 6HP26 from Reman Transmission.
Our used transmissions are a great way to avoid breaking the bank when replacing your current transmission. In addition to being so affordable, they also offer good quality. Our team at Reman Transmission inspects every used 6HP26 to ensure that it's in adequate working condition. A used transmission from us helps you save money, while also having a transmission you can rely on.
We also offer refurbished models for those who want a 6HP26 with new parts rather than used ones. Our remanufacturing process includes taking out every part and replacing it with a new or re-machined one that meets OEM standards or even exceeds them. That gives you a 6HP26 filled with reliable parts. At Reman Transmission, we also know that transmissions can have factory defects that affect their performance. That's why our remanufacturing process also includes correcting known defects. Fixing these defects can help you get a remanufactured 6HP26 that's in better shape than factory models.
Whether you purchase a remanufactured or used 6HP26 from us, you'll get a warranty and pay a flat-rate fee to have it shipped to your address. Our warranty on used models is good for 6 months or 6,000 miles. For refurbished models, our warranty is good for 36 months and has unlimited mileage. Our shipping rate is $270, which allows you to have your remanufactured or used ZF 6HP26 sent right to you. With a convenient flat-rate shipping fee, warranty for peace of mind, overall affordability, and dependable quality, Reman Transmission is your top source for refurbished and used 6HP26 transmissions.
Flat Rate Shipping (Commercial address)
Excellent Customer Support
Up to 5 Years Unlimited Miles Warranty
No Core Charge for 30 Days
6HP26 Frequently Asked Questions
How much power can the 6HP26 transmission handle?
The 6HP26 transmission has a maximum input torque of 443 lb-ft. If yours is having trouble handling this much power, keep in mind that our 6HP26s are remanufactured to OEM specifications. They also have factory defects corrected, which can make them perform better than factory-made models.
What kind of transmission fluid and how much fluid does a 6HP26 take?
The 6HP26 uses ZF Lifeguard 6 ATF transmission fluid. The full fluid capacity is 9.5 liters. Using the right transmission fluid in the right amount is essential for keeping your 6HP26 running smoothly. The wrong amount or the wrong type can cause problems with your 6HP26 transmission.
What vehicles have the ZF 6HP26 transmission?
Several manufacturers have used the 6HP26 since 2001, including BMW, Hyundai, Ford/Lincoln, Jaguar, Kia, Land Rover, and Maserati. Some of these car models include the 2001-2008 BMW 7 Series, 2008-2012 Jaguar XF, 2015-2016 Ford Falcon, 2009-2012 Hyundai Genesis, and 2006-2013 Land Rover Range Rover.
What is the difference between the 6HP19 and 6HP26 transmission?
The main difference between this ZF transmission is the amount of power they hold. The 6HP19 has a maximum engine torque of 295 lb.-ft., while the 6HP26 can handle up to 443 lb.-ft. The 6HP19 is used in vehicles that don't require as much power, such as the Hyundai Genesis Coupe and BMW X3.
What is the problem with the ZF 6HP26?
The most common 6HP26 issue is the lockup unit clutch reducing the amount of torque that's transmitted. This can happen when friction material wears away over time or from rough operating conditions. Replacing a 6HP26 that has this issue with a refurbished model helps improve vehicle performance.
6HP26 History & Information
German company ZF Friedrichshafen, the manufacturer of 6HP26 transmissions, designed this 6-speed automatic transmission with BMW. This was the first 6-speed automatic transmission that ZF manufactured. Several car manufacturers began using this transmission in 2001 for vehicles with engines up to 6L and rear-wheel drive (RWD). Also known as the ZF 6HP26, this transmission's predecessors include the 5HP30 and 6HP19. The 5HP30 is a 5-speed automatic transmission, while the 6HP19 offers less power than the 6HP26. The 6HP19 can handle 295 lb.-ft. of torque compared to the 6HP26's ability to handle 443 lb.-ft.
The 6HP26 has a modified version, known as 6HP26A, which was developed for use in Volkswagen and Audi vehicles with 4-wheel drive (4WD). Some of these vehicles include the Audi A8, Audi S8, and VW Phaeton. Other modifications, known as 6HP26X and 6HP26Z, were developed for use in 4WD vehicles that have a separate transfer box. Some of these vehicles include the Land Rover Range Rover, Land Rover Discovery 3 (LR3) and Discovery 4 (LR4), BMW X3 (E83), BMW 5, 6, and 7 Series, and BMW X5.
The ZF 6HP26 was first used in the 2001 BMW 7 Series (E65) like the 735i, 745i, and 760i along with vehicles from other high-end brands. Starting with model year 2009, it began being used in non-luxury brands as well, such as Hyundai. This continued through model year 2019 for some vehicles, such as the Maserati GranTurismo. Vehicles with the 6HP26 transmission include the Jaguar XK8/XKR (X100), Aston Martin DB9, BMW 525i, BMW 528i, BMW 530i, BMW 535i, BMW 540i, BMW 545i, BMW 550i, BMW 645i, BMW 650i, Hyundai Genesis Sedan, Jaguar S-Type, Jaguar XJ, and Rolls-Royce Phantom. Other vehicles with this transmission include the BMW 3 Series (E90 and E92), Ford Falcon, Ford Territory, Jaguar XK/XKR (X150), Maserati GranTurismo, Aston Martin DBS V12, BMW 7 Series (F01), Kia Mohave, Jaguar XF (X250), and Hyundai Equus.
The 6HP26 has a standard planetary gear set, 5 clutch packs, and a Ravigneaux gear assembly. This design with fewer components overall allows the 6HP26 to provide greater power while weighing less than its predecessor, the 5HP30. The ZF 6HP26 also features the ZF 6HP Mechatronic module that controls gearbox actions.
The 6HP26's successors include the 6HP32, 6HP21, and 6HP28. The 6HP32 was developed with a maximum input torque of 553 lb.-ft. for high-output applications in the BMW E65, Audi Q7, and VW Phaeton 5.0 V10 TDi. The 6HP21 and 6HP28 are second-generation 6HP transmissions used in Jaguar, Ford, and BMW vehicles. The 6HP28 has a maximum input torque of 516 lb.-ft., making it more powerful than the 6HP26.
Flat Rate Shipping (Commercial address)
Excellent Customer Support
Up to 5 Years Unlimited Miles Warranty
No Core Charge for 30 Days
Speak With A Specialist Now
Habla con un especialista ahora
6HP26 Transmission Compatibility Chart
MAKE
MODEL
START YEAR
END YEAR
BMW
735i
2001
2008
BMW
745i
2001
2008
BMW
760i
2001
2008
BMW
525i
2003
2010
BMW
528i
2003
2010
BMW
530i
2003
2010
BMW
535i
2003
2010
BMW
540i
2003
2010
BMW
545i
2003
2010
BMW
550i
2003
2010
BMW
645i
2003
2010
BMW
650i
2003
2010
Aston Martin
DB9
2003
2012
Hyundai
Genesis Sedan
2009
2012
Hyundai
Equus
2011
2011
Jaguar
XK8
2002
2005
Jaguar
S-Type
2003
2008
Jaguar
XJ
2003
2009
Jaguar
XK / XKR
2006
2010
Jaguar
XF
2008
2012
BMW
316i
2006
2011
BMW
318i
2006
2011
BMW
320i
2006
2011
BMW
323i
2006
2011
BMW
325i
2006
2011
BMW
328i
2006
2011
BMW
330i
2006
2011
BMW
335i
2006
2011
Land Rover
Range Rover
2006
2013
Land Rover
Range Rover Sport
2006
2013
Land Rover
LR3
2005
2009
Land Rover
LR4
2010
2013
Flat Rate Shipping (Commercial address)
Excellent Customer Support
Up to 5 Years Unlimited Miles Warranty
No Core Charge for 30 Days
Speak With A Specialist Now
Habla con un especialista ahora