Flat Rate Shipping (Commercial address)
Up to 5 Years Unlimited Mile Warranty
Excellent Customer Support
No Core Charge for 30 Days
Remanufactured 4L65E Transmission Price
Alternative Name: Hydra-Matic
Price
Shipping
Core and Fee
Upfront Cost
Warranty
$2106
$270
None
$2376
5 Year
$1915
In Store
$503
$2418
3 Year
$1916
In Store
$503
$2419
3 Year

$1915
In Store
$503
$2418
3 Year
*Core: Waived for 30 Days
*Shipping: We offer Flat Rate Shipping (Commercial address)
*Logos are the property of their respective owners
Why Chose Reman-Transmission.com
| | Reman Transmission | Other Vendors |
| --- | --- | --- |
| Transparent Pricing | Check | x |
| Best Price Guarantee | Check | x |
| Flat Rate Shipping (Commercial address) | Check | x |
| Up to 5 Years Unlimited Mile Warranty | Check | x |
| Torque Convertor Included | Check | x |
| No Core Charge for 30 Days | Check | x |
| Free Shippng on Core Return | Check | x |
Why Chose Reman-Transmission.com
| Question to Ask | Reman Transmission | Other Vendors |
| --- | --- | --- |
| Is shipping free? | We offer Flat Rate Shipping (Commercial address) | Additional or Store Pickup |
| Who pays for Core Return? | We Do | You Do (Store Drop off) |
| Do I pay for Core today? | No, we waive Core Charge for 30 days* | Yes, but will be refunded when shipped back |
| Is torque convertor included? | Always! | Not included |
| What is the warranty? | Up to 5 years/Unlimited miles | Up to 3 years/Unlimited miles |
| Best Price Guarantee? | Yes! (for comparable conditions only) | They Don't |
About Our Remanufactured 4L65E Transmission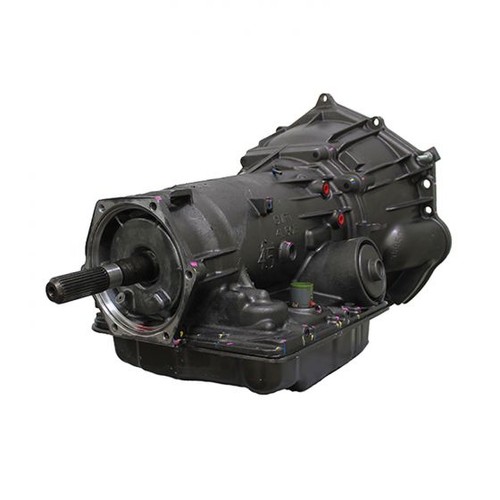 Looking for a 4L65E transmission for sale? Want to replace, rebuild, or swap out your GM 4L65E transmission with a used or rebuilt 4L65 transmission with high-quality parts?
We've handled numerous 4L65E transmissions over the years and will be happy to assist you with any work you require! Typically considered a 4L65E 4x4 transmission due to its heavy-duty applications and 4L65E torque converter that's more powerful than its predecessor, our team of mechanics and engineers know these transmissions like the back of their hands.
We sell high-quality used and remanufactured 4L65E transmissions, 4L65E transmission 4x4's, and offer the 4L65E for sale to be installed in our customer's vehicles. We pride ourselves on the depth and dependability of our remanufacturing process.
We'll never sell you a transmission that isn't in perfect working condition, as this is our pride and joy. Every transmission we remanufacture is completely disassembled, taken apart, and carefully put back together with re-machined or new parts that meet OEM specifications.
Our team knows the factory defects 4L65E transmissions can come with, and take the initiative in fixing and correcting each defect during the remanufacturing process. Rest assured that your transmission was rebuilt with care, and will likely run even better than the factory equivalent!
Now you can take advantage of our unlimited mileage warranty that lasts up to 5-years! Ride around, test your transmission, and we'll repair any problems for half a decade!
Free and fast shipping is offered to commercial addresses throughout the United States, ensuring you get your transmission handled quickly and with the efficiency you deserve. We look forward to serving you and taking care of your 4L65E transmission with the utmost care and consideration.
Flat Rate Shipping (Commercial address)
Excellent Customer Support
Up to 5 Years Unlimited Miles Warranty
No Core Charge for 30 Days
Our 4L65E Transmission Upgrades
Complete system correction and recalibration kit installed to address several OE flaws. Modifications include updates to servos, the PR system, and valve body accumulators.
Oversize PR valves utilized to restore hydraulic integrity.
TCC control valve, TCC regulator valve, and Actuator Feed Valve updated to address common wear problems.
1-2 Accumulator Pistons, upgraded to aluminum, replace the OE plastic pistons that can cause premature clutch failure.
Tru-Flat stator qualification and machining process.
Sun Shells updated to the latest, stronger, and more durable design, eliminating common OE failures.
High Energy 2-4 band installed to increase durability over the OE design.
High Energy 3-4 clutch pack, upgraded from 6 to 7 clutches to increase durability and torque capacity.
Completely remanufactured pump with new line bore bushings to eliminate leaks and provide superior flow and durability.
Fully remanufactured and improved torque converter is tested for leaks, lock-up, concentricity, and balance. Upgrades exceed OE requirements and eliminate the possibilities of front seal leaks, premature bushing wear, and vibration.
All-new custom-spec bushings to improve internal fluid flow control and pressures.
Every transmission is cold-and hot-tested using a proprietary dynamometer testing program that includes fully synthetic automatic transmission fluid and a filtration system.
4L65E Frequently Asked Questions
Can I replace my 4L60E with a 4L65E?
Yes, it is possible to replace a 4L60E transmission with a 4L65E, although they are separate distinct models of transmission. The 4L65E, for example, received many internal part upgrades from GM. You can upgrade and swap with no hassle using our expertly rebuilt and remanufactured 4L65E transmissions.
How much horsepower can a stock 4L65E handle?
A stock 4L65E transmission can handle approximately 400 HP. However, a reliable transmission builder such as our shop can upgrade your 4L65E to a higher horsepower rating. Level two rated 4L65E's can handle up to 450 HP, level three can go up to 500 HP, and level fours can handle up to 650 HP.
What vehicles have a 4L65E?
Some vehicles that use 4L65E transmissions include everything from the GMC Yukon Denali, GMC Sierra Denali, 2002 Isuzu Axiom, Cadillac Escalade, 2005 C6 Corvette, Hummer H2, Chevrolet Silverado SS, Holden Crewman 2004, and 2005-2006 Pontiac GTOs.
Will a 4L65E bolt up to a 350?
Yes, a 4L65E has an electronically controlled OD (outer diameter) designated by the "E" in the model and therefore will bolt up to a TH350. The primary difficulty is then upgrading your transmission controller and adjusting gear ratios, as required. A GM adapter kit may be required to ensure proper compatibility.
4L65E History & Information
The 4L65E is an automatic transmission from General Motors (GM) with stronger internals compared to the 4L60E model. It includes 4 forward gears, 1 reverse gear, and is designed for longitudinal engines.
When looking back at the history of this transmission model series, we're brought back to the year 1982 when the Turbo-Hydramatic 700 (TH700) was still produced. The 4L65E transmission is GM's electronically commanded iteration on the original TH700. Regarding the production of 4L65E's, the Toledo Transmission plant in Toledo, Ohio as well as the Romulus Transmission Plant in Romulus, Michigan is where these transmissions are typically built within the United States.
Looking at the 4L65E and 4L60E from the outside, they look exactly the same. Even though they share the same parts on their exteriors, the 4L65E has stronger internal components, including five pinion planets compared to the 4L60E's four. The torque converters and input shafts of these models are also different, with slight differences in input shaft length and converter design.
Coupled behind the 6.0 Vortec in the year 2001, the 4L65E was released as an upgrade to the 4L60E. The resulting 4L65E transmission was rated for 380 ft-lb of torque in its stock configuration. GM went on to also produce the 4L80E and 4L85E transmissions which were used for more heavy-duty applications and had beefed up internals.
When it comes to transfer cases this transmission is easily compatible with numerous cases and came from the factory with several different units. The most commonly mated transfer cases for this transmission are the NV149, NV246, BW4481, BW4484, and BW4494.
Vehicle models that utilize the 4L65E transmission include:
2005 Chevrolet Corvette (single-year model)
2004 Holden One Tonner
2004 Holden Crewman
VZ 6.0 Holden Commodore
VZ HSV Clubsport
The heavier-duty components in the 4L65E transmission make it ideal for cars and trucks that require additional strength and performance. It should be noted that this transmission has a twin with a speed sensor located in the pump and it is called the 4L70E transmission. Other than that, the 4L65 and 4L70 transmissions are considered identical.
If you have a 4L65E transmission you'd like to swap out with a used or rebuilt transmission, or if you currently own a 4L65E that you'd like rebuilt from scratch with high-quality components, we're equipped and ready to help!
Flat Rate Shipping (Commercial address)
Excellent Customer Support
Up to 5 Years Unlimited Miles Warranty
No Core Charge for 30 Days
Speak With A Specialist Now
Habla con un especialista ahora
4L65E Transmission Compatibility Chart
MAKE
MODEL
START YEAR
END YEAR
Cadillac
Escalade
2003
2006
Cadillac
Escalade EXT
2004
2006
Chevrolet
Silverado 1500
2004
2007
Chevrolet
SSR
2005
2006
GMC
Sierra 1500
2001
2007
GMC
Sierra Denali
2003
2007
GMC
Yukon
2003
2006
GMC
Yukon XL 1500
2001
2006
Hummer
H2
2003
2007
Pontiac
GTO
2005
2006
Flat Rate Shipping (Commercial address)
Excellent Customer Support
Up to 5 Years Unlimited Miles Warranty
No Core Charge for 30 Days
Speak With A Specialist Now
Habla con un especialista ahora