Flat Rate Shipping (Commercial address)
Up to 5 Years Unlimited Mile Warranty
Excellent Customer Support
No Core Charge for 30 Days
Remanufactured 722.6 Transmission Price
Alternative Name: WA580, NAG1, and the 5G-Tronic
Price
Shipping
Core and Fee
Upfront Cost
Warranty
$2594
$270
None
$2864
5 Year
$3040
In Store
$1243
$4283
3 Year
$3042
In Store
$1243
$4285
3 Year

$3040
In Store
$1243
$4283
3 Year
*Core: Waived for 30 Days
*Shipping: We offer Flat Rate Shipping (Commercial address)
*Logos are the property of their respective owners
Why Chose Reman-Transmission.com
| | Reman Transmission | Other Vendors |
| --- | --- | --- |
| Transparent Pricing | Check | x |
| Best Price Guarantee | Check | x |
| Flat Rate Shipping (Commercial address) | Check | x |
| Up to 5 Years Unlimited Mile Warranty | Check | x |
| Torque Convertor Included | Check | x |
| No Core Charge for 30 Days | Check | x |
| Free Shippng on Core Return | Check | x |
Why Chose Reman-Transmission.com
| Question to Ask | Reman Transmission | Other Vendors |
| --- | --- | --- |
| Is shipping free? | We offer Flat Rate Shipping (Commercial address) | Additional or Store Pickup |
| Who pays for Core Return? | We Do | You Do (Store Drop off) |
| Do I pay for Core today? | No, we waive Core Charge for 30 days* | Yes, but will be refunded when shipped back |
| Is torque convertor included? | Always! | Not included |
| What is the warranty? | Up to 5 years/Unlimited miles | Up to 3 years/Unlimited miles |
| Best Price Guarantee? | Yes! (for comparable conditions only) | They Don't |
About Our Remanufactured 722.6 Transmission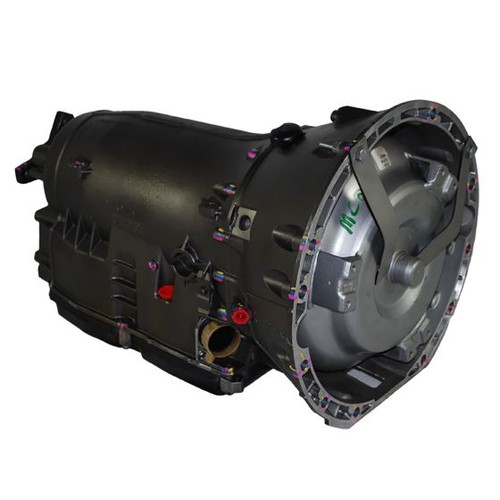 Whether you want to buy a used 722.6 transmission for sale that you know is in good shape, to begin with, or are looking for a high-quality remanufactured Mercedes 722.6 transmission for sale, Reman-Transmission offers some of the best Mercedes Benz 722.6 transmission options available on the market. Rather than doing an online search for "cheap rebuilt 722.6 transmissions near me", why not get into a high-quality remanufactured transmission? A rebuild only means the defective parts are replaced, shifting wear and tear to other parts of the transmission that can then fail again, causing a whole string of repairs. Our used transmissions are inspected for functionality and our remanufactured engines have had all of the worn parts replaced, giving you a transmission capable of delivering 200,000 miles or more.
Our reconditioning process takes the entire transmission assembly and repairs it to meet or exceed the original factory OEM part specifications. We replace everything in the bell housing, so you end up with a transmission that's like brand new, but even better, because we make upgrades to parts that are common failure points so that they'll hold up better, giving you a better than factory transmission at a much lower price than buying new.
A properly remanufactured Mercedes 722.6 transmission will provide superior performance for many years to come, preventing you from ending up with an expensive and unexpected breakdown at the side of the road. We give you free shipping to commercial addresses in the continental U.S., or $75 to a residential address. On top of that, we offer a six-month, 6,000-mile warranty on our used 722.6 transmissions and a 36 month, unlimited mileage warranty on our remanufactured 722.6 transmissions, giving you a solid backing and confidence in the transmission you order from us.
We keep many remanufactured automatic and manual transmissions in stock from major import and domestic manufacturers. Every part is tested and inspected to ensure it meets or exceeds OEM factory specs prior to shipping the transmissions. Because of the lengths, we go to in remanufacturing, you'll get a transmission that will outlast one straight from the factory. Working with us gets you a professionally-inspected used Mercedes Benz 722.6 transmission or a professionally-remanufactured 7.226 transmission. Whether you want an upgrade on your current transmission or are just looking for a replacement for your Mercedes, we can help you keep rolling for many years to come.
Flat Rate Shipping (Commercial address)
Excellent Customer Support
Up to 5 Years Unlimited Miles Warranty
No Core Charge for 30 Days
Our 722.6 Transmission Upgrades
A remanufactured and improved torque converter is included with every transmission.
To eliminate the possibility of front seal leaks, vibration, and premature bushing wear, all torque converters are tested for leaks, lock-up, concentricity, and balance.
Every fully remanufactured valve body, with complete system correction and recalibration kit, is tested independently.
All wear-prone valves are restored to stringent specifications and vacuum tested to confirm proper function.
Each remanufactured transmission is hot, cold, load, and simulated road tested using our proprietary CARS (Computer-Aided Road Simulation) dynamometer program.
All remanufactured transmissions are backed by the industry's best, no-hassle nationwide warranty.
722.6 Frequently Asked Questions
What's the difference between 722.6 and 722.9 transmissions?
Though they may look very similar, the 722.9 adds two forward gears, making it a seven-speed transmission over the 722.6's five-speed transmission. The additional two speeds improve fuel economy and more accurately match RPM to vehicle speed.
How do you reset a 722.6 transmission?
Turn the key to the on position without starting the engine, then push the gas pedal all the way down, hold it for 15 seconds, and turn the key off without removing your foot from the pedal. Take your foot off the pedal, wait three minutes, then remove the key
Are Mercedes transmissions reliable?
Rather than outsourcing their transmission manufacturing, the Mercedes 722.6 transmission is handled in-house. They are considered very reliable when regularly serviced, but should your Mercedes have problems, our remanufactured 722.6 transmissions are a great option.
How does a 722.6 transmission work?
Using six multi-plate clutches in addition to two freewheels, the 722.6 transmission moves through five forward and two reverse gears. There are three shift solenoids to control hydraulic pressure in shifting, with the first-second solenoid also handling fourth-fifth shifts.
722.6 History & Information
The Mercedes Benz 722.6 transmission, also known as the W5A580, NAG1, and the 5G-Tronic, is manufactured by Mercedes Benz as a new transmission to replace the 4G-Tronic, a four-speed transmission. It features two reverse and five forward gears, is fully electronically controlled, and has a torque converter lock-up. As an overdrive automatic transmission, it provides a range of thoughtful features that adds functionality, driving performance, and safety to the vehicle.
Used across a wide range of Mercedes, including the S-Class, E-Class, C-Class, G-Class, Maybach lineup, and many more, it's also been adapted to a range of other manufacturer's vehicles, including Jaguar, Jeep, Dodge, Chrysler, and Ssangyong. The 722.6 transmission's adaptability to this wide range of vehicles is part of its popularity and the reason why it can be found in vehicle years spanning from 1996 to today, a 25+ year cycle that is virtually unheard of when it comes to automatic transmissions.
It features several special operating modes, depending on the vehicle it's placed in. Winter/Sport mode has the gearbox started in second in both forward and reverse gears, to provide better traction on slippery surfaces. Speedshift provides opportunities for both manual modes and active downshifting capability. The transmission is also trainable, allowing the driver to set specific conditions for when the vehicle should shift between gears, providing opportunities for saving fuel or for better performance.
It's been operated in vehicles with engines ranging from inline-four to V-12 configurations, with a high torque capacity of up to 1000 Nm making it capable of handling a diverse range. This is also why it's retained such popularity in non-Mercedes vehicles, from Sprinter vans to Jeep Wranglers. It should be noted that the torque converter, unlike most, naturally has a bluish tint to it, which in other transmissions would be a sign of a failed converter. Further testing is needed to determine whether the torque converter has failed.
Flat Rate Shipping (Commercial address)
Excellent Customer Support
Up to 5 Years Unlimited Miles Warranty
No Core Charge for 30 Days
Speak With A Specialist Now
Habla con un especialista ahora
722.6 Transmission Compatibility Chart
MAKE
MODEL
START YEAR
END YEAR
Mercedes-Benz
C230
1997
2005
Mercedes-Benz
C240
2001
2005
Mercedes-Benz
C280
1997
2007
Mercedes-Benz
C32 AMG
2002
2004
Mercedes-Benz
C320
2001
2005
Mercedes-Benz
C350
2006
2007
Mercedes-Benz
C55 AMG
2005
2006
Mercedes-Benz
CL500
1998
2003
Mercedes-Benz
CL55 AMG
2001
2006
Mercedes-Benz
CLK 320
1998
2005
Mercedes-Benz
CLK 430
2000
2003
Mercedes-Benz
CLK 500
2000
2003
Mercedes-Benz
CLK 55 AMG
2001
2006
Mercedes-Benz
E280
2007
2007
Mercedes-Benz
E300
1997
2009
Mercedes-Benz
E320
1997
2006
Mercedes-Benz
E350
2006
2009
Mercedes-Benz
E420
1997
1997
Mercedes-Benz
E430
1998
2002
Mercedes-Benz
E500
2003
2006
Mercedes-Benz
E55 AMG
2001
2002
Mercedes-Benz
ML320
1998
2003
Mercedes-Benz
ML350
1998
2003
Mercedes-Benz
ML430
1999
2001
Mercedes-Benz
ML55 AMG
2000
2003
Mercedes-Benz
S320
1997
1999
Mercedes-Benz
S420
1996
1999
Mercedes-Benz
S430
2000
2003
Mercedes-Benz
S500
1997
2003
Mercedes-Benz
S55 AMG
2001
2002
Mercedes-Benz
SLK320
2001
2004
Mercedes-Benz
SLK32 AMG
2002
2004
Flat Rate Shipping (Commercial address)
Excellent Customer Support
Up to 5 Years Unlimited Miles Warranty
No Core Charge for 30 Days
Speak With A Specialist Now
Habla con un especialista ahora