Flat Rate Shipping (Commercial address)
Up to 5 Years Unlimited Mile Warranty
Excellent Customer Support
No Core Charge for 30 Days
Remanufactured 6L50 Transmission Price
Alternative Name: 6L50E, 6L50-E, GM 6L50
Price
Shipping
Core and Fee
Upfront Cost
Warranty
$2331
$270
None
$2601
5 Year
$2884
In Store
$1288
$4172
3 Year
$2885
In Store
$1288
$4172
3 Years
*Core: Waived for 30 Days
*Shipping: We offer Flat Rate Shipping (Commercial address)
*Logos are the property of their respective owners
Why Chose Reman-Transmission.com
| | Reman Transmission | Other Vendors |
| --- | --- | --- |
| Transparent Pricing | Check | x |
| Best Price Guarantee | Check | x |
| Flat Rate Shipping (Commercial address) | Check | x |
| Up to 5 Years Unlimited Mile Warranty | Check | x |
| Torque Convertor Included | Check | x |
| No Core Charge for 30 Days | Check | x |
| Free Shippng on Core Return | Check | x |
Why Chose Reman-Transmission.com
| Question to Ask | Reman Transmission | Other Vendors |
| --- | --- | --- |
| Is shipping free? | We offer Flat Rate Shipping (Commercial address) | Additional or Store Pickup |
| Who pays for Core Return? | We Do | You Do (Store Drop off) |
| Do I pay for Core today? | No, we waive Core Charge for 30 days* | Yes, but will be refunded when shipped back |
| Is torque convertor included? | Always! | Not included |
| What is the warranty? | Up to 5 years/Unlimited miles | Up to 3 years/Unlimited miles |
| Best Price Guarantee? | Yes! (for comparable conditions only) | They Don't |
About Our Remanufactured 6L50 Transmission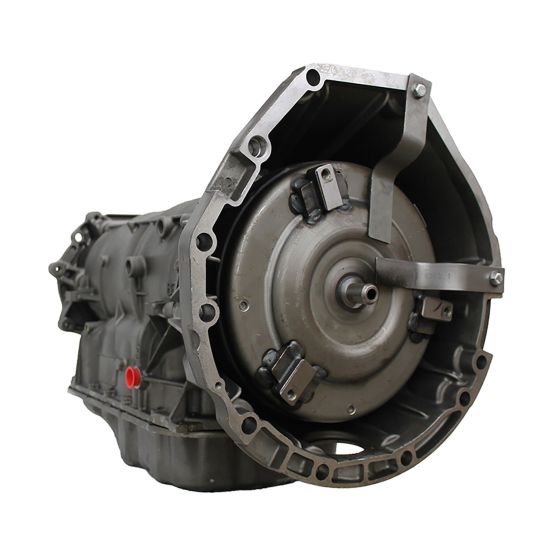 Transmissions play a crucial role in vehicles, including helping them run smoothly without engine overloading. When you drive a vehicle that uses the GM 6L50 transmission, make sure this part is in excellent condition. Your 6L50 should work without major issues, but keep in mind that wear and tear can take a toll over time. If your vehicle's transmission isn't working properly or if it's showing signs of damage, plan on having it replaced promptly. This helps ensure that your vehicle keeps running safely. Since a brand new 6L50 transmission can cost considerable money, you might be hesitant about making this purchase. The good news is that you can buy a remanufactured 6L50 transmission that's in great condition. In fact, these transmissions meet or even exceed the specifications of the original equipment manufacturer (OEM).
If you've thought about rebuilding your 6L50, consider how limiting this approach is. Rebuilding a transmission involves replacing just the parts that have worn out or sustained damage. Instead of doing a rebuild or buying a brand new transmission, purchase a refurbished or remanufactured 6L50 from Reman-Transmissions. Our process involves correcting factory defects that are known and replacing original parts with ones that meet or exceed OEM specifications. Our commitment to quality service helps ensure that your remanufactured GM 6L50 is a better buy than getting a brand-new one. Keep in mind that brand-new ones might have factory defects that haven't been corrected.
When you're in the market for a GM 6L50, we also have used models available. These are highly affordable and thoroughly inspected so that you know you're getting a used transmission that works the way it should. Reman-Transmissions also offers 6-month or 6,000-mile warranties on used 6L50 transmissions. If you're planning on purchasing a remanufactured 6L50, we have unlimited mileage warranties for up to 36 months. If you end up having any problems with your refurbished or used 6L50 transmission, our warranty can help lower the cost of having it repaired.
With some companies, customers have to go to a physical location to pick up their transmission. At Reman-Transmission, we keep it simple and offer tons of convenience, since we know your time is valuable. We'll ship your used or remanufactured 6L50 to you at a flat rate. We also help you save time and money by waiving core charges for 30 days. With high-quality products, warranties, shipping, and affordable prices, count on Reman-Transmission for your refurbished or used 6L50.
Flat Rate Shipping (Commercial address)
Excellent Customer Support
Up to 5 Years Unlimited Miles Warranty
No Core Charge for 30 Days
6L50 Frequently Asked Questions
What is the 6L50 transmission?
The 6L50 transmission is a 6-speed automatic transmission with electronic controls and fuel-saving features. This transmission has a modular design that can be used for all-wheel drive and rear-wheel drive applications. It has a maximum shift speed of 7000 rpm and clutch-to-clutch shifting.
What is the difference between the 6L50 and 6L45?
The 6L50 and 6L45 transmissions differ in terms of power. While the 6L50 has a maximum engine power of 315 hp, the 6L45's maximum engine power is 321 hp. The 6L50 also has a maximum engine torque of 332 lb-ft, while the 6L45's maximum engine torque is 275 lb-ft.
How do I know if I have a 6L50 transmission?
The upper casting number on 2007-2010 6L50 transmissions is 9405 and 7117 for 2010 and later 6L50 transmissions. The center support feed holes are centered on these transmissions. The lower casting number for 2007-2010 6L50 transmissions is 9581 and 0945 for 2010 and later 6L50 transmissions.
How much power can a 6L50 handle?
The 6L50 transmission is able to handle a maximum of 315 hp and 332 lb-ft torque. Its modular design is suitable for varying torque levels in different engines. It can also handle different all-wheel drive and rear-wheel drive applications.
What type of transmission fluid and what is the fluid capacity for the 6L50 transmission?
Using the right transmission fluid type and amount in your 6L50 transmission protects it from corrosion, irregular pressure, and other problems. The GM 6L50 uses DEXRON VI transmission fluid, which offers high performance. The fluid capacity of the 6L50 with a 258 and 300 mm converter is 9.1 kg.
6L50 History & Information
General Motors began producing the 6-speed 6L50 transmission in 2006. Known as the Hydra-Matic 6L50, this transmission was first used in the 2007 Cadillac STS and Cadillac SRX vehicle models with V8 engines. The 6L50 replaced its predecessors, the 5-speed 5L40 and 5L50 transmissions. GM manufactures the 6L50 at plants in Toledo, Ohio, and Silao, Mexico. The Punch Powerglide company also makes the 6L50 at a plant in Strasbourg, France.
With its modular design, the GM 6L50 can be used for multiple applications, including rear-wheel drive and all-wheel drive applications. It has also been used in vehicles with different types of engines, such as the 4.3L V6 LV3 EcoTec3 NA, 2.5L I4 LCV NA, and 3.6L V6 LFX NA. Over the years, the 6L50 has been used in several vehicles, including the Chevrolet Camaro, Chevrolet Colorado, GMC Canyon, Cadillac SLS, Cadillac STS, Cadillac SRX, and Cadillac CTS.
The GM 6L50 is known for offering smooth, soft operation, good fuel economy, a high degree of reliability, outstanding acceleration, and versatility. This transmission, which General Motors developed in-house, is designed for use in vehicles with a longitudinal powertrain orientation. Its versatility comes from its output gearset configuration, which accommodates a broad range of ratios compared to other automatic transmissions. This configuration includes an input planetary gearset, a compound output gearset, and another output gearset. Drivers can accelerate from a standstill quickly in first gear. Overdrive gears use lower RPMs during cruising, resulting in better fuel economy.
Other notable features that the 6L50 offers include Performance Algorithm Shifting, Integral Electro/Hydraulic Controls Module, Adaptive Time Shift, Multiple Shift Patterns, and Driver Shift Control.
The GM 6L50 has a few successors, which include the 6L80, 6L90, and 8L90.
Flat Rate Shipping (Commercial address)
Excellent Customer Support
Up to 5 Years Unlimited Miles Warranty
No Core Charge for 30 Days
Speak With A Specialist Now
Habla con un especialista ahora
6L50 Transmission Compatibility Chart
MAKE
MODEL
START YEAR
END YEAR
Cadillac
SLS
2007
2011
Cadillac
STS
2007
2011
Cadillac
SRX
2007
2009
Cadillac
CTS
2008
2015
Chevrolet
Camaro LS / LT (V6 models only)
2010
2015
Chevrolet
Colorado
2015
2022
GMC
Canyon
2015
2022
Flat Rate Shipping (Commercial address)
Excellent Customer Support
Up to 5 Years Unlimited Miles Warranty
No Core Charge for 30 Days
Speak With A Specialist Now
Habla con un especialista ahora