Flat Rate Shipping (Commercial address)
Up to 5 Years Unlimited Mile Warranty
Excellent Customer Support
No Core Charge for 30 Days
Remanufactured T56 Transmission Price
Alternative Name: T56 Magnum, Borg-Warner T56, Tremec T56
Price
Shipping
Core and Fee
Upfront Cost
Warranty
$4512
$270
None
$4782
5 Year

$6205
In Store
$1996
$8201
3 Year
*Core: Waived for 30 Days
*Shipping: We offer Flat Rate Shipping (Commercial address)
*Logos are the property of their respective owners
Why Chose Reman-Transmission.com
| | Reman Transmission | Other Vendors |
| --- | --- | --- |
| Transparent Pricing | Check | x |
| Best Price Guarantee | Check | x |
| Flat Rate Shipping (Commercial address) | Check | x |
| Up to 5 Years Unlimited Mile Warranty | Check | x |
| Torque Convertor Included | Check | x |
| No Core Charge for 30 Days | Check | x |
| Free Shippng on Core Return | Check | x |
Why Chose Reman-Transmission.com
| Question to Ask | Reman Transmission | Other Vendors |
| --- | --- | --- |
| Is shipping free? | We offer Flat Rate Shipping (Commercial address) | Additional or Store Pickup |
| Who pays for Core Return? | We Do | You Do (Store Drop off) |
| Do I pay for Core today? | No, we waive Core Charge for 30 days* | Yes, but will be refunded when shipped back |
| Is torque convertor included? | Always! | Not included |
| What is the warranty? | Up to 5 years/Unlimited miles | Up to 3 years/Unlimited miles |
| Best Price Guarantee? | Yes! (for comparable conditions only) | They Don't |
About Our Remanufactured T56 Transmission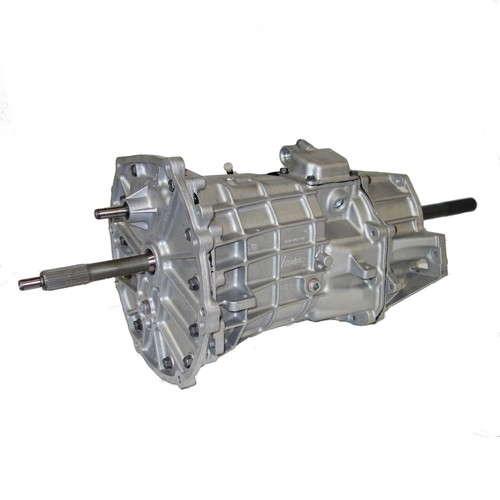 Here at Reman-Transmission, we take pride in the fact that we have the best remanufactured T56 BorgWarner transmissions on the market. Not only do we have the best remanufactured transmissions, but we also have the best customer support staff in the industry that is standing by ready to help you with your order. While it is tempting to pick up a cheap reconditioned T56 transmission for sale or have it rebuilt at your local shop, you need a remanufactured T56 transmission for sale that has undeniable reliability. If you are expecting advanced performance and durability issues, a remanufactured T56 transmission by Reman-Transmission is a smart, affordable, and cost effective option. Known for quality parts, instead of simply dismantling the transmission, fixing a few parts, and reassembling, we completely service every component. Worn gears are machined and restored to OEM specification. If a part cannot be properly repaired, we swap it with a brand new replacement that meets or exceeds the original equipment manufacturer's (OEM) quality. In the end, every component within the transmission is replaced or re-machined and all factory defects mended. The remanufactured T56 can be expected to perform as well as the original equipment, adding longevity to your classic car or truck build.
Stop searching for the perfect parts catalog while ending up with the wrong product. Reman-Transmission is the best source to buy a complete remanufactured T56 transmission unit. We strive our best to serve our customers in the best and most convenient way, therefore, we will deliver your rebuilt transmission to you in like-new condition straight to your commercial address. When you search "rebuilt transmissions near me" and you click on our contact button we will give you a quick quote and price for the exact matching transmission for your vehicle. Also, ask about our 5-year unlimited warranty and rediscover your comfort zone while driving your restored vehicle for miles and miles.
Flat Rate Shipping (Commercial address)
Excellent Customer Support
Up to 5 Years Unlimited Miles Warranty
No Core Charge for 30 Days
Our T56 Transmission Upgrades
Our quality control process includes build specification checks performed by three different specialized technicians during the remanufacturing process to ensure accuracy and precise fitment.
Inspection of internal parts, including gear wear checks, mainshaft straightness, and synchronization are performed.
Worn and non-functional parts are replaced, including 100% replacement of seals, bearings, and other common components.
Each remanufactured transmission is hot, cold, load, and simulated road tested using our proprietary dynamometer program.
All remanufactured transmissions are backed by the industry's best, no-hassle nationwide warranty.
T56 Frequently Asked Questions
Yes, it is a manual 6-speed transmission designed for the rear-wheel-drive muscle car market of the late 90s and early 2000s. Our T56 transmissions have been rebuilt to exceed OEM specs. It can also be retro-fitted for 4X4 applications and is popular with rock crawlers.
What is the difference between a T56 and a T56 Magnum?
The T56 refers to the original 6-speed transmission manufactured by BorgWarner and TREMEC from 1992 to 2008 and was sold directly to the Detroit Big 3 manufacturers. The T56 Magnum is an aftermarket transmission that more closely matches the TR-6060 and is currently suitable for performance crate engine applications.
Are T56 transmissions good?
When properly maintained, a T56 can be expected to last up to 200,000 miles. The original design was used in top-selling sports cars for more than 15 years beginning in 1992. The follow-up TR-6060 is still being produced today using many of the same design and manufacturing standards.
How much is a T56 transmission?
You may find a T56 in a salvage yard for under $1000, but will it work? A refurbished one could suffer from the same type of issues since the shop only replaced what was broken. A new T56 Magnum runs for $3000 up. For a few dollars less, our remanufactured T56 gets like-new performance and durability.
T56 History & Information
The T56 manual 6-speed transmission was first built by the Borg-Warner company and made its debut on the 1992 Dodge Viper powertrain, replacing the T5 5-speed transmission as the go-to industry standard for the new decade. The transmission design and process took on the TREMEC name in 1998 while adhering to the same original equipment manufacturer standards required by the Big 3 American vehicle manufacturers in Detroit: Chevrolet, Chrysler, and Ford. Known for its durability and serious muscle car powertrain performance, it was sold as original equipment not just by GM but also installed in the factory in Ford vehicles and Dodge street stock applications. Now it remains a popular and affordable aftermarket transmission for enthusiasts that wish to restore their classic machine.
Why is the T56 still at the top of the list for repair shops and backyard mechanics? Its design is a favorite as many of its components are listed on the Interchange as compatible with a wide range of domestic and foreign vehicles. Its internal parts remained much the same as it rolled off the production line over the years. Better yet, it built a reputation for longevity, often surviving 200,000 miles or longer when properly maintained. Of course, turning out torque numbers up to 550 pound-feet for the Dodge Viper SRT-10 with aftermarket tweaks made it attractive to weekend racers.
As the demand for increased performance grew in Detroit, TREMEC needed to upgrade the T56. The TR-6060 manual 6-speed transmission took its bow on the 2007 Ford Mustang Shelby GT500 and the TR3650 transmission went to the V6 and GT Mustangs. A new synchronizer package reduced shift travel and the effort needed to physically move the gear lever. Larger gears in the roomier housing allowed for greater torque, reduced friction, and precise shifts. TREMEC remains a major supplier and the TR-6060 is still being manufactured as original equipment, featured on the 2022 Cadillac CT4-V Blackwing.
Since demand for the TR-6060 design remains high for aftermarket applications, TREMEC builds the Magnum which it sells to auto parts stores and private entities for restoration and professional performance projects. A T56 Super Magnum can bring up to 700 pound-feet of torque to your luxury performance sports car or be installed in your race car paired with a Chevrolet Performance crate engine. Since so many automakers utilize the TREMEC transmission, the Magnum comes with a true drop-in design.
Flat Rate Shipping (Commercial address)
Excellent Customer Support
Up to 5 Years Unlimited Miles Warranty
No Core Charge for 30 Days
Speak With A Specialist Now
Habla con un especialista ahora
T56 Transmission Compatibility Chart
MAKE
MODEL
START YEAR
END YEAR
Chevrolet
Corvette
1997
2007
Dodge
Viper
1992
2007
Aston Martin
DB7 Vantage
1999
2003
Aston Martin
V12 Vanquish
2001
2006
Chevrolet
Camaro
1993
2002
Dodge
Ram SRT10
2004
2006
Ford
Mustang Cobra
2003
2004
Holden
Commodore
1994
2008
Pontiac
GTO
2004
2006
Chevrolet
SSR
2005
2006
Holden
VE Commodore
2006
2008
Pontiac
Firebird
1993
2002
Flat Rate Shipping (Commercial address)
Excellent Customer Support
Up to 5 Years Unlimited Miles Warranty
No Core Charge for 30 Days
Speak With A Specialist Now
Habla con un especialista ahora