Flat Rate Shipping (Commercial address)
Up to 5 Years Unlimited Mile Warranty
Excellent Customer Support
No Core Charge for 30 Days
Remanufactured A750F Transmission Price
Price
Shipping
Core and Fee
Upfront Cost
Warranty
$2383
$270
None
$2653
5 Year
$2701
In Store
$770
$3471
3 Year
$2702
In Store
$770
$3472
3 Year
*Core: Waived for 30 Days
*Shipping: We offer Flat Rate Shipping (Commercial address)
*Logos are the property of their respective owners
Why Chose Reman-Transmission.com
| | Reman Transmission | Other Vendors |
| --- | --- | --- |
| Transparent Pricing | Check | x |
| Best Price Guarantee | Check | x |
| Flat Rate Shipping (Commercial address) | Check | x |
| Up to 5 Years Unlimited Mile Warranty | Check | x |
| Torque Convertor Included | Check | x |
| No Core Charge for 30 Days | Check | x |
| Free Shippng on Core Return | Check | x |
Why Chose Reman-Transmission.com
| Question to Ask | Reman Transmission | Other Vendors |
| --- | --- | --- |
| Is shipping free? | We offer Flat Rate Shipping (Commercial address) | Additional or Store Pickup |
| Who pays for Core Return? | We Do | You Do (Store Drop off) |
| Do I pay for Core today? | No, we waive Core Charge for 30 days* | Yes, but will be refunded when shipped back |
| Is torque convertor included? | Always! | Not included |
| What is the warranty? | Up to 5 years/Unlimited miles | Up to 3 years/Unlimited miles |
| Best Price Guarantee? | Yes! (for comparable conditions only) | They Don't |
About Our Remanufactured A750F Transmission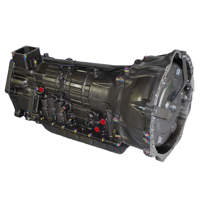 At Reman-Transmission, we understand that when it comes to finding the perfect transmission for your vehicle, reliability, and affordability are key. That's why we're proud to offer you our top-quality used and remanufactured A750F transmissions, ensuring you get the best performance without breaking the bank.
When you choose to purchase a used A750F transmission from us to take advantage of A750F transmission reliability, you're not just getting an affordable solution – you're also getting peace of mind. Our used transmissions are carefully inspected to ensure they're in excellent working condition. We pride ourselves on offering the most affordable used transmissions in the industry without compromising their performance or reliability.
If you want to go the extra mile and invest in one of our remanufactured A750F transmissions, you'll be amazed at the difference it can make. Our remanufacturing process is designed to give you a transmission that's better than new by replacing every single component inside with new or re-machined parts that meet or exceed the original equipment manufacturer's specifications (OEM).
What sets our remanufactured transmissions apart from the competition is our attention to detail in addressing any known factory defects. In fact, our remanufactured A750F transmissions often come out better than brand-new factory units, giving you the confidence and assurance you need when it comes to your vehicle's performance.
We stand by the quality of our A750F transmissions, with warranties that reflect our commitment to your satisfaction. Our used A750F transmissions come with a warranty of up to 6 months or 6,000 miles, while our remanufactured A750F transmissions boast an impressive up to 36-month/unlimited mileage warranty.
We know that getting your new transmission quickly and affordably is vital, which is why we offer a flat shipping rate of just $270 for all transmissions. This means you can have your new transmission delivered to your doorstep without any hidden costs or surprises.
At Reman-Transmission, we're dedicated to providing the best products and customer service to help you get back on the road with confidence. If you're in need of an A750F automatic transmission or looking for an A750F Transmission for sale, don't hesitate to reach out – we'll do everything we can to help!
Flat Rate Shipping (Commercial address)
Excellent Customer Support
Up to 5 Years Unlimited Miles Warranty
No Core Charge for 30 Days
A750F Frequently Asked Questions
What is an A750F transmission?
The A750F transmission is a reliable 5-speed automatic transmission developed by Toyota in 2003 for longitudinal front engine rear-wheel drive vehicles. It's designed for high torque capacity with fuel economy and power performance.
What is the difference between A750E and A750F transmission?
The only difference between A750E and A750F transmissions is the extension housing and output shaft used for 4WD models equipped with the transfer case. Both are 5-speed automatic transmissions built for specific vehicles.
What vehicles use the A750F transmission?
The A750F transmission is found in a variety of 4x4 Toyota and Lexus vehicles, including the 4Runner, Tacoma (V6), Tundra, Sequoia, FJ Cruiser, Land Cruiser, GX 470, LX 470, Land Cruiser Prado, Fortuner 4.0L, and Hilux.
What brand of transmission does Toyota use?
Toyota primarily uses Aisin-Warner's A family of transmissions, which covers a wide range of automatic FWD/RWD/4WD/AWD options. Our company focuses on remanufacturing these transmissions to exceed OEM specifications, ensuring a longer-lasting replacement for your vehicle.
What type of transmission fluid and what is the fluid capacity for the A750F transmission?
For optimal performance, use Toyota Genuine ATF WS transmission fluid with the A750F. A750F transmission fluid capacity is 11.1 liters (11.7 US quarts, 9.8 Imp. quarts). Regularly checking and maintaining the fluid level can help prolong the transmission's lifespan and keep your vehicle running smoothly.
A750F History & Information
The A750F transmission has a rich history that spans nearly two decades and is deeply intertwined with the evolution of Toyota's off-road vehicles. Introduced in 2003 by Aisin (under the Aisin-Warner brand), the A750F was specifically designed for use in Toyota vehicles with a focus on improving fuel economy, and power performance, and creating a compact and lightweight transmission. This 5-speed automatic transmission was built for longitudinal front engine rear-wheel drive (RWD) vehicles and quickly became a go-to choice for various Toyota 4×4 applications.
This reliable transmission can be found in a wide range of vehicles, from 2003 to the present year Toyota 4Runner to a variety of Lexus models such as the GX 470 and LX 470. The A750F has also made its way into other popular Toyota vehicles like the Tacoma, Tundra, Sequoia, Land Cruiser, and FJ Cruiser. It wasn't just limited to Toyota, though. Between 2009-2021, the A750F could be found in the Mitsubishi Pajero, and from 2012-2016 in the Isuzu D-max and MU-X.
The A750F has some impressive technological advancements that set it apart from its predecessor, the A750E. Its gear train, torque converter, and other components were completely redesigned to achieve top-level weight reduction and compactness. This overhaul also resulted in a higher torque capacity and led to a smoother, quieter driving experience.
As a testament to its success, the A750F has since spawned multiple successors, including the A750H and A760E. These transmissions build upon the solid foundation laid by the A750F, further enhancing its positive attributes and delivering even more reliability and performance for drivers.
All in all, the Toyota A750F transmission can be viewed as a pivotal moment in the history of Toyota off-road vehicles, as well as a significant milestone for Aisin-Warner and the automotive industry as a whole. The A750F's combination of fuel efficiency, power, and compact design allowed Toyota and other manufacturers to offer customers a more enjoyable and capable driving experience in their 4x4 vehicles. The transmission's innovative engineering not only improved overall vehicle performance, but also helped cement Toyota's reputation for reliability and quality.
Flat Rate Shipping (Commercial address)
Excellent Customer Support
Up to 5 Years Unlimited Miles Warranty
No Core Charge for 30 Days
Speak With A Specialist Now
Habla con un especialista ahora
A750F Transmission Compatibility Chart
MAKE
MODEL
START YEAR
END YEAR
Toyota
4Runner
2003
2023
Toyota
Tacoma
2005
2015
Toyota
Tundra
2005
2009
Toyota
FJ Cruiser
2007
2009
Toyota
Land Cruiser 100-Series
2003
2007
Lexus
GX 470
2003
2009
Mitsubishi
Pajero
2009
2021
Flat Rate Shipping (Commercial address)
Excellent Customer Support
Up to 5 Years Unlimited Miles Warranty
No Core Charge for 30 Days
Speak With A Specialist Now
Habla con un especialista ahora