Flat Rate Shipping (Commercial address)
Up to 5 Years Unlimited Mile Warranty
Excellent Customer Support
No Core Charge for 30 Days
Remanufactured RE5R05A Transmission Price
Alternative Name: Nissan 5R05, Jatco 5R05, 5EAT (Subaru Part), JR507E, JR509E, TG5C, TG5D,
Price
Shipping
Core and Fee
Upfront Cost
Warranty
$2489
$270
None
$2759
5 Year
$3034
In Store
$1243
$4277
3 Year
$3034
In Store
$1243
$4277
3 Year

$3190
In Store
$1255
$4445
3 Year
*Core: Waived for 30 Days
*Shipping: We offer Flat Rate Shipping (Commercial address)
*Logos are the property of their respective owners
Why Chose Reman-Transmission.com
| | Reman Transmission | Other Vendors |
| --- | --- | --- |
| Transparent Pricing | Check | x |
| Best Price Guarantee | Check | x |
| Flat Rate Shipping (Commercial address) | Check | x |
| Up to 5 Years Unlimited Mile Warranty | Check | x |
| Torque Convertor Included | Check | x |
| No Core Charge for 30 Days | Check | x |
| Free Shippng on Core Return | Check | x |
Why Chose Reman-Transmission.com
| Question to Ask | Reman Transmission | Other Vendors |
| --- | --- | --- |
| Is shipping free? | We offer Flat Rate Shipping (Commercial address) | Additional or Store Pickup |
| Who pays for Core Return? | We Do | You Do (Store Drop off) |
| Do I pay for Core today? | No, we waive Core Charge for 30 days* | Yes, but will be refunded when shipped back |
| Is torque convertor included? | Always! | Not included |
| What is the warranty? | Up to 5 years/Unlimited miles | Up to 3 years/Unlimited miles |
| Best Price Guarantee? | Yes! (for comparable conditions only) | They Don't |
About Our Remanufactured RE5R05A Transmission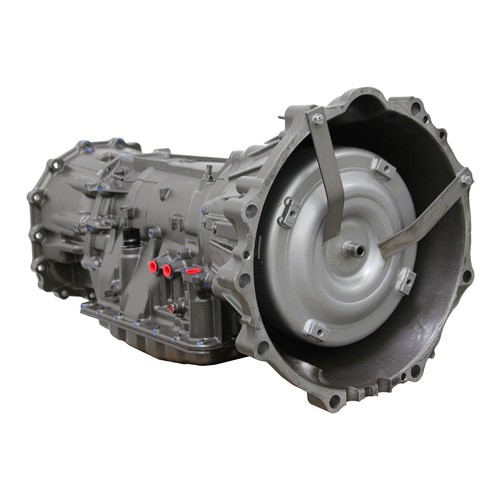 Looking for a RE5R05A transmission for sale? At Reman-Transmission, our goal is to bring our clients the best Jatco RE5R05A transmissions on the market. Whether you're looking for the Subaru 5EAT transmission, the Jatco 5R05 Transmission, or a similar model for your Nissan, we have what you're looking for at a fair, affordable price.
All of the RE5R05A transmissions we sell are quality used or remanufactured transmissions. Each of our used transmissions goes through an inspection to make sure it is in good working condition before we market it to our customers. Our used and remanufactured RE5R05A transmission products are the most affordable in the industry, and we go a step beyond to be positive that each of our remanufactured transmissions has had all of its parts replaced with new or re-machined parts that meet or exceed the original equipment manufacturer's specifications (OEM). That way, we know that all repairs have been done to the highest possible quality.
A remanufactured transmission has its benefits, one of which is that it will be as good as or better than a brand-new factory transmission. We correct any and all defects, so you can trust that this transmission will last for many miles to come. An example of a defect with the RE5R05A transmission is the fact that the radiator is also used as a transmission cooler for vehicles that utilize this transmission, creating a weak point. Therefore, in addition to the transmission, we also supply a new radiator/ trans cooler along with all necessary hoses and clamps to be installed with it. To make it clear that we stand by our word, we also offer two special warranties for all our transmission products. However, keep in mind that with this transmission if you do not install the trans cooler/ radiator with the remanufactured RE5R05A transmission then it will void the warranty.
The warranty for our used RE5R05A transmissions is up to 6 months or 6,000 miles. The warranty for our remanufactured RE5R05A transmissions is up to 36 months with an unlimited mileage warranty. These warranties help you be confident that you can get the transmissions replaced should they have any issues before the warranty passes.
For our clients, we want to make shipping simple. To do that, we offer completely free shipping to all commercial addresses (this includes shipping transmissions to your shop). We also ship to residential addresses, and we only charge $75 as a flat-rate fee for doing so.
RE5R05A Transmission Remanufacturing Process
Flat Rate Shipping (Commercial address)
Excellent Customer Support
Up to 5 Years Unlimited Miles Warranty
No Core Charge for 30 Days
Our RE5R05A Transmission Upgrades
True-Flat process applied to case, valve body, and pump prevents cross-leakage and delivers consistent performance.
Completely remanufactured valve body with new pressure switches and, when needed, speed sensors. All valve bodies are tested independently to verify proper operation prior to the dynamometer testing of the completed transmission.
All-new custom-spec bushings improve internal fluid flow control and pressures.
All bushings and machined surfaces are polished to a mirror-like OE finish of 15 RA or better.
Fully remanufactured torque converter is tested for leaks, lockup, concentricity, and balance. Upgrades exceed OE requirements and eliminate the possibility of front seal leaks, premature bushing wear, and vibration.
Every transmission is cold-and hot-tested using a proprietary dynamometer testing program that includes fully synthetic automatic transmission fluid and a filtration system.
RE5R05A Frequently Asked Questions
Is the RE5R05A a good transmission?
The RE5R05A is known as a "milestone" transmission because it was the first line of performance transmission products with high stall torque converters for the Jatco automatic gearboxes. The transmission is known to be good and reliable overall. Our remanufactured replacements make the best replacements because they are updated with the latest parts and designed to eliminate defects.
What vehicles have a RE5R05A transmission?
There are multiple vehicles makes and models using the RE5R05A transmission, including the Nissan Titan, Nissan 350Z, and Nissan Infiniti G35. The Jatco version may be found in the Nissan Frontier, Pathfinder, Xterra, Armada, and Infinity G35, M35, Q45, M45, QX56, FX45, FX35, and CX35.
Who makes the RE5R05A transmission?
The RE5R05A was originally manufactured by Jatco, which had partnered with Nissan. It is also manufactured for Subaru and Jatco. Our RE5R05A is just as good as or better than these original models because they are inspected for defects. All defects are corrected, and new or re-machined parts meeting OEM specs are installed.
How much does a RE5R05A transmission weigh?
The Nissan RE5R05A transmission is rated by torque limits for 100,000 shift cycles. The Jatco RE5 is rated at 333lb/ft but is known to handle up to 400 horsepower. There is a potential to exceed this in some cases depending on the parts used.
RE5R05A History & Information
The RE5RO5A transmission is a transmission made by Nissan and Jatco, the Japan Automatic Transmission Company. It has one successor, the 7R01, and its predecessor is the 5R01. You can find this transmission under the alternative names 5R05, JR507E (for Nissan), JR509E (Nissan), and 5EAT (Subaru part number). Depending on the vehicle you're working on, you will need to select the correct part number to find the transmission, though they are technically the same.
Since 2003, the RE5R05A has been available on the North American market. The Jatco 5-speed automatic transmission 5R05, or Nissan model RE5R05A transmission, was released in 2002 and continued on in production through 2019. Its OEM ATF is the Original NISSAN ATF Matic J. The United States had the Matic S, which superseded the Matic J in 2009.
You will recognize this transmission class for its 5-speed longitudinal automatic design.
The transmission fluid used for the RE5R05A has to conform to ATF-HP specifications to work correctly. It may be found today as relabeled Idemitsu fluid, and Valvoline has an "Import Multi-Vehicle" fluid that will also work for this model. Pennzoil ATF-J and Castrol Transmax J both are approved for use in the RE5R05A.
The RE5R05A transmission is known to be a good, reliable automatic transmission. It has a history of several large failures, but those largely have to do with other vehicle issues, such as seal failures of the trans coolers and cross-contamination. As for actual transmission issues, there is a potential for the pin tracks to crack or break. Sometimes, sensor failures also occur, but these are the only problems that come up for the transmission in general.
The RE5R05A transmission is used in several Nissan and Infiniti vehicles including the R51 Pathfinders, Armadas, 2005+ Frontiers, Xterras, Titans, and G35s.
Other part numbers this part is known by:
7S104
7S303
7S305
7S604
8S20
8S204
8S205
8S206
ZS10
ZS30
ZS80
Flat Rate Shipping (Commercial address)
Excellent Customer Support
Up to 5 Years Unlimited Miles Warranty
No Core Charge for 30 Days
Speak With A Specialist Now
Habla con un especialista ahora
RE5R05A Transmission Compatibility Chart
MAKE
MODEL
START YEAR
END YEAR
Infiniti
QX56
2008
2010
Nissan
Armada
2005
2015
Nissan
Frontier
2005
2017
Nissan
NV1500
2012
2012
Nissan
NV2500
2012
2012
Nissan
Pathfinder
2005
2012
Nissan
Armada
2004
2004
Nissan
Titan
2004
2015
Nissan
Xterra
2005
2015
Kia
Sorento
2003
2009
Kia
Borrego
2010
2012
Infiniti
FX35
2003
2009
Infiniti
G35
2003
2009
Infiniti
G37
2008
2008
Infiniti
M45
2003
2004
Infiniti
Q45
2002
2006
Subaru
Legacy GT
2005
2014
Subaru
Outback XT
2005
2014
Subaru
Tribeca
2005
2014
Subaru
Forestor
2005
2014
Flat Rate Shipping (Commercial address)
Excellent Customer Support
Up to 5 Years Unlimited Miles Warranty
No Core Charge for 30 Days
Speak With A Specialist Now
Habla con un especialista ahora