Flat Rate Shipping (Commercial address)
Up to 5 Years Unlimited Mile Warranty
Excellent Customer Support
No Core Charge for 30 Days
Remanufactured 5R55S Transmission Price
Alternative Name: 5R55, 5R55W
Price
Shipping
Core and Fee
Upfront Cost
Warranty
$2058
$270
None
$2328
5 Year
$2380
In Store
$790
$3170
3 Year
$2384
In Store
$791
$3175
3 Year

$2380
In Store
$790
$3170
3 Year
*Core: Waived for 30 Days
*Shipping: We offer Flat Rate Shipping (Commercial address)
*Logos are the property of their respective owners
Why Chose Reman-Transmission.com
| | Reman Transmission | Other Vendors |
| --- | --- | --- |
| Transparent Pricing | Check | x |
| Best Price Guarantee | Check | x |
| Flat Rate Shipping (Commercial address) | Check | x |
| Up to 5 Years Unlimited Mile Warranty | Check | x |
| Torque Convertor Included | Check | x |
| No Core Charge for 30 Days | Check | x |
| Free Shippng on Core Return | Check | x |
Why Chose Reman-Transmission.com
| Question to Ask | Reman Transmission | Other Vendors |
| --- | --- | --- |
| Is shipping free? | We offer Flat Rate Shipping (Commercial address) | Additional or Store Pickup |
| Who pays for Core Return? | We Do | You Do (Store Drop off) |
| Do I pay for Core today? | No, we waive Core Charge for 30 days* | Yes, but will be refunded when shipped back |
| Is torque convertor included? | Always! | Not included |
| What is the warranty? | Up to 5 years/Unlimited miles | Up to 3 years/Unlimited miles |
| Best Price Guarantee? | Yes! (for comparable conditions only) | They Don't |
About Our Remanufactured 5R55S Transmission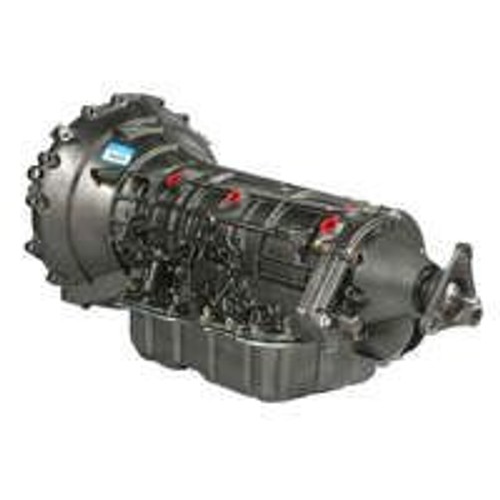 At Reman-Transmission, our focus is providing you with an economical drop in 5R55S transmission or 5R55W transmission that provides you with complete value. We provide you with one of the lowest prices on a high quality remanufactured 5R55S transmission as well as on our used 5R55W transmissions. As a top supplier of professionally built transmission replacements, we'll save you significant time and money over a rebuilt 5R55S transmission. If you consider that our company starts with changing out all of the components, not just the broken ones, giving you better reliability and a lower overall time investment than a rebuilt transmission you will understand why our remanufactured 5R55W transmissions are so dependable.
When you swap out your existing street vehicle powertrain, you want to do so at the lowest price while retaining solid value and reliability. That's why smart mechanics shop with us, knowing that we offer the best remanufactured transmissions at a low price. Our rebuilds involve replacing everything in the bell housing, upgrading parts that are common failure points and taking care of any factory issues that have shown up over the years, meeting or exceeding original equipment manufacturer specifications and giving you a better than factory new transmission.
If you search for a "used 5R55S transmission for sale" the best option is to go with a transmission supplier who makes sure each transmission is in good working condition before we ship them out like we do at Reman-Transmission. We provide warranties for all the transmissions we sell plus other benefits like: free shipping to commercial addresses in the continental United States, no core charge for up to 30 days, and friendly customer support.
We keep a wide range of 5R55 transmissions in stock and ready to go, so you can get your vehicle up and running as soon as possible. All our transmissions, especially our remanufactured 5R55W transmissions, are designed to be rock solid and can outlast factory new crate 5R55W transmissions. You'll get only the highest quality remanufactured 5R55W transmissions and used 5R55S in the industry when you purchase with us. If you have any questions about anything we do here at Reman-Transmission, please email or call one of our friendly customer support staff.
5R55S Transmission Remanufacturing Process
Flat Rate Shipping (Commercial address)
Excellent Customer Support
Up to 5 Years Unlimited Miles Warranty
No Core Charge for 30 Days
Our 5R55S Transmission Upgrades
The solenoid pack, commonly responsible for electrical shift related issues in this family, has been completely remanufactured in-house, including disassembly, cleaning, and testing independently.
To prevent overdrive planet failure due to lack of lubrication and to increase durability, the planets have been rebuilt and TIG welded.
To combat erratic shifting due to high wear, the servo and servo pin have been realigned and modified using inhouse custom tooling and bushings.
The completely remanufactured pump, with a new pump cover bushing machined in place and a new flow control valve, has been assembled in a custom alignment fixture to provide consistent internal pressures, improved lubrication, and eliminate noise, slipping, and delayed engagement.
To prevent torque converter vibration and damage, we're provided, installed, and aligned a flex plate adapter.
The pump also features a custom-spec front stator bushing and a new rear bushing to better support the input shaft and improve lubrication control.
Fully tested on our custom-built, custom-programmed dynamometers with Synthetec ATF, the 5R55S/W is cold-, hot-, load-, and road-tested.
Every transmission is cold-and hot-tested using a proprietary dynamometer testing program that includes fully synthetic automatic transmission fluid and a filtration system.
5R55S Frequently Asked Questions
Is the 5R55S a good transmission?
Initially featured in the 2003 Ford Thunderbird, the 5R55S transmission provided a high-performance option for the car, with the SelectShift providing manual-shifting performance in an automatic transmission. With five gears, it featured advanced options in performance and fuel efficiency as the first five-speed automatic used by a domestic manufacturer.
What is the difference between 5R55W and 5R55S?
The 5R55 series of five-speed automatic transmissions were mechanically similar but had a range of different features based on the different models. The W model had a wide shift and was used in trucks and SUVs, while the S model featured a synchronic shift and was used in performance cars.
How much power can a 5R55S handle?
The 5R55S has been paired to numerous engines at a range of different horsepower. There have been issues with turbochargers or superchargers causing problems, but in non-turbo engines, That being said, field reports mention topping out between 450-500 horsepower, though some non-OEM transmissions for sale claim numbers closer to 1000.
How do you fill a 5R55S transmission?
Find the T-30 plug on the drain pan and remove it without removing the drain plug. Install the filling nipple, place a 3/8" hose on it, then use a suction gun to fill the transmission. Remove the hose and allow the engine to idle 5-10 minutes to auto-correct to the appropriate level.
5R55S History & Information
The 5R55 transmission lineup includes a series of four transmissions that are very similar mechanically but have different features to work with a wider range of vehicles from luxury to off-road performance. The line was started with the Ford C3 transmission class, which has branched into a number of strong, effective transmission options. The C3 transmission was developed and implemented in the early 1970s as a lightweight three-speed automatic for small cars such as the Ford Pinto and performance cars such as the Ford Mustang and Ford Thunderbird.
It was succeeded initially by the A4LD, which added overdrive gear. This was quickly followed by the 4R44E, 4R55E, and 5R44E in the middle of the 1990s, which allowed the transmission to be used in 4WD platforms with an updated tail shaft housing, as well as the more traditional rear-wheel drivetrain. However, it didn't take long for Ford to eye up the 5-speed automatic transmissions coming out of the import market. This resulted in the launch of the 5R55 transmission lineup, which consisted of the 5R55S, 5R55W, 5R55N, and 5R55E transmissions. The name of each transmission refers to the number of gears first, that it's primarily a rear-wheel-drive second, the 550 lb-ft of torque handling capability third, and the specific model last. The first model, 5R55E, refers to the electronic shifting controls as compared to more traditional hydraulic options, the 5R55N for nonsynchronous, the 5R55S for synchronous, and the 5R55W for wide.
This lineup started with the 5R55E, which featured more precise computer controls to handle the additional forward gear. The 5R55N was built for luxury car lineups, including the Jaguar S-Type and Lincoln LS. The 5R55S appeared in performance car lineups, including the Ford Thunderbird and Ford Mustang, providing options for a paddle or similar manual-style shifting options with Ford's SelectShift feature. The 5R55W featured a wide shift for off-road vehicles such as the Ford Explorer, Mercury Mountaineer, Lincoln Aviator, and Ford Ranger versus the S's synchronic shift by adding a different overdrive planet gear ratio. This transmission is commonly mounted to the BW4418 transfer case.
The length of time that the transmission has been in service is a good indicator that it will perform well and has only a few problems, a bonus if you're having to change the transmission on your existing vehicle. A longitudinally-mounted transmission, the 5R55 does well with a transmission cooler to help keep it operating at cooler temperatures, a worthy upgrade if you've already got the transmission pulled anyway. Gear ratios will vary in the second and fifth gears, with a respective lineup of 3.22, 2.41, and 2.29, 1.54, 1.0 and 0.75, and 0.71 going from first to fifth in the W and S models respectively.
Flat Rate Shipping (Commercial address)
Excellent Customer Support
Up to 5 Years Unlimited Miles Warranty
No Core Charge for 30 Days
Speak With A Specialist Now
Habla con un especialista ahora
5R55S Transmission Compatibility Chart
MAKE
MODEL
START YEAR
END YEAR
Lincoln
LS
2003
2006
Ford
Mustang
2005
2010
Ford
Explorer
2002
2010
Ford
Thunderbird
2003
2005
Mercury
Mountaineer
2002
2010
Lincoln
Aviator
2003
2005
Flat Rate Shipping (Commercial address)
Excellent Customer Support
Up to 5 Years Unlimited Miles Warranty
No Core Charge for 30 Days
Diagnostic Codes for 5R55S Transmission
DIAGNOSTIC CODES
DESCRIPTION OF PROBLEM
P1500
Vehicle Speed Sensor Intermittent
P1501
Programmable Speedometer & Odometer Module/Vehicle Speed Sensor Intermittent Circuit-failure
P1502
Invalid or Missing Vehicle Speed Message or Brake Data
P1700
Transmission System Failure
P1701
Reverse Engagement Error
P1702
Transmission System Failure
P1703
Brake On/Off Switch Out of Self-Test Range
P1704
Transmission System Failure
P1705
Manual Lever Position Sensor Out of Self-Test Range
P1706
High Vehicle Speed Observed in Park
P1707
Transfer Case Neutral Indicator Hard Fault Present
P1709
Park or Neutral Position Switch Out of Self-Test Range
P1710
Transmission System Failure
P1711
Transmission Fluid Temperature Sensor Out of Self-Test Range
P1712
Trans Torque Reduction Request Signal Malfunction
P1713
TFT Sensor In Range Failure Low Value
P1714
SSA Inductive Signature Malfunction
P1715
SSB Inductive Signature Malfunction
P1716
SSC Inductive Signature Malfunction
P1717
SSD Inductive Signature Malfunction
P1718
TFT Sensor In Range Failure High
P1720
Vehicle Speed (Meter) Circuit Malfunction
P1721
Gear 1 Incorrect Ratio
P1722
Gear 2 Incorrect Ratio
P1723
Gear 3 incorrect Ratio
P1724
Gear 4 Incorrect Ratio
P1725
Insufficient Engine Speed Increase During Self Test
P1726
Insufficient Engine Speed Decrease During Self Test
P1727
Coast Clutch Solenoid Inductive Signature Malfunction
P1728
Transmission Slip Error
P1729
4x4 Low Switch Error
P1731
1-2 Shift Malfunction
P1732
2-3 Shift Malfunction
P1733
3-4 Shift Malfunction
P1740
Transmission System Failure
P1741
Torque Converter Clutch Control Error
P1742
Torque Converter Clutch Solenoid Faulty
P1743
Torque Converter Clutch Solenoid Faulty
P1744
Torque Converter Clutch System Stuck in Off Position
P1745
Transmission System Failure
P1746
Electronic Pressure Control Solenoid A - Open Circuit
P1747
Electronic Pressure Control Solenoid A- Short Circuit
P1748
EPC Malfunction
P1749
Electronic Pressure Control Solenoid Failed Low
P1751
Shift Solenoid A Performance
P1754
Coast Clutch Solenoid Circuit malfunction
P1756
Shift Solenoid B Performance
P1760
Transmission System Failure
P1761
Shift Solenoid C Performance
P1762
Overdrive Band Failed Off
P1766
Shift Solenoid D Performance
P1767
Torque Converter Clutch Circuit Malfunction
P1768
Performance / Normal / Winter Mode Input Malfunction
P1770
Clutch Solenoid Circuit Malfunction
P1779
Transmission Control Indicator Lamp Circuit Malfunction
P1780
Transmission Control Switch Circuit is Out of Self-Test Range
P1781
4x4 Low Switch is Out of Self-Test Range
P1782
P/ES Circuit Out Of Self Test Range
P1783
Transmission Over-Temperature Condition
P1784
Transmission Mechanical Failure - First And Reverse
P1785
Transmission Mechanical Failure - First And Second
P1786
3-2 Downshift Error
P1787
2-1 Downshift Error
P1788
Pressure Control Solenoid 'B' Open Circuit
P1789
Pressure Control Solenoid 'B' Short Circuit
P1795
Idle Switch Circuit Malfunction
P1804
Transmission 4-Wheel Drive High Indicator Circuit Failure
P1806
Transmission 4-Wheel Drive High Indicator Short Circuit To Battery
P1808
Transmission 4-Wheel Drive Low Indicator Circuit Failure
P1810
TFP Valve Position Switch Circuit/ Transmission 4-Wheel Drive Low Indicator Short Circuit To Battery
P1812
Transmission 4-Wheel Drive Mode Select Circuit Failure
P1815
Transmission 4-Wheel Drive Mode Select Short Circuit To Ground
P1819
Transmission Neutral Safety Switch Short Circuit To Ground
P1820
Transmission Transfer Case Clockwise Shift Relay Coil Circuit Failure
P1822
Transmission Transfer Case Clockwise Shift Relay Coil Short Circuit To Battery
P1824
Transmission 4-Wheel Drive Clutch Relay Circuit Failure
P1826
Transmission 4-Wheel Drive Low Clutch Relay Circuit To Battery
P1828
Transmission Transfer Case Counter Clockwise Shift Relay Coil Circuit Failure
P1830
Transmission Transfer Case Counter Clockwise Shift Relay Coil Short Circuit To Battery
P1832
Transmission Transfer Case Differential Lock-Up Solenoid Circuit Failure
P1834
Transmission Transfer Case Differential Lock-Up Solenoid Short Circuit To Battery
P1838
Transmission Transfer Case Shift Motor Circuit Failure
P1846
Transmission Transfer Case Contact Plate 'A' Circuit Failure
P1850
Transmission Transfer Case Contact Plate 'B' Circuit Failure
P1854
Transmission Transfer Case Contact Plate 'C' Circuit Failure
P1858
Transmission Transfer Case Contact Plate 'D' Circuit Failure
P1866
Transmission Transfer Case System Concern - Servicing Required
P1867
Transmission Transfer Case Contact Plate General Circuit Failure
P1876
Transmission Transfer Case 2-Wheel Drive Solenoid Circuit Failure
P1877
Transmission Transfer Case 2-Wheel Drive Solenoid Circuit Short To Battery
P1881
Engine Coolant Level Switch Circuit Failure, GEM
P1882
Engine Coolant Level Switch Circuit Short to Ground
P1883
Engine Coolant Level Switch Circuit Failure, GEM
P1884
Engine Coolant Level Lamp Circuit Short to Ground
P1891
Transmission Transfer Case Contact Plate Ground Return Open Circuit
P1900
Output Shaft Speed (OSS) Circuit Intermittent Malfunction
P1901
Turbine Shaft Speed (TSS) Circuit Intermittent Malfunction
P1902
Kickdown Solenoid Relay Control Circuit
P1903
Kickdown Solenoid Circuit Low Voltage
P1904
Kickdown Solenoid Circuit High Voltage
Speak With A Specialist Now
Habla con un especialista ahora