Flat Rate Shipping (Commercial address)
Up to 5 Years Unlimited Mile Warranty
Excellent Customer Support
No Core Charge for 30 Days
Remanufactured 4T65E Transmission Price
Alternative Name: 4T65E, 4T65
Price
Shipping
Core and Fee
Upfront Cost
Warranty
$1815
$270
None
$2085
5 Year
$3108
In Store
$749
$3857
3 Year
$3108
In Store
$749
$3857
3 Year

$3110
In Store
$749
$3859
3 Year
*Core: Waived for 30 Days
*Shipping: We offer Flat Rate Shipping (Commercial address)
*Logos are the property of their respective owners
Why Chose Reman-Transmission.com
| | Reman Transmission | Other Vendors |
| --- | --- | --- |
| Transparent Pricing | Check | x |
| Best Price Guarantee | Check | x |
| Flat Rate Shipping (Commercial address) | Check | x |
| Up to 5 Years Unlimited Mile Warranty | Check | x |
| Torque Convertor Included | Check | x |
| No Core Charge for 30 Days | Check | x |
| Free Shippng on Core Return | Check | x |
Why Chose Reman-Transmission.com
| Question to Ask | Reman Transmission | Other Vendors |
| --- | --- | --- |
| Is shipping free? | We offer Flat Rate Shipping (Commercial address) | Additional or Store Pickup |
| Who pays for Core Return? | We Do | You Do (Store Drop off) |
| Do I pay for Core today? | No, we waive Core Charge for 30 days* | Yes, but will be refunded when shipped back |
| Is torque convertor included? | Always! | Not included |
| What is the warranty? | Up to 5 years/Unlimited miles | Up to 3 years/Unlimited miles |
| Best Price Guarantee? | Yes! (for comparable conditions only) | They Don't |
About Our Remanufactured 4T65E Transmission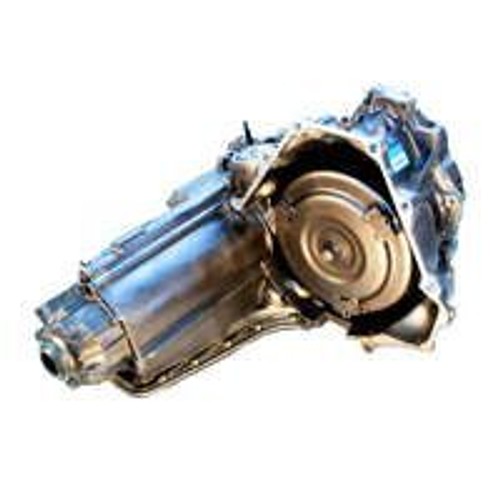 Even though the 4T65E transmission is reliable, it can experience problems from time to time especially when it gets higher in mileage. If you are experiencing issues with your transmission, you should search for a remanufactured 4T65E transmission. Do not go with a cheap junkyard transmission or repair option at your local shop. If you are looking for the best replacement option for your domestic or import car, then you should go with a remanufactured transmission. That is where our team of experts can help you.
At Reman-Transmission, we are proud to be among the leaders in the automotive industry.
We back that up by our one of a kind remanufacturing process and A+ customer service. When a 4T65E transmission comes into our shop, we begin by taking apart each individual part. If we deem that a part is faulty, it is replaced with new parts from the factory or rebuilt parts. Then, all the other components are also replaced by new or re-machined parts. Then we test each 4T65E transmission thoroughly to make sure they meet the high condition standards of the original equipment manufacturer (OEM). With the help of a professional who can test the performance of the transmission, you can feel comfortable that your remanufactured 4T65E transmission is compatible with the powertrain of your vehicle.
Furthermore, if you are thinking about buying a used 4T65E transmission, we have an entire fleet of them. We only carry quality used 4T65E transmissions that are in working condition. As you can see, we have a diverse company catalog that you can search by using our VIN system, helping you find the top product to meet your needs. That way, when you leave your shop with our 4T65E replacement transmission in your vehicle, you can feel confident that your rock solid transmission will last for years when it hits the street.
At Reman-Transmission, we are proud to be one of the leading transmission supplier options near me. We always produce quality work, and we will provide you with a free quote on your transmission so that you know exactly how much it costs. Our goal is to provide you with the lowest price from the best source possible every time. Whether you are looking for a transmission for sale for your car or truck, we will make sure that your vehicle is taken care of. For the best place to buy a transmission at the lowest cost, drop in and see us! We always provide an outstanding warranty as a sign of confidence in our products.
4T65E Transmission Remanufacturing Process
Flat Rate Shipping (Commercial address)
Excellent Customer Support
Up to 5 Years Unlimited Miles Warranty
No Core Charge for 30 Days
Our 4T65E Transmission Upgrades
Fully remanufactured valve body, with updated TCC Control Valve, TCC Regulator Apply Valve, Torque Signal Regulator Valve, and Reverse Boost Valve, improves shifting, lubrication, and performance.
Completely remanufactured pump, including replacement of slide pivot pin, provides consistent internal pressures, eliminates pump slide malfunction, and eliminates slipping and/or delayed engagement.
Bushings and machined surfaces polished to a mirror-like OE finish of 15 RA or less.
Pump driveshaft seal updated to solid Teflon seal for prevention of torque converter lock-up, slip, and chatter
Updated 4th clutch shaft prevents loss of 4th gear due to stripped splines.
New EPC solenoid assures proper line pressure control and shift feel.
Updated Actuator Feed Limit Valve assures proper solenoid pressure feed.
Clutch clearances set to custom-spec standards for improved shift, feel, and timing.
Fully remanufactured torque converter is tested for leaks, lock-up, concentricity, and balance. Upgrades exceed OE requirements and eliminate the possibilities of front seal leaks, premature bushing wear, and vibration.
Thoroughly inspected torque converter support bearing to prevent sleeve failure.
Thoroughly inspected input clutch housing thrust bearing assures proper endplay and eliminates noisy operation.
Tru-Flat qualification process applied to transmission case, valve body, pump, and channel plate prevent cross leaks and pressure losses
All-new custom-spec bushings to improve internal fluid flow control and pressures.
Every transmission is cold-and hot-tested using a proprietary dynamometer testing program that includes fully synthetic automatic transmission fluid and a filtration system.
4T65E Frequently Asked Questions
Is the 4T65E a good transmission?
The 4T65 is a great transmission, but it can experience problems occasionally. A remanufactured 4T65E transmission is the best replacement option. Each individual part has been tested to meet the specification of the original equipment manufacturer (OEM), adding to its longevity.
How much transmission fluid does a 4T65E hold?
The transmission itself will hold somewhere between 4 and 5 quarts of transmission fluid. Then, the rest of the transmission fluid will be in the line. In order to maximize the amount of transmission fluid your 4T65E can hold, you may want to fill the transmission lines first.
What is the difference between a 4T60E and a 4T65E?
The 4T60-E transmission is the predecessor to the smart 4T65 transmission. The 4T60 was originally produced during the early 1980s. Then, The 4T60E was introduced during the late 1980s, featuring electronic controls. The 4T65-E transmission was introduced in 1997 to replace the 4T60 transmission.
How do I identify a 4T65E transmission?
There are numerous torque converters depending on the original application of the transmission. In order to identify a 4T65E transmission, take a look at the RPO codes. These are usually found on a sticker, placed inside the glove compartment. Then, compare the code you see to the list of RPO codes to identify yours.
4T65E History & Information
The 4T65-E transmission is a Turbo-Hydramatic or "Hydra-Matic" 4-speed automatic transmission produced by General Motors (GM). The predecessor of the 4T65E is the Turbo-Hydramatic 125 transmission which was a revolutionary transmission for transverse applications on its own. Starting in 1991, GM introduced the 4T60-E. This provided an electronic control upgrade to the 4T60 transmission. By the mid-1990s, nearly every front-wheel-drive GM vehicle had a 4T60-E transmission. In 1996, a 4T60-E HD transmission was produced for the supercharged American GM 3800 engine. The Heavy Duty (HD) version of the 4T60-E was good enough for the Buick Regal GS, Buick Riviera, and Pontiac Grand Prix GT/ GTP but soon General Motors needed something better.
Starting in 1997, the 4T60-E transmission was phased out, as the 4T65 transmission was introduced. Starting in the year 2000, 4T65E transmissions were produced with upgraded valve bodies which significantly improved the shifts. Additionally, the transmission was now able to be put in a vehicle that weighed up to 6500 pounds and had up to 280 foot-pounds of torque. Then, in 2003, the electronics were changed. Overall, the 4T65-E transmission was more reliable than its 4T60 predecessor because General Motors (GM) had enough time to understand what the weaknesses were in the 4T60 and correct them. The gear ratios were changed in the 4T65, the power rating was upgraded, and the electronic controls were improved. The last GM model to use this transmission was the 2011 Chevrolet Impala. After this, the 4T65-E transmission was phased out in favor of its successor, the new 6T70 transmission family.
The 4T65E transmission was extremely popular and was used in production for over a decade. It was featured in popular vehicles like the Oldsmobile Silhouette, Pontiac Aztek, Buick LeSabre, Pontiac Bonneville, Buick Regal, and the Buick Rendezvous. Therefore, a large population of drivers in the United States has driven a vehicle that has the famous 4T65E transmission under the hood.
Flat Rate Shipping (Commercial address)
Excellent Customer Support
Up to 5 Years Unlimited Miles Warranty
No Core Charge for 30 Days
Speak With A Specialist Now
Habla con un especialista ahora
4T65E Transmission Compatibility Chart
MAKE
MODEL
START YEAR
END YEAR
Buick
Allure
2005
2009
Buick
Century
2000
2005
Buick
LaCrosse
2005
2009
Buick
LeSabre
1998
2005
Buick
Lucerne
2006
2011
Buick
Park Avenue
1997
2005
Buick
Regal
1998
2004
Buick
Rendezvous
2002
2007
Buick
Riviera
1997
1997
Buick
Terraza
2005
2007
Chevrolet
Impala
2000
2011
Chevrolet
Lumina
1997
2001
Chevrolet
Malibu
2006
2007
Chevrolet
Monte Carlo
1997
2007
Chevrolet
Uplander
2005
2009
Chevrolet
Venture
1999
2005
Oldsmobile
88
1998
1999
Oldsmobile
Aurora
2001
2002
Oldsmobile
Intrigue
1998
2002
Oldsmobile
LSS
1997
1999
Oldsmobile
Regency
1998
1998
Oldsmobile
Silhouette
1999
2004
Pontiac
Aztek
2001
2005
Pontiac
Bonneville
1997
2005
Pontiac
G6
2006
2008
Pontiac
Grand Prix
1998
2008
Pontiac
Montana
1999
2009
Saturn
Relay
2005
2007
Flat Rate Shipping (Commercial address)
Excellent Customer Support
Up to 5 Years Unlimited Miles Warranty
No Core Charge for 30 Days
Diagnostic Codes for 4T65E Transmission
DIAGNOSTIC CODES
DESCRIPTION OF PROBLEM
P0218
Transmission Fluid Over Temperature
P0502
Vehicle Speed Sensor (VSS) Circuit Low
P0503
Vehicle Speed Sensor (VSS) Circuit Intermittent
P0711
TFT Sensor Circuit Range/Performance
P0712
Transmission Fluid Temperature (TFT) Sensor Circuit Low
P0713
Transmission Fluid Temperature (TFT) Sensor Circuit High
P0716
Input Speed Sensor Circuit Intermittent
P0717
Input Speed Sensor Circuit Low
P0719
Brake Switch Circuit Low
P0724
Brake Switch Circuit High
P0730
Incorrect Gear Ratio
P0741
TCC System Stuck Off
P0742
TCC System Stuck On
P0748
Pressure Control Solenoid Circuit
P0751
1-2 Shift Solenoid Valve Performance
P0753
1-2 Shift Solenoid Circuit
P0756
2-3 Shift Solenoid Valve Performance
P0758
2-3 Shift Solenoid Circuit
P1520
Gear Indicator System
P1521
Transmission Engaged At High Throttle Angle
P1522
Park/Neutral To Drive/Reverse At High RPM
P1523
Electronic Throttle Control Throttle Return
P1527
Transmission Range/Pressure Switch Comparison
P1700
Transmission MIL Request
P1701
Transmission MIL Request Circuit
P1705
P/N Signal Output Circuit
P1740
Transmission Torque Reduction Request Circuit
P1743
TP Signal From ECM
P1760
ECM Supply Voltage Interrupted
P1779
Engine Torque Delivered To TCM Signal
P1780
Park/Neutral Postion (PNP) Switch Circuit Engine Torque Signal Circuit
P1790
Transmission Control Module Checksum
P1791
Transmission Control Module Loop
P1792
Transmission Control Module Reprogrammable Memory
P1793
Transmission control Module Stack Overrun
P1795
CAN Bus-Throttle Body Position
P1800
TCM Power Control Relay Circuit Open
P1801
Performance Selector Switch Failure
P1804
Ground Control Relay
P1810
TFP Valve Position Switch Circuit
P1811
Maximum Adapt and Long Shift
P1812
Transmission Over Temperature Condition
P1813
Torque Control
P1814
Torque Converter Overstressed
P1815
Transmission Range Switch-Start In Wrong Range
P1816
TFP Valve Position Switch-Park/Neutral With Drive Ratio
P1817
TFP Valve Position Switch-Reverse With Drive Ratio
P1818
TFP Valve Position Switch-Drive Without Drive Ratio
P1819
Internal Mode Swtich No Start, Wrong Range
P1820
Internal Mode Switch Circuit A Low
P1822
Internal Mode Switch Circuit B High
P1823
Internal Mode Switch Circuit P Low
P1825
Internal Mode Switch Illegal Range
P1826
Internal Mode Switch Circuit C High
P1831
PC Solenoid Power Circuit Low Voltage
P1833
A/T Solenoids Power Circuit Low Voltage
P1835
Kick-Down Switch
P1836
Kick-Down Switch Failed Open
P1837
Kick-Down Switch Failed Short
P1842
1-2 Shift Solenoid Circuit Low Voltage
P1843
1-2 Shift Solenoid Circuit High Voltage
P1844
Torque Reduction Signal Circuit Desired By TCM
P1845
Transmission Gear Ratio Output Circuit
P1847
2-3 Shift Solenoid Circuit High Voltage
P1850
Brake Band Apply Solenoid Circuit
P1851
Brake Band Apply Solenoid Performance
P1852
Brake Band Apply Solenoid Low Voltage
P1853
Brake Band Apply Solenoid High Voltage
P1860
TCC PWM Solenoid Circuit Electrical
P1864
Torque Converter Clutch Circuit
P1868
Transmission Fluid Life
P1870
Transmission Component Slipping
P1871
Undefined Gear Ratio
P1873
TCC Stator Temp. Switch Circuit Low
P1874
TCC Stator Temp. Switch Circuit High
P1875
4WD Low Switch Circuit
P1884
TCC Enable/Shift Light Circuit
P1886
Shift Timing Solenoid
P1887
TCC Release Switch Circuit
P1890
ECM Data Input Circuit
P1891
Throttle Position Sensor PWM Signal Low
P1892
Throttle Position Sensor PWM Signal High
P1893
Engine Torque Signal Low Voltage
P1894
Engine Torque Signal High Voltage
P1895
TCM To ECM Torque Reduction Circuit
Speak With A Specialist Now
Habla con un especialista ahora