Flat Rate Shipping (Commercial address)
Up to 5 Years Unlimited Mile Warranty
Excellent Customer Support
No Core Charge for 30 Days
Remanufactured 4R44E Transmission Price
Alternative Name: 4R44, 4R44-E
Price
Shipping
Core and Fee
Upfront Cost
Warranty
$2091
$270
None
$2361
5 Year
$2224
In Store
$678
$2902
3 Year
$2224
In Store
$678
$2902
3 Year

$2225
In Store
$678
$2903
3 Year
*Core: Waived for 30 Days
*Shipping: We offer Flat Rate Shipping (Commercial address)
*Logos are the property of their respective owners
Why Chose Reman-Transmission.com
| | Reman Transmission | Other Vendors |
| --- | --- | --- |
| Transparent Pricing | Check | x |
| Best Price Guarantee | Check | x |
| Flat Rate Shipping (Commercial address) | Check | x |
| Up to 5 Years Unlimited Mile Warranty | Check | x |
| Torque Convertor Included | Check | x |
| No Core Charge for 30 Days | Check | x |
| Free Shippng on Core Return | Check | x |
Why Chose Reman-Transmission.com
| Question to Ask | Reman Transmission | Other Vendors |
| --- | --- | --- |
| Is shipping free? | We offer Flat Rate Shipping (Commercial address) | Additional or Store Pickup |
| Who pays for Core Return? | We Do | You Do (Store Drop off) |
| Do I pay for Core today? | No, we waive Core Charge for 30 days* | Yes, but will be refunded when shipped back |
| Is torque convertor included? | Always! | Not included |
| What is the warranty? | Up to 5 years/Unlimited miles | Up to 3 years/Unlimited miles |
| Best Price Guarantee? | Yes! (for comparable conditions only) | They Don't |
About Our Remanufactured 4R44E Transmission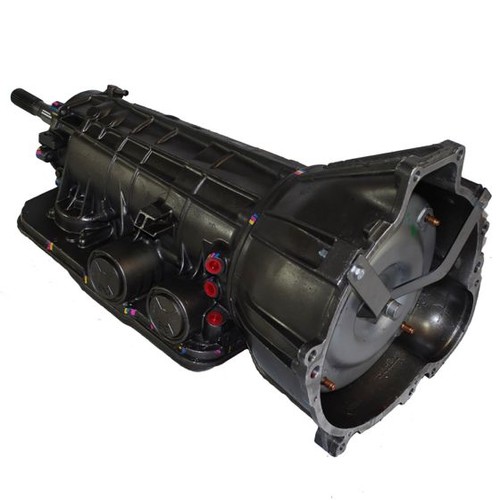 Are you looking for a Ford 4r44e transmission for sale? When you buy a 4R44E transmission from Reman-Transmission, you can be certain that you'll get a high-quality remanufactured transmission for your vehicle that will last for years. If you already have a 4R44E transmission, you're likely well aware of the issues that are commonly found; in particular, problems with slippage between 2nd and 3rd gear, faulty 2nd and 3rd gears, no upshift, and delays when moving from reverse into a forward gear. These are common problems that can be alleviated by purchasing one of our remanufactured 4R44E transmissions.
Before passing the Ford 4r44e rebuilt transmission onto our valued customers, we ensure that the transmissions we sell, including the 4r44e 4x4 transmission for sale, are in tip-top functioning order. To do that, we reverse engineer every single 4R44E transmission and solve all of the problems—all, not some—that the original manufacturer couldn't, and replace every part with brand new or re-machined components from our own machine shop.
In addition, all of our interior replacement components, as well as any parts that have to be re-machined, are guaranteed to meet or exceed OEM standards. We'll fix any known manufacturing problems that currently exist in your 4R44E transmission, as well as in the remanufactured ones that we offer for sale.
So, what does this imply for you and your vehicle? This means that our 4r44e transmission rebuild frequently results in a transmission that is superior to OEM transmissions, with smoother shifting, better dependability, and far fewer issues during its lifespan. Furthermore, it means that our customers can expect a prolonged lifespan that exceeds the average lifespan for the transmission.
We stand behind our work. All of our remanufactured automatic transmissions come with a 3-year guarantee and unlimited mileage, as well as free and fast shipping to any commercial location in the United States. Many of our private customers opt to have our transmissions shipped directly to their vehicle mechanic's commercial shop for installation. You don't have to worry about finding one of our locations "near me," because you can order directly from us online.
You can get a better used 4r44e transmission for sale. One of the wisest decisions you can make for your vehicle is to purchase one of our used or remanufactured 4R44E transmissions. Are you looking for a 4r44e transmission for sale? If you would like to get more out of your 4R44E than it is currently giving you, or you'd like to get more life out of your transmission, contact us online and one of our helpful customer service representatives will assist you through the entire process and answer any questions you may have.
Flat Rate Shipping (Commercial address)
Excellent Customer Support
Up to 5 Years Unlimited Miles Warranty
No Core Charge for 30 Days
Our 4R44E Transmission Upgrades
A remanufactured and improved torque converter is included with every transmission.
To eliminate the possibility of front seal leaks, vibration, and premature bushing wear, all torque converters are tested for leaks, lock-up, concentricity, and balance.
Every fully remanufactured valve body, with complete system correction and recalibration kit, is tested independently.
All wear-prone valves are restored to stringent specifications and vacuum tested to confirm proper function.
Each remanufactured transmission is hot, cold, load, and simulated road tested using our proprietary CARS (Computer-Aided Road Simulation) dynamometer program.
All remanufactured transmissions are backed by the industry's best, no-hassle nationwide warranty.
4R44E Frequently Asked Questions
How reliable is the 4R44E transmission?
From 1995 through 2001, the 4R44E was one of Ford's most popular transmissions for light-duty vehicles, including trucks and compact SUVs. Like other transmissions, the 4R44E was not without any issues, but it remains solid and reliable; in particular when it's one that's had every single interior component replaced like our remanufactured 4R44E transmissions.
What's the difference between 4R44E and 4R55E?
The difference between 4R44E and 4R55E can be discovered in the letters and numbers, as they denote certain specifications. In 4R44E, the 4 stands for the number of gears, the R stands for rear-drive platform or 4WD, the 44 stands for the 440 ft-lb torque capability and the E stands for electronic shifting. Therefore, the difference is that 4R55E is rated for 550 ft-lbs instead of 440 ft-lbs.
What is the average life of a 4R44E transmission?
The true average life expectancy of any transmission can best be determined by reports from actual users. According to this, the 4R44E has been known to last for between 120,000 and 300,000 miles. The higher estimate and even higher lifespan would be more common when the 4R44E is one that has been completely remanufactured like ours.
How much power can a 4R44E transmission handle?
The 4R44E transmission—especially one that has had its internal components replaced during our remanufacturing process—can easily handle the workload of compact SUVs and trucks. Specifically, the 4R44E transmission has a maximum capacity of about 440 ft-lbs of torque. Common problems include some gear slippage, which can be eliminated by purchasing one that has been remanufactured by us.
4R44E History & Information
Ford Motor Company is the original manufacturer of the 4R44E, and it was routinely used in light-duty vehicles, like the Ford Ranger 4r44e transmission, from 1995 to 2001. This transmission was also used in the 1995-1997 Ford Aerostar, 1995-1997 Mazda B2300, 1998-2001 Mazda B2500, and the 1996-2000 Mazda B3000. The 4R44E evolved out of a previous transmission, the A4LD. The 4R44E was most commonly fitted to the Borg-Warner BW1354 transfer case in 4x4 applications.
The A4LD was upgraded in 1995, resulting in the 4R44E. The inclusion of electronic controls was the major focus. The essential alterations on the 4R44E and 4R55E are the same. The 4R44E and 4R55E may be recognized by their original designations, the A4LDE, by European drivers and store owners.
The 4ALD model was first used in the Ford Scorpio, although it has subsequently been used in a variety of other vehicles. The 4R44E and 4R55E have the same fundamental architecture, but differing component strengths depending on the operational requirements.
The 4R44E was used in light-duty vehicles, particularly those having a four-cylinder, three-liter engine. The Ford Ranger is the most well-known of them. Meanwhile, the 4R55E has been seen in vehicles equipped with a 4-liter Cologne V-6 engine. The Ford Explorer, as well as later variants of the Ranger, come into this group.
The 4R55E began to be phased out of automobiles in 1997 and was replaced by the 5R55E. The 5R55E has five front gears, as its name indicates. Meanwhile, the 4R44E was still in use at the millennium's turn. After then, it was superseded by the 5R44E, which saw less use. More speed and acceleration were possible with this transmission.
Flat Rate Shipping (Commercial address)
Excellent Customer Support
Up to 5 Years Unlimited Miles Warranty
No Core Charge for 30 Days
Speak With A Specialist Now
Habla con un especialista ahora
4R44E Transmission Compatibility Chart
MAKE
MODEL
START YEAR
END YEAR
Ford
Aerostar
1995
1997
Ford
Ranger
1995
2001
Mazda
B2300
1995
1997
Mazada
B2500
1998
2001
Mazda
B3000
1996
2000
Flat Rate Shipping (Commercial address)
Excellent Customer Support
Up to 5 Years Unlimited Miles Warranty
No Core Charge for 30 Days
Speak With A Specialist Now
Habla con un especialista ahora