Flat Rate Shipping (Commercial address)
Up to 5 Years Unlimited Mile Warranty
Excellent Customer Support
No Core Charge for 30 Days
Remanufactured 65RFE Transmission Price
Price
Shipping
Core and Fee
Upfront Cost
Warranty
$2608
$270
None
$2878
5 Year
$3057
In Store
$1806
$4863
3 Year
$3057
In Store
$1806
$4863
3 Year
$3170
In Store
$1317
$4487
3 Years
*Core: Waived for 30 Days
*Shipping: We offer Flat Rate Shipping (Commercial address)
*Logos are the property of their respective owners
Why Chose Reman-Transmission.com
| | Reman Transmission | Other Vendors |
| --- | --- | --- |
| Transparent Pricing | Check | x |
| Best Price Guarantee | Check | x |
| Flat Rate Shipping (Commercial address) | Check | x |
| Up to 5 Years Unlimited Mile Warranty | Check | x |
| Torque Convertor Included | Check | x |
| No Core Charge for 30 Days | Check | x |
| Free Shippng on Core Return | Check | x |
Why Chose Reman-Transmission.com
| Question to Ask | Reman Transmission | Other Vendors |
| --- | --- | --- |
| Is shipping free? | We offer Flat Rate Shipping (Commercial address) | Additional or Store Pickup |
| Who pays for Core Return? | We Do | You Do (Store Drop off) |
| Do I pay for Core today? | No, we waive Core Charge for 30 days* | Yes, but will be refunded when shipped back |
| Is torque convertor included? | Always! | Not included |
| What is the warranty? | Up to 5 years/Unlimited miles | Up to 3 years/Unlimited miles |
| Best Price Guarantee? | Yes! (for comparable conditions only) | They Don't |
About Our Remanufactured 65RFE Transmission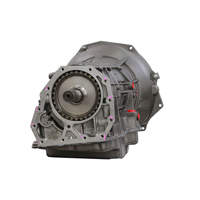 The last thing your vehicle needs is an unreliable transmission that puts too much strain on your engine. When you drive a vehicle with a 65RFE transmission, you can get a lot of miles out of it. However, your transmission will eventually have too much wear and tear. If your transmission ends up being damaged or worn out, it's important to replace it as soon as you can. Otherwise, your vehicle won't operate as smoothly and safely as it should. This also increases the risk of having serious engine damage occur. Do you need to spend a lot of money on a brand new 65RFE transmission from the factory? The good news is that you can replace your transmission with a remanufactured or used one at a lower cost. Reman-Transmission offers refurbished and used 65RFE transmissions that are in good condition.
What benefits do our remanufactured and used transmissions offer? Purchasing a 65RFE transmission from Reman-Transmission means that you're getting a transmission that you can depend on. Our refurbished transmissions have all known factory defects corrected, which puts us ahead of new factory-made transmissions. Instead of just having worn or broken parts replaced, our remanufacturing process involves replacing all components or parts. The parts we replace them with meet or exceed original equipment manufacturer (OEM) specifications. This provides a better quality transmission compared to rebuilding your current one.
Our used 65RFE transmissions also offer high-quality performance at affordable prices. These transmissions are carefully inspected before being sold to ensure that they're in good condition. This is part of our commitment to making sure all of our customers are able to purchase reliable used or remanufactured transmissions. All of our refurbished and used 65RFE transmissions come with a warranty. Used transmissions from Reman-Transmission have a 6,000-mile or 6-month warranty. Remanufactured 65RFEs have warranty that's good for up to 36 months with unlimited mileage. Offering these warranties helps us provide our customers with peace of mind in case any issues occur with our transmissions.
When you buy a 65RFE transmission from us, we offer other benefits as well. We ship our remanufactured or used transmissions to our customers. This saves you from needing to go to a location near you to pick up your transmission. How much can you expect to pay for shipping? We offer a flat shipping rate of just $270. Combined with our core charge waiver for 30 days, this can save you considerable money on your used or refurbished 65RFE transmission.
Flat Rate Shipping (Commercial address)
Excellent Customer Support
Up to 5 Years Unlimited Miles Warranty
No Core Charge for 30 Days
65RFE Frequently Asked Questions
Is the 65RFE a Good Transmission?
The 65RFE does have some issues when it comes to driving dynamics. It can also struggle with shift timing in some cases. However, a remanufactured 65RFE from Reman-Transmission meets or exceeds OEM specifications and has factory defects corrected as part of this process.
What Kind of Transmission Fluid Does a 65RFE Take?
Using the correct type of transmission fluid is important. Doing so helps reduce the risk of having problems develop with your transmission. The 65RFE takes a licensed ATF+4 automatic transmission fluid. This is the only type of transmission fluid that should be used with the 65RFE.
What Vehicles Have the 65RFE Transmission?
Only a few vehicles have the 65RFE transmission. These vehicles include the 2012 Dodge Durango, the 2012-2013 Jeep Grand Cherokee, and the 2012 Ram 1500. Vehicles with this transmission have 4.7L and 5.7L engines. We offer remanufactured 65RFE transmissions for these vehicles.
What Is the Difference Between 65RFE and 545RFE?
When comparing the 545RFE vs 65RFE, there are a couple of differences. The 65RFE has an improved torque converter. Its Electronic Range Select mode also allows the use of all six of its forward gears in succession. Its shift pattern is the same as the 545RFE in normal drive mode.
65RFE History & Information
The 65RFE is part of Chrysler's RFE line of transmissions. The RFE in these transmissions refers to the rear-wheel drive design (R) and the full electronic control system (FE). Chrysler introduced the 65RFE transmission in 2012 as a successor to the 45RFE and 545RFE transmissions. This new transmission was used in the Jeep Grand Cherokee, Dodge Durango, and Dodge Ram 1500 that year. The 65RFE transmission was designed for use in two-wheel drive and all-wheel drive vehicles with a 4.7L or 5.7L gas engine. This includes the Dodge Durango and Jeep Grand Cherokee with a 5.7L engine and the Ram 1500 with a 4.7L or 5.7L engine. This transmission ended up being used in these vehicles for seven model years before being replaced.
The 65RFE's design is highly similar to its predecessor, the 545RFE. In fact, Chrysler made some recalibrations to the 545RFE in order to create the 65RFE and introduce it in the 2012 Dodge Ram 1500 vehicles. The 65RFE shares the same physical features as the 545RFE except for the torque converter. Chrysler included an improved torque converter in the 65RFE transmission. This torque converter has a single friction element and a big stator. Another difference with this transmission is the way the forward gears operate when using the Electronic Range Select mode. These six gears can be used in sequence in this mode. When using this transmission in normal driving mode, it has the same shift pattern as the 545RFE. This means the 65RFE doesn't use second and third gears in sequence.
The 65RFE also differs from its other predecessor, the 45RFE, in a few ways. It features an aluminum stator and shorter rollers. It also has a 12-inch converter instead of the 45RFE's 11-inch converter. The 65RFE has a hook and spring-style roller clutch as well, unlike the 45RFE.
The 65RFE has some interesting features compared to other transmissions. This includes its pump design, which is made up of three pump gears rather than the usual two. This design allows the 65RFE to produce quick and efficient line pressure. This transmission also has a complex input clutch drum with Reverse, Underdrive, and Overdrive. It also features a durable Low/Reverse Drum that offers significant power. Overall, the 65RFE was designed to offer a smoother gear-shifting experience and less noise compared to other 6-speed automatic transmissions.
The 65RFE's successors include the 66RFE and 68RFE. Dodge used the 66RFE in its Ram 2500 and 3500 vehicles with gas engines. This transmission features a 545RFE case and 68RFE internal components.
Flat Rate Shipping (Commercial address)
Excellent Customer Support
Up to 5 Years Unlimited Miles Warranty
No Core Charge for 30 Days
Speak With A Specialist Now
Habla con un especialista ahora
65RFE Transmission Compatibility Chart
MAKE
MODEL
START YEAR
END YEAR
Dodge
Durango
2012
2013
Jeep
Grand Cherokee
2012
2013
Dodge
Ram 1500
2012
2020
Flat Rate Shipping (Commercial address)
Excellent Customer Support
Up to 5 Years Unlimited Miles Warranty
No Core Charge for 30 Days
Speak With A Specialist Now
Habla con un especialista ahora