Flat Rate Shipping (Commercial address)
Up to 5 Years Unlimited Mile Warranty
Excellent Customer Support
No Core Charge for 30 Days
Remanufactured 4L30E Transmission Price
Alternative Name: GM 4L30
Price
Shipping
Core and Fee
Upfront Cost
Warranty
$2633
$270
None
$2903
5 Year
$3035
In Store
$843
$3878
3 Year
$3036
In Store
$843
$3879
3 Year

$3035
In Store
$843
$3878
3 Year
*Core: Waived for 30 Days
*Shipping: We offer Flat Rate Shipping (Commercial address)
*Logos are the property of their respective owners
Why Chose Reman-Transmission.com
| | Reman Transmission | Other Vendors |
| --- | --- | --- |
| Transparent Pricing | Check | x |
| Best Price Guarantee | Check | x |
| Flat Rate Shipping (Commercial address) | Check | x |
| Up to 5 Years Unlimited Mile Warranty | Check | x |
| Torque Convertor Included | Check | x |
| No Core Charge for 30 Days | Check | x |
| Free Shippng on Core Return | Check | x |
Why Chose Reman-Transmission.com
| Question to Ask | Reman Transmission | Other Vendors |
| --- | --- | --- |
| Is shipping free? | We offer Flat Rate Shipping (Commercial address) | Additional or Store Pickup |
| Who pays for Core Return? | We Do | You Do (Store Drop off) |
| Do I pay for Core today? | No, we waive Core Charge for 30 days* | Yes, but will be refunded when shipped back |
| Is torque convertor included? | Always! | Not included |
| What is the warranty? | Up to 5 years/Unlimited miles | Up to 3 years/Unlimited miles |
| Best Price Guarantee? | Yes! (for comparable conditions only) | They Don't |
About Our Remanufactured 4L30E Transmission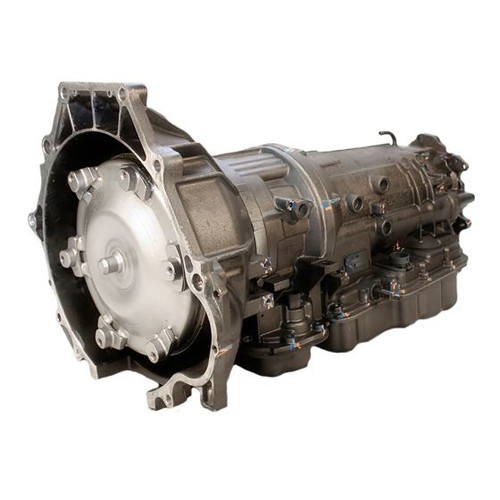 Finding a cheap 4L30E transmission for sale online isn't always simple, but our shop is here to make it easier for you to find a transmission with a rebuild that will last. We sell the 4L30 transmission here at Reman-Transmission, so you can rest easy knowing you'll receive the high-quality part that you need for your vehicle at the best price in the industry.
We make sure that all transmissions we sell are up to the job of improving the performance of your vehicle. We sell only quality, working transmissions that have been rebuilt or inspected for quality.
Looking for a used 4L30e automatic transmission? We have those in stock and make sure that they are inspected completely before sending them to our customers. No transmission leaves our warehouse unless we find it to be in an adequate working condition.
Even better, we do offer rebuilt 4L30E transmission options that are as good as or better than the original. We always check each individual part to be sure it meets the original equipment manufacturer's specifications. We replace or re-machine the parts to this quality or better, eliminating factory defects and improving the transmission to work even better than a brand-new model.
We know that it's important that parts do the job that they're assigned and that an early failure can damage a vehicle or hurt your business. For this reason, we offer two kinds of warranties. One is for used models and another for remanufactured transmissions.
The warranty for our remanufactured 4L30-E transmissions is for up to 36 months with unlimited mileage. That's how confident we are in the products we produce. We know that they'll work for you, or we'll replace them within the warranty period.
Ready to place your order? We offer free shipping to your shop or commercial address. If you'd rather shop from home and to a residential address, we charge a flat $75 fee for shipping.
Flat Rate Shipping (Commercial address)
Excellent Customer Support
Up to 5 Years Unlimited Miles Warranty
No Core Charge for 30 Days
Our 4L30E Transmission Upgrades
A remanufactured and improved torque converter is included with every transmission.
To eliminate the possibility of front seal leaks, vibration, and premature bushing wear, all torque converters are tested for leaks, lock-up, concentricity, and balance.
Every fully remanufactured valve body, with complete system correction and recalibration kit, is tested independently.
All wear-prone valves are restored to stringent specifications and vacuum tested to confirm proper function.
Each remanufactured transmission is hot, cold, load, and simulated road tested using our proprietary CARS (Computer-Aided Road Simulation) dynamometer program.
All remanufactured transmissions are backed by the industry's best, no-hassle nationwide warranty.
4L30E Frequently Asked Questions
Is a 4L30-E a good transmission?
The 4L30E transmission was so popular in its time that many car manufacturers decided to use it in their vehicles. The quality was impressive, and they don't have many flaws. Rarely, there are issues with the Teflon thrust washers and other parts.
What are the symptoms of a bad 4L30E?
The most common issues with 4L30E transmissions include shift solenoid malfunctions, lack of response, incorrect gear ratios, transmission fluid leakage, and mechatronic sensor failure. It's typical to receive the P0750 error code if there is a problem with the transmission.
What transmission fluid to use for a 4L30E?
The best transmission fluid to use for the Isuzu Trooper 4L30E transmission is Dexron III. For example, Castrol Import DEX 3 ATF works well in this unit and is regularly used. Mercon V and Dexron VI may also be acceptable depending on the specific year and design.
How much horsepower can a 4L30E handle?
According to the manual, the 4L30E can handle up to 258 lb./ft. from the motor and an additional 400 lb./ft. from the gearbox when new. It may be possible to extend what horsepower the unit can handle by adding in aftermarket parts to improve its functionality overall.
4L30E History & Information
The 4L30-E transmission, also known as the GM 4L30E, BMW 4L30E transmission, or 4L30E transmission 4x4, is a transmission that was produced by General Motors. This model had a predecessor, the 3L30, and it also has a successor, the 5L40E.
Originally, the 4L30-E was built in Strasbourg, France, where GM had a transmission plant. Once this transmission was retired, it was replaced by the 5-speed update, the 5L40E/5L50. The 4L30-E may also be known simply by its shorter name, 4L30, and is classed as a four-speed longitudinal automatic transmission. GM made this model between the years 1991 and 2004, and they were, at the time, able to handle up to 350 Nm of engine torque without aftermarket parts.
Something of note about this transmission is that it was developed with the idea of light-duty use in mind. It is meant to be used in longitudinal engine rear-wheel-drive vehicles. Since it is a transmission with so many potential uses, it did well on the market and was used in both Japanese and European vehicles. The 4L30E can be found in vehicles such as the Opel Omega, Cadillac Catera, Honda Passport, Isuzu Rodeo, Isuzu Amigo, Isuzu Axiom, Isuzu Rodeo, Isuzu Trooper, and select BMW 328is and 528i Series cars.
The 4L30-E may also be known simply by its shorter name, 4L30, and is classed as a four-speed longitudinal automatic transmission. GM made this model between the years 1991 and 2004, and they were, at the time, able to handle up to 350 Nm of engine torque without aftermarket parts.
The transmission is known as a "burly" or "robust" transmission, which made it popular among all kinds of manufacturers. It is of European Heritage, though it is fairly large for European vehicles that typically are smaller than American-made vehicles. Many of these transmissions are sold today as remanufactured models or rebuilds because there are aftermarket parts that can make them stronger and compatible with a variety of vehicles across multiple manufacturers. Some versions are still used in foreign vehicles and postal trucks as well as the Cadillac Catera.
Flat Rate Shipping (Commercial address)
Excellent Customer Support
Up to 5 Years Unlimited Miles Warranty
No Core Charge for 30 Days
Speak With A Specialist Now
Habla con un especialista ahora
4L30E Transmission Compatibility Chart
MAKE
MODEL
START YEAR
END YEAR
BMW
318i
1994
1998
BMW
318ti
1995
1999
BMW
323i
1998
1999
BMW
328i
1996
1999
BMW
528i
1997
1999
BMW
z3
1996
2000
Cadillac
Catera
1997
2001
Honda
Passport
1996
2002
Isuzu
Amigo
1999
2000
Isuzu
Axiom
2002
2003
Isuzu
Rodeo
1996
2003
Isuzu
Trooper
2000
2002
Flat Rate Shipping (Commercial address)
Excellent Customer Support
Up to 5 Years Unlimited Miles Warranty
No Core Charge for 30 Days
Speak With A Specialist Now
Habla con un especialista ahora