Flat Rate Shipping (Commercial address)
Up to 5 Years Unlimited Mile Warranty
Excellent Customer Support
No Core Charge for 30 Days
Remanufactured U151E Transmission Price
Alternative Name: Toyota U151
Price
Shipping
Core and Fee
Upfront Cost
Warranty
$2631
$270
None
$2901
5 Year
$3307
In Store
$1331
$4638
3 Year
$3307
In Store
$1331
$4638
3 Year
*Core: Waived for 30 Days
*Shipping: We offer Flat Rate Shipping (Commercial address)
*Logos are the property of their respective owners
Why Chose Reman-Transmission.com
| | Reman Transmission | Other Vendors |
| --- | --- | --- |
| Transparent Pricing | Check | x |
| Best Price Guarantee | Check | x |
| Flat Rate Shipping (Commercial address) | Check | x |
| Up to 5 Years Unlimited Mile Warranty | Check | x |
| Torque Convertor Included | Check | x |
| No Core Charge for 30 Days | Check | x |
| Free Shippng on Core Return | Check | x |
Why Chose Reman-Transmission.com
| Question to Ask | Reman Transmission | Other Vendors |
| --- | --- | --- |
| Is shipping free? | We offer Flat Rate Shipping (Commercial address) | Additional or Store Pickup |
| Who pays for Core Return? | We Do | You Do (Store Drop off) |
| Do I pay for Core today? | No, we waive Core Charge for 30 days* | Yes, but will be refunded when shipped back |
| Is torque convertor included? | Always! | Not included |
| What is the warranty? | Up to 5 years/Unlimited miles | Up to 3 years/Unlimited miles |
| Best Price Guarantee? | Yes! (for comparable conditions only) | They Don't |
About Our Remanufactured U151E Transmission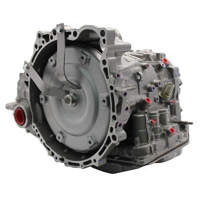 Staying on the road when your car's transmission is having problems can be dangerous. Should you rebuild your transmission or buy a brand new factory-made one? There's a better way to replace your Toyota U151E transmission that doesn't involve rebuilding or buying new. Reman-Transmission offers used and remanufactured U151E transmissions. Rebuilding usually means replacing busted or worn-out parts, which can lead to an unreliable transmission. Buying new means spending a lot of money on a U151E that might still have factory defects. Purchasing a U151E transmission for sale from us gives you a better way to get a dependable, high-quality transmission for your Toyota vehicle.
Our refurbished transmissions have all new parts. Instead of having a transmission with a mix of old and new parts, you get one that has had every component replaced. This helps ensure that your U151E offers outstanding performance. The parts we use for these transmissions exceed or meet original equipment manufacturer (OEM) standards. That's not all you're getting when you buy a remanufactured U151E from Reman-Transmission. We also fix any factory-known defects during the refurbishing process. This step means you end up with a remanufactured transmission that performs better than factory-made ones. That's part of our commitment to making sure our customers receive outstanding service from our products.
If you're looking for the most affordable way to replace your U151E transmission, consider our used models. We sell used U151Es that offer a cost-effective way to give your car a reliable transmission again. Worried about the condition of used transmissions? We've got you covered. At Reman-Transmission, we do a complete inspection of every used transmission we sell. This inspection is our way of making sure that each used model is in good condition.
Looking for peace of mind with your remanufactured or used U151E purchase? Then you'll be glad to know that we offer warranty coverage. This includes a warranty of 6 months or 6,000 miles on our used U151E transmissions. Our remanufactured U151Es have an unlimited mileage warranty that's good for as long as 36 months. We also offer a 30-day core charge waiver and a flat shipping fee. You don't have to physically pick up your transmission from us. We send out all used and remanufactured U151Es directly to customers. You just pay a rate of $270, and we'll send your transmission right to you. Count on Reman-Transmission when you're looking for a U151E transmission for sale.
Flat Rate Shipping (Commercial address)
Excellent Customer Support
Up to 5 Years Unlimited Miles Warranty
No Core Charge for 30 Days
U151E Frequently Asked Questions
What Are the Common Failures of U151E?
Toyota U151E transmission problems include issues with shifting from second to third gear. Slipping problems when shifting from first to second gear can also occur. We correct known factory defects in all U151E remanufactured transmissions and ensure that they meet OEM specs for improved performance.
What Kind of Transmission Fluid and How Much Fluid Does a U151E Take?
The U151E transmission takes type T-IV transmission fluid. The refill capacity on this transmission is 3.7 quarts. Always use the correct type of transmission fluid in your U151E, and fill it with the right amount. This helps keep it running smoothly and lowers the risk of problems.
What Cars Have the U151E Transmission?
Several Toyota vehicles have the U151E, including the 2003-2006 Camry, 2004-2008 Solara, and 2004-2010 Sienna. Other vehicles that have this transmission include the 2004-2013 Highlander, 2004-2006 Lexus RX 330, 2004-2006 Lexus ES 330, 2005-2007 Avalon, 2006-2012 Rav4, and 2005-2009 Avensis.
What Is the Difference Between the U151F and U151E Transmission?
The U151F and U151E transmissions share many similar features. However, they have different applications. The U151F is an all-wheel drive transaxle. The U151E is a front-wheel drive transaxle. Toyota vehicles with the U151F include the Sienna, Highlander, Rav4, Lexus RX300, RX330, RX350, and Harrier.
U151E History & Information
Toyota introduced the U151E transmission in 2003 as part of its U transmission family. This 5-speed automatic transmission replaced several predecessors, which include the U150E, U142E, U140F, and U140E. Also known as the U151F, the U151E was used in multiple Toyota and Lexus vehicles between the 2003 and 2013 model years. Some of these include the Toyota Camry, Lexus RX 330, Toyota Highlander, and Toyota RAV4. This transmission was used in vehicles with a 3.0, 3.3, and 3.5-liter V6 engine.
The U151E is a front-wheel drive transaxle, while the U151F is an all-wheel drive transaxle. The U151F transmission was used in several vehicles between model years 2003 and 2013. This includes the all-wheel drive versions of the Toyota Sienna, Highlander, and RAV4. This transmission was also used in the Lexus RX 300, Lexus RX 330, RX 350, and Harrier.
The U151E transmission has four linear solenoids, known as SL1, SL2, SL3, and SLT. It also has three other solenoids, known as S4, SR, and DSL. The transmission's ECM or engine control module supplies these solenoids with power. Note that the solenoids in this transmission from 2004 and later are smaller than earlier versions.
The U151E's gear ratios are 4.235 in first, 2.360 in second, 1.517 in third, 1.047 in fourth, 0.756 in fifth, and 3.378 in reverse. These gear ratios are higher than the U151E's predecessors' gear ratios. Final drive ratios vary, depending on the vehicle. The Camry and Solara with this transmission have a final drive ratio of 3.291. The Highlander's final drive ratio is 3.476, while the Sienna and RAV4's final drive ratio is 3.080.
The U151E has some known issues with shifting between certain gears, especially in rebuilt models. These mainly include trouble with shifting between second and third gear, although problems with shifting between first and second gear have happened in some U151Es. Shifting from second to third gear can cause flare or a binding sensation. Transmission memory resets sometimes resolve these issues, but not always. A remanufactured U151E that has had factory defects corrected can help lower the risk of having these issues.
Toyota introduced several successors to the U151E transmission. These include the U240E, U241E, U250E, U340E, U341E, U341F, U660E, U660F, U661E/F, U760E/F, and U761E/F. These transmissions were used in several vehicles, such as the 2009-2014 Matrix, 2010 SCION, 2005 Celica, and 2010 Corolla.
Flat Rate Shipping (Commercial address)
Excellent Customer Support
Up to 5 Years Unlimited Miles Warranty
No Core Charge for 30 Days
Speak With A Specialist Now
Habla con un especialista ahora
U151E Transmission Compatibility Chart
MAKE
MODEL
START YEAR
END YEAR
Toyota
Camry
2003
2006
Toyota
Solara
2004
2008
Toyota
Sienna
2004
2010
Toyota
Highlander
2004
2013
Lexus
RX 330
2004
2006
Lexus
ES 330
2004
2006
Toyota
Avalon
2005
2007
Toyota
Rav4
2006
2012
Flat Rate Shipping (Commercial address)
Excellent Customer Support
Up to 5 Years Unlimited Miles Warranty
No Core Charge for 30 Days
Speak With A Specialist Now
Habla con un especialista ahora