Flat Rate Shipping (Commercial address)
Up to 5 Years Unlimited Mile Warranty
Excellent Customer Support
No Core Charge for 30 Days
Remanufactured 4T45E Transmission Price
Alternative Name: 4T45, 4T45-E, GM 4T45
Price
Shipping
Core and Fee
Upfront Cost
Warranty
$1780
$270
None
$2050
5 Year
$2024
In Store
$552
$2576
3 Year
$2024
In Store
$552
$2576
3 Year
*Core: Waived for 30 Days
*Shipping: We offer Flat Rate Shipping (Commercial address)
*Logos are the property of their respective owners
Why Chose Reman-Transmission.com
| | Reman Transmission | Other Vendors |
| --- | --- | --- |
| Transparent Pricing | Check | x |
| Best Price Guarantee | Check | x |
| Flat Rate Shipping (Commercial address) | Check | x |
| Up to 5 Years Unlimited Mile Warranty | Check | x |
| Torque Convertor Included | Check | x |
| No Core Charge for 30 Days | Check | x |
| Free Shippng on Core Return | Check | x |
Why Chose Reman-Transmission.com
| Question to Ask | Reman Transmission | Other Vendors |
| --- | --- | --- |
| Is shipping free? | We offer Flat Rate Shipping (Commercial address) | Additional or Store Pickup |
| Who pays for Core Return? | We Do | You Do (Store Drop off) |
| Do I pay for Core today? | No, we waive Core Charge for 30 days* | Yes, but will be refunded when shipped back |
| Is torque convertor included? | Always! | Not included |
| What is the warranty? | Up to 5 years/Unlimited miles | Up to 3 years/Unlimited miles |
| Best Price Guarantee? | Yes! (for comparable conditions only) | They Don't |
About Our Remanufactured 4T45E Transmission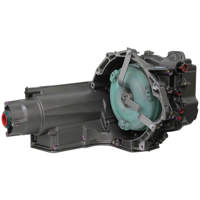 The 4T45-E transmission is the updated design of General Motors' 4T40E. With small design modifications, the 4T40E was upgraded in torque capacity and its strength to handle heavier vehicles. The improved version was named the 4T45E. This electronically controlled 4-speed automatic with overdrive is a design series that evolved from GM's earlier hydraulic 3-speed automatic transmission.
The 4T40E and 4T45E were made for transverse engine configurations, which means the engine is positioned so that its crankshaft axis is perpendicular to the width line of the vehicle. Later model front-wheel drive cars are typically arranged this way. The 4T45E and its predecessor 4T40E are transaxle components that form a combined unit integrating the transmission with the axle and differential.
Reman-Transmissions remanufactures and ships 4T45E transmissions throughout the United States. Our remanufacturing process is not the same as "rebuilding," which involves merely replacing worn-out or broken parts only. That process predictably causes older parts and newer parts inside a transmission to wear unequally. This naturally leads to transmission issues. A remanufactured transmission undergoes a different process that renders a much more reliable outcome.
In a remanufactured transmission, every part inside the bellhousing is replaced with a new OEM part or re-machined part. We also fix any known factory defects. That means that a 4T45E remanufactured transmission from Reman-Transmission is often better quality than a new one and can often last longer.
4T45E transmissions offer impressive benefits that are unique to their design. A Reman-Transmissions remanufactured 4T45E transmission comes with additional advantages, which, combined with the design benefits, all together provide an exceptional value for car owners.
We provide top-quality used and remanufactured 4T45E transmissions at the industry's most affordable prices. Each used transmission we offer is meticulously inspected. All remanufactured are rigorously tested. Each remanufactured 4T45E transmission we sell has had every working internal part replaced with either new or re-machined components. That means 1) that all the working parts will age at the same time together, and 2) that you are receiving a transmission that either meets or exceeds the original equipment manufacturer's (OEM) specifications.
Further, during our remanufacturing process, we correct defects that were known to be in the original factory transmission. That means that your remanufactured transmission from Reman-Transmission can last longer than the new transmission from the OEM.
Our warranty for a remanufactured 4T45E transmission is 36 months, with unlimited mileage. We only charge $270 for shipping. The Reman-Transmission warranty for a used 4T45E is 6 months or 6,000 miles.
Flat Rate Shipping (Commercial address)
Excellent Customer Support
Up to 5 Years Unlimited Miles Warranty
No Core Charge for 30 Days
4T45E Frequently Asked Questions
What is the final drive ratio of the 4T45E?
The final drive ratios for the 4T45E vary based on the vehicle's curb weight and engine power. Available ratios in both the 4T40 and 4T45 transmission models include 3.91, 3.63, 3.29, 3.05, 3.69, and 3.42.
What kind of transmission fluid does a 4T45E take?
Under the GM TSB 04-07-30-037D, issued 11-21-2007, DEXRON®-VI Automatic Transmission Fluid is the only approved transmission fluid for the 4T45E. (This also applies to all other GM transmissions / transaxles that require DEXRON® III and previous formulations of DEXRON® transmission fluids.)
What cars have a 4T45E transmission?
Chevrolet Cavalier, Chevrolet Cobalt, Chevrolet Corsica, Chevrolet Malibu, Chevrolet HHR, Chevrolet HHR SS, Oldsmobile Alero, Oldsmobile Cutlass, Pontiac Sunfire, Pontiac Pursuit, Pontiac Grand Am, Pontiac Grand Prix, Pontiac G6, Saturn Ion, Saturn Vue, and Saturn L-Series.
What is the difference between the 4T40E and 4T45E transmissions?
The 4T40E is designed for use in vehicles that weigh a maximum of 4,000 lbs, with 1.5L to 3.1 L engines that produce as high as 190 ft-lbs of torque. With small design changes, the 4T40E was updated to create a refined version, which was named the 4T45E. It offers increased torque capacity and greater strength and durability to handle heavier vehicles.
4T45E History & Information
The story of the General Motors 4T45E began with the Turbo-Hydramatic 125. It was the first of the line of GM automatic transmissions that culminated in the production of the 4T45E. Production of the hydraulically controlled predecessor of the 4T45E was launched in 1980 and continued through 2001 — an impressively long run for any transmission design. It was a fresh design that incorporated some components from both the Turbo-Hydramatic 200 and the 350.
Eventually, the 125 was renamed the 3T40 in keeping with the company's newly adopted naming convention. In 1995, the electronically controlled 4-speed 4T40E was rolled out and the gradual phase-out of the 3-speed 3T40 ensued. Ultimately, the 4T40E developed into the current 4T45E, 4T65E, and 4T80E line of GM automatic transmissions.
General Motors began building the 4T40E transmission in 1995 and continued producing that version through 2010. However, in 2005 the automaker began installing the 4T45E. So, check your VIN and confirm which transmission you have, before you obtain a replacement.
Because the GM 4T40E and 4T45E are produced only with electronically controlled torque converter clutches and there are no hydraulic versions, you will find them typically referenced without the "E," as simply 4T40 and 4T45. Also, be aware of additional alternative names for versions along this line of transmissions, per internal GM naming codes.
Specifically, you may find that the factory product ID codes are used instead of codes 4T40 and 4T45. To help clarify what you're seeing in the varying identification codes you are likely to find being used on GM transmissions, a Regular Production Option (RPO) is indicated by a 3-digit code label used in assembly plants and dealerships. The production labeling for the 4T40 transmission is MN4 and for the 4T45, it's MN5. So, if you see the MN4 designation code, that means you have a 4T40, and the MN5 code indicates that the transmission is a 4T45.
As explained, the 4T45 is an upgraded version of the 4T40. The 4T40 was built for 1.5 L to 3.0 L engines and has a more limited capacity to handle vehicle weights of up to 4,000 lbs. with engines generating up to 190 ft-lb of torque. It was also, however, paired with 4-cylinder models from GM's Ecotec line.
The 4T45 transmission can function ideally in vehicles weighing up to 4,500 lbs. Its strength is attributable to the utilization of multiple sprocket combinations as well as two differentials. The 4T45 is for installation in vehicles with 3.0 L to 3.5 L engines that generate as much as 205 ft-lb of torque.
Two distinctly different bell housing designs were used for the 4T45E transmission. One is for installation with V6 engines (the Metric Pattern). The other uses GM 4-cylinder Ecotec models (Ecotec Pattern).
Predecessors of the 4T45E (also called the 4T45 and the MN5) include the 4T40E (also called the 4T40 or MN4). Successors of the 4T45E include the 6T30, 6T35, 6T40, 6T45, 6T50, 6T70, 6T75. Note that the "E" designation has been phased out and is not much associated with these later designs. That's because hydraulically controlled torque converter clutches in the GM line, as with other modern transmission manufacturers, have gradually become a bygone system feature.
Cars with the 4T45E Transmission
The 4T45E transmission came in the Chevrolet Cavalier, Chevrolet Cobalt, Chevrolet Corsica, Chevrolet Malibu, Chevrolet HHR, Chevrolet HHR SS, Oldsmobile Alero, Oldsmobile Cutlass, Pontiac Sunfire, Pontiac Pursuit, Pontiac Grand Am, Pontiac Grand Prix, Pontiac G6, Saturn Ion, Saturn Vue, and Saturn L-Series. Check to ensure that the 4T45E transmission was the unit installed in your model of the vehicle during the specific model year in which your car was manufactured.
Flat Rate Shipping (Commercial address)
Excellent Customer Support
Up to 5 Years Unlimited Miles Warranty
No Core Charge for 30 Days
Speak With A Specialist Now
Habla con un especialista ahora
4T45E Transmission Compatibility Chart
MAKE
MODEL
START YEAR
END YEAR
Chevrolet
Cobalt
2005
2010
Chevrolet
Malibu
2005
2010
Chevrolet
HHR
2005
2010
Pontiac
Pursuit
2005
2010
Pontiac
Grand Prix
2004
2008
Pontiac
G6
2005
2010
Saturn
Vue
2004
2010
Saturn
Ion
2005
2007
Pontiac
Grand Am
2004
2009
Oldsmobile
Alero
2000
2004
Flat Rate Shipping (Commercial address)
Excellent Customer Support
Up to 5 Years Unlimited Miles Warranty
No Core Charge for 30 Days
Speak With A Specialist Now
Habla con un especialista ahora