Flat Rate Shipping (Commercial address)
Up to 5 Years Unlimited Mile Warranty
Excellent Customer Support
No Core Charge for 30 Days
Remanufactured 6L90 Transmission Price
Alternative Name: 6L90E, 6L90, 6L90-E
Price
Shipping
Core and Fee
Upfront Cost
Warranty
$2414
$270
None
$2684
5 Year
$2930
In Store
$1234
$4164
3 Year
$2930
In Store
$1234
$4164
3 Year

$2930
In Store
$1234
$4164
3 Year
*Core: Waived for 30 Days
*Shipping: We offer Flat Rate Shipping (Commercial address)
*Logos are the property of their respective owners
Why Chose Reman-Transmission.com
| | Reman Transmission | Other Vendors |
| --- | --- | --- |
| Transparent Pricing | Check | x |
| Best Price Guarantee | Check | x |
| Flat Rate Shipping (Commercial address) | Check | x |
| Up to 5 Years Unlimited Mile Warranty | Check | x |
| Torque Convertor Included | Check | x |
| No Core Charge for 30 Days | Check | x |
| Free Shippng on Core Return | Check | x |
Why Chose Reman-Transmission.com
| Question to Ask | Reman Transmission | Other Vendors |
| --- | --- | --- |
| Is shipping free? | We offer Flat Rate Shipping (Commercial address) | Additional or Store Pickup |
| Who pays for Core Return? | We Do | You Do (Store Drop off) |
| Do I pay for Core today? | No, we waive Core Charge for 30 days* | Yes, but will be refunded when shipped back |
| Is torque convertor included? | Always! | Not included |
| What is the warranty? | Up to 5 years/Unlimited miles | Up to 3 years/Unlimited miles |
| Best Price Guarantee? | Yes! (for comparable conditions only) | They Don't |
About Our Remanufactured 6L90 Transmission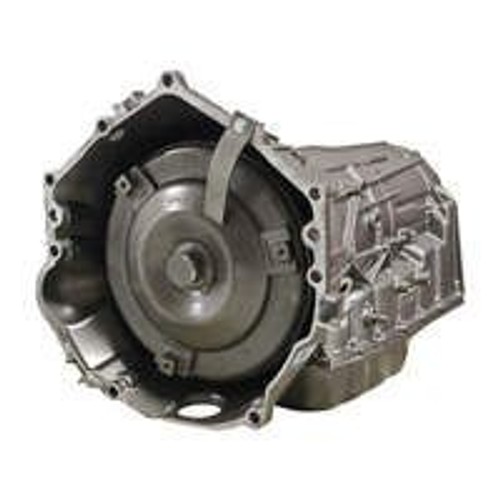 At Reman-Transmission we understand that replacing your 6L90 transmission can be a confusing mess. You may be wondering if you should go with a rebuilt 6L90 transmission, a used 6L90 transmission, or a new crate 6L90 transmission replacement. If you are looking for a quality and affordability in your replacement, consider going with a remanufactured 6L90 transmission, as this option is quickly rising to be the top choice in the industry.
If you find that you need a new 6L90 transmission, it is important to trust a trained professional who can maximize the performance of your transmission which is where a transmission that is compatible with your vehicle's powertrain is critical. With a remanufactured 6L90 transmission, all components are tested to ensure they meet or exceed the specifications of the manufacturer. If a part is faulty, a swap occurs, and it is replaced with new ones as well, optimizing the condition of your transmission. Then, they are tested to make sure that they meet the specification of the original equipment manufacturer (OEM). Beyond that, each and every component is replaced with new or rebuilt parts and all of the possible defects from the factory will be amended, thus giving you a 6L90 transmission that will actually go the distance.
If you look at the prices of our remanufactured 6L90 transmissions and need something a little cheaper, we carry a full selection of quality used 6L90 transmissions in our online catalog. Using our unique VIN search system, we can help you find the right transmission for an American or import car at the best price possible.
At Reman-Transmission, we are here to help you if you are looking for a "6L90 transmission near me". We are so confident in our 6L90 transmissions that we even provide you an outstanding warranty on our work no matter if you go with a used or remanufactured 6L90. If you want to work with a rock solid team that will help you find the best transmission in the zone, call us today! After you place your order with us, you can expect the friendliest service along with fast and free shipping straight to your commercial address!
6L90 Transmission Remanufacturing Process
Flat Rate Shipping (Commercial address)
Excellent Customer Support
Up to 5 Years Unlimited Miles Warranty
No Core Charge for 30 Days
Our 6L90 Transmission Upgrades
Fluid pump is fully detailed with resurfaced pump rotor mating surfaces and machined pump body mating surfaces to maintain correct fluid pressures.
Late style stator support shaft with updated seal rings used exclusively in all units to eliminate seal leakage.
Upgraded 38-element low sprag installed in all units to increase holding capacity.
All-new custom-spec bushings to improve internal fluid flow control and pressures.
Fully remanufactured torque converter is tested for leaks, lockup, concentricity, and balance. Upgrades exceed OE requirements and eliminate the possibility of front seal leaks, premature bushing wear, and vibration.
Boost sleeves and planetary covers are replaced.
Updated drums are used to prevent cracking at the welds.
Bushings and machined surfaces polished to a mirror-like OE finish of 15 RA or less.
Tru-Flat qualification process applied to transmission case, valve body, pump, and channel plate prevent cross leaks and pressure losses.
Every transmission is cold-and hot-tested using a proprietary dynamometer testing program that includes fully synthetic automatic transmission fluid and a filtration system.
6L90 Frequently Asked Questions
Is the 6L90 a good transmission?
Yes, the 6L90 transmission is a good transmission but every transmission has issues from time to time. If you want a quality transmission, go with a remanufactured 6L90 transmission. A remanufactured transmission has had all parts replaced with new or rebuilt parts set to factory specs along with any factory defects amended.
How much HP can a 6L90E handle?
The 6L90E can handle up to 700 hp in its stock application from the factory. Our remanufactured 6L90 is rebuilt to factory specifications so it will be able to handle the same or more since it also has factory defects fixed from the start.
What is the difference between a 6L80 and a 6L90?
The 6L90 transmission is a heavy-duty version of the 6L80E automatic. The 6L90 transmission also has a strengthened input gear set. It also has two additional pinion gears, giving it six in total. The 6L90 transmission has won more clutch plates in each clutch, when compared to the 6L80-E.
How do I identify a 6L90 transmission?
If you are looking for a way to identify your transmission, you should take a look at the 4-digit designation on the transmission tag. The first digit usually designates the model year and the 2nd digit designates the transmission. B is a 6L50, C is a 6L80, and D is a 6L90. Look for the D to identify your transmission.
6L90 History & Information
Produced by General Motors (GM), the 6L90 transmission is known to be a workhorse of a transmission that is commonly found in light-duty and medium-duty truck applications. Prior to the development of the 6L90, GM produced a number of good predecessors leading up to it that became the basis of what the 6L90 would be. Prior to the 6L90 transmission, GM and Turbo-Hydramatic put into production the 4L60E, 4L65E, 4L70E, 4L80E, and 4L85E transmissions. Those series of transmissions were all inspired by the famous Turbo-Hydramatic 700R4 transmission. The 4-speed 4L60 and beyond series Turbo-Hydramatic transmissions were so groundbreaking when they came out in 1982 that they remained in production throughout GM's lineup for nearly 3 decades, however; General Motors soon decided it was time to introduce a new 6-speed transmission that would ultimately replace its predecessors to keep up with the fastly innovating automotive industry.
The 6L80, which was the 6L90's older brother, was first introduced in 2005 and remains popular in numerous models today. General Motors (GM) used the 6L90 transmission in numerous domestic auto manufacturers like Chevrolet, GMC, and Cadillac. including the Cadillac CTS-V, GMC Yukon, Chevrolet Suburban, GMC Savana, GMC Sierra, Express Van, and Chevrolet Silverado. Found today in American and import cars, the transmission is able to shift flawlessly, making it a great option for numerous vehicle classes, including several truck brands. For the 4x4 applications of the 6L90 transmission, it was primarily mated with an MP3024HD or MP1226XHD transfer case. Regardless, always check your VIN to make sure.
Regarding the technical information, there are 3 gear sets for the 6L90 transmission. There is a simple input planetary gear set and two output gear sets. One output gearset is a compound gearset that comes with three pairs of pinion gears. The 6L90 transmission also comes with an advanced transmission control system (TCS) which allows the modules to sit reliably inside the transmission itself. Because the module and transmission are assembled with each other, the 6L90 transmission is relatively easy to take apart and put together. Finally, there is also a performance algorithm shifting and braking feature available on many 6L90 transmissions. This monitors how the driver upshifts or downshifts, adjusting the engine output accordingly.
Flat Rate Shipping (Commercial address)
Excellent Customer Support
Up to 5 Years Unlimited Miles Warranty
No Core Charge for 30 Days
Speak With A Specialist Now
Habla con un especialista ahora
6L90 Transmission Compatibility Chart
MAKE
MODEL
START YEAR
END YEAR
Cadillac
CTS-V
2009
2014
Chevrolet
Express 2500 Van
2010
2016
Chevrolet
Express 3500 Van
2010
2016
Chevrolet
Silverado 2500
2007
2016
Chevrolet
Silverado 3500
2007
2016
Chevrolet
Suburban 2500
2008
2013
GMC
Savana 2500
2010
2016
GMC
Savana 3500
2010
2016
GMC
Sierra 2500
2007
2016
GMC
Sierra 3500
2007
2016
GMC
Sierra Denali 2500
2011
2016
GMC
Sierra Denali 3500
2011
2016
GMC
YUKON XL 2500
2008
2013
Chevrolet
Express 3500
2010
2016
Chevrolet
Express 4500
2010
2016
Chevrolet
Suburban 2500
2008
2013
GMC
Savana 4500
2010
2016
Flat Rate Shipping (Commercial address)
Excellent Customer Support
Up to 5 Years Unlimited Miles Warranty
No Core Charge for 30 Days
Diagnostic Codes for 6L90 Transmission
DIAGNOSTIC CODES
DESCRIPTION OF PROBLEM
P0218
Transmission Fluid Over Temperature
P0502
Vehicle Speed Sensor (VSS) Circuit Low
P0503
Vehicle Speed Sensor (VSS) Circuit Intermittent
P0711
TFT Sensor Circuit Range/Performance
P0712
Transmission Fluid Temperature (TFT) Sensor Circuit Low
P0713
Transmission Fluid Temperature (TFT) Sensor Circuit High
P0716
Input Speed Sensor Circuit Intermittent
P0717
Input Speed Sensor Circuit Low
P0719
Brake Switch Circuit Low
P0724
Brake Switch Circuit High
P0730
Incorrect Gear Ratio
P0741
TCC System Stuck Off
P0742
TCC System Stuck On
P0748
Pressure Control Solenoid Circuit
P0751
1-2 Shift Solenoid Valve Performance
P0753
1-2 Shift Solenoid Circuit
P0756
2-3 Shift Solenoid Valve Performance
P0758
2-3 Shift Solenoid Circuit
P1520
Gear Indicator System
P1521
Transmission Engaged At High Throttle Angle
P1522
Park/Neutral To Drive/Reverse At High RPM
P1523
Electronic Throttle Control Throttle Return
P1527
Transmission Range/Pressure Switch Comparison
P1700
Transmission MIL Request
P1701
Transmission MIL Request Circuit
P1705
P/N Signal Output Circuit
P1740
Transmission Torque Reduction Request Circuit
P1743
TP Signal From ECM
P1760
ECM Supply Voltage Interrupted
P1779
Engine Torque Delivered To TCM Signal
P1780
Park/Neutral Postion (PNP) Switch Circuit Engine Torque Signal Circuit
P1790
Transmission Control Module Checksum
P1791
Transmission Control Module Loop
P1792
Transmission Control Module Reprogrammable Memory
P1793
Transmission control Module Stack Overrun
P1795
CAN Bus-Throttle Body Position
P1800
TCM Power Control Relay Circuit Open
P1801
Performance Selector Switch Failure
P1804
Ground Control Relay
P1810
TFP Valve Position Switch Circuit
P1811
Maximum Adapt and Long Shift
P1812
Transmission Over Temperature Condition
P1813
Torque Control
P1814
Torque Converter Overstressed
P1815
Transmission Range Switch-Start In Wrong Range
P1816
TFP Valve Position Switch-Park/Neutral With Drive Ratio
P1817
TFP Valve Position Switch-Reverse With Drive Ratio
P1818
TFP Valve Position Switch-Drive Without Drive Ratio
P1819
Internal Mode Swtich No Start, Wrong Range
P1820
Internal Mode Switch Circuit A Low
P1822
Internal Mode Switch Circuit B High
P1823
Internal Mode Switch Circuit P Low
P1825
Internal Mode Switch Illegal Range
P1826
Internal Mode Switch Circuit C High
P1831
PC Solenoid Power Circuit Low Voltage
P1833
A/T Solenoids Power Circuit Low Voltage
P1835
Kick-Down Switch
P1836
Kick-Down Switch Failed Open
P1837
Kick-Down Switch Failed Short
P1842
1-2 Shift Solenoid Circuit Low Voltage
P1843
1-2 Shift Solenoid Circuit High Voltage
P1844
Torque Reduction Signal Circuit Desired By TCM
P1845
Transmission Gear Ratio Output Circuit
P1847
2-3 Shift Solenoid Circuit High Voltage
P1850
Brake Band Apply Solenoid Circuit
P1851
Brake Band Apply Solenoid Performance
P1852
Brake Band Apply Solenoid Low Voltage
P1853
Brake Band Apply Solenoid High Voltage
P1860
TCC PWM Solenoid Circuit Electrical
P1864
Torque Converter Clutch Circuit
P1868
Transmission Fluid Life
P1870
Transmission Component Slipping
P1871
Undefined Gear Ratio
P1873
TCC Stator Temp. Switch Circuit Low
P1874
TCC Stator Temp. Switch Circuit High
P1875
4WD Low Switch Circuit
P1884
TCC Enable/Shift Light Circuit
P1886
Shift Timing Solenoid
P1887
TCC Release Switch Circuit
P1890
ECM Data Input Circuit
P1891
Throttle Position Sensor PWM Signal Low
P1892
Throttle Position Sensor PWM Signal High
P1893
Engine Torque Signal Low Voltage
P1894
Engine Torque Signal High Voltage
P1895
TCM To ECM Torque Reduction Circuit
Speak With A Specialist Now
Habla con un especialista ahora