Flat Rate Shipping (Commercial address)
Up to 5 Years Unlimited Mile Warranty
Excellent Customer Support
No Core Charge for 30 Days
Remanufactured 6R60 Transmission Price
Alternative Name: 6R60E, 6R60-E, Ford 6R60
Price
Shipping
Core and Fee
Upfront Cost
Warranty
$2055
$270
None
$2325
5 Year
$2478
In Store
$1048
$3526
3 Year
$2478
In Store
$1048
$3526
3 Year
*Core: Waived for 30 Days
*Shipping: We offer Flat Rate Shipping (Commercial address)
*Logos are the property of their respective owners
Why Chose Reman-Transmission.com
| | Reman Transmission | Other Vendors |
| --- | --- | --- |
| Transparent Pricing | Check | x |
| Best Price Guarantee | Check | x |
| Flat Rate Shipping (Commercial address) | Check | x |
| Up to 5 Years Unlimited Mile Warranty | Check | x |
| Torque Convertor Included | Check | x |
| No Core Charge for 30 Days | Check | x |
| Free Shippng on Core Return | Check | x |
Why Chose Reman-Transmission.com
| Question to Ask | Reman Transmission | Other Vendors |
| --- | --- | --- |
| Is shipping free? | We offer Flat Rate Shipping (Commercial address) | Additional or Store Pickup |
| Who pays for Core Return? | We Do | You Do (Store Drop off) |
| Do I pay for Core today? | No, we waive Core Charge for 30 days* | Yes, but will be refunded when shipped back |
| Is torque convertor included? | Always! | Not included |
| What is the warranty? | Up to 5 years/Unlimited miles | Up to 3 years/Unlimited miles |
| Best Price Guarantee? | Yes! (for comparable conditions only) | They Don't |
About Our Remanufactured 6R60 Transmission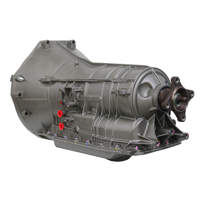 Reman Transmission does more than a typical transmission rebuild, which only replaces broken parts – we replace every component inside the transmission, from the front pump to the planetary gears. We use re-machined parts or new OEM parts and also repair any manufacturer defects if the transmission has any.
When you need a 6R60 transmission and are looking for reasonable prices, it's best to go with a professional supplier. Contact Reman Transmission to order a fully remanufactured or used transmission.
In many cases, transmissions come from the factory with defects. While these defects may not cause a failure for many thousands of miles, they can affect the overall performance of the transmission and shorten its lifespan. When we rebuild our transmissions, including the 6R60 transmission, we correct any factory defects in addition to replacing every part inside the transmission.
The Ford 6R60 transmission comes in Ford Explorers, Expeditions, and Mustangs and in Mercury Mountaineers and Lincoln Navigators. It's a six-speed electronically controlled transmission with a ZF 6HP26 design.
Known Problems with Ford 6R60 and 6R80 Transmissions
When the Ford 6R60 and 6R80 transmissions first came out, they had known problems with the E Clutch (6R80), drum, and stator support (6R60 and 6R80). When these parts fail, they can cause difficulty shifting or may not allow shifting at all. They could also send codes in the fourth, fifth, and sixth gears. This is a type of factory defect in that the quality of these parts eventually cause failure. When we rebuild the 4R60, we replace all of those parts with better quality parts.
Rebuilding and Uneven Wear on Parts
Of course, all transmissions wear out over time. When you start having trouble with your 6R60, you can rebuild the transmission or swap it out for a remanufactured transmission. However, the problem with most rebuilds is that most rebuilders do not replace every part in the transmission, so the parts are not wearing evenly, which could cause additional trouble.
A bad torque converter can cause front seal leaks and premature wear on the bushings. In addition to replacing all of the parts inside our Ford 6R60 transmission, we also include a fully remanufactured and enhanced torque converter. We inspect each torque converter to ensure it locks up and is balanced.
Our Ford 6R60 transmission also comes with a completely remodeled valve body and system correction and recalibration kit. We test the valves and rejuvenate any that show wear. The torque converter and valve body are tested separately from the transmission.
Finally, all of our transmissions, including the 6R60 transmission, are extensively tested using our proprietary Computer-Aided Road Simulation dynamometer program. We back our transmissions with a no-hassle, nationwide 36-month parts, and labor warranty. Our warranty on used Ford 6R60 transmissions is 6 months or 6,000 miles.
A remanufactured transmission costs much less than a brand-new transmission. With the way we remanufacture transmissions, it is just like new – and in some cases, better than new, since we also repair manufacturer defects. We keep several remanufactured and used automatic and manual transmissions in stock, including the Ford 6R60. Contact Reman Transmission to order a remanufactured 6R60 and to learn more about our remanufacturing process.
Flat Rate Shipping (Commercial address)
Excellent Customer Support
Up to 5 Years Unlimited Miles Warranty
No Core Charge for 30 Days
6R60 Frequently Asked Questions
What is the 6R60 Transmission?
The 6R60 transmission is a six-speed automatic transmission used in some Ford rear-wheel drive vehicles, including the Ford Explorer and Mercury Mountaineer with the 4.6-liter engine.
What is the difference between the Ford 6R60 and 6R80 transmissions?
The 6R80 uses an E Clutch and converter release. It also does not use a front bushing journal, whereas the 6R60 does. Notably, the 6R60 has 27 splines, while the 6R80 has 32. Additionally, the 6R80 does not use a bushing under the splines, while the 6R60 does. The 6R80 also has a larger bore.
How do I know if I have a 6R60 transmission?
The easiest way to tell which transmission you have is to look at the ninth digit of the vehicle's vehicle identification number. If it is an 'X,' you have a 6R60 transmission. A 'C' denotes a 6R75, a '6' denotes a 6R80, and an 'F' or 'G' denotes a ZF6HP26.
What vehicles came with the 6R60 transmission?
The 6R60 came in the 2005 through 2008 Ford Explorer with a 4.6-liter V8 engine and the 2005 through 2008 Mercury Mountaineer with a 4.6-liter V8 engine. Over time, Ford added the 6R60 to other vehicles with the 4.6-liter V8 engine, including some of its F-150 trucks.
What type of fluid and how much does the 6R60 transmission use?
The Ford 6R60 transmission uses 10.5 liters or 11 quarts of MERCON SP. Do not use MERCON V – it's not compatible.
6R60 History & Information
The 6R60 transmission was first introduced in 2005 in the Ford Explorer and Mercury Mountaineer with a 5.6-liter engine. It wasn't until 2008 and 2009 that Ford used the 6R60 transmission in some 4.6-liter pickup trucks.
This rear-wheel-drive transmission uses the ZF 6HP26 transmission as a base model. Ford has a license from ZF to build the 6R60, which is built in Ford's Livonia, Michigan, transmission plant. The 6R60 was used until 2017 when Ford introduced the 6R80 for its trucks.
Features of the Ford 6R60 Transmission
The 6R60 transmission locks up in all six gears. It also has a tow/haul mode that allows for better towing performance and engine braking. The 6R60 has a low first gear to give the vehicle more torque for a better towing experience.
Additionally, it has two overdrive gears, of which the highest is 0.69:1, giving vehicles with the 6R60 the best of both worlds: More torque for towing and lower engine RPMs to maximize fuel mileage while cruising on the highway.
Upgrades to the Ford 6R60 Transmission
Ford revised the 6R60 transmission for the 2011 model year vehicles. The updates caused better fuel economy and smoother shifting and allowed the transmission to perform better overall. Ford also added a one-way clutch for much smoother shifts from first to second and from second to first gear.
Before and After: Predecessors and Successors
The 6R60 replaced the 4R75E, 4R75W, 4R70E and 4R70W transmissions. In 2017, Ford replaced the 6R60 with the 6R75 and 6R80, which it used to back 3.7-liter V6 engines through 6.2-liter V8 engines.
The Ford 6R60 vs 6R80
There are several small differences between the Ford 6R60 and the 6R80. Many of the differences are inside the transmission so you won't see them. However, one of the biggest differences is the 6R80 is a versatile transmission that comes with synthetic transmission oil (MERCON LV), advertised as never having to do a transmission service, whereas you must do a transmission service on the 6R60. However, if your driving is considered "severe," Ford recommends flushing the transmission fluid at 150,000 miles for the 6R80.
Ford optimized the 6R80 for each of the engines it backs, so the transmission for a 3.7-liter engine isn't exactly the same as the transmission used for the 6.2-liter V8 engine.
Flat Rate Shipping (Commercial address)
Excellent Customer Support
Up to 5 Years Unlimited Miles Warranty
No Core Charge for 30 Days
Speak With A Specialist Now
Habla con un especialista ahora
6R60 Transmission Compatibility Chart
MAKE
MODEL
START YEAR
END YEAR
Ford
Explorer
2006
2008
Mercury
Mountaineer
2006
2008
Flat Rate Shipping (Commercial address)
Excellent Customer Support
Up to 5 Years Unlimited Miles Warranty
No Core Charge for 30 Days
Speak With A Specialist Now
Habla con un especialista ahora