Flat Rate Shipping (Commercial address)
Up to 5 Years Unlimited Mile Warranty
Excellent Customer Support
No Core Charge for 30 Days
Remanufactured 6F35 Transmission Price
Alternative Name: 6F50
Price
Shipping
Core and Fee
Upfront Cost
Warranty
$2360
$398
None
$2758
5 Year
$2902
In Store
$988
$3890
3 Year
$2902
In Store
$988
$3890
3 Year

$2905
In Store
$988
$3893
3 Year
*Core: Waived for 30 Days
*Shipping: We offer Flat Rate Shipping (Commercial address)
*Logos are the property of their respective owners
Why Chose Reman-Transmission.com
| | Reman Transmission | Other Vendors |
| --- | --- | --- |
| Transparent Pricing | Check | x |
| Best Price Guarantee | Check | x |
| Flat Rate Shipping (Commercial address) | Check | x |
| Up to 5 Years Unlimited Mile Warranty | Check | x |
| Torque Convertor Included | Check | x |
| No Core Charge for 30 Days | Check | x |
| Free Shippng on Core Return | Check | x |
Why Chose Reman-Transmission.com
| Question to Ask | Reman Transmission | Other Vendors |
| --- | --- | --- |
| Is shipping free? | We offer Flat Rate Shipping (Commercial address) | Additional or Store Pickup |
| Who pays for Core Return? | We Do | You Do (Store Drop off) |
| Do I pay for Core today? | No, we waive Core Charge for 30 days* | Yes, but will be refunded when shipped back |
| Is torque convertor included? | Always! | Not included |
| What is the warranty? | Up to 5 years/Unlimited miles | Up to 3 years/Unlimited miles |
| Best Price Guarantee? | Yes! (for comparable conditions only) | They Don't |
About Our Remanufactured 6F35 Transmission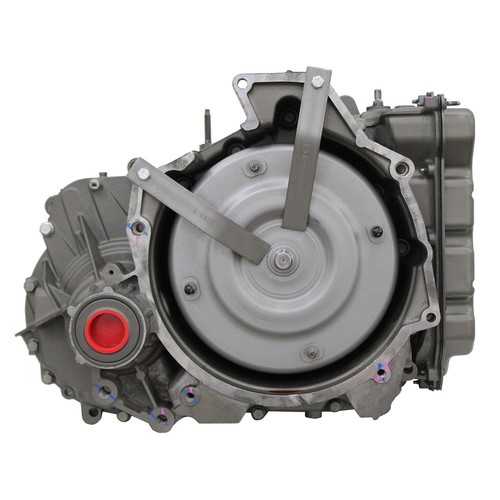 At Reman-Transmission, we have the best 6F35 and 6F50 transmission options for your Ford or General Motors (GM) vehicle. No matter what you drive and no matter the circumstance we are confident that our replacement 6F35 transmissions and 6F50 transmissions can benefit you. From the first day we opened our doors, we have placed the needs of our clients ahead of our own which is why we offer not only the best products for sale, but we also back them up with warranties on all our transmissions as well as free-shipping to any commercial address in the United States.
You may be thinking about going with a cheap junkyard 6F50 transmission or having a local shop perform a 6F35 transmission rebuild. Instead, you should take a look at our quality used 6F35 transmissions for sale or our remanufactured 6F35 transmissions for sale. We also offer the best used 6F50 transmissions for sale and reliable remanufactured 6F50 transmissions for sale all for the same low price. When we remanufacture our transmissions, we take apart the transmission as a whole, separating each and every part. Then, we compare each individual part against the specification set by the original equipment manufacturer (OEM). That way, we can identify any defects that might be present and compare them with any defects noted by the manufacturer. Afterwards we replace every single component within the transmission with new or rebuilt components that meet or exceed the original equipment manufacturer's (OEM) specifications. When it comes down to it, our remanufactured options are way better than a rebuilt 6F35 transmission or rebuilt 6F50 transmission and costs the same or less. We always make sure to get a quality product or part from the best supplier in the industry, that way, you know that you are getting a high-quality transmission for your vehicle.
When you work with us, we will search our company catalog for the best transmission for your needs. If you are looking for a more economical option, we also have many quality used 6F35 transmissions and used 6F50 transmissions that are all in good working condition. No matter if you get a used or remanufactured transmission from us, we make sure it is compatible with the powertrain in your vehicle. That way, when you return to the street, you have supreme confidence in the transmission you had installed at your local shop.
Whether you are driving a domestic or imported car, we have a reliable transmission for your vehicle. We are so confident in the quality of our work that we even offer an up to 5-year, unlimited mileage warranty on all of our remanufactured automatic transmissions and . It would be our honor to provide you with the same level of protection. Call us today and speak to a member of our team for a quote on one of our used or remanufactured 6F35 or 6F50 transmissions from General Motors and Ford Motor Company! We will make sure you end up with the perfect transmission for your vehicle at the lowest cost possible.
Flat Rate Shipping (Commercial address)
Excellent Customer Support
Up to 5 Years Unlimited Miles Warranty
No Core Charge for 30 Days
Our 6F35 Transmission Upgrades
Torque converter support bearing fully inspected to prevent sleeve failure.
Completely remanufactured pump, including polished pump rotor mating surfaces, provides consistent internal pressures and helps eliminate pressure-related issues.
Remanufactured and tested valve body improves shifting, lubrication, and performance.
Tru-Flat qualification process applied to transmission case, valve body, pump, and channel plate prevents cross leaks and pressure losses.
Clutch clearances set to improve shift, feel, and timing.
Fully remanufactured torque converter is tested for leaks, lockup, concentricity, and balance. Upgrades exceed OE requirements and eliminate the possibility of front seal leaks, premature bushing wear, and vibration.
Bushings and machined surfaces polished to a mirror-like OE finish of 15 RA or less.
All-new custom-spec bushings to improve internal fluid flow control and pressures.
Every transmission is cold-and hot-tested using a proprietary dynamometer testing program that includes fully synthetic automatic transmission fluid and a filtration system.
6F35 Frequently Asked Questions
Are all 6F35 transmissions the same?
No, not all 6F35 transmissions are the same. Throughout the years, Ford and GM produced different variations of the transmission for different vehicles. For example, the 6F35 transmission that goes in the 2016 Ford Explorer is a 2.3 L transmission. We will work with you to find a transmission that is compatible with your vehicle.
What kind of transmission fluid does a Ford Escape take?
There are different types of transmission fluid you can put in your Ford Escape; however, the best type of transmission fluid for the Ford Escape is the Valvoline MaxLife Transmission Fluid. This fluid has been specifically designed to last as many miles as possible. By appropriately lubricating your transmission, you can extend longevity and increase the efficiency of your vehicle.
What is the difference between the 6F35 transmission and 6F50 transmission?
The 6F35 transmission and 6F50 transmission are members of the same generation of automatic transmissions. The 6F50 transmission is a slightly larger version of the 6F35 transmission. Therefore, it is used in different vehicles. When you work with us, we will help you find a transmission that fits your vehicle perfectly.
Who makes Ford automatic transmissions?
It depends on the exact transmission. For example, the Ford PowerShift transmission is a dual clutch, 6-speed automatic transmission made by the Ford Motor Company; however, the gear boxes for this generation were made by Getrag Ford Transmissions, which is a dual venture between Ford and Gertrag.
6F35 History & Information
The Ford 6F35 transmission and 6F50 transmission were built at the Van Dyke transmission plant in Sterling Heights, Michigan. They are known for being powerful transmissions with smooth shifting as a standard feature. The 6F50 transmission was first introduced in 2007 in the Ford Edge, Ford Explorer, Lincoln MKX, Lincoln MKS, Ford Taurus, Ford Flex, Lincoln MKT, and Lincoln MKZ. The 6F35 transmission was introduced in 2009 and appeared in the Ford Escape, Ford Fusion, Ford C-Max, and Ford Kuga. The two transmissions were the result of a joint venture between Ford and General Motors (GM). Even though the torque converter in the 6F35 transmission matched prior Ford transmissions, the 6F35 transmission featured an upgraded plate design and a stronger clutch system. By 2009, Ford and GM had been working together on 6-speed auto transmissions for several years, so the 6F35 transmission bears a lot of similarities to the GM 6T40, which Ford and GM worked together to build.
The 6F35 and 6F50 transmissions are 6-speed transverse automatic transmissions. Prior to the 6F50 transmission, Ford and General Motors (GM) worked together to build the 4T60-E, the 4T65-E, the 4T80-E, and the Aisin AX4N. The 6F35 transmission builds on a lot of the strengths of these models and also goes by the name Ford 6F50 or Ford 6F35. Eventually, Ford and GM went on to produce newer transmissions that build on the 6F35 and 6F50 transmissions, introducing the 6F55 transmission as a successor to the 6F35 transmission. The 6F55 transmission had stronger internals than its predecessors and was designed that way so it could handle all of the power produced by the all-new Ford Taurus SHO. GM also manufactures the GM 6T40 (directly related to the 6F35 transmission), the 6T70, the 6T75, and the 6T80 which are all nearly the same transmissions as Ford's 6F models.
As the 6F35 transmission improved, it was incorporated in numerous other vehicles with a number of variations. This includes a 2.3 L variation, which was introduced in the 2016 Ford Explorer. There are a few defining features of the 6F35 transmission. These include tag IDs, paint marks, and the J located on the cover. There is also a black paint stripe located on the impeller. The 6F35 transmission also features four mounting studs and a drive hub with a flat pump.
Throughout their life, the 6F35 transmission and 6F50 transmission proved to be notably durable and reliable transmissions. On the other hand, the 6F35 and 6F50 transmissions can still experience problems from time to time. When that happens, you may start looking for a transmission repair or replacement. Instead of going with the cheapest transmission you can find, consider going with one of our remanufactured transmissions. At Reman-Transmission, remanufactured 6F35 and remanufactured 6F50 transmissions are our specialties.
Flat Rate Shipping (Commercial address)
Excellent Customer Support
Up to 5 Years Unlimited Miles Warranty
No Core Charge for 30 Days
Speak With A Specialist Now
Habla con un especialista ahora
6F35 Transmission Compatibility Chart
MAKE
MODEL
START YEAR
END YEAR
Ford
Fusion
2010
2019
Ford
Escape
2009
2019
Ford
Edge
2007
2014
Lincoln
MKC
2015
2019
Mercury
Mariner
2009
2011
Mercury
Milan
2010
2011
Lincoln
MKZ
2013
2019
Ford
Police Interceptor Utility
2013
2015
Ford
Taurus
2013
2015
Lincoln
MKT
2013
2016
Lincoln
MKX
2007
2011
Mercury
Sable
2008
2009
Ford
Explorer
2012
2019
Flat Rate Shipping (Commercial address)
Excellent Customer Support
Up to 5 Years Unlimited Miles Warranty
No Core Charge for 30 Days
Diagnostic Codes for 6F35 Transmission
DIAGNOSTIC CODES
DESCRIPTION OF PROBLEM
P1500
Vehicle Speed Sensor Intermittent
P1501
Programmable Speedometer & Odometer Module/Vehicle Speed Sensor Intermittent Circuit-failure
P1502
Invalid or Missing Vehicle Speed Message or Brake Data
P1700
Transmission System Failure
P1701
Reverse Engagement Error
P1702
Transmission System Failure
P1703
Brake On/Off Switch Out of Self-Test Range
P1704
Transmission System Failure
P1705
Manual Lever Position Sensor Out of Self-Test Range
P1706
High Vehicle Speed Observed in Park
P1707
Transfer Case Neutral Indicator Hard Fault Present
P1709
Park or Neutral Position Switch Out of Self-Test Range
P1710
Transmission System Failure
P1711
Transmission Fluid Temperature Sensor Out of Self-Test Range
P1712
Trans Torque Reduction Request Signal Malfunction
P1713
TFT Sensor In Range Failure Low Value
P1714
SSA Inductive Signature Malfunction
P1715
SSB Inductive Signature Malfunction
P1716
SSC Inductive Signature Malfunction
P1717
SSD Inductive Signature Malfunction
P1718
TFT Sensor In Range Failure High
P1720
Vehicle Speed (Meter) Circuit Malfunction
P1721
Gear 1 Incorrect Ratio
P1722
Gear 2 Incorrect Ratio
P1723
Gear 3 incorrect Ratio
P1724
Gear 4 Incorrect Ratio
P1725
Insufficient Engine Speed Increase During Self Test
P1726
Insufficient Engine Speed Decrease During Self Test
P1727
Coast Clutch Solenoid Inductive Signature Malfunction
P1728
Transmission Slip Error
P1729
4x4 Low Switch Error
P1731
1-2 Shift Malfunction
P1732
2-3 Shift Malfunction
P1733
3-4 Shift Malfunction
P1740
Transmission System Failure
P1741
Torque Converter Clutch Control Error
P1742
Torque Converter Clutch Solenoid Faulty
P1743
Torque Converter Clutch Solenoid Faulty
P1744
Torque Converter Clutch System Stuck in Off Position
P1745
Transmission System Failure
P1746
Electronic Pressure Control Solenoid A - Open Circuit
P1747
Electronic Pressure Control Solenoid A- Short Circuit
P1748
EPC Malfunction
P1749
Electronic Pressure Control Solenoid Failed Low
P1751
Shift Solenoid A Performance
P1754
Coast Clutch Solenoid Circuit malfunction
P1756
Shift Solenoid B Performance
P1760
Transmission System Failure
P1761
Shift Solenoid C Performance
P1762
Overdrive Band Failed Off
P1766
Shift Solenoid D Performance
P1767
Torque Converter Clutch Circuit Malfunction
P1768
Performance / Normal / Winter Mode Input Malfunction
P1770
Clutch Solenoid Circuit Malfunction
P1779
Transmission Control Indicator Lamp Circuit Malfunction
P1780
Transmission Control Switch Circuit is Out of Self-Test Range
P1781
4x4 Low Switch is Out of Self-Test Range
P1782
P/ES Circuit Out Of Self Test Range
P1783
Transmission Over-Temperature Condition
P1784
Transmission Mechanical Failure - First And Reverse
P1785
Transmission Mechanical Failure - First And Second
P1786
3-2 Downshift Error
P1787
2-1 Downshift Error
P1788
Pressure Control Solenoid 'B' Open Circuit
P1789
Pressure Control Solenoid 'B' Short Circuit
P1795
Idle Switch Circuit Malfunction
P1804
Transmission 4-Wheel Drive High Indicator Circuit Failure
P1806
Transmission 4-Wheel Drive High Indicator Short Circuit To Battery
P1808
Transmission 4-Wheel Drive Low Indicator Circuit Failure
P1810
TFP Valve Position Switch Circuit/ Transmission 4-Wheel Drive Low Indicator Short Circuit To Battery
P1812
Transmission 4-Wheel Drive Mode Select Circuit Failure
P1815
Transmission 4-Wheel Drive Mode Select Short Circuit To Ground
P1819
Transmission Neutral Safety Switch Short Circuit To Ground
P1820
Transmission Transfer Case Clockwise Shift Relay Coil Circuit Failure
P1822
Transmission Transfer Case Clockwise Shift Relay Coil Short Circuit To Battery
P1824
Transmission 4-Wheel Drive Clutch Relay Circuit Failure
P1826
Transmission 4-Wheel Drive Low Clutch Relay Circuit To Battery
P1828
Transmission Transfer Case Counter Clockwise Shift Relay Coil Circuit Failure
P1830
Transmission Transfer Case Counter Clockwise Shift Relay Coil Short Circuit To Battery
P1832
Transmission Transfer Case Differential Lock-Up Solenoid Circuit Failure
P1834
Transmission Transfer Case Differential Lock-Up Solenoid Short Circuit To Battery
P1838
Transmission Transfer Case Shift Motor Circuit Failure
P1846
Transmission Transfer Case Contact Plate 'A' Circuit Failure
P1850
Transmission Transfer Case Contact Plate 'B' Circuit Failure
P1854
Transmission Transfer Case Contact Plate 'C' Circuit Failure
P1858
Transmission Transfer Case Contact Plate 'D' Circuit Failure
P1866
Transmission Transfer Case System Concern - Servicing Required
P1867
Transmission Transfer Case Contact Plate General Circuit Failure
P1876
Transmission Transfer Case 2-Wheel Drive Solenoid Circuit Failure
P1877
Transmission Transfer Case 2-Wheel Drive Solenoid Circuit Short To Battery
P1881
Engine Coolant Level Switch Circuit Failure, GEM
P1882
Engine Coolant Level Switch Circuit Short to Ground
P1883
Engine Coolant Level Switch Circuit Failure, GEM
P1884
Engine Coolant Level Lamp Circuit Short to Ground
P1891
Transmission Transfer Case Contact Plate Ground Return Open Circuit
P1900
Output Shaft Speed (OSS) Circuit Intermittent Malfunction
P1901
Turbine Shaft Speed (TSS) Circuit Intermittent Malfunction
P1902
Kickdown Solenoid Relay Control Circuit
P1903
Kickdown Solenoid Circuit Low Voltage
P1904
Kickdown Solenoid Circuit High Voltage
Speak With A Specialist Now
Habla con un especialista ahora