Flat Rate Shipping (Commercial address)
Up to 5 Years Unlimited Mile Warranty
Excellent Customer Support
No Core Charge for 30 Days
Remanufactured CVT Transmission Price
Alternative Name: Continuously Variable Transmissions (CVT)
Price
Shipping
Core and Fee
Upfront Cost
Warranty
$2530
$270
None
$2800
5 Year
$3275
In Store
$1327
$4602
3 Year
$3275
In Store
$1327
$4602
3 Years
*Core: Waived for 30 Days
*Shipping: We offer Flat Rate Shipping (Commercial address)
*Logos are the property of their respective owners
Why Chose Reman-Transmission.com
| | Reman Transmission | Other Vendors |
| --- | --- | --- |
| Transparent Pricing | Check | x |
| Best Price Guarantee | Check | x |
| Flat Rate Shipping (Commercial address) | Check | x |
| Up to 5 Years Unlimited Mile Warranty | Check | x |
| Torque Convertor Included | Check | x |
| No Core Charge for 30 Days | Check | x |
| Free Shippng on Core Return | Check | x |
Why Chose Reman-Transmission.com
| Question to Ask | Reman Transmission | Other Vendors |
| --- | --- | --- |
| Is shipping free? | We offer Flat Rate Shipping (Commercial address) | Additional or Store Pickup |
| Who pays for Core Return? | We Do | You Do (Store Drop off) |
| Do I pay for Core today? | No, we waive Core Charge for 30 days* | Yes, but will be refunded when shipped back |
| Is torque convertor included? | Always! | Not included |
| What is the warranty? | Up to 5 years/Unlimited miles | Up to 3 years/Unlimited miles |
| Best Price Guarantee? | Yes! (for comparable conditions only) | They Don't |
About Our Remanufactured CVT Transmission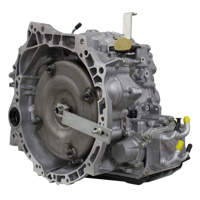 Continuously variable transmissions, or CVT transmissions, are designed to offer a more seamless driving experience. These transmissions are able to shift between gears on a continuous basis, so drivers don't have to make sure they switch to the right gear in different situations, such as going uphill. The benefits these transmissions offer make them a valuable part of vehicles. Despite their advantages, they can develop problems over time. They also tend to have a shorter lifespan compared to automatic transmissions. When it's time to replace your CVT transmission, Reman-Transmission can help.
We offer both used and remanufactured CVT transmissions for a wide range of vehicle makes and models. Our experts can help you find the exact CVT your vehicle uses, so we can replace it with a high-quality refurbished one or a used one. Is rebuilding a CVT transmission possible? While this might seem more cost-effective, keep in mind that having yours rebuilt only means that damaged or defective parts are replaced, instead of the entire transmission. At Reman-Transmission, we offer a better and more affordable way to handle CVT replacement. Our company offers remanufactured CVT transmissions that have every component replaced. We also correct any known CVT factory defects to ensure high performance and safety.
Our refurbished CVT transmissions have parts that meet the original equipment manufacturer's (OEM) specifications. In fact, some parts even exceed these specifications. Since we correct defects, these remanufactured transmissions often end up being in better shape than a new one right from the factory. At Reman-Transmission, our used CVT transmissions undergo thorough inspections to make sure they're in good working condition. These used transmissions offer an affordable way to replace your vehicle's CVT. Whether you want a used or refurbished CVT transmission, you can count on us to provide one with superior quality.
All of our CVT transmissions come with a warranty for your peace of mind. Should you have any problems with your CVT, our warranty helps cover the cost of having it repaired as needed. The kind of warranty you can expect depends on whether you get a used or refurbished CVT transmission. We offer a 6-month or 6,000-mile warranty on our used ones. For our remanufactured CVT transmissions, we offer a 36-month/unlimited mileage warranty. When you purchase a CVT from us, we'll ship it right to you for a flat fee. If you're looking for a CVT for your vehicle, contact the trusted experts at Reman-Transmission.
Flat Rate Shipping (Commercial address)
Excellent Customer Support
Up to 5 Years Unlimited Miles Warranty
No Core Charge for 30 Days
CVT Frequently Asked Questions
What is a CVT transmission?
A continuously variable transmission, or CVT, uses pulleys or other gearless systems that allow smooth shifts between gear ratios. These transmissions don't have a limited number of gear ratios like other transmissions. Drivers also don't experience hard shifts when changing gear ratios.
Is CVT better than automatic transmission?
When comparing CVT transmission vs automatic transmission, CVT tends to offer better handling in some vehicles due to its gearless design. Vehicles go smoothly through varying gear ratios with CVT transmissions. These transmissions also offer better fuel efficiency than automatic transmissions.
What is the life expectancy of a CVT transmission?
A CVT transmission can last up to 200,000 miles without any major issues, as long as it's properly maintained. This involves having service done at the factory-recommended intervals and using the right kind of lubricant. Skipping service or using the wrong lubricant shortens its life expectancy.
How much does it cost to replace a CVT transmission?
The cost to replace a CVT transmission can vary based on local labor costs, the parts that your vehicle's make and model need, and other factors. In general, replacing a CVT transmission might cost you anywhere from $3,000 to $8,000. Buying a refurbished or used CVT is typically more cost-effective.
What maintenance does a CVT transmission need?
A CVT transmission should have a fluid inspection done roughly every 30,000 miles. This type of transmission will eventually need to be flushed. Regular maintenance is an important part of extending the life expectancy of a CVT transmission and lowering the risk of major problems.
Who makes CVT transmissions?
JATCO is the biggest global supplier of CVT transmissions. JATCO has made CVT transmissions for different car manufacturers, including Infiniti and Nissan. Asian AW also makes CVT transmissions. Ford, GM, Toyota, and other car manufacturers produce CVT transmissions in-house.
CVT History & Information
CVT transmissions have a long history that spans centuries. In fact, the original design for this type of device can be traced all the way back to Leonardo Da Vinci in 1490. CVT transmissions weren't patented until much later, though. Daimler and Benz patented this design in 1886. At first, these transmissions were used in motorcycles in the early 1900s. Their efficiency at moving uphill smoothly resulted in a ban on their use in competitions back then.
As for passenger vehicles, CVT transmissions were mass-produced for the 1958 DAF 600 in the Netherlands. This transmission continued being used in Volvo and DAF vehicles through the 1970s. Subaru included a CVT transmission in the Subaru Justy from 1989 through 1994. This usage led to an increase in CVT transmissions for many other vehicles over the years. Cars with CVT transmissions include multiple makes and models from major brands, including Audi, Honda, Nissan, Mitsubishi, Hyundai, Kia, Ford, GM, and Toyota.
CVT transmissions have been used in vehicles due to the advantages they offer compared to automatic transmissions. CVTs typically have less wear and tear, since they don't contain all of the gears that automatic transmissions have. With fewer moving parts, these transmissions are typically less prone to developing friction-related wear and tear. They do need to have their fluid changed every 30,000 miles to keep them in good condition. CVTs also offer smoother acceleration and performance. These transmissions don't experience any shift delays as automatic transmissions do. This results in improved linear acceleration and better fuel economy.
CVT transmissions vary in terms of design. These include belt-type or pulley-type, chain-type, toroidal, and hydrostatic CVTs.
Pulley or belt-type CVTs, also known as push-type CVTs, use pulleys and a belt. This type of CVT has limitations when it comes to the amount of torque it can handle. Some cars that have used this type of CVT include the Ford Freestyle, Honda Civic, Nissan Murano, and Saturn Vue.
Chain-type CVT transmissions, also known as pull-type CVT, use pulleys and a chain instead of a belt. This type of CVT is able to handle a higher amount of horsepower and a wider ratio spread. The Audi A4 is a car that uses the chain-type CVT.
Toroidal CVT transmissions use rollers and discs rather than a belt or chain and pulleys. This type of transmission can handle a higher amount of torque compared to belt-type and chain-type CVT transmissions. Toroidal transmissions are mainly used in some Nissan vehicles that are sold in Japan.
Hydrostatic CVT transmissions use pumps to vary or control fluid flow, resulting in rotational movements. This type of transmission is used more often in tractors and similar vehicles that need a lot of power. However, the 2008-2010 Honda DN-01 motorcycle has a hydrostatic CVT transmission.
Different automobile brands have used CVT transmissions in their vehicles under different names. Some of these CVT transmissions include Lineartronic, Xtronic, INVECS-III, Multitronic, Autotronic, and IVT.
Subaru has used the Lineartronic CVT in some of its vehicles. This CVT transmission is paired longitudinally with all-wheel drive (AWD) using a chain rather than a belt. The Lineartronic has smaller pulleys compared to other CVTs, resulting in more efficiency and a more lightweight design overall. Subaru Lineartronic CVTs include the TR580 and TR690. The TR580 was used in different vehicles from 2012 through 2023, including the Impreza, Crosstrek, Legacy, and Forester. The TR690 was used in different vehicles from 2010 through 2022, including the Legacy/Outback, Forester, WRX, Ascent, Crosstrek, and Levorg.
Nissan introduced the Xtronic CVT transmission in 2002, although the company first began using CVTs in 1992. The Xtronic, which is in its third generation, has been used in many Nissan vehicles over the years. These include the Nissan Sentra, Pathfinder, Micra, Murano, Armada, and Maxima. The third generation of Xtronic includes D-Step Logic Control software that determines the best gear ratio to use, resulting in smooth acceleration. The 2017 Pathfinder was the first vehicle to feature this generation of Xtronic transmission. Other vehicles that include this transmission are the Murano, Versa, Sentra, Maxima, and Altima.
Mitsubishi used the INVECS-III CVT transmission in a few of its vehicles starting in 2000. These include the Mitsubishi ASX, Lancer, and Outlander. The 2000 Lancer was the first Mitsubishi vehicle to offer the INVECS-III. This type of CVT transmission has a maximum engine capacity of 2.5 and is used with AWD vehicles. In 2005, Mitsubishi also offered a paddle-shift option with its Outlander, which allows drivers to manually change gears with their hands on the steering wheel. This transmission replaced the INVECS-II automatic transmission.
Audi introduced the Multitronic CVT transmission in 1999. The company continued using the Multitronic in some vehicles until 2014. The S-tronic replaced the Multitronic CVT transmission at this point. Multitronic CVT transmission models used in Audi vehicles include the VL300, VL380, and VL381. The VL300 was used from 1999 through 2007 in the Audi A4 (B6) and Audi A6 (C5). The VL380 was used from 2004 to 2009 in the Audi A4 (B7) and Audi A6 (C6). The VL381 was used from 2007 to 2014 in the Audi A4, A5, and A6.
Mercedes-Benz introduced the Autotronic CVT transmission in 2004 and continued to use this type of transmission until 2011. The Autotronic used a pulley system with a belt to produce smooth, seamless shifting. This type of transmission also offered good fuel economy. The Autotronic was only used in a limited range of Mercedes-Benz vehicles. These include the A170 (W169), A180 (W169), A180 CDI (W169), A200 (W169), B170 (W245), B180 (W245), B200 CDI (W245), and B200T (W245).
Hyundai and Kia have used an innovative type of CVT transmission known as the Intelligent Variable Transmission (IVT) system. This type of transmission combines advanced technology with the class features of a CVT transmission. Hyundai uses the Smartstream IVT, which is a chain-belt system that offers better fuel economy and a smoother ride. The IVT has been used in several vehicles, including the Kia K3, Hyundai Avante, Hyundai Venue, Accent, i20, Soul, and Mistra. Different IVT transmission models include CF28, CF18, and CF14. The CF28 has a maximum input torque of 280. The C18 has a maximum input torque of 180, while the CF14 has a maximum input torque of 140.
Flat Rate Shipping (Commercial address)
Excellent Customer Support
Up to 5 Years Unlimited Miles Warranty
No Core Charge for 30 Days
Speak With A Specialist Now
Habla con un especialista ahora
Speak With A Specialist Now
Habla con un especialista ahora