Flat Rate Shipping (Commercial address)
Up to 5 Years Unlimited Mile Warranty
Excellent Customer Support
No Core Charge for 30 Days
Remanufactured 8HP75 Transmission Price
Alternative Name: ZF 8HP75
Price
Shipping
Core and Fee
Upfront Cost
Warranty
$3880
299
None
$4150
5 Year
$5574
In Store
$557
$7131
3 Years
*Core: Waived for 30 Days
*Shipping: We offer Flat Rate Shipping (Commercial address)
*Logos are the property of their respective owners
Why Chose Reman-Transmission.com
| | Reman Transmission | Other Vendors |
| --- | --- | --- |
| Transparent Pricing | Check | x |
| Best Price Guarantee | Check | x |
| Flat Rate Shipping (Commercial address) | Check | x |
| Up to 5 Years Unlimited Mile Warranty | Check | x |
| Torque Convertor Included | Check | x |
| No Core Charge for 30 Days | Check | x |
| Free Shippng on Core Return | Check | x |
Why Chose Reman-Transmission.com
| Question to Ask | Reman Transmission | Other Vendors |
| --- | --- | --- |
| Is shipping free? | We offer Flat Rate Shipping (Commercial address) | Additional or Store Pickup |
| Who pays for Core Return? | We Do | You Do (Store Drop off) |
| Do I pay for Core today? | No, we waive Core Charge for 30 days* | Yes, but will be refunded when shipped back |
| Is torque convertor included? | Always! | Not included |
| What is the warranty? | Up to 5 years/Unlimited miles | Up to 3 years/Unlimited miles |
| Best Price Guarantee? | Yes! (for comparable conditions only) | They Don't |
About Our Remanufactured 8HP75 Transmission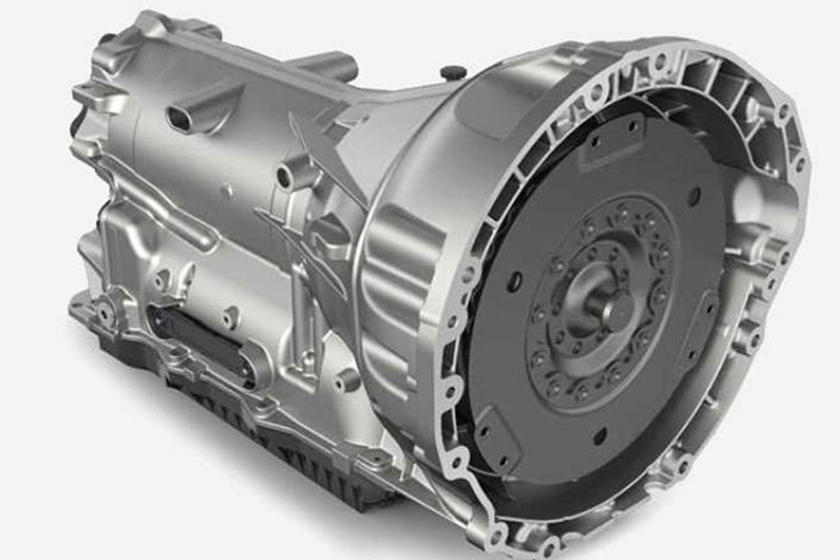 The ZF 8HP75 transmission is a popular choice for performance and luxury cars, and not just because of the increased power capacity over the previous versions. With its modular design, all of the 8HP transmissions can be configured to fit a variety of vehicles. If you're looking to repair the transmission or to purchase a used transmission to replace it, Reman-Transmission understands how vehicle manufacturers have adapted the 8HP75 so you're sure to get a transmission that works. This is a costly repair or replacement, but this transmission is also one of the more durable and high-efficiency designs on the market. As we rebuild each transmission, we take the time to replace every component so we can guarantee its safety. Rebuilds come with a full 36-month warranty, and this is true no matter how many miles you put on it over the course of three years. We take a unique stance when it comes to setting our standards. We make sure that every single part is safe for you, which means that our staff doesn't always default to the OEM part for replacement. While these parts are often the optimal choice, sometimes there are factory defects from over the years that need to be addressed. For instance, the parking pawl in the Jeep Gladiator pickup trucks triggered a recall in 2019 after two parked trucks rolled away. In this case, we might introduce a re-machined part into the rebuild, so we know the small metal piece is fully engaging the transmission if the vehicle is in park. When our competitors rebuild transmissions, they often only fix the most glaring problems rather than evaluate the part as a whole. Transmissions are often affected by environmental conditions, such as extreme hot or cold temperatures, so it's important to examine how older parts will perform under specific scenarios. Reman-Transmission wants to help all customers looking for an 8HP75 transmission for sale. We don't want them to play a guessing game about how their car will handle in different driving conditions. The safety checks that we do on our rebuilds also apply to the used transmissions that we sell. Also known as the most affordable on the market, our used transmissions come with a 6-month or 6,000-mile warranty. Plus, we cut people some slack on shipping as well, charging just $270 for a part that weighs almost 200 pounds.
Flat Rate Shipping (Commercial address)
Excellent Customer Support
Up to 5 Years Unlimited Miles Warranty
No Core Charge for 30 Days
8HP75 Frequently Asked Questions
How much power can the 8HP75 transmission handle?
The official answer is up to 500 horsepower and 600 lb-ft of torque, though the reality is different vehicles will have different power limits. At Reman-Transmission, we replace every part during our rebuilds. This may mean replacing a component with a re-machined part, which can lead to a stronger performance than the original factory build.
What kind of transmission fluid and how much fluid does an 8HP75 take?
Approved OEM fluid options include ZF LifeGuard Fluid 8 (S671 090 312), Mopar 8 & 9 Speed ATF, and Petronas Tutela Transmission AS8. There are other approved options on the market, though these are generally more expensive than our recommendations. The 8HP75 takes around 6 liters of fluid, though you may want to purchase an additional liter to have on hand.
What cars have the 8HP75 transmission?
The 8HP75 transmission was used in the Alfa Romeo Quadrifoglio (Stelvio and Giulia models), the BMW 5 series (G30/G31/F90), BMW X5 M (F85), BMW 7 series (G11/12), BMW X5 (F15), RAM 2500, RAM 1500, Astin Martin DB11, Jeep Grand Cherokee EcoDiesel, and the Jeep Wrangler 392.
What is the difference between the 850RE and 8HP75 transmissions?
The 850RE vs 8HP75 debate is a complex one because the two are very similar. In fact, they're both called TorqueFlite 8 under the Chrysler/Stellantis branding. The main difference is that the 8HP75 vs 850RE are tailored to either V6 or V8 engines. The 850RE is always produced by Chrysler, with the technology licensed by ZF, whereas the 8HP75 is typically produced in Germany and can be used by different manufacturers. 8HP75 models may have more durable exteriors to handle higher torque for different models.
Where is the 8HP75 transmission made?
The 8HP75 transmission is currently made in both South Carolina and Germany. Before 2017, the 8HP75 was manufactured in Germany. The plants, located in Gray Court and Saarbrucken, use the same process, though Gray Court's plant relies more heavily on automation. The South Carolina plant most notably uses its 8HP transmissions for the Ram 1500, Chrysler 300, and Jeep Grand Cherokee.
8HP75 History & Information
The 8HP transmission series got its start at ZF Friedrichshafen AG in Germany in the early 2000s. The 8HP75 transmission was first developed in 2005 before being officially introduced in 2008 after the 8HP70. Fitted to the V12 engine of the BMW 7 Series 760Li saloon, it immediately made an impression for its smooth shifting and durability. Chrysler, Jaguar, Land Rover, and VW all took notice of its modular design, making it a popular choice for luxury brands and performance vehicles alike.
The 8HP75 features eight forward gears, three clutches, and two forward brakes. This winning combo has made for better fuel efficiency and more precise shifting compared to its competitors on the market. It's compatible with all-wheel drive systems, which makes it easy to pair with a variety of brands. With a modular design, engineers didn't have to add more room to the cars. They only needed to adapt components to fit into the standard spot under the hood. (A modular design also makes it possible to use different power outputs.) The transmission can be used in rear-wheel drive, all-wheel drive, performance, and hybrid models.
This is why you can see the 8HP75 in the Porsche Panamera, Range Rover Sport, BMW X5, and Dodge Challenger. The 8HP75 was mostly used in the BMW Series until 2011. It was this year it was introduced to Chrysler vehicles. In 2012 and 2013, Land Rover and Audi vehicles began to implement them into their technology. Chrysler took an immediate affinity to the ZF brand, licensing their technology in 2013 to build these transmissions under the name Torqueflite 8. The two companies also partnered together to manufacture these transmissions outside of Germany. In 2017, ZF and Chrysler opened a new production plant in the US. All-in-all, the 8HP75 transmission was used in the Alfa Romeo Quadrifoglio (Stelvio and Giulia models), the BMW 5 series (G30/G31/F90), BMW X5 M (F85), BMW 7 series (G11/12), BMW X5 (F15), RAM 2500, RAM 1500, Astin Martin DB11, Jeep Grand Cherokee EcoDiesel, and the Jeep Wrangler 392.
In 2014, ZF came out with the second generation of the 8HP75. The changes included a wider ratio spread (7.8:1 vs. 7.2:1), giving the transmission more efficiency at every speed. It also reduced the drag torque, so it was less likely to lose power (and fuel efficiency) when shifting. Further touches included a better coasting and start-stop system as well as reduced vibrations for more comfort on the road. The 8HP75 has a power capacity of up to 500 horsepower and 600 lb-ft of torque, though the specifics will depend on the application.
Flat Rate Shipping (Commercial address)
Excellent Customer Support
Up to 5 Years Unlimited Miles Warranty
No Core Charge for 30 Days
Speak With A Specialist Now
Habla con un especialista ahora
8HP75 Transmission Compatibility Chart
MAKE
MODEL
START YEAR
END YEAR
Jeep
Grand Cherokee
2017
2023
Ram
1500
2019
2023
Ram
2500
2019
2023
Jeep
Wrangler
2020
2023
Jeep
Gladiator
2021
2023
BMW
730i
2016
2023
BMW
740i
2016
2023
BMW
750i
2016
2023
BMW
760Li
2017
2023
BMW
520i
2017
2023
BMW
530i
2017
2023
BMW
540i
2017
2023
BMW
M550i
2016
2023
BMW
X5
2015
2023
Flat Rate Shipping (Commercial address)
Excellent Customer Support
Up to 5 Years Unlimited Miles Warranty
No Core Charge for 30 Days
Speak With A Specialist Now
Habla con un especialista ahora