Flat Rate Shipping (Commercial address)
Up to 5 Years Unlimited Mile Warranty
Excellent Customer Support
No Core Charge for 30 Days
Remanufactured NV5600 Transmission Price
Alternative Name: NV-5600, New Venture Gear 5600
Price
Shipping
Core and Fee
Upfront Cost
Warranty
$3405
$270
None
$3675
5 Year

$5119
In Store
$1410
$6529
3 Year
*Core: Waived for 30 Days
*Shipping: We offer Flat Rate Shipping (Commercial address)
*Logos are the property of their respective owners
Why Chose Reman-Transmission.com
| | Reman Transmission | Other Vendors |
| --- | --- | --- |
| Transparent Pricing | Check | x |
| Best Price Guarantee | Check | x |
| Flat Rate Shipping (Commercial address) | Check | x |
| Up to 5 Years Unlimited Mile Warranty | Check | x |
| Torque Convertor Included | Check | x |
| No Core Charge for 30 Days | Check | x |
| Free Shippng on Core Return | Check | x |
Why Chose Reman-Transmission.com
| Question to Ask | Reman Transmission | Other Vendors |
| --- | --- | --- |
| Is shipping free? | We offer Flat Rate Shipping (Commercial address) | Additional or Store Pickup |
| Who pays for Core Return? | We Do | You Do (Store Drop off) |
| Do I pay for Core today? | No, we waive Core Charge for 30 days* | Yes, but will be refunded when shipped back |
| Is torque convertor included? | Always! | Not included |
| What is the warranty? | Up to 5 years/Unlimited miles | Up to 3 years/Unlimited miles |
| Best Price Guarantee? | Yes! (for comparable conditions only) | They Don't |
About Our Remanufactured NV5600 Transmission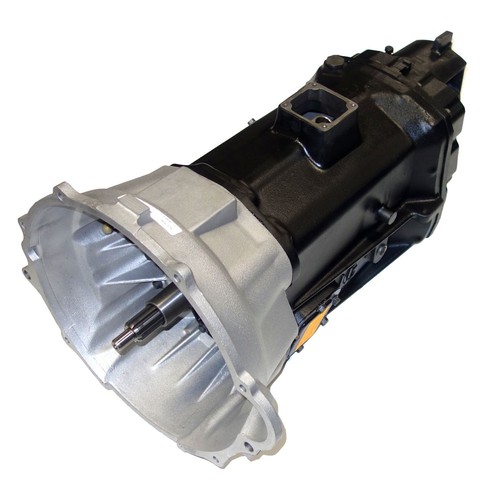 If you are looking for an affordable NV5600 transmission for your vehicle, you might be thinking about going with a cheap, junkyard NV5600 transmission. If you aren't planning on going with the junkyard route and are thinking of going with a reconditioned, refurbished, or rebuilt NV5600 transmission as a replacement, you should check out our remanufactured NV5600 transmissions first. We are Reman-Transmission, and it would be our honor to assist you with all of your transmission requirements. As one of the top options for a transmission supplier near me in our industry, it would be our pleasure to provide you with a complete remanufactured NV5600 transmission.
We use a proven process to remanufacture our transmissions, ensuring that no matter whether you are looking for an automatic or manual transmission for your American or import vehicle, we can help you. First, we completely take apart the NV 5600 transmissions we receive. Then, we examine each of the components individually. We test every part against the specification set by the original equipment manufacturer (OEM). Then, we completely replace each component with brand new or remanufactured parts. Furthermore, we amend any known factory defects that the transmission may have since often times they are discovered years after the transmission is first produced. Finally, we test the performance of the transmission again, making sure it meets or exceeds all of the original equipment manufacturer's (OEM) quality specifications.
If you are looking to swap a NV5600 transmission in your truck, you may be thinking about going with a NV5600 transmission rebuild instead. We make the argument against this since a transmission rebuild can lead to uneven wear and tear, thus shortening the lifespan of the transmission. In contrast, a remanufactured NV5600 transmission has even wear and tear, ensuring that it should last hundreds of thousands of miles. It could even outlast a new transmission since the factory defects are amended, assuming that proper maintenance is performed on time. In contrast, if you are searching for a more affordable option, we offer the best quality used NV5600 transmissions money can buy. We guarantee our used NV5600 transmissions are in working condition and will perform the moment you install it into your vehicle. It's an option that puts a fully functioning NV5600 transmission into your vehicle for less.
Bottom line, if you are looking for a NV5600 transmission for sale, it is our honor to be the best place to get your NV5600 transmission swap in the automotive zone. When you check our site for a smart NV5600 transmission purchase, we will search our company catalog for the best possible option.. We will also examine the source of each of our transmissions, ensuring you know exactly what you are getting. Furthermore, we are so confident in the transmissions we offer an up to five-year, unlimited mileage warranty on all of our remanufactured automatic transmissions along with a warranty for every transmission depending on the type. On top of that, we provide free shipping to commercial addresses anywhere throughout the United States, helping you keep your cost as low as possible. If you need help finding the right NV5600 transmission, give one of our friendly customer support representatives a call today!
Flat Rate Shipping (Commercial address)
Excellent Customer Support
Up to 5 Years Unlimited Miles Warranty
No Core Charge for 30 Days
Our NV5600 Transmission Upgrades
Our quality control process includes build specification checks performed by three different specialized technicians during the remanufacturing process to ensure accuracy and precise fitment.
Inspection of internal parts, including gear wear checks, mainshaft straightness, and synchronization are performed.
Worn and non-functional parts are replaced, including 100% replacement of seals, bearings, and other common components.
Each remanufactured transmission is hot, cold, load, and simulated road tested using our proprietary dynamometer program.
All remanufactured transmissions are backed by the industry's best, no-hassle nationwide warranty.
NV5600 Frequently Asked Questions
Is the NV5600 a good transmission?
Yes, the NV5600 transmission is an outstanding transmission, which is one of the reasons why it is still commonly used today. If you want to get as many miles out of your NV5600 transmission as possible, you should look for a remanufactured NV5600 transmission. This transmission could last hundreds of thousands of miles.
Which is better NV4500 or NV5600?
One transmission is not necessarily better than the other. They are simply different. It depends on what you are trying to do. If you plan on towing heavy loads behind your vehicle, then you need the power of the NV5600 transmission. If not, then the NV4500 transmission might be a better option for you.
Who makes the NV5600 transmission?
The NV5600 transmission is made by a company called New Venture Gear, which is what the NV stands for. New Venture gear the division of a company called Magna Powertrain. This company has made a number of other transmissions as well, including the NV 3500 transmission and the NV 4500 transmission.
Will an NV5600 bolt up to a 12 valve Cummins?
Yes, you can bolt the NV5600 transmission up to a 12-valve Cummins as long as it will fit in the bell housing. You may need an engine adapter and flywheel for the clutch; however, if you have a small shaft NV5600 transmission, you might not require this.
NV5600 History & Information
The NV5600 transmission is a transmission manufactured by New Venture Gear, which is a division of Magna Powertrain. It is a successor to the NV3500 transmission and the NV4500 transmission. The NV5600 was eventually replaced by the G56 transmission. The New Venture Gear 5600 transmission is a close-ratio, powerful, heavy-duty, manual 6-speed transmission. It first appeared in 1999 as a transmission for the Dodge RAM 3500 as well as the Dodge RAM 2500 models. It was used through the 2005 model year.
Prior to the manufacturing of the NV5600 transmission, New Venture Gear produced the NV3500 transmission and the NV4500 transmission. The NV3500 transmission was first used in 1993 by General Motors (GM) in their Chevrolet and GMC divisions and stayed in use through the 2004 Jeep Liberty and Jeep Wrangler. The NV4500 transmission was first used in the 1991 GMC C/K and remained in use through the 2006 GMC Sierra.
The New Venture 5600 transmission was designed to be durable, reliable, and powerful. In 4x4 applications, this transmission was normally mounted to an NP241DLD (NP241), NV271D (NV271), or NV273D (NV273). For example, one of the factors that set the NV 5600 transmission apart is that it requires a special lubricant instead of gear oil. It also has a powerful torque, a sizable oil capacity, and weighs 360 lb. It features a total of 7 gears, including 1 through 6 drive gears and a reverse gear. Since the transmission was first introduced, numerous aftermarket companies have made a handful of modifications to the NV5600 transmission, which has resulted in a smoother transmission engagement, making for a more comfortable driving experience.
One of the top reasons the NV5600 transmission is still in use today is that it can handle tremendous power. Those who have to tow a significant load behind their vehicles rely on the powerful, durable construction of the NV5600 transmission and the high horsepower that it produces. There are several variations of the NV5600 transmission that have been produced in an effort to make the larger gears more reliable without sacrificing power. These modifications have been successful, providing countless drivers with the power they require. As a result, many people are still looking for NV5600 transmissions today. That is where a remanufactured NV 5600 transmission can be helpful.
Flat Rate Shipping (Commercial address)
Excellent Customer Support
Up to 5 Years Unlimited Miles Warranty
No Core Charge for 30 Days
Speak With A Specialist Now
Habla con un especialista ahora
NV5600 Transmission Compatibility Chart
MAKE
MODEL
START YEAR
END YEAR
Dodge
Ram 3500
1998
2005
Dodge
Ram 2500
1998
2005
Flat Rate Shipping (Commercial address)
Excellent Customer Support
Up to 5 Years Unlimited Miles Warranty
No Core Charge for 30 Days
Speak With A Specialist Now
Habla con un especialista ahora