Flat Rate Shipping (Commercial address)
Up to 5 Years Unlimited Mile Warranty
Excellent Customer Support
No Core Charge for 30 Days
Remanufactured 6T70 Transmission Price
Price
Shipping
Core and Fee
Upfront Cost
Warranty
$2287
$270
None
$2557
5 Year
$2704
In Store
$1270
$3974
3 Year
$2704
In Store
$1270
$3974
3 Year
*Core: Waived for 30 Days
*Shipping: We offer Flat Rate Shipping (Commercial address)
*Logos are the property of their respective owners
Why Chose Reman-Transmission.com
| | Reman Transmission | Other Vendors |
| --- | --- | --- |
| Transparent Pricing | Check | x |
| Best Price Guarantee | Check | x |
| Flat Rate Shipping (Commercial address) | Check | x |
| Up to 5 Years Unlimited Mile Warranty | Check | x |
| Torque Convertor Included | Check | x |
| No Core Charge for 30 Days | Check | x |
| Free Shippng on Core Return | Check | x |
Why Chose Reman-Transmission.com
| Question to Ask | Reman Transmission | Other Vendors |
| --- | --- | --- |
| Is shipping free? | We offer Flat Rate Shipping (Commercial address) | Additional or Store Pickup |
| Who pays for Core Return? | We Do | You Do (Store Drop off) |
| Do I pay for Core today? | No, we waive Core Charge for 30 days* | Yes, but will be refunded when shipped back |
| Is torque convertor included? | Always! | Not included |
| What is the warranty? | Up to 5 years/Unlimited miles | Up to 3 years/Unlimited miles |
| Best Price Guarantee? | Yes! (for comparable conditions only) | They Don't |
About Our Remanufactured 6T70 Transmission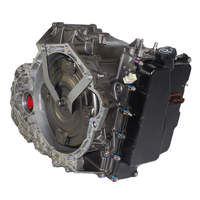 If your 6T70 transmission is no longer working properly, you need to correct that problem as soon as possible, of course, to keep your vehicle operable. Installing a fully remanufactured transmission can be a smart compromise between settling for having your old one rebuilt or spending much more on a new transmission. Reman-Transmission provides top-quality remanufactured 6T70 transmissions at our industry's best prices.
There are many benefits for vehicle owners who opt to use a remanufactured 6T70 transmission from Reman-Transmission instead of paying for a new one. In a remanufactured transmission, every working part has been replaced with a new or remade component that either meets or exceeds the specifications of the original equipment manufacturer (OEM).
Further, all detected defects in the original manufacturing are corrected as part of the remanufacturing process. That means that remanufactured transmissions are often better quality than the new factory-produced versions of the same units.
Remanufacturing a transmission involves replacing all worn-out or defective parts with either new or re-machined components. This is different from just rebuilding a transmission, which involves merely replacing the bad parts with new ones. That is a less exacting process that can cause the uneven amounts of wear on the parts in a rebuilt transmission to be incompatible and cause even more issues.
The warranty for a remanufactured 6T70 transmission from Reman-Transmission is up to 36 months. Mileage is unlimited. We can provide you with a used 6T70 transmission for sale with a 6-month or 6,000-mile warranty. Whether you buy a used or remanufactured product, we provide our industry's best customer support for 6T70 transmissions.
Shipping from Reman-Transmission is free for our commercial customers, and we charge just $270 shipping for our residential customers. There is no transmission core charge for 30 days.
Reman-Transmission remanufactures a vast range of both manual and automatic transmissions for domestic model vehicles and popular imports. We have many types of transmissions in stock.
In addition to correcting factory defects during the remanufacturing of your 6T70 transmission, we test every part to be sure it is equal to or surpasses OEM-specified standards before it is shipped. That means that our customers can save significantly by buying a fully remanufactured transmission that will perform better and last longer than the same unit purchased as a new OEM product.
Flat Rate Shipping (Commercial address)
Excellent Customer Support
Up to 5 Years Unlimited Miles Warranty
No Core Charge for 30 Days
6T70 Frequently Asked Questions
How do you identify a 6T70 transmission?
You can identify a 6T70 transmission by examining the transmission electro-hydraulic control module (TEHCM) and the solenoid valve body. Be sure that these parts, other valves, and worn-out or malfunctioning parts match the components you plan to use to replace them.
What is the difference between a 6T70 and a 6T75 transmission?
The essential difference between these two transmissions is that the 6T75 is a little larger and heavier-duty than the 6T70 and its gear set has five pinions, whereas the slightly smaller 6T70 has four pinions. That gives the larger transmission a bit of increased torque handling capacity.
Who makes the 6T70 transmission?
General Motors continues to produce the 6T70 transmission. Reman-Transmission makes remanufactured 6T70 transmissions that meet or exceed GM's OEM standards for the industry's best value in this transmission type.
How much HP can a 6T70 handle?
The GM 6T70 transmission is rated by the manufacturer for 315 horsepower, which is equal to 235 kW. The 6T70 is rated for 280 lb-ft (380 Nm) of torque. The first gear is rated for 331 lb-ft (450 Nm). Note: Nm stands for Newton meters.
6T70 History & Information
The 6T70 transmission was introduced by General Motors in 2007. It is a fully-automatic six-speed transmission. The GM 6T70 was preceded in engineering design by the 6T40, 6T45, and followed by the 6T80 transmission. The 6T70 is manufactured for front-wheel-drive and all-wheel-drive vehicles.
Originally, the 6T70 was made for use with 3.6-liter V-6 engines. It was initially installed in GMC's Acadia, its Saturn Aura, and its Pontiac G6 (while GMC was still making Pontiacs). The 6T70 was the proud product of one of the several design collaborations between GM and Ford in the early 2000s. The GM 6T70s were also built for installation in the Chevy Impala, Equinox, and Malibu. This transmission was also used on the GM truck production lines in the Saturn Outlook and Buick Enclave. (GM transmission codes that you may see used to identify the 6T70 include MH2, MH4, M7U, M7V, M7W, and M7X.)
The 6T70 transmission is electronically controlled, offering vehicle owners the benefit of increased reliability from advanced technology. The Transmission Control Module (TCM) inside the transmission enables fully automatic changing of gear ratios.
Other automatic transmission designs employ a different coupling arrangement for accelerating at lower speeds, whereas the GM Hydra-Matic design of the 6T70 utilizes four speeds for forward acceleration instead.
An array of electronic sensor inputs are monitored by the 6T70 Transmission Control Module (TCM). The TCM receives and applies the collective information inputs to determine the ideal point in the process at which the gear shifting is automatically executed. It sends commands to the transmission system's clutch pressure control solenoid and shift solenoid to precisely manage shift timing. The 6T70 TCM further manages the torque conversion clutch, enabling greater fuel efficiency from the engine while maintaining vehicle performance.
The 6T75, not to be confused with the 6T75 transmission, is a slightly larger and otherwise modified design. The 6T70 is designed to aid in maximizing a vehicle's fuel efficiency, smoothness in automatic gear shifting, and overall optimal transmission performance. For example, the ratio spread in the gears is high, especially in first gear, which means more robust acceleration from a stopping position. The highest gear is overdrive, to minimize engine friction and maximize fuel savings during highway driving.
Unlike other GM transmission designs, the 6T70 gearing is all aligned with the centerline of the engine. This offers the benefits of increased interior space and reduced height of the powertrain.
Advanced functions of the 6T70 transmission facilitate smoother shifting. The electronic gear shifting controls in the 6T70 provide the same accuracy in timing the automatic gear shifting as comparable transmission designs. But, the clutch-to-clutch precision auto-shifting design of gears 2 through 6 in the 6T70 saves space in the unit design compared to models without this feature. Adaptive controls over automatic shifting account for braking on variable grades, prompting the transmission to maintain lower gears during deceleration or on declining grades. This minimizes the need for braking in many circumstances and prevents inappropriate automatic acceleration.
The smaller size of the 6T70 makes it ideal in the smaller vehicles for which it was designed, and it presents a broader range of options for safety designs and aesthetic styling of new models. Other beneficial features of the 6T70 include its hydraulic pressure feature for minimizing the transmission's energy requirements and overall vehicle fuel efficiency.
The 6T70 transmission came in the Buick LaCrosse, Buick Enclave, Pontiac Torrent, Pontiac G6, Saturn Outlook, Saturn Aura, Cadillac SRX, Cadillac XTS, Chevrolet Equinox, Chevrolet Malibu, GMC Acadia, and GMC Terrain.
Flat Rate Shipping (Commercial address)
Excellent Customer Support
Up to 5 Years Unlimited Miles Warranty
No Core Charge for 30 Days
Speak With A Specialist Now
Habla con un especialista ahora
6T70 Transmission Compatibility Chart
MAKE
MODEL
START YEAR
END YEAR
Saturn
Aura
2007
2010
Pontiac
G6
2007
2009
Saturn
Outlook
2007
2009
Pontiac
Torrent
2008
2009
Buick
Enclave
2008
2017
Buick
LaCrosse
2010
2016
Chevrolet
Equinox
2008
2017
Chevrolet
Traverse
2009
2017
Chevrolet
Malibu
2008
2012
Chevrolet
Impala
2012
2020
GMC
Acadia
2007
2017
GMC
Terrain
2010
2017
Cadillac
XTS
2013
2013
Cadillac
SRX
2010
2016
Flat Rate Shipping (Commercial address)
Excellent Customer Support
Up to 5 Years Unlimited Miles Warranty
No Core Charge for 30 Days
Speak With A Specialist Now
Habla con un especialista ahora