Flat Rate Shipping (Commercial address)
Up to 5 Years Unlimited Mile Warranty
Excellent Customer Support
No Core Charge for 30 Days
Remanufactured A4LD Transmission Price
Price
Shipping
Core and Fee
Upfront Cost
Warranty
$1671
$270
None
$1941
5 Year

$1605
In Store
$528
$2133
3 Year
*Core: Waived for 30 Days
*Shipping: We offer Flat Rate Shipping (Commercial address)
*Logos are the property of their respective owners
Why Chose Reman-Transmission.com
| | Reman Transmission | Other Vendors |
| --- | --- | --- |
| Transparent Pricing | Check | x |
| Best Price Guarantee | Check | x |
| Flat Rate Shipping (Commercial address) | Check | x |
| Up to 5 Years Unlimited Mile Warranty | Check | x |
| Torque Convertor Included | Check | x |
| No Core Charge for 30 Days | Check | x |
| Free Shippng on Core Return | Check | x |
Why Chose Reman-Transmission.com
| Question to Ask | Reman Transmission | Other Vendors |
| --- | --- | --- |
| Is shipping free? | We offer Flat Rate Shipping (Commercial address) | Additional or Store Pickup |
| Who pays for Core Return? | We Do | You Do (Store Drop off) |
| Do I pay for Core today? | No, we waive Core Charge for 30 days* | Yes, but will be refunded when shipped back |
| Is torque convertor included? | Always! | Not included |
| What is the warranty? | Up to 5 years/Unlimited miles | Up to 3 years/Unlimited miles |
| Best Price Guarantee? | Yes! (for comparable conditions only) | They Don't |
About Our Remanufactured A4LD Transmission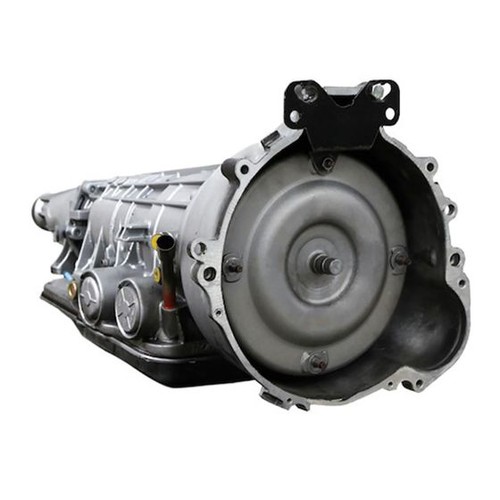 Is your A4LD transmission shuddering, failing to shift, slipping, or otherwise acting up? If so, we've got the right A4LD transmission replacement for you. We specialize in remanufactured transmissions designed for longevity so that you can enjoy your vehicle for years to come. As an A4LD automatic transmission owner, you undoubtedly well understand how often problems can arise in this gearbox. From fluid leaks to a sudden lack of overdrive, the potential for issues always looms when using a factory-built unit.
Fortunately, you can look to us for freedom from the design problems plaguing the 2WD or 4WD A4LD. Need an A4ld 4x4 transmission for sale? We can do that, too. Our remanufacturing process centers around identifying key build problems and resolving them once and for all. To start, we reserve engineer every Ford A4LD transmission to identify and resolve its faults. Then, we go beyond replacing the worn and damaged parts to completely rebuilding the internals. We only use new and re-machined components, too, ensuring it all exceeds the original equipment manufacturer (OEM) specs. By the end of our process, we produce a fully rebuilt transmission free of factory defects, so you can truly enjoy all your travels without incident. You'll then get to enjoy smoother shifts, better reliability, and fewer worries about problems occurring down the road.
We're so confident that our remanufactured A4LD transmissions come out working better than new that we back them with a 5-year, unlimited mileage warranty.If you have any issues whatsoever in that time, just let us know and we'll provide a prompt resolution. Our company does not issue a core charge for 30 days as well, giving you time to do the swap and see the difference our remanufacturing service makes.
On top of all that, our friendly customer service team makes it easy to get the A4LD gearbox you need when you need it most. We allow you to look up your transmission online and order with a quick phone call. We even provide fast, free shipping to any commercial address across the United States.
So, if you'd like your car to shift better than ever before, call today to find a remanufactured A4LD transmission for sale near me. We're always here to walk you through the process of getting a high-quality replacement gearbox for cheap.
Flat Rate Shipping (Commercial address)
Excellent Customer Support
Up to 5 Years Unlimited Miles Warranty
No Core Charge for 30 Days
Our A4LD Transmission Upgrades
A remanufactured and improved torque converter is included with every transmission.
To eliminate the possibility of front seal leaks, vibration, and premature bushing wear, all torque converters are tested for leaks, lock-up, concentricity, and balance.
Every fully remanufactured valve body, with complete system correction and recalibration kit, is tested independently.
All wear-prone valves are restored to stringent specifications and vacuum tested to confirm proper function.
Each remanufactured transmission is hot, cold, load, and simulated road tested using our proprietary CARS (Computer-Aided Road Simulation) dynamometer program.
All remanufactured transmissions are backed by the industry's best, no-hassle nationwide warranty.
A4LD Frequently Asked Questions
What is the A4LD transmission?
The A4LD is an automatic four-speed transmission built off the three-speed C3 platform. Ford added an overdrive gear to the C3's build, plus integrated electronic controls into its design. Solenoids control both torque converter lockup and the third to fourth shift as a result. The 1985 Bronco II got the first A4LD, while the 2002 Mazda B-Series received the last.
Is the A4LD a good transmission?
The A4LD is a good transmission for inline-four and small six-cylinder cars, trucks, and SUVs. The early electronic controls make it a joy to drive, while the overdrive gear provides excellent gas mileage on the highway. Factory defects can take away from its good qualities though, making it worthwhile to get a high-quality remanufactured version.
How much horsepower can an A4LD transmission handle?
As a light-duty transmission, the A4LD can handle up to 250 horsepower at the flywheel. Although there are some outliers, the risk of total gearbox failure markedly increases after that point. Having the gearbox remanufactured to eliminate factory defects can help reduce the risk of failure at higher horsepower levels.
How much does an A4LD transmission weigh?
Ford's automatic A4LD transmission weighs 147 pounds with fluid. Many shipment companies will list the transmission as 70 pounds due to their internal pricing methods. Keep in mind that gearboxes are not just heavy, they are often unbalanced and awkward to handle. So, always use a transmission jack to hold it steady during the installation process.
A4LD History & Information
Ford created the four-speed automatic A4LD by adding overdrive gear to their long-running light-duty C3 transmission. The A4LD originally appeared in the 1985 Ranger and Bronco II in North America, plus the Ford Thunderbird in Europe. Furthermore, it only ran in vehicles with four or six-cylinder engines due to its lightweight design. The A4LD was mostly only ever paired with the Borg-Warner BW1354 transfer case.
The C3 had the same purpose, as it was developed for Ford's compact cars with I4 and small V6 powerplants. Although the Ford Pinto was the first, they went on to put the C3 in the Capri, Mustang, Explorer, and Thunderbirds. Their Mercury equivalents got the same gearbox as did their small rear-wheel-drive.
the addition of an overdrive gear, the A4LD largely followed the same formula. Ford started outputting this gearbox in their small two-wheel-drive SUVs. Then, they went on to put it in the 1987 to 1993 Mustang and 1987 to 1988 Thunderbird with the 2.3 I4 engine. The 2002 Mazda B-Series was the last of the line to get the A4LD before it was replaced with the 4R44E/4R55E and 5R44E/5R55E transmissions.
The A4LD's successors built upon its switch to electronic controls. This gearbox pioneered the use of an electrical solenoid to trigger the three to four-gear shift and the torque converter lockup. That innovative move paved the way for full electronic transmission control in the future.
Unfortunately, it also meant failures galore as the early solenoid designs overheated and broke. When that happened, the gearbox would either fail to go into fourth gear or the torque converter wouldn't lock as expected.
Other common A4LD problems include:
Slipping due to a loose kick-down cable
Bad modulator preventing a first to second shift
Seal failure causing transmission fluid leakage
Rapid front pump bushing wear also causes leaks
Clutch pack separation resulting in gearbox failure
In addition, it's common to lose overdrive as the sprag clutch locks up. A quick shift into overdrive then causes the forward clutch spring pack to get ripped loose, resulting in the need for a full A4LD transmission rebuild.
With so many factory defects affecting this gearbox, finding a Ford A4LD transmission for sale from Reman Transmission is the only way to go. With a small investment in the A4LD rebuild cost, you can rest assured that the most common problems will not impact your drives any longer.
Flat Rate Shipping (Commercial address)
Excellent Customer Support
Up to 5 Years Unlimited Miles Warranty
No Core Charge for 30 Days
Speak With A Specialist Now
Habla con un especialista ahora
A4LD Transmission Compatibility Chart
MAKE
MODEL
START YEAR
END YEAR
Ford
Bronco II
1985
1990
Ford
Mustang
1987
1993
Ford
Thunderbird
1987
1988
Ford
Ranger
1985
11994
Ford
Aerostar
1986
1994
Ford
Explorer
1991
1994
Flat Rate Shipping (Commercial address)
Excellent Customer Support
Up to 5 Years Unlimited Miles Warranty
No Core Charge for 30 Days
Speak With A Specialist Now
Habla con un especialista ahora