Flat Rate Shipping (Commercial address)
Up to 5 Years Unlimited Mile Warranty
Excellent Customer Support
No Core Charge for 30 Days
Remanufactured 6L80 Transmission Price
Alternative Name: 6L80E, 6L80-E, Hydra-Matic
Price
Shipping
Core and Fee
Upfront Cost
Warranty
$2441
$398
None
$2839
5 Year
$2919
In Store
$1313
$4232
3 Year
$2919
In Store
$1313
$4232
3 Year

$2820
In Store
$1313
$4233
3 Year
*Core: Waived for 30 Days
*Shipping: We offer Flat Rate Shipping (Commercial address)
*Logos are the property of their respective owners
Why Chose Reman-Transmission.com
| | Reman Transmission | Other Vendors |
| --- | --- | --- |
| Transparent Pricing | Check | x |
| Best Price Guarantee | Check | x |
| Flat Rate Shipping (Commercial address) | Check | x |
| Up to 5 Years Unlimited Mile Warranty | Check | x |
| Torque Convertor Included | Check | x |
| No Core Charge for 30 Days | Check | x |
| Free Shippng on Core Return | Check | x |
Why Chose Reman-Transmission.com
| Question to Ask | Reman Transmission | Other Vendors |
| --- | --- | --- |
| Is shipping free? | We offer Flat Rate Shipping (Commercial address) | Additional or Store Pickup |
| Who pays for Core Return? | We Do | You Do (Store Drop off) |
| Do I pay for Core today? | No, we waive Core Charge for 30 days* | Yes, but will be refunded when shipped back |
| Is torque convertor included? | Always! | Not included |
| What is the warranty? | Up to 5 years/Unlimited miles | Up to 3 years/Unlimited miles |
| Best Price Guarantee? | Yes! (for comparable conditions only) | They Don't |
About Our Remanufactured 6L80 Transmission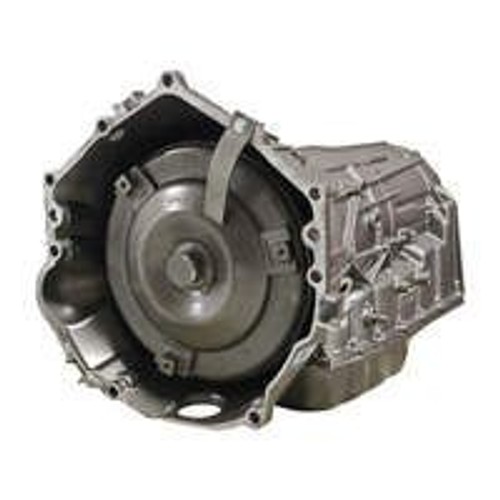 We have the largest inventory of used 6L80 transmissions and remanufactured 6L80 transmissions in the automotive industry. Since our company was founded, we have been completely customer focused with the intention to give everyone access to the absolute best replacement transmissions. When you search for a 6l80e transmission for sale, we are here to provide you with the necessary information to make the best decision possible as to which transmission is best for you, not us. Our 6l80 transmission inventory consists of used and remanufactured models that can be shipped fast and free straight to your commercial address with just a few clicks of a mouse.
Regarding our remanufacturing process, we completely tear down and reassemble every used 6l80e transmission that comes through our warehouse doors. Each 6L80-E transmission is inspected, cleaned, and has every component within it replaced with new crate parts or completely rebuilt parts. In doing so, our remanufactured 6l80 transmissions are significantly more reliable than their used or rebuilt counterparts. The option of using the original equipment manufacturer (OEM) parts for our transmissions and powertrain replacements make our refurbished and reconditioned transmissions a smart move for street and strip racers who want a stock replacement. If you want a professional repair and rebuild, give us a call for a quote. We are your source for any part needed for your hotrod needs.
On top of our advanced remanufacturing processes, we offer a warranty for every single transmission that we sell. Whether it is a remanufactured 6l80e transmission, rebuilt 6l80 transmission, or even a used 6l80-e transmission, when you buy it from Reman-Transmission you know it will be a quality component for your vehicle's drivetrain that comes with a warranty to back it up.
6L80 Transmission Remanufacturing Process
Flat Rate Shipping (Commercial address)
Excellent Customer Support
Up to 5 Years Unlimited Miles Warranty
No Core Charge for 30 Days
Our 6L80 Transmission Upgrades
Fluid pump is fully detailed with resurfaced pump rotor mating surfaces and machined pump body mating surfaces to maintain correct fluid pressures.
Late style stator support shaft with updated seal rings used exclusively in all units to eliminate seal leakage.
Upgraded 38-element low sprag installed in all units to increase holding capacity.
All-new custom-spec bushings to improve internal fluid flow control and pressures.
Fully remanufactured torque converter is tested for leaks, lockup, concentricity, and balance. Upgrades exceed OE requirements and eliminate the possibility of front seal leaks, premature bushing wear, and vibration.
Boost sleeves and planetary covers are replaced.
Updated drums are used to prevent cracking at the welds.
Bushings and machined surfaces polished to a mirror-like OE finish of 15 RA or less.
Tru-Flat qualification process applied to transmission case, valve body, pump, and channel plate prevent cross leaks and pressure losses.
Every transmission is cold-and hot-tested using a proprietary dynamometer testing program that includes fully synthetic automatic transmission fluid and a filtration system.
6L80 Frequently Asked Questions
Is the 6L80 a good transmission?
Yes, the 6L80 is a good, reliable transmission that you can buy for higher horsepower vehicles, such as the Cadillac and the Corvette. Our completely remanufactured 6L80 is ready for your LS or LSX car engine swap and is for sale in our catalog.
What's the difference between 6L80 and 6L80E?
The 6L80 and 6L80E monikers are used interchangeably. The six-speed transmission replaced the 4L80 four-speed versions for medium-duty vehicles; and is made like a rock for higher horsepower vehicles, such as LS and LSX crate engines.
How much HP can a 6L80 handle?
Instead of measuring the strength of the 6L80 by horsepower, GM designed this transmission to handle 440 pound-feet of engine torque and 664 pound-feet of output torque. Combined with a tall first gear, our quality product allows you to transfer the torque to the rear wheels to launch from a dead stop.
How much does a 6L80 transmission cost?
Our best price for a new 6L80 crate transmission $2317, but a 6L80 in remanufactured condition from our company has new parts inside the case. In the end, our remanufactured 6L80 will get you down the strip for less money than a new 6L80.
6L80 History & Information
The American-made GM 6L80 transmission took the place of the 4L60-E, 4L65-E, 4L70-E, 4L80-E, and 4L85-E, but it had some big shoes to fill. GM needed an affordable yet modern automatic transmission to take the place of legends such as the TH400 and 4L60-E in its American cars. The 6L80-E was designed for powerful generation III+ V8 engines which often appeared in GM's lineup of brands like Chevrolet, GMC, Buick, and Cadillac. The GM-approved 6L80 was for use in a vehicle weighing up to 8,600 pounds or for those with a gross weight of 14,000 pounds. It was used most commonly in vehicles like the Cadillac Escalade, Chevrolet Avalanche, Chevrolet Silverado 1500, Chevrolet Tahoe, GMC Sierra 1500, GMC Yukon, and the H2 Hummer.
The 4L60E, the 6L80's predecessor, was a four-speed medium-duty transmission, while the 6L80 is a six-speed medium-duty transmission that was designed for higher horsepower vehicles. The 6l80e has an RPO code of "MYC" and is manufactured in Ypsilanti, Michigan. The transmission uses direct clutch-to-clutch shifting and does not have bands. It has a deep first gear for powerful starts from a standstill. It features this gear ratio specification, which makes it compatible with the racing industry and highway driving:
First gear: 4.02
Second gear: 2.36
Third gear: 1.53
Fourth gear: 1.15
Fifth gear: .85
Sixth gear: .67
The tall overdrive gear allows for low RPM highway cruising, which conserves fuel. The 6L80's input torque is 440lb-ft while the maximum output torque is one of the best at 664lb-ft. As with most GM transmissions, the Turbo-Hydramatic 6L80 uses Dextron VI transmission fluid and, depending on the application, uses anywhere from 10 to 12.6 quarts. You can choose to use a 258mm or 300mm torque converter with this transmission. The 6L80 is the perfect companion for GM's LS and LSX crate engines in two-wheel drive configurations. The 6L90, the big brother of the 6L80, is even better. For both of the transmissions, however, the modular design ensures common components for the four transmissions in the six-speed family. All of the versions use an input planetary gear set and two output gear sets, which makes them easy to service. One pair meshes with the ring gear and the other meshes with the sun gear.
Features found on the 6L80 include performance algorithm braking, driver shift control, and an advanced control system with a 32-bit control module inside the transmission. Since the module is inside the transmission, you don't need additional steps to install it, making it a great drop-in. The control module compensates for normal wear and tear in the clutch plates and other components so that your 6l80e performs consistently throughout the life of the transmission.
If you are looking to mount this transmission up to a 4x4 vehicle, check and make sure you acquire the right transfer case. The most common transfer cases used with the 6L80 transmission are the Borg-Warner BW4485 and the Magna Powertrain MP1222LD. Regardless, please confirm with your VIN the right transfer case before you purchase.
When you are looking for the reliability of a TH-400 in a six-speed transmission – and one that will handle the horsepower and torque zone you're ready to throw at it, the 6L80E fits the bill. The TH-400 transmissions could handle the high torque of a truck and were mostly found in trucks in its heyday. Now you can have a lighter transmission and one that gets better gas mileage in a format that allows great standing stop takeoffs and better fuel economy for highway driving.
Flat Rate Shipping (Commercial address)
Excellent Customer Support
Up to 5 Years Unlimited Miles Warranty
No Core Charge for 30 Days
Speak With A Specialist Now
Habla con un especialista ahora
6L80 Transmission Compatibility Chart
MAKE
MODEL
START YEAR
END YEAR
Cadillac
Escalade
2007
2015
Cadillac
Escalade ESV
2007
2015
Cadillac
Escalade EXT
2007
2013
Chevrolet
Avalanche 1500
2009
2013
Chevrolet
Silverado 1500
2009
2016
Chevrolet
Suburban 1500
2009
2016
Chevrolet
Tahoe
2009
2016
GMC
Sierra 1500
2009
2016
GMC
Sierra Denali
2007
2010
GMC
Sierra Denali 1500
2011
2015
GMC
Yukon
2007
2015
GMC
Yukon XL 1500
2007
2015
Hummer
H2
2008
2009
Pontiac
G8
2008
2009
Flat Rate Shipping (Commercial address)
Excellent Customer Support
Up to 5 Years Unlimited Miles Warranty
No Core Charge for 30 Days
Diagnostic Codes for 6L80 Transmission
DIAGNOSTIC CODES
DESCRIPTION OF PROBLEM
P0711
Transmission Fluid Temperature Sensor Circuit Range/Performance
P0712
Transmission Fluid Temperature Sensor Circuit Low Input
P0713
Transmission Fluid Temperature Sensor Circuit High Input
P0714
Transmission Fluid Temperature Sensor Circuit Intermittent
P0715
Input/Turbine Speed Sensor Circuit
P0716
Input/Turbine Speed Sensor Circuit Range/Performance
P0717
Input/Turbine Speed Sensor Circuit No Signal
P0718
Input/Turbine Speed Sensor Circuit Intermittent
P0720
Output Speed Sensor Circuit
P0721
Output Speed Sensor Circuit Range/Performance
P0723
Output Speed Sensor Circuit Intermittent
P0741
Torque Converter Clutch Circuit
P0742
Torque Converter Clutch Circuit Stuck On
P0751
Shift Solenoid A Performance or Stuck Off
P0752
Shift Solenoid A Stuck On
P0756
Shift Solenoid B Performance or Stuck Off
P0757
Shift Solenoid B Stuck On
P0776
Pressure Control Solenoid B Performance or Stuck Off
P0777
Pressure Control Solenoid B Stuck On
P0796
Pressure Control Solenoid C Performance or Stuck off
P0965
Pressure Control Solenoid B Control Circuit Range/Performance
P0966
Pressure Control Solenoid B Control Circuit Low
P0967
Pressure Control Solenoid B Control Circuit High
P2715
Pressure Control Solenoid D Stuck On
P2723
Pressure Control Solenoid E Stuck Off
Speak With A Specialist Now
Habla con un especialista ahora