Flat Rate Shipping (Commercial address)
Up to 5 Years Unlimited Mile Warranty
Excellent Customer Support
No Core Charge for 30 Days
Remanufactured T45 Transmission Price
Alternative Name: Tremec T45, BorgWarner T45
Price
Shipping
Core and Fee
Upfront Cost
Warranty
$2006
$270
None
$2276
5 Year

$2419
In Store
$594
$3013
3 Year
*Core: Waived for 30 Days
*Shipping: We offer Flat Rate Shipping (Commercial address)
*Logos are the property of their respective owners
Why Chose Reman-Transmission.com
| | Reman Transmission | Other Vendors |
| --- | --- | --- |
| Transparent Pricing | Check | x |
| Best Price Guarantee | Check | x |
| Flat Rate Shipping (Commercial address) | Check | x |
| Up to 5 Years Unlimited Mile Warranty | Check | x |
| Torque Convertor Included | Check | x |
| No Core Charge for 30 Days | Check | x |
| Free Shippng on Core Return | Check | x |
Why Chose Reman-Transmission.com
| Question to Ask | Reman Transmission | Other Vendors |
| --- | --- | --- |
| Is shipping free? | We offer Flat Rate Shipping (Commercial address) | Additional or Store Pickup |
| Who pays for Core Return? | We Do | You Do (Store Drop off) |
| Do I pay for Core today? | No, we waive Core Charge for 30 days* | Yes, but will be refunded when shipped back |
| Is torque convertor included? | Always! | Not included |
| What is the warranty? | Up to 5 years/Unlimited miles | Up to 3 years/Unlimited miles |
| Best Price Guarantee? | Yes! (for comparable conditions only) | They Don't |
About Our Remanufactured T45 Transmission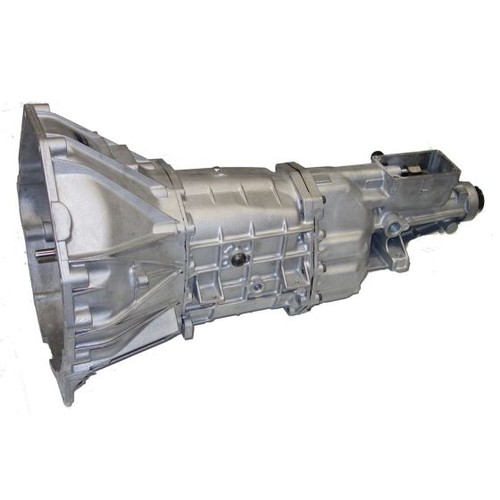 As a proud retailer of remanufactured T45 transmissions, Reman-Transmission is happy to provide outstanding quality at affordable prices. But why should you purchase a remanufactured Mustang T45 transmission instead of getting a rebuilt T45 transmission? When you rebuild a transmission, all the worn-out and defective parts are replaced, but that shifts the wear to other parts of the transmission, requiring you to replace another part. Rather than getting stuck in this endless spending cycle, why not get a high-quality remanufactured transmission that has had all the worn-out parts replaced, giving you outstanding strength and dependability for miles and miles. Instead of Googling "Used t45 transmission for sale near me", just head on over to reman-transmission.com to find the best deal available.
Our T45 transmission reconditioning process takes the whole transmission apart, then it's repaired so that it will meet or exceed your OEM part specs. Everything in the bell housing will be replaced, and you get a transmission that is better than the factory. You'll easily get more enjoyment from your Mustang for years to come without putting a lot of time into expensive repairs. We'll even upgrade common points of failure so that those failures won't happen as they would with a brand-new OEM Ford T45 transmission.
This all happens at a lower cost than buying a new cheap transmission online, which can cause you more problems down the road. Our high-quality reconditioned T45 transmission upgrade gives you plenty of time to enjoy your Mustang without getting stuck on the side of the road. You'll get free shipping in the continental United States to commercial addresses or $75 to residential, no core charge for 30 days, and amazing customer service. We provide you with a solid warranty of 6 months, 6,000 miles for used transmissions, and up to 36 months and unlimited mileage for remanufactured transmissions.
We take pride in offering a wide range of refurbished transmissions from major import and domestic manufacturers, keeping them in stock for fast shipment. We inspect every part used to ensure it meets or exceeds the OEM factory specs prior to shipping them, giving you a solid T45 transmission upgrade that is better than factory new crate transmissions. When you buy from us, you'll get a superior T45 transmission that will keep your vehicle running strong.
Flat Rate Shipping (Commercial address)
Excellent Customer Support
Up to 5 Years Unlimited Miles Warranty
No Core Charge for 30 Days
Our T45 Transmission Upgrades
Our quality control process includes build specification checks performed by three different specialized technicians during the remanufacturing process to ensure accuracy and precise fitment.
Inspection of internal parts, including gear wear checks, mainshaft straightness, and synchronization are performed.
Worn and non-functional parts are replaced, including 100% replacement of seals, bearings, and other common components.
Each remanufactured transmission is hot, cold, load, and simulated road tested using our proprietary dynamometer program.
All remanufactured transmissions are backed by the industry's best, no-hassle nationwide warranty.
T45 Frequently Asked Questions
Is a T45 a good transmission?
When Ford retired its epic 5.0 engine for the Ford Modular 4.6, it needed a new transmission. The T45 provided a beefy 31-spline output shaft which helped it to transfer 375 lb-ft of torque to the wheels, while carbon-lined steel synchro rings give smooth shifting at speed. It is generally considered a good manual transmission.
What Mustangs have a T45 transmission?
As part of the fourth generation of the American classic, the Mustang T45 transmission was used for five production years from 1996 to 2000 model years. It was specifically paired to the 4.6L V-8 engine that replaced the 5.0 classic that had been used for 30 years.
Is the T45 a manual transmission?
Manufactured during a major shift at Ford Motor Company, the Ford T45 transmission is a five-speed manual transmission, providing you with a great driving experience. To get the most out of your drive, you'll want one of our high-quality, better than factory new T45 transmissions.
How much does a T45 transmission weigh?
One of the biggest challenges of changing out the transmission is the sheer weight of the metal involved in transferring that much power from the engine to the wheels. Fortunately, the Mustang T45 transmission isn't that much of a bear to lift, weighing in at about 110 pounds.
T45 History & Information
Brought in to replace Ford's T5 transmission when the manufacturer retired the 5.0L engine after over 30 years of production, the 4.6L engine and its match, the Ford T45 transmission, also known as the T-45, had some big shoes to fill. It also was the first manual transmission that had to work with an engine using overhead cams, which brought some new challenges. Because the change happened while Ford was in a state of transition, these changes were rather short-lived compared to the other engines and transmissions around it, with the T5 lasting from 1982 to 1996 and the TR3650, which followed the T45 as a completely new transmission from the ground up, lasting from 2001 to 2010 model years. The T56 six-speed transmission also came into play after the retirement of the T45, providing an alternative that shared many of the same parts.
At the same time, the companies manufacturing the T45 Ford Mustang transmission were also being changed out. Borg Warner started on the contract for the first two years, only to be replaced by Tremec in later years. Though you may hear people say that the Tremec T45 transmissions are superior, this is only due to the changes that were made within the transmission as a whole as production rolled forward through newer model years.
However, the T45 transmission was built to deliver some solid power from the engine to the wheels. A strong 31-spline output shaft is paired with a 10-spline input shaft to move up to 375 lb-ft of torque to the wheels. The 1996 to 1998 model years used seven-tooth speedometer gears in the GT and eight-tooth speedometer gears in the Cobra, with both moved to electronic speed sensors in 1999. The 1998 model year also saw an upgrade in the 3/4 shift fork, with those from prior years being slightly weaker. However, an integral clutch housing that features a front-cover end-loading design delivers increased driveline bending strength as advanced synchronizer technology creates a great experience.
The T45 transmission features gear ratios including 3.37 in first, 1.99 in second, 1.33 in third, 1.00 in fourth, and 0.67 in fifth, with a 3.22 reverse gear ratio. The gears were significantly stronger than the T5s, providing better durability and longevity compared to the older transmission. The T45 transmission also features carbon-lined steel synchro rings to make shifting at high RPMs easier. Fifth gear overdrive provides a wider range of radio coverage, while tapered roller bearings on the main and countershafts reduce chatter and improve the transmission's durability. Needle bearings under the first through fourth gears reduce shift effort while enhancing performance, while the double cone synchronizer design further reduces shift effort in the first and second gears.
Flat Rate Shipping (Commercial address)
Excellent Customer Support
Up to 5 Years Unlimited Miles Warranty
No Core Charge for 30 Days
Speak With A Specialist Now
Habla con un especialista ahora
T45 Transmission Compatibility Chart
MAKE
MODEL
START YEAR
END YEAR
Ford
Mustang
1996
2004
Flat Rate Shipping (Commercial address)
Excellent Customer Support
Up to 5 Years Unlimited Miles Warranty
No Core Charge for 30 Days
Speak With A Specialist Now
Habla con un especialista ahora