Flat Rate Shipping (Commercial address)
Up to 5 Years Unlimited Mile Warranty
Excellent Customer Support
No Core Charge for 30 Days
Remanufactured 4T60E Transmission Price
Alternative Name: GM 4T60, 4T60-E
Price
Shipping
Core and Fee
Upfront Cost
Warranty
$1724
$270
None
$1994
5 Year
$2184
In Store
$525
$2709
3 Year
$2184
In Store
$525
$2709
3 Year

$2185
In Store
$525
$2710
3 Year
*Core: Waived for 30 Days
*Shipping: We offer Flat Rate Shipping (Commercial address)
*Logos are the property of their respective owners
Why Chose Reman-Transmission.com
| | Reman Transmission | Other Vendors |
| --- | --- | --- |
| Transparent Pricing | Check | x |
| Best Price Guarantee | Check | x |
| Flat Rate Shipping (Commercial address) | Check | x |
| Up to 5 Years Unlimited Mile Warranty | Check | x |
| Torque Convertor Included | Check | x |
| No Core Charge for 30 Days | Check | x |
| Free Shippng on Core Return | Check | x |
Why Chose Reman-Transmission.com
| Question to Ask | Reman Transmission | Other Vendors |
| --- | --- | --- |
| Is shipping free? | We offer Flat Rate Shipping (Commercial address) | Additional or Store Pickup |
| Who pays for Core Return? | We Do | You Do (Store Drop off) |
| Do I pay for Core today? | No, we waive Core Charge for 30 days* | Yes, but will be refunded when shipped back |
| Is torque convertor included? | Always! | Not included |
| What is the warranty? | Up to 5 years/Unlimited miles | Up to 3 years/Unlimited miles |
| Best Price Guarantee? | Yes! (for comparable conditions only) | They Don't |
About Our Remanufactured 4T60E Transmission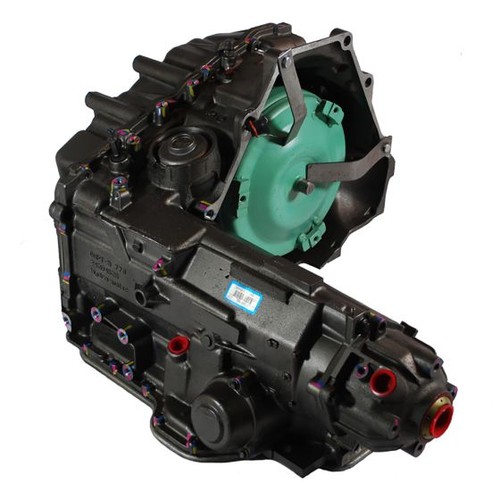 Are you looking to buy a remanufactured 4T60E transmission? We have the 4T60E for sale here at Reman-Transmission at affordable rates that we know that you will appreciate. When you buy a 4T60E HD transmission from us, you can trust that we have done our research and brought you the best used or remanufactured transmission available on the market.
At Reman-Transmission, we pride ourselves on selling affordable transmissions in excellent condition. When you purchase from us, you can trust the part, because we make sure that every transmission is inspected and is in an adequate working condition.
We know that some people won't want to buy a used transmission and may prefer to purchase a remanufactured 4T60-E transmission instead. Our transmissions meet or exceed the original equipment manufacturer's (OEM) specifications because we make sure that every part has been replaced with either new or re-machined parts. That means that your remanufactured transmission is at least as good as the new model and maybe even better since there is an opportunity to address and correct defects and issues that may have been present in the original model.
We offer an excellent warranty for both used and remanufactured transmissions. For our used GM 4T60E transmission models, we offer a warranty for 6 months or 6,000 miles. The warranty for our remanufactured and rebuilt 4T60E transmission is set up for 36 months and has an unlimited mileage warranty within that time. With these warranties, you can feel secure in that we will replace any transmission that does not stand up to the daily grind.
We know that every little cost adds up, so we offer free shipping to commercial addresses and a flat $75 fee to any residential address. We'll ship to you no matter what your preference is, so shop with confidence with us.
Flat Rate Shipping (Commercial address)
Excellent Customer Support
Up to 5 Years Unlimited Miles Warranty
No Core Charge for 30 Days
Our 4T60E Transmission Upgrades
Fully remanufactured torque converter is tested for leaks, lock-up, concentricity, and balance. Upgrades exceed OE requirements and eliminate the possibilities of front seal leaks, premature bushing wear, and vibration.
Thoroughly inspected torque converter support bearing prevents sleeve failure.
Fully remanufactured pump, including replacement of slide pivot pin, provides consistent internal pressures, eliminates pump slide malfunction, and eliminates slipping and/or delayed engagement.
Replaced pump driveshaft roller bearing eliminates pump and driveshaft failure.
Updated solid Teflon pump driveshaft seal prevents torque converter lockup, slip, and chatter.
Thoroughly inspected input clutch housing thrust bearing assures proper endplay and eliminates noisy operation.
Updated 4th clutch shaft prevents loss of 4th gear due to stripped splines.
Fully remanufactured valve body, with updated TCC Apply Valve, TCC Regulator Valve, 1-2 Servo Boost Valve, and Reverse Boost Valve, improves shifting, lubrication, and performance.
New EPC solenoid assures proper line pressure control and shift feel.
Clutch clearances set for improved shift, feel, and timing.
Bushings and machined surfaces polished to a mirror-like OE finish of 15 RA or less.
Tru-Flat qualification process applied to transmission case, valve body, pump, and channel plate prevent cross leaks and pressure losses
All-new custom-spec bushings to improve internal fluid flow control and pressures.
Every transmission is cold-and hot-tested using a proprietary dynamometer testing program that includes fully synthetic automatic transmission fluid and a filtration system.
4T60E Frequently Asked Questions
What cars have the 4T60 transmission?
There are many vehicles that use the 4T60 transmission including the 1997 to 2003 models of the Chevrolet Lumina, Monte Carlo, and Venture. It was also used in Pontiac's Grand Prix and Grand Prix GT and the 2006 to 2007 Chevrolet Malibu. Other models included the Buick Rendezvous, Pontiac Aztek, Buick Terraza, and others.
How do I identify a 4T60-E transmission?
The easiest way to identify the transmission is to look for the RPO code sheet on the driver's door jam or the lid of the trunk. There, it will have a description of the parts. If you see MN7 or M13, you'll know that you have either the 4T65E heavy duty or the 4T60E as your transmission.
What's the difference between 4T60E and 4T65E?
The basic difference is that the 4T65E is stronger than the 4T60-E transmission. The 4T65E does lack an auxiliary cooler, has non-hardened parts and other issues that may need to be corrected with aftermarket parts, which are similar to the issues with the 4T60E.
How much power can a 4T60-E transmission handle?
The 4T60E has been reported to start slipping after reaching 250 wheel horsepower. With aftermarket parts, it is possible to raise this up to 500 in some circumstances. The 4T60E-HD may also be able to support a higher horsepower, as the unit is designed for more powerful engines.
4T60E History & Information
First introduced in 1991 by General Motors, the 4T60-E transmission was an improvement on the 4T60 as a new version with electric controls. It has one predecessor, the Turbo-Hydramatic 125, and a successor, the 6T70. It should also be noted that this transmission underwent some minor changes in its later years that gave it some added durability for select General Motors vehicles and it was dubbed the 4T65E transmission.
Something that makes this transmission appealing is that it was US-built with better availability. It was built at the Warren Transmission plant in Warren, Michigan, in 2011, making it easier to get parts for it within the United States.
The 4T60-E has been used by a wide number of manufacturers, including Pontiac, Oldsmobile, Chevy, Buick, and Cadillac, as this transmission was designed well for midsize vehicles. These vehicles typically had engines ranging from 2.2 to 5.0-liter sizes, showing how versatile the 4T60E can be.
The great thing about the 4T60-E's long history is that it is now able to be built with performance-enhancing upgrades. Today, it has a lock-up torque converter and may have updates such as Teflon pump drive shaft seals. The fourth clutch shaft can also be upgraded to help eliminate the risk of spline stripping to keep the unit running better for longer.
As an electronically controlled transmission, the 4T60E HD transmission or GM 4T60 e transmission is unique in that it is an evolution of the Turbo-Hydramatic 125 and features an automatic overdrive transaxle. The torque converter clutch is also electronically controlled.
The 4T60-E has a 245 mm torque converter as well as varying stall speed and gear ratios. There are 12 different drive ratios possible that can be used across different vehicle and engine applications.
Some of the specific vehicles using this transmission include the Oldsmobile Aurora, Buick LeSabre, Buick Regal, Chevrolet Lumina, Chevrolet Malibu, Saturn Relay, Volvo XC90, and Chevrolet Uplander. The 4T65E-HD was also used as a heavy-duty version in vehicles with powerful engines such as the L67/L32 supercharged V6 or LS4 V8.
Flat Rate Shipping (Commercial address)
Excellent Customer Support
Up to 5 Years Unlimited Miles Warranty
No Core Charge for 30 Days
Speak With A Specialist Now
Habla con un especialista ahora
4T60E Transmission Compatibility Chart
MAKE
MODEL
START YEAR
END YEAR
Buick
Century
1994
1999
Buick
LeSabre
1994
1997
Park Avenue
Park Avenue
1991
1996
Buick
Regal
1993
1997
Buick
Riviera
1995
1996
Buick
Skylark
1994
1998
Chevrolet
Beretta
1994
1996
Chevrolet
Corisca
1994
1995
Chevrolet
Lumina
1993
1999
Chevrolet
Monte Carlo
1995
1999
Chevrolet
Venture
1997
1998
Oldsmobile
88
1994
1997
Oldsmobile
98
1994
1998
Oldsmobile
Achieva
1994
1998
Oldsmobile
Cutlass Ciera
1994
1996
Oldsmobile
Cutlass Cruiser
1994
1994
Oldsmobile
Cutlass Supreme
1993
1997
Oldsmobile
LLS
1996
1997
Oldsmobile
Silhouette
1994
1998
Pontiac
Bonneville
1994
1997
Pontiac
Grand Am
1994
1998
Pontiac
Grand Prix
1993
1999
Pontiac
Trans Sport
1994
1998
Flat Rate Shipping (Commercial address)
Excellent Customer Support
Up to 5 Years Unlimited Miles Warranty
No Core Charge for 30 Days
Speak With A Specialist Now
Habla con un especialista ahora