Flat Rate Shipping (Commercial address)
Up to 5 Years Unlimited Mile Warranty
Excellent Customer Support
No Core Charge for 30 Days
Remanufactured AR5 Transmission Price
Alternative Name: Aisin AR5, AR-5
Price
Shipping
Core and Fee
Upfront Cost
Warranty
$2230
$270
None
$2500
5 Year
$2907
In Store
$291
$3798
3 Years
*Core: Waived for 30 Days
*Shipping: We offer Flat Rate Shipping (Commercial address)
*Logos are the property of their respective owners
Why Chose Reman-Transmission.com
| | Reman Transmission | Other Vendors |
| --- | --- | --- |
| Transparent Pricing | Check | x |
| Best Price Guarantee | Check | x |
| Flat Rate Shipping (Commercial address) | Check | x |
| Up to 5 Years Unlimited Mile Warranty | Check | x |
| Torque Convertor Included | Check | x |
| No Core Charge for 30 Days | Check | x |
| Free Shippng on Core Return | Check | x |
Why Chose Reman-Transmission.com
| Question to Ask | Reman Transmission | Other Vendors |
| --- | --- | --- |
| Is shipping free? | We offer Flat Rate Shipping (Commercial address) | Additional or Store Pickup |
| Who pays for Core Return? | We Do | You Do (Store Drop off) |
| Do I pay for Core today? | No, we waive Core Charge for 30 days* | Yes, but will be refunded when shipped back |
| Is torque convertor included? | Always! | Not included |
| What is the warranty? | Up to 5 years/Unlimited miles | Up to 3 years/Unlimited miles |
| Best Price Guarantee? | Yes! (for comparable conditions only) | They Don't |
About Our Remanufactured AR5 Transmission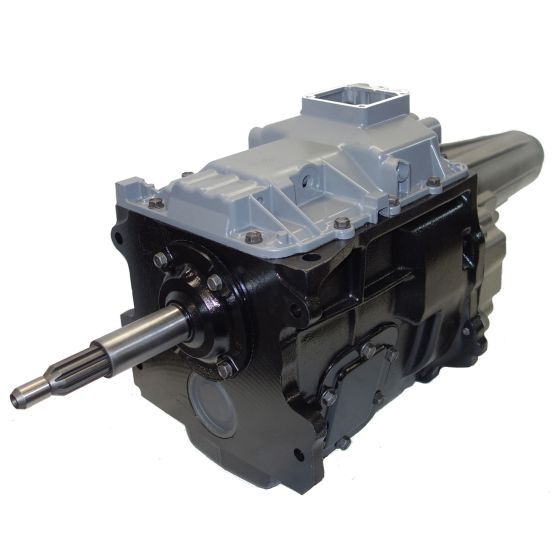 A transmission is an extremely important part of any vehicle. If you're finding that your AR5 transmission is starting to have problems, you'll want to get it replaced. There's no need to invest in a new one or go through the hassle of rebuilding your current one. Instead, you can choose a remanufactured transmission that will give you what you need and get you back on the road again. At Reman-Transmission, you can buy high-quality remanufactured AR5 transmissions at prices you can afford. There are plenty of great reasons to consider our transmissions, and we're confident at least one of those reasons fits your situation.
When a transmission gets rebuilt, you have to replace any defective or worn out parts with new parts. Unfortunately, that often creates uneven wear on some of the parts in the transmission after the rebuild is complete. When you choose a remanufactured Aisin AR5 transmission for sale, though, all worn-out parts are replaced with parts that are either new or re-machined. Because of that, you can expect your remanufactured AR5 transmission to last you up to 200,000 miles or even more. We focus on going beyond just a rebuild, so you can feel confident that any AR5 transmission you buy from us meets or exceeds the OEM specifications. The entire assembly will be reconditioned from the inside out, to make sure that nothing is missed, and every detail is carefully considered.
Originally manufactured by Aisin and providing quality for many different models of vehicles over the years, our AR5 transmission includes upgrades that will help prevent premature failure of the clutch, and reduce the basic wear and tear over time. The regulator valves and other areas of the transmission have also been fully upgraded, so you can expect a trusted, quality remanufactured transmission that's ready to go and will last a long time. There's no reason to settle for less when you can buy from Reman-Transmission with confidence. You want your transmission to last as long as possible, and a remanufactured transmission with upgrades and improvements has the potential to outlast the original OEM transmission from the factory.
Our remanufactured AR5 transmission for sale will cost you significantly less than what you would pay for a new one, and it will offer reliability you can trust not to fail on you down the road. We offer free shipping options and include a warranty of up to 5 years of unlimited mileage. We also don't have any core charge for 30 days, and our customer support from the Aisin AR5 transmission is outstanding. Because we offer a lot of different remanufactured transmissions to choose from, you can get the transmission you really need without having to wait for one to become available. All major domestic and import manufacturers are represented by our large inventory.
Before shipping anything out to our customers, we inspect and test each part, so you know what you're getting will meet or exceed OEM specs. That helps ensure that our transmissions, including the AR5 transmission, will outlast new crate transmissions. When you buy from us, you'll get a professionally built AR5 transmission you can trust. If you need an American or import replacement transmission, get in touch with us at Reman-Transmission today.
Flat Rate Shipping (Commercial address)
Excellent Customer Support
Up to 5 Years Unlimited Miles Warranty
No Core Charge for 30 Days
AR5 Frequently Asked Questions
Is the AR5 transmission good?
While the standard AR5 transmission is a good one for multiple reasons, there can be factory defects in any transmission. Ours are remanufactured to OEM spec and have these defects corrected, so they're better than what you could get from the factory and will last for a long time without worry.
What is the AR5 transmission?
The AR5 transmission is a 5-speed manual that's manufactured by Aisin. It's set up for longitudinal applications and handles as much as 260 lb-ft of torque. General Motors uses this transmission as its RPO MA5 designation, and it was a popular option from 1998 onward.
What cars came with the AR5 Transmission?
The 2004-2008 Chevrolet Colorado, 2004-2008 GMC Canyon, 2006-2010 Pontiac Solstice, 2007-2010 Saturn Sky, 2006-2010 Hummer H3, 1998-2002 Isuzu Trooper, and 2014 Polaris Slingshot all used the Aisin AR5 transmission, making it a popular option for a range of applications.
What is the difference between the Aisin AR5, AX5, and AX15 transmissions?
The AX5 and AX15 are predecessors to the AR5. While the AR5 resembles the other models externally, the gears are synchronized with the gear train using needle bearings and the shafts using roller ball bearings. Spring-loaded keys are used to engage the synchronizer ring onto the speed gear cones.
AR5 History & Information
The AR5 transmission was developed from the AX5 and AX15 transmissions, and shares many of the same components. These transmissions also shared a nearly identical look from the outside. Developed and manufactured by Japanese company Aisin World Corp, the AR5 manual transmission is notable for its strength and adaptability. It was used in a number of different vehicles, and with some modifications to the surrounding components, it could handle everything from a small car to a much larger SUV. It was primarily used in the 2004-2008 Chevrolet Colorado, 2004-2008 GMC Canyon, 2006-2010 Pontiac Solstice, 2007-2010 Saturn Sky, 2006-2010 Hummer H3, and 1998-2002 Isuzu Trooper. Aisin is a large automotive component manufacturer, making it a natural developer of transmissions to go with the other items it creates.
Because Aisin developed so many manual and automatic transmissions, including the AR5, many of the transmissions look very similar. While parts for them aren't interchangeable, working on them was made easier over time by their commonalities. The basic design used in the AR5 transmission was first created as the AX5, which later evolved into the AX15. Both of these were considered "center support" transmissions. The transmissions worked well, were reliable, and were in demand. Owners continued to ask for higher quality levels as the cost of vehicles increased, and the AR5 was a response to that request.
The AR5 is based on the AX15 design and kept the shift mechanism with a main shift rail. This branches off to operate four other internal shift rails, allowing for the selection of the needed gears. The AR5 offered a lightweight design that worked well in a small space. The goal of this transmission and others developed around the same timeframe was to make them as small as possible while still ensuring they had the needed strength and durability. The AR5 transmission strength was important, and it did not disappoint.
With an AR5 5-speed transmission a vehicle could operate for tens of thousands of miles without worries over breakdowns or damage. The GM AR5 transmission quickly became the expected option for many of the company's cars, as GM worked with Aisin to provide components customers could appreciate and enjoy without any concerns over excessive wear or shifting problems. Especially with the different styles and abilities of manual transmission vehicle drivers, a solid transmission that was built to last was important.
The versatility of the AR5 transmission max power options and configuration choices soon became apparent as the AR5 manual transmission was added to more vehicles. The transmission was made in two-wheel-drive and four-wheel-drive options, and has several locations for the shifter, increasing its value to automotive companies that were looking for one solution for several different models of vehicles. Many vehicles that are still on the road today are using these transmissions, due to the durability they offer and the opportunity to have them remanufactured for those who want to keep driving a vehicle they love. It should be noted the Aisin AR5 transmission was typically paired with the T150 transfer case in 4x4 applications.
Flat Rate Shipping (Commercial address)
Excellent Customer Support
Up to 5 Years Unlimited Miles Warranty
No Core Charge for 30 Days
Speak With A Specialist Now
Habla con un especialista ahora
AR5 Transmission Compatibility Chart
MAKE
MODEL
START YEAR
END YEAR
Chevrolet
Colorado
2004
2008
GMC
Canyon
2004
2008
Pontiac
Solstice
2006
2010
Saturn
Sky
2006
2010
Hummer
H3
2006
2010
Isuzu
Trooper
1998
2002
Flat Rate Shipping (Commercial address)
Excellent Customer Support
Up to 5 Years Unlimited Miles Warranty
No Core Charge for 30 Days
Speak With A Specialist Now
Habla con un especialista ahora