Free Shipping
Up to 5 Years Unlimited Mile Warranty
Excellent Customer Support
No Core Charge for 30 Days
loading...
About Our Remanufactured NP273-NV273 Transfer Case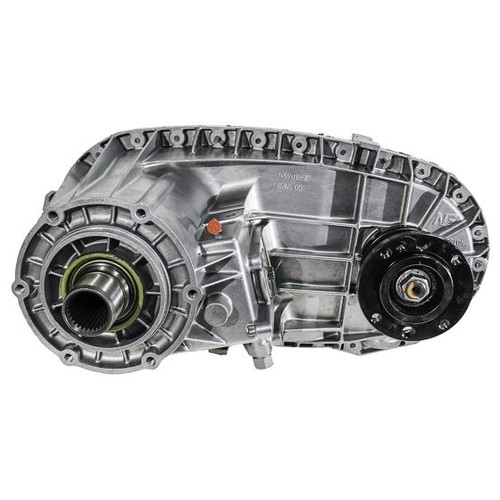 Reman Transmission sells and ships NP273 Transfer Cases throughout the United States. We are the nation's premier provider of high-quality, affordable transmissions and transfer cases. We guarantee the most cost-effective products available, and our remanufactured transfer cases are equally or more reliable than new units.
Transfer case rebuilding typically involves only replacing broken parts. Our exacting transfer case remanufacturing process replaces every component with new or re-machined parts that meet or exceed the original equipment manufacturer's (OEM) specifications.
We also repair any observable factory defects that we find during the transfer case remanufacturing process. In many cases, our remanufactured NP273F transfer cases perform better and last longer than a factory transfer case, especially in a model with known fault points.
Our highly skilled mechanics process every transfer case as an individual unit, from tearing it down to testing it after it's been remanufactured. We test every unit for chain stretch, torque rating, and vicious clutching. All seals and bearings are replaced. Case halves are meticulously inspected for stripped threads, cracks, and excessive wear.
Reman Transmission proudly backs up all of our work with an up-to-5-year, unlimited mileage warranty on all remanufactured transfer cases.
Free Shipping
Excellent Customer Support
Up to 5 Years Unlimited Miles Warranty
No Core Charge for 30 Days
NP273-NV273 Frequently Asked Questions
Is the NP273 transfer case good?
How much does the NP273 weigh?
What fluid goes in an NP273?
What is the difference between a 271 and 273 transfer case?
NP273-NV273 History & Information
Whether you need an NP273F transfer case or an NP273D transfer case for sale, our thorough remanufacturing process will deliver a high-quality unit that will stand up to brutal abuse and heavy torque demand.
Original manufacturer
The original manufacturer of the NP273 transfer case is New Process Gear. The original manufacturer of the NV273 is New Ventrue Gear. It is the same company that changed its name. So, the NP273 lets us know that it is a New Process 273 transfer case rather than a New Venture 273 transfer case, meaning it was manufactured before the company name change.
New Process was a division of the Chrysler Corporation until the name was changed to New Venture. There is still no consensus in the automotive industry about which to use, meaning either name is suitable. NP273 transfer cases were originally manufactured at a facility in East Syracuse, New York. That changed when production shifted to a new assembly facility in Mexico in 2010.
Specifications
NV273 transfer cases are for heavy-duty Ford and Dodge trucks. Note that the 273C, 273D, and 273F are not interchangeable. The 273C was used in the Chevrolet Silverado 2500 and 3500 trucks. The 273D was used for the Ram 2500, Ram 3500, Ram 4500, and Ram 5500 trucks. The 273F was put in the Ford F250, F350, F450, and F550 trucks. Common transmissions that this transfer case bolts up to are the 4R100, ZF5, ZF6, Allison 1000, and the AS68RC. The 273C was used on the Overall, the NV273 transfer case features:
Handles payloads up to 17,500 pounds
1.00: 1 high range planetary reduction
2.72: 1 low range planetary reduction
4-pint (2-quart) fluid capacity
Cast aluminum casing
Chain-driven design
Weighs 119 pounds
Free Shipping
Excellent Customer Support
Up to 5 Years Unlimited Miles Warranty
No Core Charge for 30 Days
Speak With A Specialist Now
Habla con un especialista ahora
NP273-NV273 Transfer Case Compatibility Chart
MAKE
MODEL
START YEAR
END YEAR
Dodge
Ram 2500
2003
2012
Dodge
Ram 3500
2003
2015
Chevrolet
Silverado 3500
2006
2007
Dodge
Ram 4500
2008
2011
Chevrolet
C4500 Kodiak
2006
2007
Dodge
Ram 5500
2008
2012
Chevrolet
C5500 Kodiak
2006
2007
Chevrolet
C6500 Kodiak
2006
2007
Chevrolet
C7500 Kodiak
2006
2007
Ford
Excursion
2000
2005
Ford
F250
1999
2010
Ford
F350
1999
2010
Ford
F450
1999
2010
Ford
F550
1999
2010
Free Shipping
Excellent Customer Support
Up to 5 Years Unlimited Miles Warranty
No Core Charge for 30 Days
Speak With A Specialist Now
Habla con un especialista ahora