Flat Rate Shipping
Up to 5 Years Unlimited Mile Warranty
Excellent Customer Support
No Core Charge for 30 Days
About Our Remanufactured BW1356 Transfer Case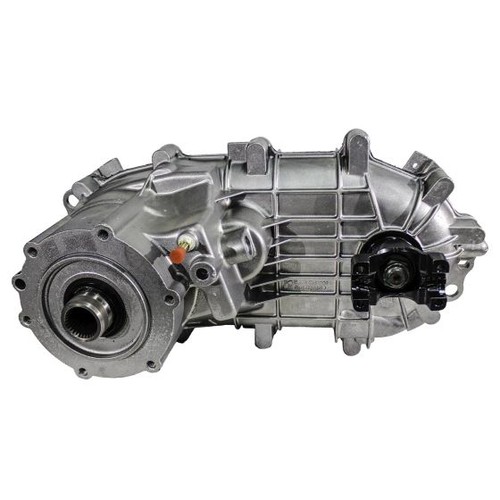 We sell quality remanufactured BW1356 transfer cases that are the most affordable in the industry. We disassemble them and then re-assemble them with re-machined or brand new (OEM) parts. Our team goes beyond the rebuild to make sure that each component is thoroughly cleaned, reconditioned, and inspected by our experienced technicians during the process. We also make sure that every element is tested to meet the original equipment (OE) standards. Finally, we ensure that any part that does not meet the standards is replaced with a brand new part.
Once all the components meet our high-quality specification standards, we send them back to the assembly line where they are assembled by our experienced technicians. The BW1356 transfer case is then inspected for leaks and imperfections before releasing them for sale.
Our Borg Warner 1356 transfer case pto is also remanufactured to continue receiving upgrades and updates. We can fix minor issues with the design and implement all solutions to ensure that the rebuilt transfer case is up to the task and ready to deliver exceedingly well. We are the go-to guys if you are looking for BW1356 for sale near me.
Advantages Of Our BW1356 Transfer Cases
They are built in factory settings
We rebuild the Borg-Warner 1356 transfer cases on our assembly line. We have qualified technicians in different areas who ensure that every case goes through a rigorous quality check process during the rebuilding process. This translates to the Borg-Warner 1356 transfer case for sale giving longer service since it is of the highest quality.
We replace parts
We disassemble and clean all parts of the Warner 1356 to factory perfection. We install updated parts and replace all worn-out components.
We perform rigorous testing on our cases
Before we release the BW1356 for sale, we ensure that it undergoes thorough testing. We test them with a machine that simulates real driving, and that way, you do not have to mistake that they won't serve you well, because they are cheap.
Flat Rate Shipping
Excellent Customer Support
Up to 5 Years Unlimited Miles Warranty
No Core Charge for 30 Days
BW1356 Frequently Asked Questions
What are the symptoms of a bad Borg Warner 1356 transfer case?
The main symptom of a bad Borg Warner 1356 transfer case is a clunking noise when engaged in 4Hi or 4 Lo gears. The noise is usually prominent when making a turn or going straight. However, if the hubs are unlocked and engaged in 4 WD or 2 WD, the noise disappears completely.
How much horsepower can a BW1356 transfer case handle?
The BW1356 can hold up to 300 to 400 HP. However, if one needs more horsepower, a BW 44-07 can be sourced from a 90's manufactured F350. It has a significantly larger build and is designed to hold more diesel power.
What fluid does a Borg Warner transfer case take?
The transfer case is designed with an internal oil pump whose main responsibility is to lubricate the gears when it is in operation. Therefore, it is advisable to avoid heavy gear oils since they reduce the transfer case's life and lead to premature failure.
How much does the BW1356 transfer case weigh?
The Warner 1356 weighs 110 lbs. It has a cast magnesium case, and two separate castings joined in the middle with bolts. Its weight results from the heavy magnesium and the many rib castings. The BW1356 for sale case is one of the most sturdy cases on the market today.
BW1356 History & Information
The BW1356 made its first market debut in 1987 and lasted almost 10 years. It is one of Borg Warner's most popular cases and was designed to be used in Ford vehicles that were manufactured between 1980 through 1997. Specifically, this transfer case was used as a Ford Bronco transfer case as well as Ford F150, F250, and F350 transfer cases. From the factory, this transfer case was usually mounted to a 4R100 or E4OD transmission. This case has both the manual and electric shift versions. The shifting mechanism of the electronic version has different challenges, but the best thing is that components are readily available. The electric shift motor can also be converted to a manual shift by swapping for the Borg-Warner 1356 using a twin-stick version designed to work with the Borg-Warner 1356. The kit has an aluminum casing and has three main roller bearings, two-needle roller bearings, output to input bearing, an adaptor gasket, seals, and O-rings. The electronic shift version uses the worm gear driving mechanism, and its magnesium case has its ribs cast into the case. The transfer case also has an internal pump whose main job is to lubricate the bearings in operation. Since the pump is designed for ATF, it is crucial to use the best fluid and avoid heavy gear oils since they directly impact the case's longevity and premature failure. It can produce more torque when compared to many gas engines since it has a 7.3-liter turbo that produces more energy. It is easily identifiable by the 1356 stamp located on the transfer case (in most cases, the backside). It is made of magnesium with a ribbed two-piece transfer case that is bolted together at the center. This is undoubtedly one of the most efficient and cheap transfer cases the market offers. It is cheap and can also be found online, making it easy for vehicle owners to order it express and have it delivered to their door.
Flat Rate Shipping
Excellent Customer Support
Up to 5 Years Unlimited Miles Warranty
No Core Charge for 30 Days
Speak With A Specialist Now
Habla con un especialista ahora
BW1356 Transfer Case Compatibility Chart
MAKE
MODEL
START YEAR
END YEAR
Ford
Bronco
1987
1989
Ford
F150
1989
1997
Ford
F250
1987
1997
Ford
F350
1988
1997
Flat Rate Shipping
Excellent Customer Support
Up to 5 Years Unlimited Miles Warranty
No Core Charge for 30 Days
Speak With A Specialist Now
Habla con un especialista ahora