Flat Rate Shipping (Commercial address)
Up to 5 Years Unlimited Mile Warranty
Excellent Customer Support
No Core Charge for 30 Days
Remanufactured 4L85E Transmission Price
Alternative Name: GM 4L80, 4L80-E
Price
Shipping
Core and Fee
Upfront Cost
Warranty
$2111
$270
None
$2381
5 Year
$2310
In Store
$985
$3295
3 Year
$2360
In Store
$989
$3349
3 Year

$2310
In Store
$985
$3295
3 Year
*Core: Waived for 30 Days
*Shipping: We offer Flat Rate Shipping (Commercial address)
*Logos are the property of their respective owners
Why Chose Reman-Transmission.com
| | Reman Transmission | Other Vendors |
| --- | --- | --- |
| Transparent Pricing | Check | x |
| Best Price Guarantee | Check | x |
| Flat Rate Shipping (Commercial address) | Check | x |
| Up to 5 Years Unlimited Mile Warranty | Check | x |
| Torque Convertor Included | Check | x |
| No Core Charge for 30 Days | Check | x |
| Free Shippng on Core Return | Check | x |
Why Chose Reman-Transmission.com
| Question to Ask | Reman Transmission | Other Vendors |
| --- | --- | --- |
| Is shipping free? | We offer Flat Rate Shipping (Commercial address) | Additional or Store Pickup |
| Who pays for Core Return? | We Do | You Do (Store Drop off) |
| Do I pay for Core today? | No, we waive Core Charge for 30 days* | Yes, but will be refunded when shipped back |
| Is torque convertor included? | Always! | Not included |
| What is the warranty? | Up to 5 years/Unlimited miles | Up to 3 years/Unlimited miles |
| Best Price Guarantee? | Yes! (for comparable conditions only) | They Don't |
About Our Remanufactured 4L85E Transmission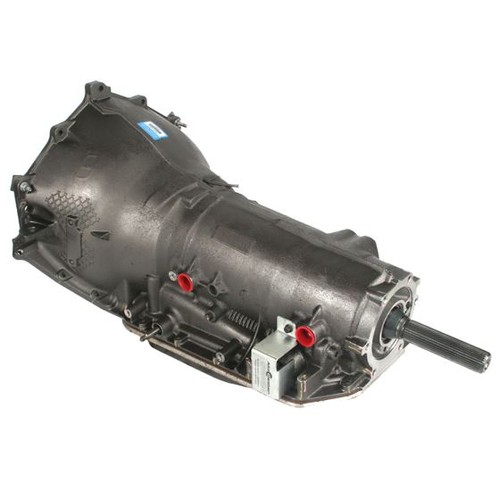 4L85E heavy-duty automatic transmissions are consistently in demand due to their reliability and use in many vehicles over the years. For anyone looking to buy a 4L85E transmission for sale, wanting to swap out a 4L85E 4x4 transmission, or just simply looking to get a rebuilt GM 4L85E transmission that lasts, our experienced engineers and mechanics are here to make it a reality.
The GM 4L85E is one of the transmissions we're known for remanufacturing and selling used, making sure our customers' vehicles can continue to run and operate safely, efficiently, and smoothly.
Most of our customers come to us for used and remanufactured transmissions to save on costs. It costs significantly less to purchase a high-quality remanufactured transmission from us than to buy a brand new transmission from the manufacturer.
We've also received a large number of compliments from customers who appreciate the amount of detail and effort we put into our 4L85E remanufacturing process. Instead of just swapping outworn parts, we go a step further and replace or re-machine every single part inside of your used 4L85-E transmission. Every part we use will be verified to meet or exceed the Original Equipment Manufacturer (OEM) spec.
Even though the 4L85E transmission has been known to be fairly reliable, no transmission is without its occasional factory defects and flaws.
Our expert team of mechanics and engineers who live and breathe transmissions know all of the 4L85E's typical factory defects and problems. When we remanufacture a 4L85E, we'll go in and fix every factory defect and repair any issues we see.
The result? We often produce remanufactured transmissions that outperform what you'd get from the original manufacturer!
Every automatic remanufactured transmission we produce comes with a 5-year warranty covering unlimited mileage. That's right – you can drive your vehicle as long as you'd like within the 5-year warranty period, and we'll take care of any hiccups.
You can rest assured you'll receive a high-quality 4L85E transmission from us that runs well, shifts smoothly, and arrives at your doorstep with free and fast shipping if you reside at a commercial address in the United States.
We're here to make our customers' lives as easy as possible, help you avoid any transmission problems, and get you on your way to purchasing the high-quality transmission you deserve. Feel free to reach out and contact us about how we can help you with your GM 4L85E transmission.
Flat Rate Shipping (Commercial address)
Excellent Customer Support
Up to 5 Years Unlimited Miles Warranty
No Core Charge for 30 Days
Our 4L85E Transmission Upgrades
Fully remanufactured valve body, with complete system correction and recalibration kit, improves pressure control and shift quality.
Upgraded actuator feed limit valve prevents missing shifts and premature transmission failure.
Upgraded 34 element intermediate sprag increases holding capacity.
All-new shift solenoids ensure positive shifting.
EPC solenoid is tested separate from the transmission to confirm precise pressure control.
Updated force motor for improved pressure control.
Updated pressure regulator prevents overly high pressure.
Case connector is updated to the latest design on pre-1994 versions, and a vehicle harness pigtail is provided to address connection issues with the early design.
Fully remanufactured torque converter is tested for leaks, lock-up, concentricity, and balance. Upgrades exceed OE requirements and eliminate the possibilities of front seal leaks, premature bushing wear, and vibration.
No Walkout rear case bushing is installed, addressing an OE flaw, to prevent case and output shaft damage.
All-new custom-spec bushings to improve internal fluid flow control and pressures.
Every transmission is cold-and hot-tested using a proprietary dynamometer testing program that includes fully synthetic automatic transmission fluid and a filtration system.
4L85E Frequently Asked Questions
How much horsepower can a 4L85-E handle?
A stock 4L85-E transmission typically handles 400-500 horsepower. With a remanufacturing process like ours, a 4L85-E transmission can be slightly modified to handle over 1,000+ HP all the way up to 1500 HP with significant mods, offering your vehicle a significant boost in power handling and performance tuning.
What's the difference between a 4L60E and 4L85E transmission?
The 4L80E is more abundantly used in heavy-duty vehicles commonly equipped with big-block engines, diesel engines, and 4WD because of its heavier duty internal components which can be seen in a simple weight comparison. For example, the 4L60E only weighs approximately 150 pounds total while the 4L85E weighs almost 180 pounds and that's without fluid.
What's the difference between 4L80E and 4L85E?
The 4L80E has a lock-up torque converter, overdrive top gear, and better electronic controls. The 4L85E contains many of the same components as a 4L80E but is rated at a staggering 690 ft-lb while the 4L80E is rated at 440 ft-lb. Most of the increased power handling capability the 4L85E has comes from its five pinion gears versus the four in the 4L80E.
Is the 4L85E an Allison transmission?
No, the 4L85E is not a transmission manufactured by Allison, but rather, is manufactured by General Motors (GM). It is possible to replace or interchange a 4L85E transmission with an Allison transmission or get your 4L85E rebuilt or remanufactured by our expert team.
4L85E History & Information
The 4L85-E (a heavier-duty version of the 4L80-E) is an automatic transmission from General Motors (GM) originally designed for longitudinal engines. The 4-speed 4L85-E came about as an electronically controlled, improved version of the 3-speed Turbo-Hydramatic 400 (TH400) that came out in 1963. These transmissions were originally built at the Willow Run Transmission factory in Ypsilanti, Michigan. It should be noted that the 4L85E is the most heavy-duty transmission produced out of the 4L series General Motors transmissions which also includes the 4L60E, 4L65E, 4L70E, 4L75E, and 4L80E. It should be noted that the successor to this transmission is the GM 6L80 transmission. The 4L85E has been used with the NV246, NV261, and NV263 transfer cases but most commonly the 246.
Used by Chevrolet and GMC in pickup trucks, commercial vehicles, vans, and even the Hummer H1, even Rolls Royce adopted and modified the 4L80/85 transmission due to its reliability and versatility.
The 4L85-E (GM Regular Production Option (RPO) MN8) is rated all the way up to 690 ft-lb of torque compared to the lighter-duty 4L80-E that's only rated at 440 ft-lbs. Vehicles with a Gross Vehicle Weight Rating (GVWR) of up to 18,000 lbs can utilize the 4L85E, with the only exceptions being the type of vehicle and its axle ratio.
Several notable heavy-duty vehicles that utilize the 4L85-E transmission include:
Since the 4L85E is an impact-driving and heavy-duty transmission that's proved reliable over the decades, many vehicle owners want a 4L85E transmission in their vehicle either through a swap, rebuild, or a bought used transmission from a high-quality transmission provider like our shop.
If you're interested in obtaining a 4L85E for your vehicle or rebuilding one of your existing 4L85Es, we're available to help.
Flat Rate Shipping (Commercial address)
Excellent Customer Support
Up to 5 Years Unlimited Miles Warranty
No Core Charge for 30 Days
Speak With A Specialist Now
Habla con un especialista ahora
4L85E Transmission Compatibility Chart
MAKE
MODEL
START YEAR
END YEAR
Chevrolet
Avalanche 2500
2002
2006
Chevrolet
Express 3500
2006
2007
Chevrolet
Silverado 1500
2004
2006
Flat Rate Shipping (Commercial address)
Excellent Customer Support
Up to 5 Years Unlimited Miles Warranty
No Core Charge for 30 Days
Speak With A Specialist Now
Habla con un especialista ahora