Flat Rate Shipping (Commercial address)
Up to 5 Years Unlimited Mile Warranty
Excellent Customer Support
No Core Charge for 30 Days
Remanufactured 4L70E Transmission Price
Alternative Name: 4L70, 4L70-E, Turbo-Hydramatic
Price
Shipping
Core and Fee
Upfront Cost
Warranty
$2106
$270
None
$2376
5 Year
$1915
In Store
$503
$2418
3 Year
$1915
In Store
$503
$2418
3 Year

$1915
In Store
$503
$2418
3 Year
*Core: Waived for 30 Days
*Shipping: We offer Flat Rate Shipping (Commercial address)
*Logos are the property of their respective owners
Why Chose Reman-Transmission.com
| | Reman Transmission | Other Vendors |
| --- | --- | --- |
| Transparent Pricing | Check | x |
| Best Price Guarantee | Check | x |
| Flat Rate Shipping (Commercial address) | Check | x |
| Up to 5 Years Unlimited Mile Warranty | Check | x |
| Torque Convertor Included | Check | x |
| No Core Charge for 30 Days | Check | x |
| Free Shippng on Core Return | Check | x |
Why Chose Reman-Transmission.com
| Question to Ask | Reman Transmission | Other Vendors |
| --- | --- | --- |
| Is shipping free? | We offer Flat Rate Shipping (Commercial address) | Additional or Store Pickup |
| Who pays for Core Return? | We Do | You Do (Store Drop off) |
| Do I pay for Core today? | No, we waive Core Charge for 30 days* | Yes, but will be refunded when shipped back |
| Is torque convertor included? | Always! | Not included |
| What is the warranty? | Up to 5 years/Unlimited miles | Up to 3 years/Unlimited miles |
| Best Price Guarantee? | Yes! (for comparable conditions only) | They Don't |
About Our Remanufactured 4L70E Transmission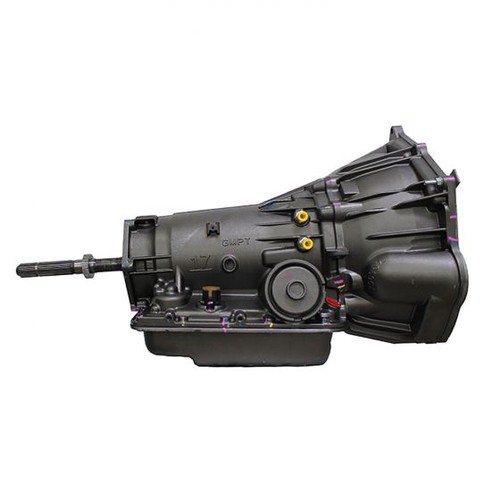 A transmission is a crucial part of any vehicle, but what do you do when your 4L70E starts causing problems? Should you invest in a new one? The thing is, straight out of the factory, the 4L70E is great, but it's nothing remarkable. What if you go for a typical rebuild? That may not be the best choice either because rebuilding involves replacing worn-out or defective transmission parts with new ones. This results in unequal wear on the different parts of the rebuilt transmission. Your best bet in this situation is a remanufactured transmission from Reman Transmission.
Our high-quality 4x4 4L70E transmission is built for modern-day performance. It has all the worn-out parts replaced with new or re-machined parts like a typical rebuild. However, we go the extra mile to ensure that the entire transmission from the inside-out is reconditioned. We even go as far as correcting any known factory defects, and as a result, our remanufactured transmissions often outperform and outlast new stock models.
Our 4L70E transmission includes upgraded aluminum OE 1-2 accumulator pistons that prevent basic wear and premature clutch failure. Speaking of clutches, we offer a high-energy 3-4 clutch pack, upgraded from 6 to 7 clutches. There's also a fully remanufactured pump, fully updated regulator valves, actuator feed limit valves, and TCC control.
What's more, if you choose to go the route of used transmissions, we've got you covered. Our used transmissions are in perfect working condition and are some of the most affordable in the industry.
Our stock includes remanufactured transmissions from all major domestic and foreign manufacturers, including the 4L70E transmission 4wd and 2wd. We inspect and test each part rigorously to ensure it meets or exceeds OEM specifications before shipping. Speaking of shipping, we offer free and fast delivery to any U.S. commercial address and up to 5 years of unlimited mileage warranty. Plus, our customer service will assist you through every step of the purchase process.
If you need a powerful and dependable 4L70E — American or imported — that can last up to 200,000 miles or more, call Reman Transmission at (888) 242-2605 or fill out this quick contact form today.
Flat Rate Shipping (Commercial address)
Excellent Customer Support
Up to 5 Years Unlimited Miles Warranty
No Core Charge for 30 Days
Our 4L70E Transmission Upgrades
Complete system correction and recalibration kit installed to address several OE flaws. Modifications include updates to servos, the PR system, and valve body accumulators.
Oversize PR valves utilized to restore hydraulic integrity.
TCC control valve, TCC regulator valve, and Actuator Feed Valve updated to address common wear problems.
1-2 Accumulator Pistons, upgraded to aluminum, replace the OE plastic pistons that can cause premature clutch failure.
Tru-Flat stator qualification and machining process.
Sun Shells updated to the latest, stronger, and more durable design, eliminating common OE failures.
High Energy 2-4 band installed to increase durability over the OE design.
High Energy 3-4 clutch pack, upgraded from 6 to 7 clutches to increase durability and torque capacity.
Completely remanufactured pump with new line bore bushings to eliminate leaks and provide superior flow and durability.
Fully remanufactured and improved torque converter is tested for leaks, lock-up, concentricity, and balance. Upgrades exceed OE requirements and eliminate the possibilities of front seal leaks, premature bushing wear, and vibration.
All-new custom-spec bushings to improve internal fluid flow control and pressures.
Every transmission is cold-and hot-tested using a proprietary dynamometer testing program that includes fully synthetic automatic transmission fluid and a filtration system.
4L70E Frequently Asked Questions
Can a 4L70E replace a 4L60E?
Short answer: yes. The 4L70E is a straight upgrade to the 4L60E and can replace it for the most part. However, the 4L70E has different internal wiring that may not be compatible with vehicles sporting older transmissions. That said, The 4L70E is definitely ahead of its predecessor, and you can get even more out of it with our custom GM 4L70E transmission for sale.
Is a 4L70E a good transmission?
The high-quality electronically controlled 4L70E is a workhorse of a transmission. It offers more reliability and power than its predecessors. It can handle engines in the 300−400 HP range, but with our rebuilds, you can apply it to an engine making over 400 HP or lbs-ft of torque.
What is the difference between a 4L60E and a 4L70E?
Externally, you can't tell the GM 4L60E apart from its successor, the 4L70E. However, internally, things are very different. The 4L70E loses the 3-2 downshift solenoid, hence the vastly different valve body compared to the 4L60E. The schematics and internal wiring have also been changed entirely, and the 4L70E uses an Internal Mode Switch (IMS) over the old NSBU switch.
What is the difference between a 4L80E and a 4L70E?
The 4L70E is noticeably different from the 4L80E. The latter is a heavy-duty transmission built for large trucks. It weighs considerably more at 178 lbs dry versus the 133 lbs of the 4L70E. Rather than a successor to the 700R4 4L70E, the 4L80E's design was taken from the heavy-duty TH400. It is ideal for performance engines making an excess of 500-600 HP or lbs-ft of torque.
4L70E History & Information
Though the GM 4L70E, or 4L70E for short, has quickly established itself in the modern market, GM's rich transmission history dates back to the late 70s and early 80s.
GM created the THM200 as a lighter alternative to the THM350, which was very popular at the time. The company subsequently improved upon the design in the following decade with the release of the THM200-4R (or just 200-4R). The 200-4R maintained similarities to the THM200 and THM350 that came before and brought useful changes such as a versatile multicase bell housing, several gear ratios, and torque converters.
The 200-4R was so successful that GM modeled the next-in-line 700R4 transmission after it. The 700R4 launched in 1982 and was later renamed the 4L60 in 1990, in keeping with a new naming scheme. GM released the 4L60 with electronic controls two years later and called it the 4L60E, marking a new era in GM transmissions.
Still, it was only after 2001 that the 4L65E and 4L70E were released. They improved on the design of the preceding 4L60E with a sturdier build, five-pinion planetaries against the 4L60E's four, and a much stronger output shaft. The 4L65E and 4L70E share the same stock case design and torque converter lock and deliver a similar experience to the 4L60E. However, they have better capabilities for power and speed.
The 4L70E is a 4-speed longitudinal automatic overdrive transmission with five gears, including reverse. As you can already tell, the E in the name signifies that it uses electronic controls over a throttle valve cable. Its outer case is aluminum, making it considerably lightened — it weighs about 133 lbs without transmission fluid. This results in much better fuel efficiency than previous models. Its affordable build, swap friendliness, and ease of repair have caused the 4L70E 4x4 transmission to quickly gain a reputation for being a workhorse gear mechanism with excellent reliability and a good deal of power. The 4L70E transmission was most commonly mated with the Magna Powertrain MP3023LD transfer case. The 4L70E was used in vehicles such as the Chevrolet Avalanche, Chevrolet Silverado 1500, Chevrolet Trailblazer, GMC Yukon XL, Saab 9-7x, and GMC Sierra 1500.
The GM 4L70E has since been succeeded by the more powerful 4L75E, 4L80E, and 4L85E. The 4L80E, in particular, weighs significantly more and is primarily used in heavy-duty vehicles due to its considerable power.
If your GM 4L70E transmission is giving you problems or you want something more robust than the stock version, your best bet is to replace it with a remanufactured transmission. That said, it takes a skilled transmission remanufacturing company to make remanufactured transmissions that are better than new. So be sure to check out our inventory for a high-quality remanufactured 4L70E transmission for sale at an affordable price from Reman Transmission.
Flat Rate Shipping (Commercial address)
Excellent Customer Support
Up to 5 Years Unlimited Miles Warranty
No Core Charge for 30 Days
Speak With A Specialist Now
Habla con un especialista ahora
4L70E Transmission Compatibility Chart
MAKE
MODEL
START YEAR
END YEAR
Chevrolet
Avalanche 1500
2007
2008
Chevrolet
Silverado 1500
2006
2008
Chevrolet
Trailblazer
2006
2009
GMC
Yukon XL 1500
2007
2008
Saab
9-7X
2008
2009
GMC
Sierra 1500
2006
2008
Flat Rate Shipping (Commercial address)
Excellent Customer Support
Up to 5 Years Unlimited Miles Warranty
No Core Charge for 30 Days
Speak With A Specialist Now
Habla con un especialista ahora