Flat Rate Shipping
Up to 5 Years Unlimited Mile Warranty
Excellent Customer Support
No Core Charge for 30 Days
About Our Remanufactured NP246-NV246 Transfer Case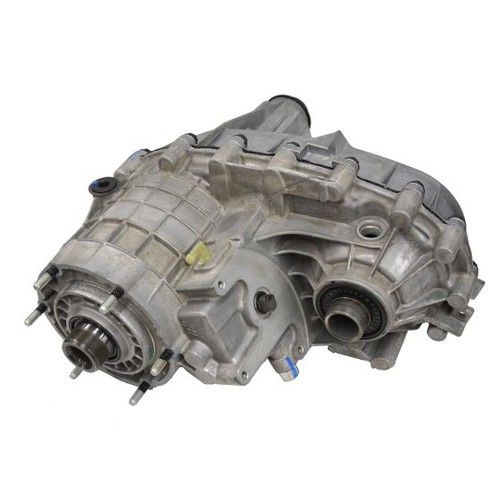 We offer a vast selection of top-quality restored replacement transfer cases online for cheap prices. Our highly trained and certified master builders disassemble and inspect every NP246 transfer case we offer in our catalog closely for cracks, stripped threads, and wear. They then replace every component with new or re-machined parts. The highly experienced inspection team carefully checks each piece thoroughly upon completion. We are so confident in our products' lasting value and longevity that they come with an unlimited mileage warranty with the availability of up to three years.
While nobody previously used new NV246 transfer cases, that does not guarantee there aren't any manufacturer defects that will cause you costly problems and frustration in the future. Our NP246 transfer cases out-perform, are reliable, and we guarantee consumer satisfaction. They out-do our competitors' transfer cases because of our process and replacing every part. They also commonly outlast and are more dependable than purchasing a brand-new NV246 transfer case from the manufacturer. Buying our high-quality 246 gm transfer case will not only save you money, but quality transfer cases will also save you the stress of dealing with defective parts. Our NP246 transfer cases are precision-built using the best new or rebuilt components available.
You'll find that we rebuild our used np246 transfer case for sale with excellence, and they are the most affordable in the industry. We replace every part within the transfer cases with refurbished parts that meet and often exceed the original manufacturer's part expectations. We further repair the transfer cases with known factory manufacturer defects. Our new venture 246 transfer case with updated factory manufacturing fault points is higher quality and more reliable than buying them new because of our careful and efficient repairs. Our products are in stock and ready to ship! We provide fast shipping free of cost to all commercial businesses within the United States, and there is a low .75 fee for shipping to private residences. Our highest priorities are top-quality and long-lasting remanufactured NV246 transfer cases and outstanding customer service.
Flat Rate Shipping
Excellent Customer Support
Up to 5 Years Unlimited Miles Warranty
No Core Charge for 30 Days
NP246-NV246 Frequently Asked Questions
The NP246 fits a variety of Chevrolet and GMC vehicles. Because there are variations of the new process 246 gm, ensure you have the assembly number or vehicle's VIN on hand when you place the order.
How much does an NP246 transfer case weigh?
A new NV246 weighs approximately 85 pounds when it is dry. Our quality rebuilt transfer cases weigh roughly the same as new transfer cases but are complete with replacement parts.
What fluid goes in an NP246?
Keep your transfer case running by checking and maintaining the fluid levels. 246 gm transfer case rebuild lubrication will keep the transfer case running smoothly and prevent overheating. Check the fluids regularly and replace them every 30,000 miles.
What transfer case does a 4L80E have?
1998-2002 GM trucks with a 4L80E transmission require the NP246 gm transfer case. The transfer case has a flat-sided shift selector with a 32 spline input shaft. We repair our transfer cases to resolve the pump rub issue and guarantee customer satisfaction.
NP246-NV246 History & Information
The NV246 transfer cases fit various vehicles, and there are several variations. You will need your vehicle's VIN to verify the correct transfer case for your vehicle. Generally, however, the NP246D was used in mainly older Dodge vehicles while the NV246D was used in newer Dodge vehicles, and the NV246C was used in General Motors vehicles like Chevrolet and GMC. The NP246 transfer case is a power divider that provides some vehicles with four-wheel-drive capabilities. It does this by allowing torque from the transmission to split between the front and rear axles. A new 246 gm transfer case weighs approximately 85 pounds.
New Venture Gear, a division of Magna Powertrain (originally New Process Gear), was the original manufacturer of the np246 transfer case. They produced them from 1999 until 2007. The transfer case's predominant uses were for the 4L60E, 4L65E, and 4L80E transmissions that were commonly found in many GM vehicles. The most common vehicles this transfer case was used in were the Cadillac Escalade, Chevrolet Avalanche, Chevrolet K1500 Suburban, Chevrolet K2500 Suburban, Chevrolet Silverado 1500, Chevrolet Silverado 2500, Chevrolet Tahoe, GMC K1500 Suburban, GMC K2500 Suburban GMC Sierra 1500, GMC Sierra 2500, GMC Yukon, GMC Yukon XL 1500, and Dodge Ram 1500. The manufacturing plant for the 246 cases had locations in Syracuse, New York, and Muncie, Indiana. They produced the transfer cases for General Motors, Ford, and Chrysler.
The original NP246 has a design defect they call pump rub. The running pump rubs with inside components, causing tiny pin-hole punctures in the magnesium shell. Fluid seeps through the pin-holes and evaporates. Insufficient fluid levels leave the transfer case without the proper amount of lubrication it needs for cooling. The defect causes the problem to occur gradually over time, and vehicle owners rarely realize there is an issue until there is significant damage to the internal mechanisms within the transfer case. When our master builders replace the components in the np246 rebuild, they eliminate this costly problem.
Flat Rate Shipping
Excellent Customer Support
Up to 5 Years Unlimited Miles Warranty
No Core Charge for 30 Days
Speak With A Specialist Now
Habla con un especialista ahora
NP246-NV246 Transfer Case Compatibility Chart
MAKE
MODEL
START YEAR
END YEAR
Chevrolet
Avalanche 1500
2002
2007
Chevrolet
Avalanche 2500
2002
2006
Cadillac
Escalade
1999
2000
Chevrolet
K1500 Suburban
1998
1999
GMC
K1500 Suburban
1998
1999
GMC
K2500
1999
1999
Chevrolet
K2500 Suburban
1998
1999
GMC
K1500 Suburban
1998
1999
Dodge
Ram 1500
2006
2010
GMC
Sierra 1500
1999
2007
GMC
Sierra 2500
1999
2004
GMC
Sierra 3500
2001
2002
Chevrolet
Silverado 1500
1999
2007
Chevrolet
Silverado 2500
1999
2006
Chevrolet
Silverado 3500
2001
2002
Chevrolet
Suburban 1500
2000
2007
Chevrolet
Suburban 2500
2000
2007
Chevrolet
Tahoe
1998
2007
GMC
Yukon
1998
2007
GMC
Yukon XL 1500
2000
2007
GMC
Yukon XL 2500
2000
2007
Flat Rate Shipping
Excellent Customer Support
Up to 5 Years Unlimited Miles Warranty
No Core Charge for 30 Days
Speak With A Specialist Now
Habla con un especialista ahora