Flat Rate Shipping
Up to 5 Years Unlimited Mile Warranty
Excellent Customer Support
No Core Charge for 30 Days
About Our Remanufactured NP263-NV263 Transfer Case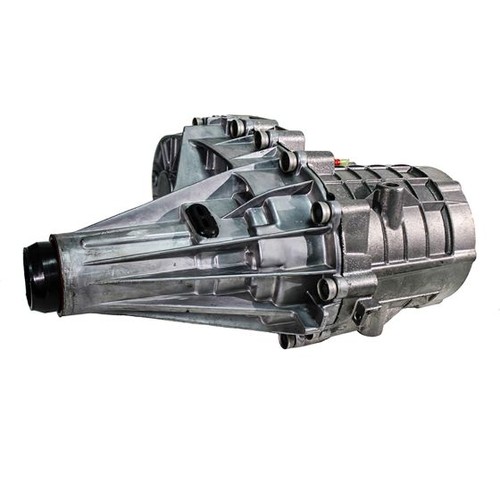 When you purchase a transfer case from us, you're not just getting a cheap and affordable deal. Our NV263XHD transfer case rebuilds are even better than new ones. Unlike many other companies who offer NP263HD transfer cases remanufactured to factory specs, we replace every part within the t-case. When we say "rebuilt" or "remanufactured," we mean it from top to bottom, inside and out. Where we can't get new parts to install, we use newly created and re-machined OEM parts.
When your 263xhd transfer case gets every single part from the housing to the ball bearings and bushings replaced, you end up with a remanufactured t-case that not only meets but may even exceed original manufacturer specifications for OEM parts across the board. We even correct all known and common manufacturer defects while remanufacturing the case. That means that very often, our cases come out even better than actual factory cases, especially if your model has known fault points.
That's not where it ends, however. Despite being completely rebuilt from the ground up, our cases are also cheap. They're among the most affordable in the entire industry. However, just for extra peace of mind, we offer a full warranty of up to 3 years with unlimited mileage. We give you fast and free shipping to any domestic commercial address and $75 shipping to any residential address in the United States when you purchase online.
If you're wondering, "Where can I get a New Process 263HD transfer case near me?" don't go for a used 263XHD transfer case for sale. Go for a rebuilt 263XHD transfer case from our inventory. You'll get a high-quality case that exceeds all expectations and will perform like new for a very long time at some of the best prices in the entire industry.
Flat Rate Shipping
Excellent Customer Support
Up to 5 Years Unlimited Miles Warranty
No Core Charge for 30 Days
NP263-NV263 Frequently Asked Questions
What Does a 263XHD Transfer Case Fit?
The NP263 XHD transfer case is standard in a wide variety of GMC and Chevrolet 4WD vehicles. It's designed to work with the Duramax Diesel transmission and the Allison 1000 transmission. They were used in every GM and Chevy heavy-duty diesel pickup truck and Suburban between 2000 and 2007.
How Much Horsepower Can a 263XHD Transfer Case Handle?
The NP263HD and 263XHD transfer cases were known as heavy-duty and extra heavy-duty transfer cases. They were manufactured specifically for large trucks and SUVs that have engines with a large amount of power from the factory. While there is not an exactly specified number, it is commonly accepted that these transfer cases can handle over 600hp.
What Fluid Goes in an NP263XHD?
The NP263XHD is rated to use automatic transmission fluid. While you may read some sources claiming that motor oil can be used as a substitute, this is not recommended and can cause damage to the case, including our remanufactured ones. Stick to Dexron III or higher ATF fluid.
How Often Should You Flush the 263XHD Transfer Case Fluid?
Each vehicle has its own specifications and manufacturer recommendations on how often to change the 263XHD transfer case fluid. In general, however, it's safe to perform fluid service on your transfer case about every 30,000 miles. Heavy off-roading or towing probably requires more frequent service.
NP263-NV263 History & Information
New Process Gear originally built the NP263 transfer case. The company later changed its name to New Venture Gear, and the part was renamed NV263. It's important to understand that these two cases, the NP263, and the NV263, are exactly the same part, just renamed when the manufacturer changed its name. The XHD version stands for "extra heavy-duty" while the HD version stands for "heavy-duty".
It's a chain-driven and electronic shifting part-time transfer case with a driver-side center rear output. These cases were used in virtually all GM and Chevy heavy-duty trucks from 2001 to 2007 like the Chevrolet Silverado 2500 HD, Chevrolet Silverado 3500 HD, GMC Sierra 2500 HD, and GMC Sierra 3500 HD. All of those trucks came with an Allison 1000 (M74) transmission and that is what bolted up to the New Venture 263 transfer case.
The specific unit you have in your truck may vary. There are three different versions of the case. The GM NP263xhd transfer case is standard on most diesel trucks and the "XHD" stands for "Extra Heavy Duty." It has a 2.71:1 ratio and a magnesium case. It has 4WD low, neutral, and full-time; 2WD high; and 4WD high settings. The NV263XHD transfer case has 29 input splines while the NV263HD has 32 splines and is meant to be connected to the 4L80-E transmission.
These cases have a couple of manufacturer design issues to be aware of, all of which our remanufacturing process repairs. First, the oil pump can wear a hole in the rear half of the case, causing fluid leaks and eventual case failure. Second, the magnesium case can cause a great deal of heat buildup inside. This can cause the plastic pads that insulate the interior to melt and the shift forks to fail. In turn, this damages the range shift hub and can even cause damage to the shaft itself.
These problems are solved with our re-machined and remanufactured 263 transfer cases for sale selection. Since we completely improve, upgrade, and replace every element of the transfer case with a new part designed to outperform OEM cases, ours are not prone to these failures. They will exceed manufacturer-recommended specs compared to any other used 263XHD transfer case for sale.
Flat Rate Shipping
Excellent Customer Support
Up to 5 Years Unlimited Miles Warranty
No Core Charge for 30 Days
Speak With A Specialist Now
Habla con un especialista ahora
NP263-NV263 Transfer Case Compatibility Chart
MAKE
MODEL
START YEAR
END YEAR
Chevrolet
Silverado 1500
1999
2007
GMC
Sierra 1500
1999
2007
Chevrolet
Silverado 2500
1999
2007
GMC
Sierra 2500
1999
2007
Chevrolet
Silverado 3500
2001
2007
GMC
Sierra 3500
2001
2007
Flat Rate Shipping
Excellent Customer Support
Up to 5 Years Unlimited Miles Warranty
No Core Charge for 30 Days
Speak With A Specialist Now
Habla con un especialista ahora