Flat Rate Shipping (Commercial address)
Up to 5 Years Unlimited Mile Warranty
Excellent Customer Support
No Core Charge for 30 Days
Remanufactured Powerstroke Transmission Price
Alternative Name: Powerstroke Transmissions
Price
Shipping
Core and Fee
Upfront Cost
Warranty
$2112
$270
None
$2382
5 Year
$2340
In Store
$987
$3327
3 Year
$2340
In Store
$987
$3327
3 Year
$2340
In Store
$987
$3327
3 Years
*Core: Waived for 30 Days
*Shipping: We offer Flat Rate Shipping (Commercial address)
*Logos are the property of their respective owners
Why Chose Reman-Transmission.com
| | Reman Transmission | Other Vendors |
| --- | --- | --- |
| Transparent Pricing | Check | x |
| Best Price Guarantee | Check | x |
| Flat Rate Shipping (Commercial address) | Check | x |
| Up to 5 Years Unlimited Mile Warranty | Check | x |
| Torque Convertor Included | Check | x |
| No Core Charge for 30 Days | Check | x |
| Free Shippng on Core Return | Check | x |
Why Chose Reman-Transmission.com
| Question to Ask | Reman Transmission | Other Vendors |
| --- | --- | --- |
| Is shipping free? | We offer Flat Rate Shipping (Commercial address) | Additional or Store Pickup |
| Who pays for Core Return? | We Do | You Do (Store Drop off) |
| Do I pay for Core today? | No, we waive Core Charge for 30 days* | Yes, but will be refunded when shipped back |
| Is torque convertor included? | Always! | Not included |
| What is the warranty? | Up to 5 years/Unlimited miles | Up to 3 years/Unlimited miles |
| Best Price Guarantee? | Yes! (for comparable conditions only) | They Don't |
About Our Remanufactured Powerstroke Transmission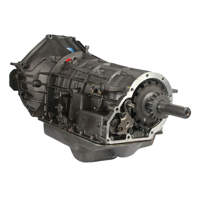 If you're looking for a new Powerstroke transmission for a Ford truck, we here at Reman-Transmission are ready to assist. You'll find a large selection of transmissions for various Ford truck models, and all of our transmissions are backed by a quality warranty because we believe in what we sell. Learn why we're the answer for an affordable transmission that'll keep your truck running well many miles into the future.
Affordability in Quality Used Transmissions
Our selection of used Powerstroke transmissions offers a highly affordable solution without compromising on quality. Each transmission undergoes a rigorous inspection process conducted by our team of experienced technicians. This inspection ensures that each used transmission we sell is in good working order, and thus is capable of providing the performance and longevity that truck owners expect.
These used transmissions are a solid choice if you want a Ford truck back on the road for as low-cost a solution as possible. We understand the importance of cost efficiency and strive to provide options that align with a variety of budgets, without sacrificing quality such that you'll be stuck again in a few months or miles.
With our used transmissions, you can be confident in getting a product that has been carefully examined and deemed reliable for further use on the road (or off).
Excellence in Remanufactured Transmissions
We go a step further with our remanufactured Powerstroke transmissions. The comprehensive process of remanufacturing involves replacing every single part within the transmission, using new or re-machined parts that meet or exceed the original equipment manufacturer's (OEM) specifications.
We also rectify any known factory defects during the remanufacturing process. Our commitment to detail ensures our remanufactured transmissions are not just a temporary fix, but a long-term solution for our customers.
Everything inside is just as good as it originally was--and perhaps even better for some parts. The result? A remanufactured transmission that often outperforms a brand-new factory transmission.
Our remanufactured units offer robust, reliable performance that stands the test of time, making them an excellent investment for those looking for the best in quality and reliability.
Our Warranty and Shipping Services
We believe in standing by the quality of our products, and that's why we offer robust warranties.
Our used Powerstroke transmissions come with up to a 6-month or 6,000-mile warranty. This warranty period offers you the peace of mind that you're covered should any issues arise following the installation. None should be expected, but our team is here just in case something arises.
For our remanufactured Powerstroke transmissions, the warranty is extended to 36 months with unlimited mileage. We know the quality of our work, and we're highly confident that you can drive across the country and back multiple times without issue.
While a comparatively minor point, we don't overlook shipping costs when considering affordability. Shipping a transmission domestically isn't cheap, but we keep costs as low as possible. Any of our transmissions can be shipped domestically for just $270. That's about as minimal an additional fee as you'll find for a remanufactured or used transmission.
Get a High-Quality Transmission for Your Ford Truck
With Reman-Transmission, you're not just buying a product — you're investing in a service that prioritizes quality, affordability, and satisfaction. We're committed to providing Powerstroke transmissions that meet your needs and exceed your expectations.
Flat Rate Shipping (Commercial address)
Excellent Customer Support
Up to 5 Years Unlimited Miles Warranty
No Core Charge for 30 Days
Powerstroke Frequently Asked Questions
What transmissions came behind a Powerstroke diesel engine?
The Powerstroke diesel engine, renowned for its performance and reliability, has been paired with a variety of transmissions over the years to deliver the best in vehicle performance. Several automatic and manual Powerstroke transmissions have been paired with the Powerstroke diesel engine, including automatic models E4OD, 4R100, 5R110W and 6R140, and manual models ZF5 and ZF6. The various different transmission models are part of a joint evolution as the engine and transmission versions were developed together.
How to identify which transmission is paired with your Powerstroke?
The specific transmission model paired with your Powerstroke engine can usually be determined by checking the identification tag or plate, located on the transmission itself. Alternatively, you can check your Ford truck's VIN, or specific year, model, trim, and engine. Identifying the transmission paired with your Powerstroke engine is crucial for many reasons, such as ordering parts, routine maintenance, or addressing any performance issues. You'll need an identical model Powerstroke transmission if you're replacing one. At Reman-Transmission, we can help you determine which specific transmission your truck came with, if you're having trouble finding the plate or looking the model up.
How much does it cost to replace a Powerstroke transmission?
At Reman-Transmission, our remanufactured transmissions provide a cost-effective solution for replacing a Powerstroke transmission. Exact costs vary from approximately $1,400 - $7,000, but our used and remanufactured transmissions provide affordable and high-quality options that'll keep your truck running for a long time. We further ensure costs are affordable by keeping shipping as low as we're able to, usually just $270 for domestic shipping.
Powerstroke History & Information
The Powerstroke transmission has long been essential to Ford Super Duty trucks, especially the Ford F-250 and Ford F-350. It boasts a rich history marked by innovative engineering and impressive reliability and is one of the main reasons for these trucks' success.
As Ford's trucks have evolved, so too have the Powerstroke transmission. They've undergone several evolutions, in order to deliver improved performance and adapt to advancements in vehicle technology.
Inception and Evolution
The Powerstroke transmission's journey began with the commitment to engineering a transmission that would deliver exceptional performance and dependability. This dedication led to the creation of a series of both automatic and manual transmissions that were designed to seamlessly integrate with the Powerstroke diesel engine.
Both the transmission and the engine had to be capable of heavy-duty applications, ensuring reliable performance under the most demanding conditions.
Automatic and Manual Transmissions With Technical Excellence
Throughout the generations of the Powerstroke engine, there have been several iterations of transmissions:
Automatic Powerstroke transmissions include the E4OD, 4R100, 5R110W, and 6R140 models. The E4OD and 4R100 transmissions were the pioneers, establishing a strong foundation for Ford's TorqShift 5R110W and 6R140 transmissions that followed. These automatic models, utilized in RWD, 4x2, and 4x4 configurations have cemented their place in the history of robust and reliable automotive technology.
Parallel to the automatic models, the Powerstroke transmission line also featured plenty of manual ones. The ZF5 and ZF6 series, manufactured by ZF Friedrichshafen AG, were some of the main ones. These included ZF5 (S5-42 and S5-47) and ZF6 (S6-650 and S6-750) models, which were repeatedly praised for their robust build quality and superior performance.
The manual transmissions allowed drivers to leverage more control over their vehicle's performance, making them popular for off-roading and the most demanding commercial applications.
The following are some of the more common trucks and transmissions:
ZF Fiedrichshafen generally made the 6.7 Powerstroke manual transmissions, as well as the manual transmission for 6.0 Powerstroke and the manual transmission for 7.3 Powerstroke. Ford generally made the automatic ones for the same models.
Powerstroke: A Legacy of Reliability and Performance
Over the many years and collected millions of miles, Powerstroke transmissions have upheld their reputation for reliability and performance. Their robust construction, paired with advanced design features, ensures consistent performance and durability.
This reliability has made Powerstroke transmissions a preferred choice for a wide range of applications, from daily driving to heavy-duty commercial use.
At Reman-Transmission, we're proud to help carry on the legacy of Powerstroke transmissions. We believe in these transmissions and know them well, and are confident we offer some of the best used and remanufactured ones for the many Ford Super Duty trucks that are still on the road.v
Flat Rate Shipping (Commercial address)
Excellent Customer Support
Up to 5 Years Unlimited Miles Warranty
No Core Charge for 30 Days
Speak With A Specialist Now
Habla con un especialista ahora
Powerstroke Transmission Compatibility Chart
MAKE
MODEL
START YEAR
END YEAR
Ford
F-250
1994
2019
Ford
F-350
1994
2019
Flat Rate Shipping (Commercial address)
Excellent Customer Support
Up to 5 Years Unlimited Miles Warranty
No Core Charge for 30 Days
Speak With A Specialist Now
Habla con un especialista ahora