Flat Rate Shipping (Commercial address)
Up to 5 Years Unlimited Mile Warranty
Excellent Customer Support
No Core Charge for 30 Days
Remanufactured ZF5 Transmission Price
Alternative Name: ZF 5 Speed, S5-42, S5-47, S542, S547, S547M
Price
Shipping
Core and Fee
Upfront Cost
Warranty
$2139
$270
None
$2409
5 Year

$3025
In Store
$1742
$4767
3 Year
*Core: Waived for 30 Days
*Shipping: We offer Flat Rate Shipping (Commercial address)
*Logos are the property of their respective owners
Why Chose Reman-Transmission.com
| | Reman Transmission | Other Vendors |
| --- | --- | --- |
| Transparent Pricing | Check | x |
| Best Price Guarantee | Check | x |
| Flat Rate Shipping (Commercial address) | Check | x |
| Up to 5 Years Unlimited Mile Warranty | Check | x |
| Torque Convertor Included | Check | x |
| No Core Charge for 30 Days | Check | x |
| Free Shippng on Core Return | Check | x |
Why Chose Reman-Transmission.com
| Question to Ask | Reman Transmission | Other Vendors |
| --- | --- | --- |
| Is shipping free? | We offer Flat Rate Shipping (Commercial address) | Additional or Store Pickup |
| Who pays for Core Return? | We Do | You Do (Store Drop off) |
| Do I pay for Core today? | No, we waive Core Charge for 30 days* | Yes, but will be refunded when shipped back |
| Is torque convertor included? | Always! | Not included |
| What is the warranty? | Up to 5 years/Unlimited miles | Up to 3 years/Unlimited miles |
| Best Price Guarantee? | Yes! (for comparable conditions only) | They Don't |
About Our Remanufactured ZF5 Transmission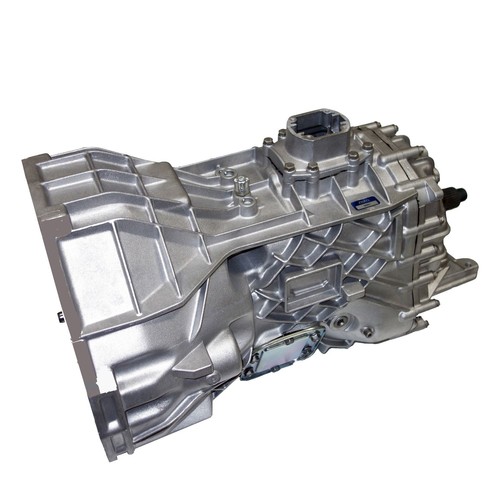 Your Ford ZF transmission is an important part of your vehicle's powertrain. If it is acting up, you can seriously damage other components of your vehicle like your driveshaft or engine, but should you repair or replace it? Replacing your transmission can mean a costly repair especially if it has already had several small repairs in the past. We're a top supplier of remanufactured ZF5 transmissions and used ZF5 transmissions that are of the highest quality. We pride ourselves as being the best place to buy a used ZF5 transmission or remanufactured ZF5 transmission that is cost effective as an alternative to purchasing a new crate ZF5 transmission.
Our used ZF5 transmissions are inspected to make sure they are in perfect working order, ready for drop in your vehicle. We know that not everyone is looking for a new or remanufactured replacement and that the most economical decision for a lot of people is finding a quality used ZF5 transmission that will get the job done. In contrast, if you're looking for an affordable remanufactured ZF5 transmission, our advanced remanufacturing processes ensure that our transmissions are actually better than the factory produced tranny. We replace every single part within the ZF5's bell housing with new or re-machined parts that meet or exceed the original equipment manufacturer's specifications (OEM). A simple rebuilt ZF5 transmission has only had the broken parts replaced which will ultimately lead to premature failure because of uneven wear on the internal components. Furthermore, we correct any known factory defects when we remanufacture the transmission, which is why they are often much better than a factory ZF5 transmission.
Furthermore, we provide warranties for all of our transmissions, used and new, including an up to 5-year/ unlimited mileage warranty for our remanufactured automatic transmissions. Our warranties coupled with our fast and free shipping to any commercial address in the United States, provides a win-win scenario for our customers. Whether you're looking for a transmission for your car or truck, we're famous in the industry for our manual ZF5 transmissions for sale. If you have any questions about our process or just simply need help finding a compatible transmission for your ride, give one of our friendly customer service representatives a call today!
Flat Rate Shipping (Commercial address)
Excellent Customer Support
Up to 5 Years Unlimited Miles Warranty
No Core Charge for 30 Days
Our ZF5 Transmission Upgrades
Our quality control process includes build specification checks performed by three different specialized technicians during the remanufacturing process to ensure accuracy and precise fitment.
Inspection of internal parts, including gear wear checks, mainshaft straightness, and synchronization are performed.
Worn and non-functional parts are replaced, including 100% replacement of seals, bearings, and other common components.
Each remanufactured transmission is hot, cold, load, and simulated road tested using our proprietary dynamometer program.
All remanufactured transmissions are backed by the industry's best, no-hassle nationwide warranty.
ZF5 Frequently Asked Questions
What is a ZF5 transmission?
The ZF5 transmission is a 5-speed, manual transmission that is in Ford Trucks and SUVs between 1987 and 1995. This transmission appears in both gas and diesel versions of the vehicles with better street performance than the older 4-speed T-19. All-in-all, the ZF5 transmission is an excellent transmission.
What fluid does a ZF5 take?
The ZF5 transmission requires full synthetic MERCON V automatic transmission fluid for lubrication. The transmission holds 3.38 quarts of fluid. Although Ford recommends a minimum of transmission fluid change every 60,000 miles, if you tow frequently, you should change the transmission fluid every 30,000 miles.
How much power can a ZF5 handle?
The S5-42 (ZF5) transmissions can handle 420 ft-lbs of torque and S5-47 transmissions can handle 470 ft-lbs of torque in their stock form. Our transmissions are as good or better than the OEM factory ZF5 transmissions and can easily handle more power with a few modifications.
How much does a ZF5 transmission weigh?
The ZF5 transmission weighs approximately 175 pounds which is considered very light in the realm of manual transmissions for heavy-duty applications. Our remanufactured transmissions meet or exceed OEM specs, which means our refurbished transmissions weigh the same.
ZF5 History & Information
The ZF5 transmission has been in Ford trucks since 1987. It replaced Ford's BorgWarner T-19 4-speed manual transmission and was first used in its diesel F-350 two-wheel-drive model late in 1987. Designed and built by the German company, ZF Friedrichshafen, the ZF5 transmission was available in both gas and diesel models of the Ford F-250, F-350, and F-450 trucks. The Ford ZF5 transmission is also known under the alternate names of ZF 5-speed, ZF 5-speed, S542, S5-42, S547, S5-47, and S547M. German ZF Friedrichshafen AG built ZF5 transmissions for both 2-wheel and 4-wheel drive applications. The ZF5 successor is the ZF6, which replaced it in 1996.
The ZF S5-42 has a gear ratio of 4.14:1 close ratio and 5.72:1 wide ratio. The close-ratio transmissions were primarily used on 1987–1994 Ford diesel trucks (6.9L/7.3L IDI, and 7.3L Power Stroke) and offered 420 ft-lbs of torque. The ZF S5-47 has a gear ratio of 5.08:1 close ratio and 5.72:1 wide ratio. The ZF S5-47 has more torque than its predecessor at 470 ft-lbs of torque. The ZF S5-47 was used on 1995–1997 Ford diesel (7.3L PowerStroke) trucks. The ZF S5-47 is interchangeable with the ZF S5-42, being a heavy-duty version of the S5-42, as long as it is used in a diesel application. However, the ZF S5-42 is not interchangeable with the 1994 through 1997 ZF S5-47 transmissions nor can it replace the 1999 through 2002 ZF S5-47M transmissions. It should be noted that this transmission was commonly used with the NP273F, BW1356, BW4406, and BW4407 transfer cases. However, please run your vehicle through our search tool or check your VIN number for proper fitment before ordering.
To some people, the ZF5 transmission is more commonly known as the 5HP, but this is a small mistake. The term 5HP was Friedrichshafen's designation for a class of 5-speed automatic transmissions ranging from 1991 all the way through 2008. Although the ZF5 transmission (S5-42) is made by the same manufacturer, it was in its own class of manual transmissions produced by them. The ZF5 transmissions featured dual flywheels to reduce engine harmonics. It has dual PTO (Power Take Off) provisions and a two-piece, cast aluminum transmission housing. If properly maintained, the ZF5 transmission will give its owner great performance and long life.
Flat Rate Shipping (Commercial address)
Excellent Customer Support
Up to 5 Years Unlimited Miles Warranty
No Core Charge for 30 Days
Speak With A Specialist Now
Habla con un especialista ahora
ZF5 Transmission Compatibility Chart
MAKE
MODEL
START YEAR
END YEAR
Ford
F-250 Super Duty
1999
2001
Ford
F-350 Super Duty
1999
2001
Ford
F-450 Super Duty
1999
2001
Ford
F-550 Super Duty
1999
2001
Flat Rate Shipping (Commercial address)
Excellent Customer Support
Up to 5 Years Unlimited Miles Warranty
No Core Charge for 30 Days
Speak With A Specialist Now
Habla con un especialista ahora